After a couple of months of beta testing, we released our WordPress hosting service to the public back in 2014. None of the new players can break into their industry easily and succeed immediately – but it's not impossible at all. Content marketing is a great tool for drawing the attention of your target audience, staying in the spotlight, and making people talk about you. It's also suitable for branding, building audience, link earning and lead generation. Check out our content marketing case study below.
Content Marketing Case Study
Now it's important to note two things about content marketing. First of all, this marketing strategy will truly benefit you in the long term. According to many experts – and I must agree with them -,  it takes around 6-12 months for content marketing to show major results and begin to establish reputation for your company in the industry.
Another often mentioned concept is "content is free" – you can write a blog post anytime free of charge in contrast to paid advertising. This is not entirely true, I would rather say creating content is more cost-effective. It takes at least valuable time and effort to produce quality content. And as we all know, time is money.
Decide the Topic
Our service is based on WordPress (the most popular content management system), and the target audience is WordPress users. This is probably not the most exciting online topic, but we wanted to create a useful guide for everyone connected with WP somehow, whether they are daily users of the platform, developers or simple bloggers. That's how our first guide was born: The History of WordPress, the Ecosystem Around It & The WordPress Community. It was important for us to present an evergreen content which remains up-to-date and will be able to generate traffic in the future too. We are planning to update the guide each time a major happening comes up in the world of WordPress, so our guide and its content can be considered as a living document which will be worth taking a look anytime.
Thorough Research
We think one of the most important parts of the project was the careful and detailed preparation of the content. If the content isn't informative, engaging or well-researched enough, then all your later efforts will be in vain; so do not regret time and energy devoted to in-depth research. We spent about three days doing the research only, in order to create the most complete and comprehensive guide possible – the draft alone consisted of 2000 words! We tried to mention all relevant firms and individuals who play an important role in the WordPress industry, we also reached out to most of them in order to get a quote that we could include in the guide, making the content as rich and genuine as possible.
However, getting crowdsourced content is a time-consuming process. You have to be aware that industry leaders and managers are extremely busy people receiving dozens or hundreds of emails a day, it would be impossible for them to respond to all of those.
We tried to get in touch with around 20 influencers or CEOs  – to gain unique content  -, in the end we got about 10 quotes. It was a 2-week difference between getting the first and the last quote, which is quite a long time, but we were able to move forward with other parts of the campaign during that time. The rest of the CEOs probably didn't see our email at all (maybe it landed in their spam folder), or they might have missed our tweet. There were also some people who replied immediately and promised to send their quote soon, then we never heard back from them.
So here's our advice to pay heed to: when you lean on crowdsourced content, contact at least three times as many people as the number of quotes you'd like to have at the end, because it is impossible to get an answer to your request from all of them. So if you reach out to as many people as you can, you can be sure to get unique content from some of them. In case you are lucky and will get a reply from everyone, well, the more the better, your content will be exceptional.
Involving influencers was extremely important in terms of later outreach, as these people already have a huge community on social platforms. And who wouldn't share a content in which they are included? In addition, we gained some valuable new relations within the industry, which, we all know is essential for success and can be useful in the future as well.
Writing the Content
Once we had our sketch and the quotes, we just had to put everything together. Writing the long read itself took another two days, as it finally turned into an 8000-word behemoth. If you have some difficulties with writing, do not have the time or simply do not like it, nevermind, the Internet also provides a solution for this. There are many freelancer and job board sites, where you can find your industry's most talented writers.
Speaking from personal experience, one of the bests is Problogger's job board. Although posting is not free ($50) but it's definitely worth it, you will get dozens of copywriters' attached resumé within a day or two,  you just have to take time to pick the best writer.
But let's get back to our case study. After writing the article, all team members read it several times, we removed sections and added new ones, corrected spelling mistakes (as it turned out later, there were still a few left) and modified the text in some parts for the sake of better understanding. We also involved some laymen to read it and check coherence and intelligibility.
Design and Optimization – Invest in design
After having the final content, we could go about designing the guide. Fortunately, we have an in-house designer, so we didn't have to invest extra money in this. Our requirements quality and design wise were extremely high, we wanted to publish a work that we were really proud of. Besides static design elements, we used parallax effects for the background images and added JavaScript animations to perk the guide up.
Yes, we all know that content comes first, but the design is also important as it reflects the time and effort you spent on your work, which is a great mirror for your readers. People love beautiful things, so once you've spent days with finalizing your smashing content, it's worth paying enough attention to design.
Since it is a real long read, not straining your eyes while reading is a crucial factor. We tried many different fonts and finally decided to go with Linux Libertine, a reader-friendly font that helps you avoid having an ache in the eyes even after reading through the entire guide.
We optimized the images to make the site load quickly on all devices. Regarding devices, it is also necessary to mention that the guide's design is responsive, we have put our vote on it because of the numerous advantages you may already know of. We took a quick look at the Google Analytics of our site and realized that a major part of our visitors were checking the site from their mobile devices or tablets. Nowadays many people browse the Internet on their smaller devices being held in their hands while eating, traveling. Webmasters cannot afford to ignore this growing trend.
Content was also optimized for social media, setting social meta tags helps in spreading content – Cyrus Shepard from Moz wrote a great guide about this. When setting the tweet message, also take care of using relevant hashtags, as Twitter's search structure is based on using hashtags when you'd like to search for content or a category. In our case, these were #WordPress and #longreads.
WordPress users are lucky, as the Yoast SEO plugin can simplify their job. See our detailed Yoast tutorial here.
Hit The Publish Button and Reach Out
It was quite hard work to finish the guide and took more time than we had planned at the beginning, but we could definitely take pride in the end result. There was nothing left but releasing our work, and reaching out to as many WordPress enthusiasts as we could. First, we sent an email to all influencers who provided their quote for us, and asked them to share it with their followers in case they think it had a valuable message. Then, we wrote a custom-tailored email to each and every person and company who was mentioned in the guide, with the same request as above. The initial outreach wave gave a boost to our campaign in the first 24 hours. Many people checked out our site and shared the guide on different social media platforms.
The next step was sharing the guide on several news aggregator sites such as the WordPress subreddit, Inbound.org, Managewp.org or HackerNews. Almost every industry has its own news portals, if you haven't discovered them yet, it's high time to start searching for them, because these sites can send relevant traffic to your site instantly!
Being published on one of the major news sites of your industry has several benefits. Besides getting referral traffic, it is also a great brand exposure, and usually many other webmasters take over the news thus your content can show up on other, unexpected websites too. Thanks to the unique and detailed content of our guide, one of the biggest WordPress news sites published an article about it on the day it was released! What a great success!
They say you have to invest at least as much energy in promoting your content as you have invested in preparing it. So did we! We started a small budget Facebook sponsored story campaign, laser-targeting people interested in WordPress. We have managed to reach a lot of people for a few hundred dollars. Of course, many of them didn't click on the story, but at least they could see our brand name in their news feed – and well, that's something.
As time passed, we had a longer and longer list consisting WordPress news sites, WordPress developers and bloggers. Our guide was a piece of work prepared by WordPress fans, dedicated to WordPress fans, so we felt free to reach out to them, and got very good feedback, many of them shared it, a good couple of them wrote about it on their blogs.
Once again, having an up-to-date list of the main influencers in your industry never hurts, so if anything truly newsworthy comes to light, you can inform them about it.
It's always worth monitoring social media (to track who is sharing your content) – but when you're running such a major campaign, it's essential. You can check different platforms manually searching for certain hashtags for instance, or you can use specific tools like Mention.com. In our case, most of the activity took place on Twitter, which was quite traceable.
Besides saying thank you for sharing, you can also have firsthand information on the reactions on Twitter, but people often draw your attention to the mistakes you made so you can correct them immediately and remember not to make them again.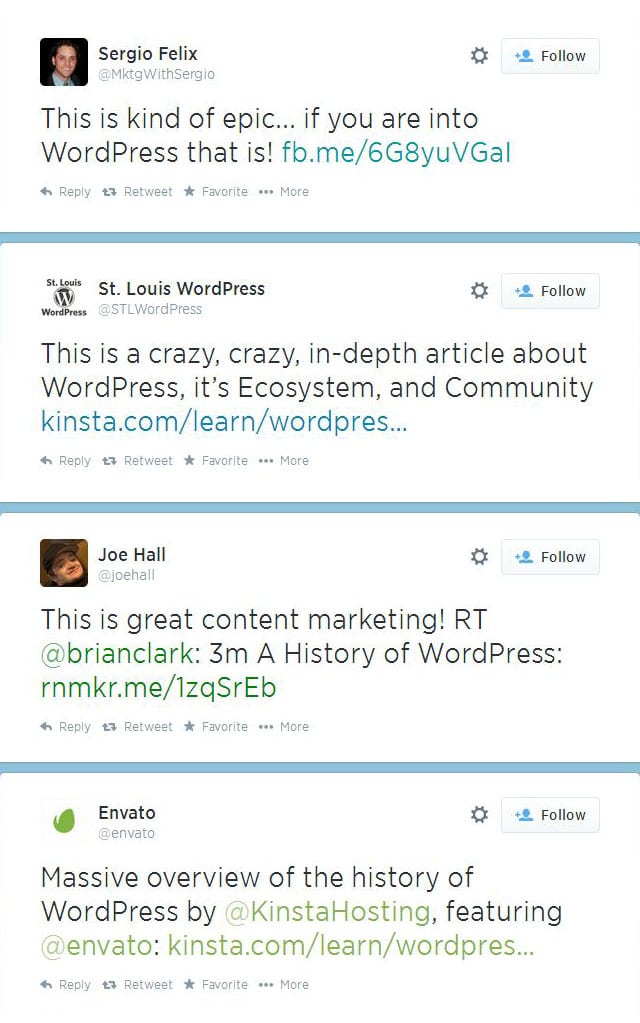 Some Data in Numbers From the First 30 Days
And of course, you can't have content marketing case study without sharing some of the numbers! Our guide had more than 4500 unique visitors in the first 30 days. Whether it is many or a few, it's a question of viewpoint. Did the guide go viral? In the WordPress community, by all means. It was impossible not to run into it, so every people working with WordPress day by day could see it – and that was exactly our most important goal to achieve.

After the larger wave in the first couple of days (as it usually happens with most of the content marketing campaigns) the number of visitors decreased, but we still have 50-100 people reading our guide per day. This number reflects mainly referral traffic from other sites, but the direct visitors are more and more dominant too, and we also started getting organic traffic as the page began to rank in search engines.
It was worth it to make the page responsive, as 17% of our visitors view it from mobile and 7,4% of them from tablet, which is a total of 24,4% – nearly one-fourth of the visitors! If the page had not been optimized for all kinds of devices, this large portion of visitors would have left the page after 3 seconds with the negative user experience. As for an interesting fact, tablet users spent the most time on the page, an average of 8:24 minutes, while this number is 6:01 in case of desktop users.
We have reached nearly 800 social shares (Twitter, Facebook, LinkedIn, G+), the guide has earned 15 editorial links (from 15 different domains) in the first 30 days, all from relevant sites – that's what we can track as referral traffic, and check with Open Site Explorer and MajesticSEO, but can be a lot more in reality. The guide has been included into two weekly WordPress newsletters. All in all, it has delivered several leads and new sign ups for us, not to mention the invaluable brand exposure.
Conclusion
You cannot write a 100% flawless content (however you should be out to do so), some mistakes will always occur. We had to update two company logos in the guide as they turned out not to be the right ones;  in addition, we corrected some spelling mistakes subsequently. In order to avoid these, we'll take double checking and proofread more seriously in the future.
Some have noted that the guide has been too man-centered, women were barely mentioned in it. Fair enough, there are plenty of women in the WordPress community, bloggers, designers, developers. In excuse of our mistake, we tried to contact many of them to get a quote, but we're yet to receive answers. That is definitely something we have to pay more attention to next time – if you work on a large amount of content, try to be as representative as possible.
The project took much longer than planned, but now we know how much time is needed for each step to take, and which parts of the work we could speed up. Every beginning is difficult, but we all know, practice makes perfect.
Did it all worth time and effort? The answer is absolutely yes. We received loads of great feedback, the project was excellent for building valuable relationships within the industry, brand exposure and lead generation. Everyone who is serious about their business and plans in the long-term should invest in content marketing, it's worthwhile. That is why we decided to share this content marketing case study with you.
Have you worked on a similar guide or just planning to do something like that? If you already have, what were your experiences and the results? I'd love to hear your thoughts in the comment section below!