Fortunately, that question is easily answered. WordPress is arguably the number one option when it comes to choosing a well-rounded, easy-to-use and extendable platform upon which to create a high quality and scalable website.
In this article, we'll start by covering the main things that you need to consider when deciding on a hosting platform for your charity's website, and follow that up by explaining what WordPress can offer you.
What Should You Consider Before Choosing WordPress for Your Charity Website?
While WordPress takes the lead when it comes to content management systems, there are still some things that you need to be aware of. These are not necessarily warnings – more of a "here's how it works". It's like buying a new car and knowing where to find the turn signals and start button. Let's take a peek at some important points:
Web Hosting
Not too long ago, hosting had become a commodity service. While from a customer perspective this price pressure seemed like a good thing, the opposite turned out to be true. Hosting became cheap and along with it came lousy service, poorly performing servers, slow websites and a plethora of unhappy customers.
If you're picking a WordPress host on which to run your business or charitable website, the last thing you need to be dealing with are website problems during a key fundraising event or promotional campaign! Here are a few things to look for in a top-notch WordPress hosting company:
Development Costs
You'll find an abundance of great themes out there specifically designed for charities. That said, it's still a good idea to set an appropriate development budget for your website. Exactly how much is up to you, but it's a good idea to discuss your vision with a few developers who specialize in WordPress before making a choice.
Ongoing Maintenance Requirements
The days of a maintenance-free website are gone. You should plan a small monthly maintenance budget for your website. Better yet, consider making an employee responsible for managing your website. Common tasks will include:
Security
It doesn't matter what platform you are running your website on, security is something you need to be aware of and monitor on an ongoing basis.
WordPress pushes out frequent security updates which should be implemented as quickly as possible. It's also vital to make sure that any plugins you are using come from a reliable source and are properly maintained.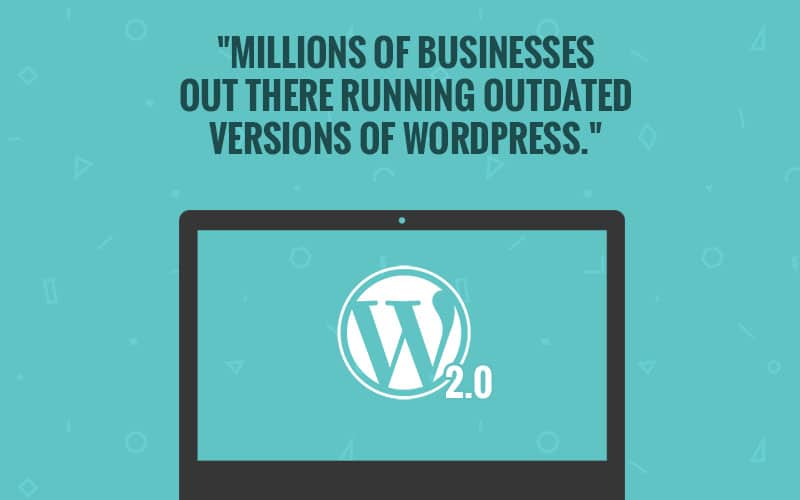 The fastest way to have your website become the victim of a hacker is by letting your security fall out of date. It's like changing the oil in your car – regular, frequent updates keep your website engine running smoothly.
Why is WordPress Such an Attractive Platform For Charities?
Let's look at the key features that make WordPress such an ideal platform from which to manage the digital presence of your charity:
It's Open Source and Free
Don't be put off by the fact that WordPress is open source and free! A massive user base is what has allowed the platform to become the powerhouse it is today. If your charity requires some specific website functionality, it can, with 99% certainty, be done on the WordPress platform. Open Source also means that the code that keeps WordPress running smoothly is not owned or controlled by one particular company who is focused on profiting from your use.
It Has a Massive User Base and Support System
Part of what makes WordPress such an amazing platform is the ecosystem that has rallied around it. Whether you need someone to develop a theme from scratch, customize a pre-built theme or design a plugin that meets your specific requirements, you can easily find what you're looking for.
It's Great for Communities
If your charity relies on community involvement, WordPress has you covered there as well. BuddyPress installs quickly and easily through the administrator panel. A free plugin, BuddyPress, enables you to develop and grow a community or social network right from within your website. You could potentially use BuddyPress to create and communicate with internal teams who are focused on different fundraising efforts, projects or community events.
It's Highly Customizable
From simple color tweaks to complex layout and structural changes, WordPress has all the bases covered. Virtually every aspect of the platform can be adjusted to suit the needs of your charity. Many basic changes can be tackled within just a few minutes, while more complex changes may require an experienced developer capable of delving into code.
It Offers a Huge Choice of Themes
For most charitable organizations, keeping costs low is important. What you'll find with WordPress is an entire catalog of both free and paid themes, many of which are specifically designed for use by charities. Keep in mind that an inexpensive, paid theme will often meet many of your initial requirements. Here are three examples of themes for under $80:
Act is an incredibly full-featured theme available from ThemeForest that, when combined with high-quality photography, will make your website look amazing. A full-width, retina-ready and responsive theme means that Act is modern and up to date with current standards.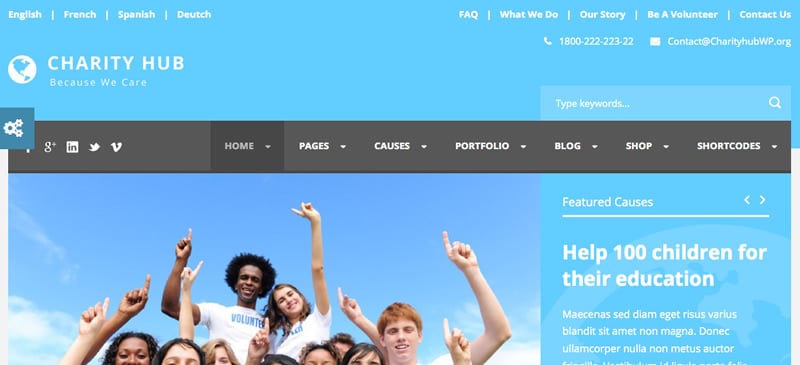 This is a modern and responsive theme that, though a little busier in terms of layout, provides almost everything you need to get your website off the ground. With custom post types and a built-in donation feature, it becomes simple to collect, track and display your fundraising progress.
Mission is a responsive, modern and stylish premium WordPress theme. Currently one of the most popular charity-orientated themes on ThemeForest, it is well documented and highly customizable.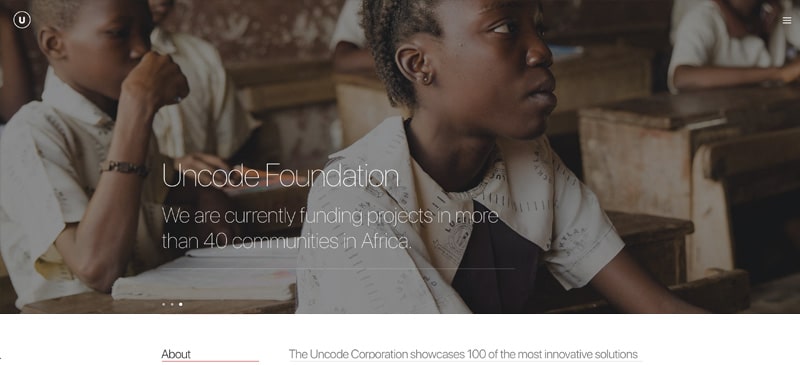 This pixel-perfect WordPress theme provides the ideal solution for anyone wanting to build attention-grabbing, creative websites, blogs or a stunning charity website, Uncode is easy to use, and with its tailored version of Visual Composer, enables you to build whatever you envision without having to resort to coding.
It's Scalable and Extensible
One thing you don't have to worry about is whether or not WordPress will be capable of keeping up with your growth.
If you're a local charity generating $1 million in donations or a national organization with local chapters producing tens of millions in donations, WordPress is up to the task. Need increased functionality? You'll quickly find out that WordPress is more than capable of adapting and changing to accommodate your needs. With over 20,000 free plugins in addition to thousands of premium plugins, you'll be able to find something to meet almost any requirement.
It's Easy to Use and Maintain
You might think that with such an extensive list of features, WordPress would be a behemoth to install and manage. But that couldn't be further from the truth. Is it time-consuming? Nope. Is it complicated? Not at all. For example, take a look at the instructions for the famous 5 minute installation. Then forget that, because most hosting providers provide you with automatic installation options. WordPress is incredibly intuitive, and with each new version release, it becomes more user-friendly and feature-rich.
Which Big Name Charities Are Using WordPress?
Pausing to look around, you'll notice that a vast number of well-established charities already run WordPress as their content management system of choice. Here are two choice examples:
Charitywater.org

Charity Water is a non-profit organization focused on bringing clean and safe drinking water to developing nations. Running WordPress, their website is full-screen, responsive and includes a full-featured eCommerce store. In 2014, they raised almost $35 million!
OvarianCancer.org


The Ovarian Cancer National Alliance raises awareness and provides a voice for anyone touched by ovarian cancer. This is a great example of a non-profit organization that has a national presence and also provides support to local partner organizations. Again, they are using a customized responsive theme that has been integrated with an eCommerce solution (in this case WooCommerce).
Conclusion
Searching for an appropriate platform for your website can be an overwhelming process, but it shouldn't be. Once you consider the factors that are important to most charities, you'll find that WordPress presents the most sensible option for three main reasons:
Cost. You could get started with WordPress for free. That's right, for the grand total of exactly $0, you could potentially launch a brand new website for your charity (excluding a domain and hosting). That's not the best idea though because, with a relatively small investment, you can launch a website and marketing platform that's both feature-rich and aesthetically beautiful. From there, the sky's the limit.
Scalability. No matter how large or small your charity is today, you want to choose a platform that will support your growth for years to come. With over 120 revisions of WordPress listed in the codex and 10+ years of development history, WordPress is tough to beat.
Simplicity. All the features in the world would be of little use if your content management system was difficult to use and cumbersome to maintain. Luckily, neither of these issues hold true for WordPress. With a little time and energy, WordPress can be easily maintained and updated in-house.
If you still have questions make sure you check out this another detailed guide: Creating A Charity WordPress Site: Your Complete Guide.
Have you recently launched a new website for your nonprofit or charity? Share the details below in the comments!