A website gives you freedom and say over a lot of features. You can choose your own domain name and the content on your website. You can showcase your talent, sell merchandise, schedule events and a lot more. Top it off with the SEO (Search Engine Optimization) capabilities- imagine a fan Googling you and landing right on your website. The possibilities are countless!
Now that you have decided to start a website for your brand, it is necessary that you take care of certain features. A website should be fast– no one likes a site that takes tons of time to load. Next, your website should be responsive– which means that it should be accessible from desktops, tablets and mobiles. Your website must be convenient to navigate and compatible with different browsers. You should also take care of the security– you do not want others hacking into your site and stealing all your music away.
With these considerations, WordPress is the best option to develop a website from scratch with minimal knowledge of web development. Popular artists like Jay Z and Katy Perry have chosen WordPress and I am sure you are going to find it easy to work with. Here are a few tips to help get you started and reasons why using WordPress for musicians and bands is a piece of cake!
WordPress For Musicians and Bands
Getting a domain name and web server
The first step is to register a domain name for your website. You could head over to one of the registrar sites like GoDaddy or NameCheap. For hosting a WordPress site, you could choose Kinsta managed WordPress hosting.
Choosing the right theme
After installing your WordPress site, you need to choose the right theme for your website. Before you jump on a theme search, you need to ask yourself what your requirements are. Do you want to showcase your songs? Or do you prefer to promote your events? Is highlighting your gallery high on your priority list? Defining your requirements goes a long way in selecting the correct theme. Let us look at three responsive themes for musicians.
Rock Band – Awesome Music Template
$45 | Demo | More Info here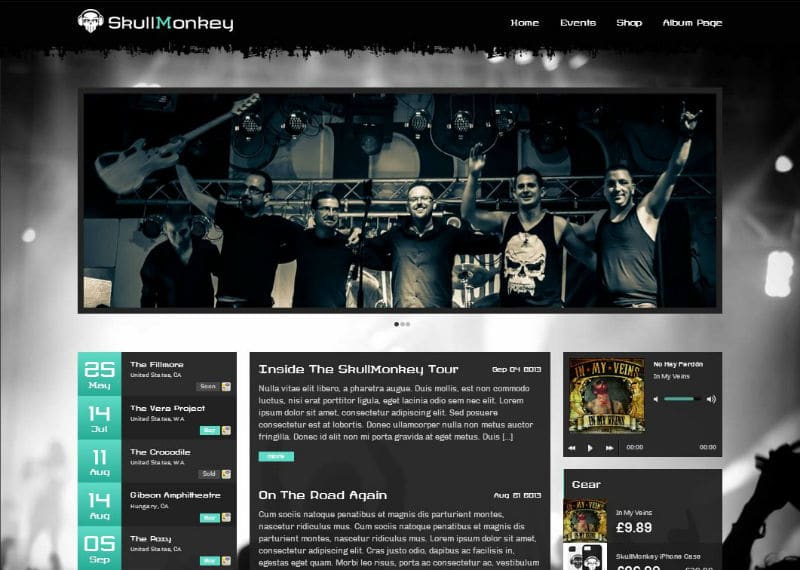 The premium Rock Band theme has unique options that can come in handy when you're promoting a band: an advanced event and album management integrated audio player with a Buy Now button that takes users to your shop or iTunes! Speaking of selling the songs: Rock Band has WooCommerce support so you can create your own ecommerce solution in a couple of minutes.
Bolster
$45 | Demo | More Info here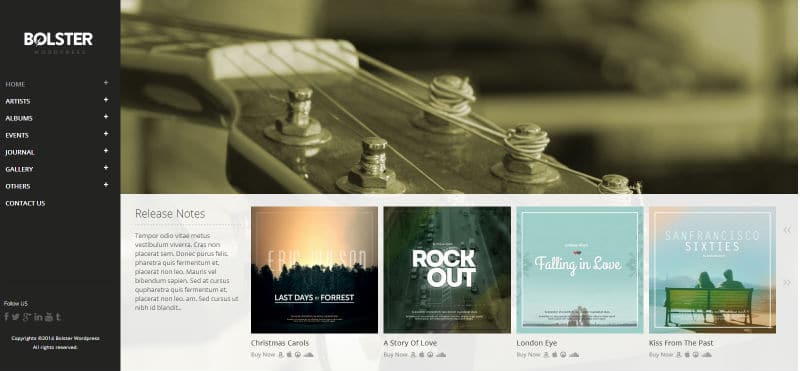 The intuitive left sidebar, along with a customizable banner makes Bolster stand out from the rest of the themes out there. Highlighting your recent works becomes easy too. Overall, it provides a good theme for general purposes.
Banda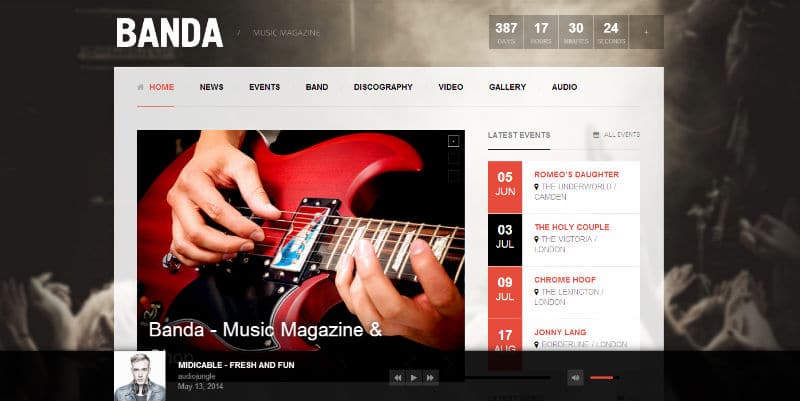 Besides highlighting your events on the homepage, Banda provides the extra feature of embedding playback of songs. This makes your songs available to every page. This theme is good for those musicians or bands who go on frequent tours, and want to give equal emphasis to their events and songs.
Social Media Integration

Although we discussed the importance of keeping a separate website, the impact of social media can not be undermined. The smart thing to do is to work with your Facebook fans and Twitter followers in tandem with maintaining your website. Thankfully, there are WordPress plugins available for such integration.
The basic social media integration lets the users share content on the social networking sites. These are fulfilled by the simple plugins for Facebook and Twitter. But, keep a look out for innovative plugins like 'Pay with a tweet', which allows a user to download files after publishing a tweet.
Playing music on your site

There are many plugins which enable you to play music on your site- either using flash or HTML5 to render the audio and video. Recent advancements in technology give the newer HTML5 players an edge over their flash counterparts.
The 'HTML5 jQuery Audio Player' is an example of a modern HTML5 music player. You can not only enable playing your tracks, but also give a preview with an option to buy them. This involves manually uploading your audio files, which might lead to copyright violations.
Alternatives to such self-hosted music is to use a plugin for a third party site like GrooveShark or SoundCloud. You essentially upload your music on their clouds, while inserting a player linked to your music. Such a process ensures high availability, as well as security for your music. As a precaution, make sure you read the terms of service of these sites to understand the legal obligations before uploading any music.
Linking YouTube videos
The best channel to upload your videos and build a following is YouTube. You can read our complete tutorial how to embed YouTube videos into your WordPress website.
Sell and manage digital downloads
If you do not want to use iTunes or BandCamp to sell your music, you can do so through your own website with the help of some WordPress plugins. (For more details how to manage your file downloads read this)
If you prefer simplicity, you can try 'Sell Digital Downloads' (formerly iSell). This plugin allows you to receive payments through PayPal and send emails with encrypted links to the user once the payment is confirmed.
Easy Digital Downloads is arguably one of the best plugins to sell digital products. With the help of this plugin, you can create dedicated and configurable product pages, with detailed descriptions. You can integrate the plugin with PayPal or Stripe. Add ons are available that allow you to add more payment gateways. Variable pricing and promotional offers are available too. Here you can read our comprehensive guide about EDD.
Sell Merchandise
There will come a time when your fans would be interested in buying merchandise like mugs, t-shirts and posters, besides your music. You could give the task to a firm managing brand merchandise like Bluegape, or you could develop a section in your site that functions as an e-commerce store.
A popular plugin to perform this task is WooCommerce. WooCommerce comes with really cool features for the free tier, with premium extensions for those want more. Here's how to get started on setting up your e-commerce store using WooCommerce.
If you think WooCommerce is a bit complex for you, here's a list of e-commerce plugins that you could use!
Event managers
An important part of your site is event management. If you plan to create and maintain events, integrate with your calendar and set recurring events, you should probably look at the Event Organiser plugin. In addition to these basic features, you can enable extensions like CSV export and iCal sync. If you are looking for the best event management plugin take a look at this guide.
A simpler event manager is the Gigs calendar– which displays a calendar of your gigs. It is designed to be easy for the musicians as well as the fans.
Selling tickets
Once you have added the functionality of event management to your site, there is an instant need to sell tickets through the website. CampTix Event Ticketing is one such plugin. This plugin allows you to do much more than just scheduling tickets- you can offer discount codes, send emails to the attendees, make the list public and even make refunds for cancellations. You can also view reports of the generated revenues. Overall, it's a very handy plugin.
Photo Gallery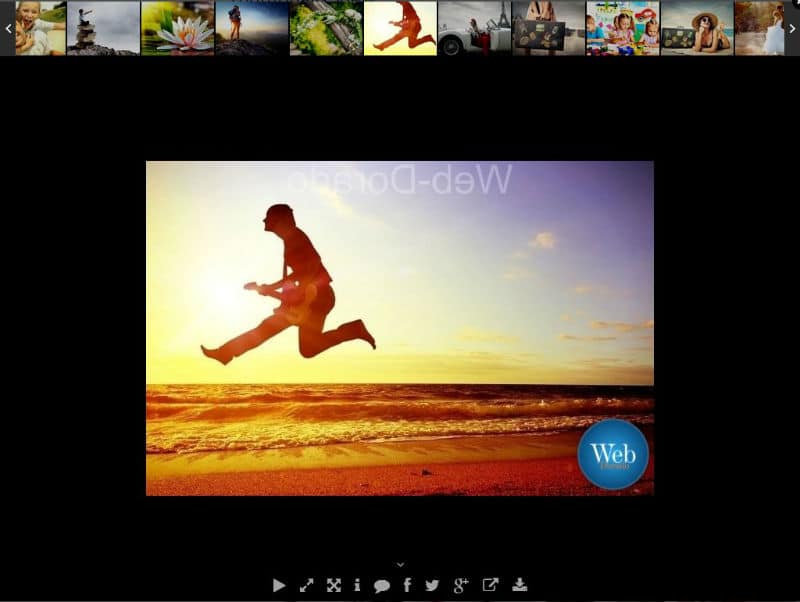 Last, but certainly not the least, we look at a photo gallery to showcase your events. There are numerous plugins available for this and Photo Gallery is one such option. It comes with a lot of features. You can create a slideshow view, thumbnails or a masonry view for variable image sizes. It lets you define roles regarding the access to these galleries. This plugin also generates a tag cloud for your images. Photo Gallery also comes with a commercial version with premium features. For even more recommendation take a look at our in-depth guide on the topic: 8 Best WordPress Photo Gallery Plugins (Compared With Examples).
With this, we come to the end of the list of features and reasons why using WordPress for musicians is the best choice. Although this list is exhaustive, remember that it's not advisable to install every plugin that you see and only go with those that are absolutely necessary.
Did we cover all the features that you require in your website? Did we miss something that you find useful? Feel free to mention in the comments below.