Google Cloud hosting (fully managed)
Being the first host to utilize Google Cloud Platform exclusively for all of our customers, we know it better than anyone! Get lightning-fast load times, 24/7 support from veteran WordPress experts, and free migrations by our team. Now with a 30-day money-back guarantee.
View Plans
Speed obsessive architecture
We use state-of-the-art technology like Nginx, PHP 8.2, LXD containers, MariaDB, and compute-optimized VMs to make sure your website loads in the blink of an eye. Featuring complete resource isolation, a scalable infrastructure, and high uptime.
High security network
Active and passive measures to stop attacks and malicious intent in its tracks. Continuous monitoring for uptime, DDoS attack detection, malware scanning, SSL support, hardware firewalls. Bottom line: your site is monitored and secured 24/7.
Next generation infrastructure
We employ only the best technology at Kinsta, from our server hardware to the software we run. No matter what development stack you use, we'll always have the latest framework versions installed and up to date.
Google Cloud Platform
Powered by Google Cloud Platform and its 35 global data centers. Everything is interconnected over their premium tier network, designed to minimize distance and hops, resulting in fast and secure transport of your data.
Free site migrations
Moving your site to Kinsta won't incur any downtime. Our expert migration team will take care of everything for you. We'll assign a temporary domain to your migrated site and check everything before going live.
Peace of mind
Spend less time worrying about your website and more time growing your business. Whether you need to roll back your site or you're hit with a sudden surge of traffic; Kinsta's got you covered every step of the way.
Uptime checks
Every 2 minutes
We check the status of all websites we host every 2 minutes. That translates to 720 checks for each of your sites every day.
Outstanding reaction time
Our uptime checks allow us to react to issues before they affect lots of visitors. It allows us to be proactive in our support efforts.
Backups
Full backups daily
We backup your sites at least once every day. Should the worst happen you'll be able to reinstate a backup of your site with the push of a button. We offer separate backups on all environments - live and staging - so your development efforts are equally as safe.
Additional backups
For an additional fee we can increase the backup frequency of your sites to every 6 hours or even every hour. If you make frequent changes or have a highly dynamic site, this may be a worthwhile addition to your site's security arsenal.
Scale as needed
Flexible architecture
Our infrastructure is built on Google Cloud Platform which puts the power of Google's hardware at your fingertips. Your site can scale up to your needs, and the power is always there when you need it.
Ready for traffic surges
Most importantly, we are ready for unpredictable traffic surges. Sudden spikes from social media or being featured on national television is no match for our server's power.
Free hack fix
Proactive prevention
We don't just sit around waiting for hacks to happen. We keep all of our server software up to date and constantly monitor events network-wide. Suspicious activity is investigated and dealt with immediately.
Instant relief
If your website is hacked we guarantee that we'll fix it for you with immediate priority. Our technicians have years upon years of experience dealing with all sorts of WordPress issues and will restore your site to perfect working condition.
Support that cares
Providing fast and knowledgeable support has been our number one priority since day one. Instead of scripted replies, we have actual web development experts standing by 24/7 ready to assist you.
Expert support
Development know-how
At Kinsta support, knowledge is not an afterthought, it's our number one priority. Our team of experts have experience in troubleshooting, server maintenance, maintenance, contributing to open source projects, and more!
Sharing the knowledge
When an issue is solved we share the knowledge internally. If an issue happens more often we share what we've learned in our knowledgebase to help you get things done on your own.
No waiting in lines for support
Always there for you
We have clients from all over the world which means that we're available 24/7 no matter where you are. We'll tend to your issue as soon as we can, giving you feedback and clear communication along the way.
Efficient communication
Communication is key, both internally and externally. We use intercom - a unified comms system - which means that our support staff moving between shifts will always be up-to-date on your issue, so you never have to repeat yourself.
Monitored all day, every day
Website status
We check your sites' uptime every 2 minutes which means that our response time is almost immediate to any downtime that may occur. Our staff is alerted instantly and they'll start resolving the issue well before you contact us.
Internal monitoring
We monitor the status of our other external and internal systems just as rigorously. This keeps our servers healthy, allowing us to focus on continuous improvements.
No issue goes unsolved!
Teamwork
We emphasize the sharing of knowledge within our support department which makes us a well-oiled machine. Complex issues may call for teamwork behind the scenes, something our team is more than ready for.
Every issue solved
Whether your website is down, you're getting attacked, you have SSL issues, it makes no difference. If it is a problem on our end we will take care of it swiftly and professionally.
User-friendly, yet powerful
Kinsta's platform and dashboard was designed with beginners in mind and yet it's packed with advanced features and tools developers will love.
One unified management dashboard
Simplified site management
Whether you want to add a new site, deploy a staging server, clone a website, view detailed site analytics or request a migration - it's all there in one easy-to-use interface.
Tools you need
For those of you coming from cPanel or Plesk, you'll have access to all the tools you're used to, but with a fresh approach. phpMyAdmin, redirects, logs, SFTP, backups, and more. All plans include our free APM (Application Performance Monitoring) tool as well.
35 global server locations
Low latency
Strategically place your server geographically closer to your visitors by choosing one of our 35 Google Cloud Platform data centers for each of your sites. This ensures low latency for your visitors and lightning fast load times.
Premium tier network
You deserve nothing but the best. That's why we utilize Google Cloud Platform's premium tier network designed to minimize distance and hops, resulting in faster more secure global transport of your data.
One-click development sites
Test before pushing to production
Each install can have its own staging environment, completely separate from your live production site. Easily test new CMS versions, addons, code, and share it with your team.
Push staging to live
No need to worry about wasted development time on staging. When you're ready, you can one-click push changes you've made on your staging site to production in a matter of seconds.
Built by developers for developers
WP-CLI, SSH, Git, and Kinsta APM
We are Web developers ourselves, so you'll be happy to find that WP-CLI, SSH, and Git are fully supported and ready to go from the minute you sign up. All Kinsta plans feature our free APM tool as well for debugging sites.
Change PHP versions
The latest supported versions of PHP 8.0, 7.4, and 7.3 can easily be enabled with a single-click from within the MyKinsta dashboard. This allows you the freedom to run what your third-party plugins need to operate efficiently.
MyKinsta is
site management reimagined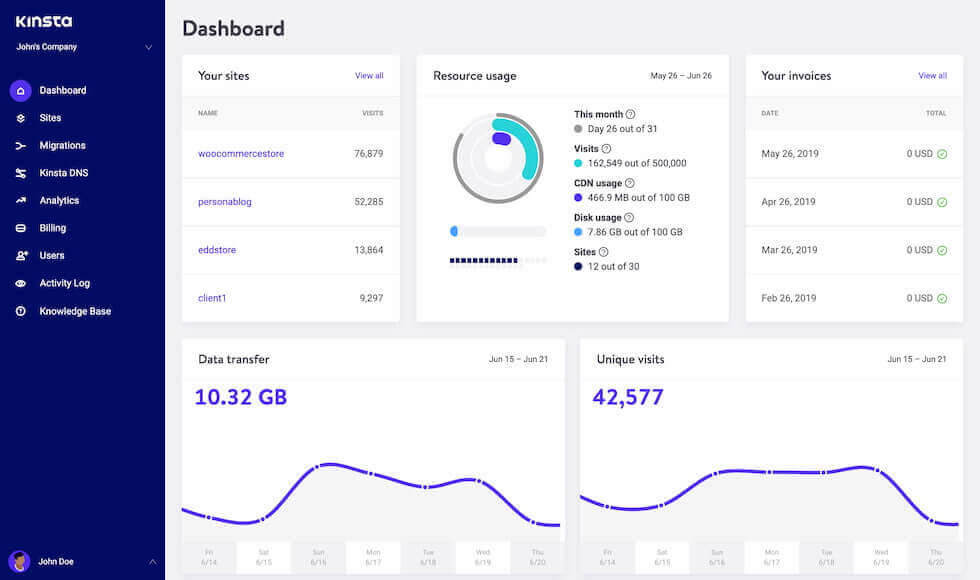 MyKinsta is a purpose-built platform that is your gateway to powerful site management. View detailed statistics, manage DNS settings, use advanced site tools, manage billing details and more.
MyKinsta is the control center for your sites. From tracking bandwidth, visitor stats to creating SSL certificates, all the tools you need are in one convenient location.
Our dashboard lets you track important data for each of your sites separately; such as visitors, bandwidth usage, response times, CDN usage, and more.
MyKinsta was built from the get-go as a companion to our services. It allows you to manage your sites with the ease and precision you would expect from Kinsta.
Our powerful multi-user feature allows you to add any number of users to your team. Give them access to all your sites, just billing or add them as developers or administrators to a subset of your sites.
Thousands of five-star ratings.
And counting.
Kinsta is the best host I've had in 10 years. Smooth migration, no stress, and friendly support one click away. I'm very happy and recommend their services!
Hands down one of the best bootstrapped WP hosting companies. Absolutely love their support staff and developer-friendly features (not to mention they are insanely fast).
Kinsta is the best WordPress host I've had so far. They are quick to help, easy to deal with, and really know their stuff. Plus their servers are super fast!
Maintaining many global WordPress sites, we've become well acquainted with all the major hosting providers. No one is running our sites as fast as Kinsta.
Absolutely fantastic - cannot rate highly enough in terms of speed, support, and UI. Went from WP Engine to Flywheel, then to Kinsta and couldn't be happier.
Great performance and the best technical support! Moved from WiredTree at which I experienced a lot of downtime since the acquisition. I'm amazed how my website's performance drastically improved and is loading fast now. They do have the best support too. Specifically, the technical knowledge compared to the other hosting providers. Really glad I switched to Kinsta!
Living in Australia, we're used to unavailable live support from international services. This has changed with the Kinsta Support team who are professional, polite, always available and eager to help. Our search for a new hosting provider was due to hosting security concerns and unresponsive hosting partners. Migrating to Kinsta was a straightforward and surprisingly pleasant process. Since migrating iCompareFX.com, we are seeing faster website speeds, higher conversions within a more secure environment.
Really love the level of experience and support Kinsta's live chat engineers provide. The 24/7 support is a game-changer for large sites, especially ecommerce.
We love Kinsta! They're no doubt one of the least negotiable expenses we have each month. Incredible speed and absolutely unbelievable support.
Kinsta provides an amazing service, with a simple control panel and top performance. Their support is even more amazing, always available, and fast at fixing any issue.
Want the n3rdy details?
How we optimize for WordPress, some more specific information about the infrastructure, developer features, feature updates, and more.
Dive in for more
Special hosting needs?
We know you expect the highest quality. Don't worry, we've got you covered!
Working with large volume sites is our speciality. We serve billions of pageviews and bytes every month with absolute stability and uptime. We can handle anything you throw at us.
Learn More
WooCommerce sites are very demanding. It is important when choosing WooCommerce hosting that you choose an optimized container-based host that is built for infinite scaling.
Learn More
Contact us!
Talk to Sales to discuss your hosting needs and find the Kinsta plan that's right for you.
Or reach out to us and we'll get back to you within one business day.
Migrate your WordPress sites for free today
Sit back, relax, and let our expert migration team handle the nitty gritty stuff. We'll let you know when your sites are ready to go.
See Plans
Contact us