Currently, in the beta, we support applications in the following languages:
Ruby
NodeJS
Python
Java
Scala
PHP
Go
As the beta expands, we will widen this list to include many more languages.
Adding an Application
To add an application, click the Add service button on the Applications page and select Add application from the dropdown menu.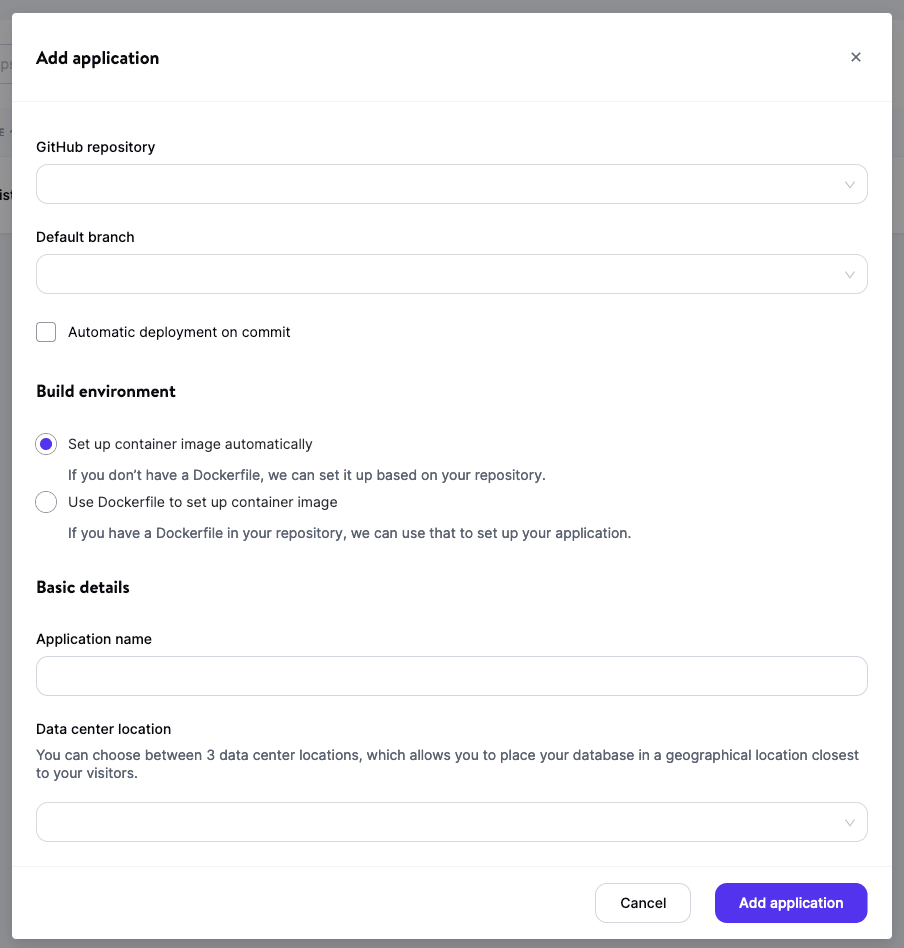 The following fields are available with the described effects:
GitHub repository: Select the GitHub Repository to use. You will need to set up your GitHub Connection which you can read about in the Authorizing Kinsta on GitHub article.
Default branch: Set the branch that will be deployed on changes and manually.
Automatic deployment on commit: Check the box to ensure your application is automatically deployed each time a commit is made to the branch selected above.
Build environment: This setting dictates how we build your applications. For more details, see Build Types:

Set up container image automatically: Choose this if you are unsure. Based on your repository, we'll try to automatically determine the best environment for your project and create a container for it. If no version is specified, we'll use the latest available version for the language your application is written in.
Use Dockerfile to set up container image: If you want more control; or already have things set up in a Dockerfile in your repository, select this option and set the Dockerfile path and Context.

Application name: This name will be displayed in MyKinsta for easy reference
Data center location: Choose the data center you want to use for this application. A couple of things to note:

During the beta, we will have a limited number of data centers available. Upon public launch, we will expand to all our current locations.
For the time being, internal connections are only supported between applications in the same region. If you're deploying an application and a database, you must choose the same region for both.
Adding an Internal Connection
If you'd like to use a database with your application, you can create the database at Kinsta and use an internal connection between the two. You can create this connection from the application's settings page or the database's settings page. See Adding Internal Connections for more information.