Save Time and Money With Kinsta WordPress Hosting
Not all hosting plans are made equal. Are you getting the most bang for your buck with your current host? At Kinsta, we invest in the best infrastructure and tools available, and include it all for free in every plan, regardless of tier. If you're not hosting with Kinsta, you're losing money. Here's the proof of our cost-to-benefit ratio.
Three ways your other WordPress host might be
costing you
Slow performing infrastructure
Your WordPress site's performance impacts your SEO and conversion rates. If your host isn't providing the best infrastructure around, there's a good chance you're losing out to your competitors.
Limited or medium-tier features
Features help speed up your site, improve your workflow, and save precious time. Are you able to focus on your business or are you stuck searching and paying for features that could be included in your WordPress hosting plan?
Lack of quality support
Website issues happen, but the way your host helps you troubleshoot them makes all the difference. If immediate, expert support isn't included in your plan, there's a good chance you'll be paying for it, one way or another.
At Kinsta, get top-level WordPress infrastructure and features
included in all plans
If you've ever hosted your WordPress site with big shared hosts, you know that performance is not their strongest skill. The cheap pricing is not worth the crammed servers and super slow load times.
Remember speed = money
Built on the best of what Google offers
At Kinsta, we're constantly striving to provide the fastest experience possible. Our customers know their SEO and conversion rates aren't likely to be impacted by hosting.
Our WordPress hosting infrastructure is powered by the Google Cloud Platform (GCP) and their:
Premium Tier Network
GCP's premium tier delivers traffic over Google's well-provisioned, low latency, global network (ie, the cables at the bottom of the ocean). Packets spend more time on Google's network, minimizing distance and hops, and resulting in the fast and secure transport of your data.
There are other hosts who don't disclose which GCP network they use. If they used GCP's premium tier, wouldn't they be shouting it from the rooftops? We suspect this means they're on Google's lower standard tier network.
Google's standard tier is comparable to other major public clouds. Instead of sticking to Google's network, it delivers outbound traffic to the ISP networks, in turn slowing down your site and lowering conversions.
C2 Machines
C2 virtual machines (VMs) are Google's finest high-performance compute-optimized machines. They're equipped with high-end Intel Xeon CPUs, which allow for sustained clock speeds of 3.8 GHz.
While a few of our competitors also host on Google Cloud, they may be using Google's cheaper N1 Machines.
These general-purpose N1 machines can't match the performance capabilities of C2 servers which were found to be on average 2.1x faster in our cache bypass test.
35 Data Centers
The closer your website to your visitors, the lower your latency and the faster your load times.
We use Google Cloud Platform's multi-regional deployment mode so you can choose between different Google Cloud data center locations for each of your WordPress websites.
To put 35 data centers in perspective, none of our closest competitors have more than 15.
Our growing list of data centers currently spans 5 continents. Easily select your data center of choice from your MyKinsta dashboard.
And an enterprise-level Cloudflare integration for faster and more secure websites
Cloudflare is one of the top players in web security and performance. At Kinsta, we pay for Cloudflare's premium offering for you so that you can enjoy these features for free. 
That's a savings of around $200+ per month per site.
And the feeling of an extra fast and secure site? Priceless.
Firewall protection
Malicious traffic can hurt your website, reputation, and bottom line.
Kinsta customers receive protection from two powerful firewalls, GCP's IP-based protection firewall and Cloudflare's web application firewall to block malicious traffic with more specific rulesets.
Overall, this means we'll be able to provide better protection for your WordPress site.
Enterprise-level DDoS protection
DDoS attacks almost always result in a crashed site.
They work by flooding sites with large amounts of traffic in a short period of time with the goal of crippling server resources. Millions of websites fall prey to these attacks every year.
Not only does reviving a crashed site take resources, but it can also have a huge impact on revenue.
High-performance and HTTP/3-enabled CDN
The closer your content to your website visitors, the faster your site. A CDN (content delivery network) can help with just that and Kinsta's Cloudflare-powered CDN has a presence in over 200+ cities worldwide.
After switching to Cloudflare and enabling Kinsta CDN, our speed tests from 10 locations around the world resulted in up to a 44% reduction in page load time.
How did
speed-oriented infrastructure

help our customers?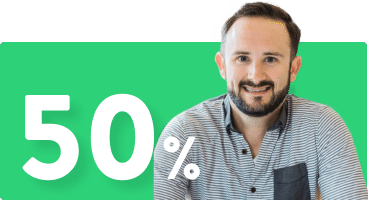 Credo scored a 50% improvement in page load times
A 1-second drop in load time resulted in an overall increase in their SEO rankings on Google which also directly correlated to higher conversion rates and revenue.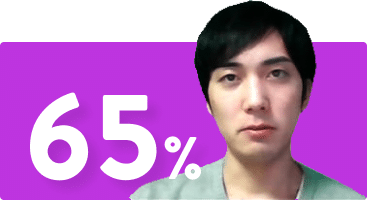 JEPISTA's page speed improved by 65%
This affiliate marketing business saw a nearly 3x increase in performance with page load time dropping from 922 ms to 311 ms. Kinsta performed 3x faster than the 11 other WordPress hosts they tested.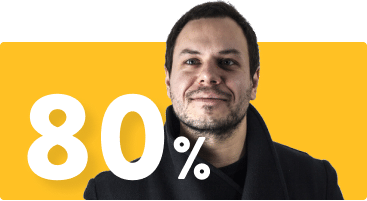 Neuralab's average response time increased by 80%
This development agency also migrated over 50 sites to Kinsta and improved client site load times by 2x. Neuralab credits Kinsta's data centers and server-side caching.
Here's a list of more
free features

Kinsta customers benefit from

Tally up the savings you'll experience when you migrate to Kinsta.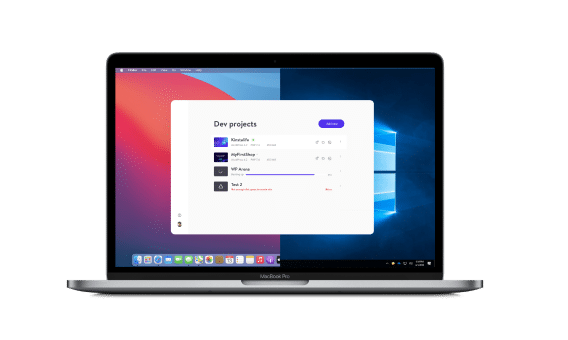 Free local development tool
DevKinsta, our local development tool has been 100% free since the start and integrates seamlessly with MyKinsta. We are proud to offer such a powerful tool to the development community for free and are happy to see other hosting providers following in our footsteps.
Combine DevKinsta with the free WordPress staging site that comes with every plan and you're all set!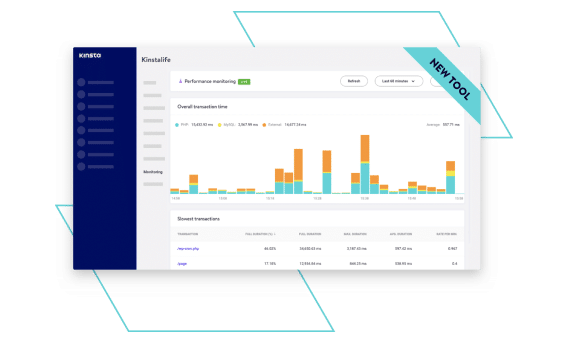 Free APM tool
No matter your technical capacity, easily identify performance bottlenecks on your site and see what is needed to take action.
You can say goodbye to learning and paying for other third-party monitoring tools. Kinsta's APM tool is built straight in your MyKinsta dashboard and is designed to be used by website owners of all skill levels. That means you may not need to call your developer in a panic when things take a turn midway through an important sale.
Server-level caching
Caching reduces the amount of work required to generate a page view, ie it makes your website faster!
If you host your WordPress site at Kinsta, you don't need to worry about using or paying for any complicated caching plugins.
We automatically use four types of cache (bytecode, object, page, and CDN cache) to make sure your website loads in the blink of an eye.
Backups
There's no need to pay for backup plugins when you host with Kinsta.
Choose from a slew of automated and manual backup options that will meet the needs of even the most highly dynamic sites.
Why spend 20+ minutes a week manually backing up your sites when you can set up an automated backup creation to your S3 or Google Storage vault?
Sleep easy at night knowing that if any issues arise, your site can easily be rolled back straight from your MyKinsta dashboard.
Migration
We offer unlimited free basic migrations from all hosting providers. It doesn't matter if you have one WordPress site or 50, our expert migration team is ready to help make your transition to Kinsta a breeze.
Save up to 16 hours of work and $3000 per site by letting our dedicated migration team do the heavy lifting.

Plus, we have a 30-day money-back guarantee should you decide Kinsta is not right for you.
Our happy customers say it best
We've tried more than 5 different companies over the past 6 years and were struggling with our scalability until we found Kinsta. Our CTO researched hosting companies and he was impressed with Kinsta's infrastructure. After moving we saw at least 20% faster page load speeds, better caching, 99.9% uptime, and the team is just there for you.
Kinsta is reliable and makes shipping changes easy. The support team was exceedingly helpful when we needed to migrate our blog. A+ on their support team.


We love Kinsta! They're no doubt one of the least negotiable expenses we have each month. Incredible speed and absolutely unbelievable support.
It's the one area of my business I know I don't have to think about. The support is incredible, and everything about the platform is thoughtfully designed and incredibly easy to use, and my customers' sites are safe and secure.
Many thanks again to @kinsta for being such a great host. Their support team is incredible and they've made my development life easier!
Our WordPress site is at the core of our business and we know it is vital that we use the best possible hosting and have just-in-time access to quality hosting support. The limitations of our previous cloud-based hosting became apparent following a massive increase in website traffic during the COVID-19 pandemic. We reached out to Kinsta and they stepped up providing amazing support during service testing, site migration and subsequently in optimizing our site performance. I have absolutely no hesitation in recommending them as the premium WordPress hosting service!
Think of our expert support team as an
extension

of your team

At Kinsta, 97% of all support inquiries over the past 5 years were closed with the customer happy and satisfied.
Single-tier support
Whether you're a blogger or Fortune 500 company, we treat every website as mission-critical. No matter what plan you're on, you'll always get access to the same level of fast, friendly, and expert support.
Available 24/7/365
Our expert support engineers cover every time zone, working across the clock to assist our thousands of customers in over 120 countries.
Proactive site monitoring
We check the status of all sites we host every 2 minutes. If your site goes down, the system notifies our engineers and they start immediately investigating the issue.
Two months after making the switch to Kinsta, we saw a dramatic decrease in the utilization of employees. We saved 2 hours per day per helpdesk employee on time lost to administrative tasks. With our current staffing, that is the equivalent of hiring another full-time employee. We never understood how good tools and proper hosting organization could affect our average time spent on what was most important: our customers!
Kinsta is the WordPress industry's
best-kept secret
It might seem like other providers give you the same quality of service, but the devil is in the details. We use Google's Premium Tier Network and C2 machines, as well as provide an enterprise-level Cloudflare integration. We challenge you to find the same solution for your business needs anywhere else for as little as $35/month.
Client Story
How WordPress Agency Motto Saves Time and Money with Kinsta
Even agency owner Greg from Motto Design Studios is shy to talk about Kinsta. He doesn't want the secret getting out.
Join the growing club of
24,800+ companies

who are ecstatic about their WordPress hosting partner.
My leap to Kinsta was one of the most seamless transitions I've ever made with anything technical having to do with my blog, and the rewards have paid off in massive ways ever since. From the impressively hands-on customer support to the near-invincible uptime I've experienced for six years now, I've never felt more at ease with where my website resides.
If I'm talking with another developer and they want recommendations on WordPress hosting, Kinsta hands down. It'll save you headaches and all sorts of issues and your clients will be super happy so it's a no brainer.
Kinsta is our secret weapon. In a niche as competitive as ours, organic SEO is the crux of all the matter, and our website's loading speed allows us to position ourselves at the top of the search results.
After having now been with them for more than three years now, I can hand-on-heart say that moving all of our sites to Kinsta has been one of the best business decisions we have ever made. I just wish we had made it sooner!
Kinsta saves us time so that we can focus on building our business instead of worrying about hosting or downtime. It's quick and easy to use, has good support, and the websites load quickly and have excellent uptime.
We love how you guys are always improving and testing new stuff. Thanks for providing better options for WordPress websites. Kinsta has improved our development workflow and website performance by leaps and bounds. We feel like we have our own server team one keystroke away, always willing to help and answer any server related questions we have.
Plans that scale with your business
How do our competitors compare?
We've made your research easy and even have more comparisons to look through should you be interested.
| | Kinsta | WP Engine | Flywheel | SiteGround | DigitalOcean | Cloudways | Pantheon | GoDaddy | InMotion |
| --- | --- | --- | --- | --- | --- | --- | --- | --- | --- |
| Core Infrastructure | GCP C2 (Higher-Performance "Compute-Optimized") and N1 VMs – same across all plans | GCP – Varies by plan | GCP | GCP N2 (General Purpose VMs) | Varies by plan | Varies by plan (Digital Ocean, Vultr, Linode, AWS, Google Cloud Platform) | Same across all plans | Amazon AWS | Varies by plan |
| Global Data Centers | 35 locations | 15 locations | 5 locations | 6 locations | 12 locations | 65 (varies by plan) | 4 regions | 3 regions | 2 locations |
| Free DDoS Protection | | | | | | | | | |
| Free Cloudflare Firewall | | | | (Optional) | | | | | |
| Free High-Performing CDN | (Cloudflare Enterprise aka premium) | (MaxCDN) | (Fastly) | (Cloudflare free version) | Cloudflare compatible, requires manual setup | Premium add-on | (Let's Encrypt) | Only on Ultimate plans | Varies by plan |
| Free Local Development Tool | | | | | | | | | |
| Free APM Tool | | | | | Not specified | Cloudways Basic APM | Not specified | Not specified | Not specified |
| Free Migrations | | | | | | | Paid service | Automated migrations on all plans, Supported migrations cost $99 | All plans |
| Premium 24×7 Support | All plans | All plans | All plans | All plans | Paid add-on | All plans | Varies by plan | Varies by plan | All plans |
Give Yourself a Free 20% Speed Boost Simply by Migrating to Kinsta
We measured 3,200+ migrations over the course of a three-month span. On average, client sites experienced 20% faster load times just by moving to Kinsta. Here's how fast your site can run (and how slow the competition is):
From BlueHost to Kinsta: +39% improved page load times (avg.)
From Amazon AWS to Kinsta: +26% improved page load times (avg.)
From Digital Ocean to Kinsta: +26% improved page load times (avg.)
From Liquid Web to Kinsta: +32% improved page load times (avg.)
From Cloudways to Kinsta: +2% improved page load times (avg.)
From HostGator to Kinsta: +29% improved page load times (avg.)
From Dreamhost to Kinsta: +11% improved page load times (avg.)
From SiteGround to Kinsta: +13% improved page load times (avg.)
Other: +25% improved page load times (avg.)
How is this possible? Our customers enjoy:
A stack that's been fine-tuned for WordPress over the past 9 years
Google's Premium Tier Network to deliver website data faster
Free CDN powered by Cloudflare's global network of 275+ locations
A hard-to-beat server-level caching solution
Free migrations are available for all of Kinsta's plans, from Starter to Enterprise, regardless of how many sites you have. Simply sign up for a plan to get started. Test the service and the speed risk-free, and we provide a 30-day money-back guarantee. You only lose if you don't give this a try!
Like what you see? Join Kinsta
Now that we convinced you that Kinsta is the hosting partner your business needs, all you need is to sign up, fill out the migration form, make a coffee, and see the results!