Über uns
Kinsta wurde 2013 mit dem Wunsch gegründet, den Status Quo zu ändern. Wir haben uns vorgenommen, die beste Hosting-Plattform der Welt zu schaffen, und das ist unsere Mission.
Wir begannen mit verwaltetem WordPress Hosting, fügten Anwendungs-Hosting und Datenbank-Hosting hinzu und entwickeln uns ständig weiter, um branchenführende Tools und Leistungen für den modernen Entwickler anzubieten. Wir sind bestrebt, Entwicklern und Unternehmen die bestmögliche Erfahrung zu bieten, indem wir auf Leistung und Benutzerfreundlichkeit setzen.
Schließen Sie sich dem wachsenden Club der 25,150+-Unternehmen an, die auf besseres, schnelleres Hosting umgestiegen sind.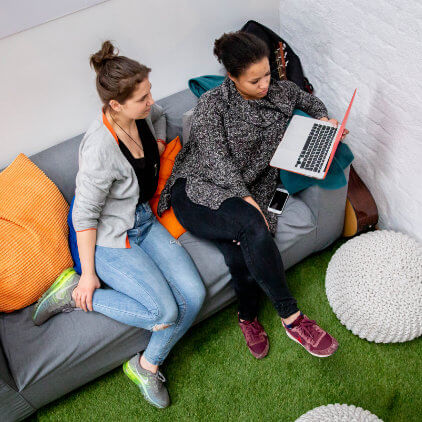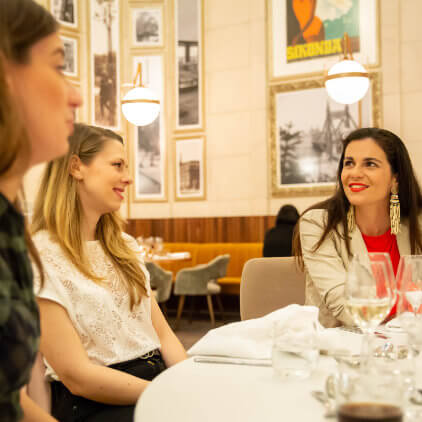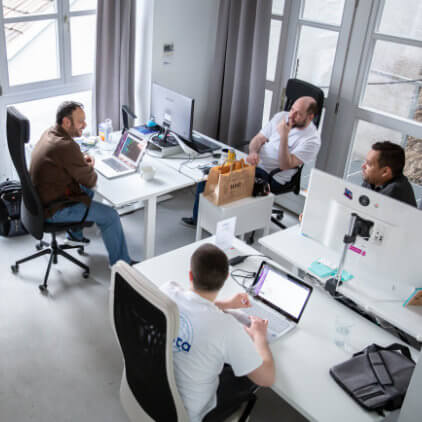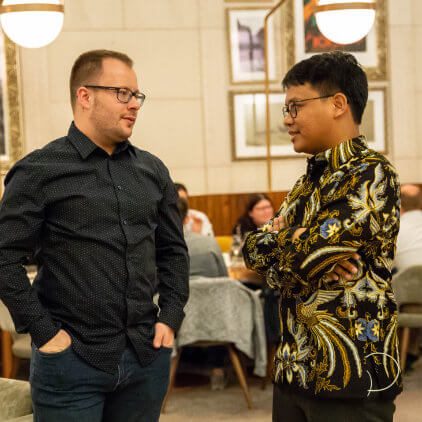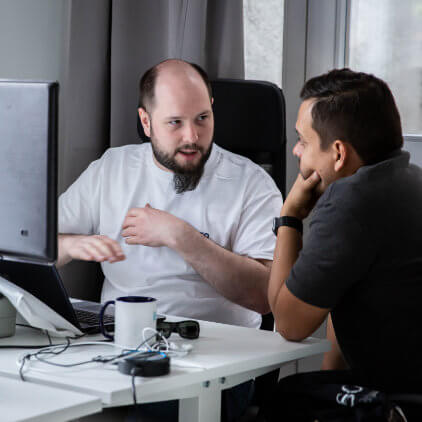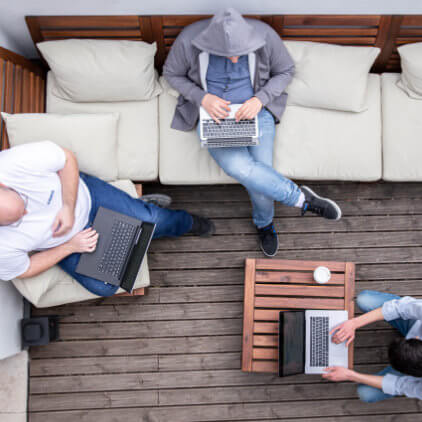 Kinsta wächst
Unser Team ist über die ganze Welt verteilt.
Wir sind immer auf der Suche nach großartigen Talenten, die dieselben Werte vertreten und sich genauso für eine kundenorientierte Entwicklung begeistern wie wir.
Unsere Karrieren
Kinsta ist von Leistung besessen
Stellen Sie sich einen Autoliebhaber vor, der sein Traumauto baut. Das sind wir beim Hosting. Wir lieben, was wir tun, und sind besessen von der Feinabstimmung unserer Server, um maximale Geschwindigkeiten zu liefern.
Beschleunigen Sie Ihre Seite noch heute
Kinsta ist die schnellste Serverkonfiguration, die wir je hatten. Es ist nicht einmal annähernd vergleichbar. Geschwindigkeit ist für eCommerce so entscheidend.

Kinsta ist global
Wir betreuen Tausende von Kunden aus 128 Ländern rund um den Globus. Der einzige Kontinent, den wir noch nicht erreicht haben, ist die Antarktis.
Absolut fantastisch - kann in Bezug auf Geschwindigkeit, Support und Benutzeroberfläche nicht hoch genug bewertet werden. Ging von WP Engine zu Flywheel dann zu Kinsta und könnte nicht glücklicher sein.
2.500
Support Gespräche wöchentlich
30.000+
Gigabytes an Datenverkehr täglich
99,9%
Garantierte Betriebszeit
Kinsta ist lokal
Wo auch immer auf dem Globus, wir sind gerne vor Ort. Deshalb beschäftigen wir ein Remote-Support-Team, das alle Zeitzonen abdeckt. Außerdem bieten wir muttersprachlichen Support in 5 Sprachen.
Ihr Online-Chat-Team antwortet sofort, wenn ich versucht habe, Kontakt aufzunehmen. Jedes Mal konnten sie alle Probleme sofort lösen - sogar in unserer Zeitzone.

Kinsta ist divers
Unser Team ist rund um den Globus verteilt. Dies ermöglicht es uns, Top-Talente auf der ganzen Welt und ohne Grenzen einzustellen.
Unsere Vielfalt ist auch unsere Stärke. Wir alle kommen aus unterschiedlichen Lebensbereichen, und das erweitert unsere einheitliche Perspektive. Sie flößt uns ein Verständnis ein, das wir tagtäglich nutzen können, wenn wir miteinander oder mit Kunden interagieren.
Adam Tamics
Development Team Lead
Adrian Lorica
Support Lead APAC
Adrian Merrill
Support Engineer
Adrian Sebastian Izquierdo
Affiliate & Partnerships Manager
Agnes Gugi
Global Expansion Associate
Alexander Dreith
Development Team Lead
Alexander Michaelson
Business Development Manager APAC
Alexandra Simon
Global Expansion SEO Associate
alexbykov
Quality Assurance Associate
amakaikpeazu
Sales Trainer
amielvincent
Support Engineer
Anabel Tamayo
Sales Development Representative
Andelko Lezajic
Support Engineer
Andhi Abdillah
Support Engineer
Andras Gerencser
Director of Development
Andrea Zoellner
VP of Marketing
Andres Escobar
Support Engineer
Andrew Caliao
Support Lead APAC
Andrew Cherry
Security Engineer
Andy Vasile
Support Engineer
Anett Szekeres
Global Expansion Team Lead
Anita Dunai
Head of Local Operations
Anna Dendinger
Billing Representative
Annamaria Boda (Annamari)
HR Generalist
Annamaria Soos
JavaScript Developer
Arcel Mukadi
Technical Support Engineer
Armando Oviedo
Sysops Engineer
Aron Benkoczy
JavaScript Developer
Attila Mandoki
Quality Assurance Associate
Attila Szegedi
Marketing Design Team Leader
Balazs Salfay
Product Owner
Barnabas Urmossy
JavaScript Developer
Bence (Ben) Farkas
Account Executive
Bence Graner
JavaScript Developer
benclayton
Agile Coach (Mon-Fri 9-5 BST)
Bladimir Fernandez
Support Engineer
Bogdan Stratulat
Support Engineer
Bojan Ulemek
Head of SysOps
Brittany Bose
Sales Development Representative
Buki Andras Bence
Global Expansion Trainee
Camila Ortega
Talent Acquisition Specialist
Carlo Daniele
Business Development Manager Italy
Carlo Zablan
JavaScript Developer
Chad Davadi
Migrations Engineer
Chris Buckmaster
Support Manager Americas
Chris Ksiazak
Javascript Developer
Christi Nickerson
Technical Documentation Creator
Christophe Asselin de Beauville
Account Executive - French Markets
condor van heijningen
Account Executive
Cosmin Tataru
Migrations Engineer
Csaba Valyi
Javascript Developer
Csaba Varga
Director of Product
Dani
JavaScript Developer
Daniel Harfouch
Chief Global Strategist
Daniel Oliver
Senior Support Engineer
Daniel Siket
Product Designer
Danielle Hardy
Lead Account Manager/ D&I Co-Chair
David Greene
Head of Internal Support
Diana Egbewunmi
Travel and Events Coordinator
Elod Kuthy
JavaScript Developer
Emerson Veenstra
DevOps Engineer
Eniko Agotai
Global Expansion Intern
Erick Fogtman
Product Owner
Eugene Wozniak
Support Engineer
Evelin Nagy
HR Manager EMEA
Fanni Simon
Global Expansion Intern
farhanfaisal
Malware & Abuse Engineer
Felix Savino
Sales Development Representative
Ferenc Benda
Full Stack Architect
Ferenc Pusztai
Global Expansion Team Lead
Franchesco Kelvin Villanueva
Support Engineer
Fredrick Neo
Support Engineer
GAMO NANA Servais Randolph
Support Engineer
Gema Sandoval Obando
Financial Assistant
Gergo Ferenczi
JavaScript Developer
Gerson Abrego
Technical Support Engineer
Giulio Daprela
Backend Developer, MarTech
Grant Richmond
Frontend Developer
Hannah Phillips
Customer Operations Manager
Hristina Mitkova
Support Lead EMEA
Ian Eustis
JavaScript Developer
Iskak Agus Rachmat Utomo
Internal Support Engineer
Istvan Greczi
Javascript Developer
Jade Suzarte
Marketing Assistant
Jason Kuberka
Head of Migrations
Jed Banaag
Migrations Engineer
Jeff Paul
Director of Technical Support
Jeff Sarlo
Support Engineer
Jelena Stosic
Support Engineer
Jenna Recktenwald
DevOps Engineer
Jeremy Landau
Development Team Lead - Kinnect
jerryrelunia
Javascript Developer
Jesse Luimes
Head of Growth
Joeri Smissaert
DevOps Engineer
John Mark Causing
SysOps Engineer
John Torson
Account Executive
Jon Penland
Chief Operating Officer
Jordan ONeill
Email Marketing Specialist
Jovana Djordjevic
Support Engineer
Julio Adam Pratama
Support Engineer
Karelis Ramos
Client Experience Specialist
Katalin Juhasz
Outreach Coordinator
Katelyn Pauley
Support Lead Americas
Kathy Sheng
PPC Specialist
khaledbarbar
Support Engineer
Kiera Kosciolek
Social Media Manager
Kristof Dombi
Head of Development Operations
Krysten Gillett
Support Engineer
Laszlo Farkas
Director Of Engineering
Laszlo Toth
JavaScript Developer
Lauren Cool
Legal Operations Administrator
Lauri Gombos
DevOps Engineer
Leroy Bobadilla
Key Account Manager
loisedizon
Marketing Assistant
Lorant Toth
Product Design Lead
Magda Macias
Financial Assistant
manoj manduva
Product Designer
Marcel Bootsman
Marketing Manager Dutch Market
Marcelo Gutierrez
SysOps Engineer
Maria Magyar
JavaScript Developer
Maria Mavromataki
JavaScript Developer
marijazivkovic
Graphic Designer
Mario Dimov
SysOps Shift Lead
Marton Szvetko
Full Stack Architect
Matt Sobieray
JavaScript Developer
Matteo Duo
Head of Content
matthaddon
Javascript Developer
Megan Dermody-Hall
Sales Development Representative
Melissa Choy
Head of Marketing Technology
Melissa MacKenzie
Head of Support
merhawiselassie
JavaScript Developer
Merineth Edullantes
Support Lead APAC
Micha Yugto
Support Engineer
Michael Lyon
JavaScript Developer
Michael Manolioudis
SysOps Engineer
Mike England
Development Team Lead
Mike Mortimer
Training Coordinator
Mike Price
Migrations Engineer
Milan Szakacs
Development Team Lead
Mina Mikhail
Support Engineer
Mitul Patel
Javascript Developer
Mogyorodi Balazs
Javascript Developer
Mohamed Kotp
Support Engineer
Mohit Rajpara
Senior Technical recruiter
Monica Martinez
Project Manager
Natalie Wiggins
Product Designer
Nathan Bliss
Chief Sales Officer
Nick Sansivero
Demand Generation Specialist
Nicolas Ramirez-Diaz
JavaScript Developer
Nicole Coetzer
Head of Sales Development
Nikola Djuric
Senior Support Engineer
Paola Uy
Support Engineer
Patience Mendivil
Support Engineer
Patrik Szigeti
Global Expansion Associate
Paulo Paracatu
SysOps Engineer
Pedro Veracierto
Account Executive
Peter Kovacs
Director of Global Expansion
Peter Lubbs
SysOps Engineer
Peter Polgar
Head of Product Design
Peter Seprus
JavaScript Developer
Peter Sziraki
Senior Support Engineer
Peter Viola
Javascript Developer
Preston Lambrecht
Head of Sales
R. D. David Young
CFO & General Counsel
Rachel Devine (Steinbauer)
Director of Sales Operations
Ramil Bermejo
SysOps Shift Lead
Ramy Allam
DevOps Engineer
Rebeka Szabo
Global Expansion Intern
richardfalconer
Head of Developer Experience
Robert Miller
Senior Full Stack Developer
Roberto Villarreal
Director of Client Success
Rodney Nellas
SysOps Engineer
Roger Williams
Head of Client Experience
Roula Vastis
HR Generalist
Rubelyn Eng
Senior Support Engineer
Ryan Ward
Billing Representative & Account Manager
Salman Ravoof
Technical Editor
Salvador Aguilar
Malware & Abuse - Team Lead
Sandor Negyeliczky
Developer
Sandor Patyi
Quality Assurance Associate
Sara Prakasita Dewi
Support Engineer
Sarwar kori
SysOps Engineer
Sean Canavan
Digital Advertising Specialist
Serena Wu
Marketing Project Manager
Shannon Lam
Marketing Editor
Shawn Lim
Frontend Developer
shawnchollette
Support Engineer
Shelby DeNike
Sales Engineer
Siket Kristof
Development Team Lead
Sonia Jimborean
Account manager
Stefanie van Elswijk
Finance Assistant
stephanrotolante
JavaScript Developer
Steve Bonisteel
Technical Editor
Szabina Knetik
Global Expansion Team Lead
Tamas Vasenszki
Quality Assurance Associate
Taryn Bonugli
Senior Talent Acquisition Manager
Tatiana Gripasova
JavaScript Developer
Teodora Vegh
Culture Team Lead
Thoriq Firdaus
Senior Full Stack Developer
Tiago Almeida
Full Stack Architect
Timea Schnebli
Sales Development Representative
tjprawel
Sales Development Representative
Tom Sepper
Chief Customer Officer
Tom Zsomborgi
Chief Business Officer
Trajche Cekov
SysOps Engineer
traviswhite
JavaScript Developer
Vela Farquharson
JavaScript Developer
Veselin Gorbachev
Support Engineer
Victor B Andersen
JavaScript Developer
Viktoria Korodi
Head of Quality Assurance
Viktoria Vass
UX Designer
Vilte Ziaunyte
TA Candidate Experience Coordinator
Vladimir Milosavljevic
Support Engineer
Vladimir Tanovic
Support Lead EMEA
Wayne Gordon
Support Engineer
Yuri Kague
Graphic Designer
Zaina Xavier
Director of Human Resources
Zsofia Hidas
Talent Acquisition Coordinator
Zsolt Makrai
Developer Team Lead
Lange Rede kurzer Sinn — diese Leute wissen, wie man Remote-Mitarbeiter einstellt und betreut.
Kinsta liebt Entwickler
Genau wie Sie sind wir alle Mitglieder der Web Community: Nutzer, Entwickler und Enthusiasten. Deshalb haben wir unser Geschäft darauf aufgebaut, eine Plattform und Tools anzubieten, mit denen Sie schnelle Webdienste und Websites ganz einfach betreiben können.
Wir versuchen auch, etwas zurückzugeben, wann immer wir können: Wir unterstützen lokale Communities, Sponsoring von Konferenzen und Meetups und tragen zu Open-Source-Projekten bei.
Bitte helfen Sie mir, @kinsta für ihre Großzügigkeit bei der Unterstützung von #WCUS mit ihrer Zeit, ihrem Talent und ihrer finanziellen Unterstützung zu applaudieren. Ich weiß die Leidenschaft und den Enthusiasmus, die Sie mit der WordPress-Community teilen, aufrichtig zu schätzen.

Kinsta schafft ein besseres Erlebnis für jeden Kunden
Unser Engagement für qualitativ hochwertiges Hosting bedeutet, dass wir ständig innovativ sind, um die sich entwickelnden Bedürfnisse unserer Kunden zu erfüllen. Die von uns entwickelten Funktionen, unser Tech-Stack, die Benutzeroberfläche und der Support sind alle darauf ausgerichtet, ein erstklassiges Erlebnis zu bieten.
Wir sind stolz darauf, einer der am schnellsten wachsenden Hosts in der Branche zu sein und legen die Messlatte jeden Tag ein Stück höher.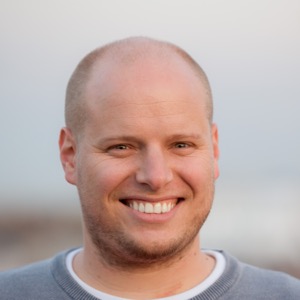 Unser Plan ist es, eine Plattform zu schaffen, auf der Entwickler alles finden können, was sie für den Betrieb eines Webdienstes benötigen, damit sie sich auf die Erstellung und den Austausch ihrer besten Arbeit mit der Welt konzentrieren können.
262%
Wachstum des Kundenstamms im Jahr 2018
97%
Zufriedenheitsbewertung des Supports