Secure WordPress Hosting
Nothing is more important to us than the security of your website. Our proactive and reactive measures automatically process 5.7 billion malicious requests and mitigate 90+ DDoS attacks per month.
Join the growing club of 26,700+ companies ecstatic about their WordPress hosting partner.
There's a 60% chance that one cyber attack can destroy your business. 
With more than a billion live websites out in the world, you might think the odds of a malicious actor attacking your site are unlikely. But not all sites are targeted.
Many WordPress attacks are with bots probing your site for vulnerabilities as they are looking for an entryway to attack you without human intervention.
But what are the most common vulnerabilities hackers leverage to break into your site?
Poor Hosting Environment
Expect free or cheap web hosting to overlook security features such as DDoS protection, firewalls, and proactive plugin vulnerability checking.
It's because running a secure hosting infrastructure costs money. Therefore, companies that do it for free or for a cheaper plan scrimp on vital security features.
Compromised Login Credentials
A non-trivial percentage of hacks are from malicious actors getting their hands on WordPress login credentials.
Although WordPress does a great job mitigating these breaches by auto-generating secure passwords, it's still up to users to keep them safe and use strong passwords for hosting.
Outdated Core, Plugins, and Themes
Did you know that 56% of the known entry points for hackers are outdated plugins?
Ignoring updates draws security vulnerabilities, leaving an open entryway for malicious actors.
The consequence of cyber attacks costs an average of $200,000 on businesses of all sizes.
About 60% of hacked small to medium-sized businesses go out of business within six months. And whether you run a tiny personal blog or a huge multinational online store, the threat of getting hacked is always present.
Therefore, it's important to choose a secure host for your business.
Protect your site with Kinsta's state-of-the-art infrastructure
When hackers are probing for a way into your site, they'll often turn to the server to look for exploits. Don't risk your security by choosing cheap hosting providers who don't invest in the most secure servers.
If you want top-notch security, check out why Kinsta is your best option.
Enterprise-level firewall and DDoS protection
Two powerful firewalls protect your sites at all times. GCP's IP-based protection firewall and Cloudflare's enterprise-level firewall prevent many attacks from ever reaching your server.
Cloudflare's strict rules filter helps monitor your site's incoming traffic and block IPs associated with hacking and DDOS attacks.
Complete isolation technology
Every site on our platform runs in an isolated software container.
And each contains all the software resources required to run the site — Linux, NGINX, PHP, MySQL — making each site 100% private.
Linux containers are the underlying container technology for our infrastructure. Hence, you won't share any software or hardware resources, not even between your own sites.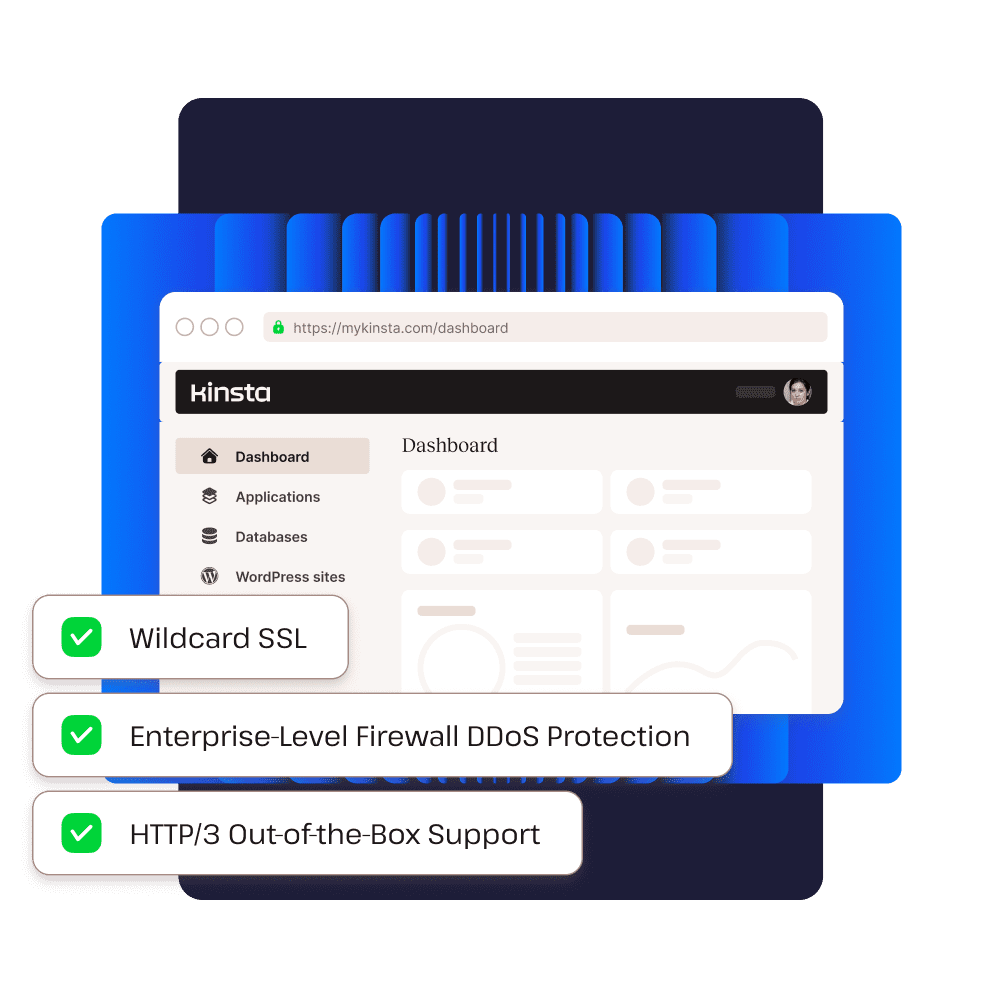 And extra security precautions and tools are included in all plans.
Malicious traffic can hurt your website, reputation, and bottom line. And your WordPress host plays an integral part in maintaining a thoroughly secure environment.
At Kinsta, we process over 1.5 billion malicious bots' requests every week before they even reach our clients' sites.
Dedicated Malware Team
We proactively monitor your site's daily inbound traffic to detect threats, and even possible infections on our platform.
The tools to keep your site safe are always up-to-date through the help of our fortified detection rules and scanners.
Additionally, our malware removal service and assistance are accessible and free to all Kinsta plans. Our service knows no tier and limit.
Free SSH Access
SSH provides secure logins, thus you can be confident no one can access your connection while using it.
With SSH access included in all Kinsta plans, you can securely connect to your website's server and use WP-CLI to manage your WordPress site.
And for a more streamlined development workflow, you can add SSH keys to your MyKinsta dashboard to eliminate the need for a password. This enforces a safer way of logging into your server.
Free One-Click SSL Certificate with Wildcard Support
Encrypt and protect your site's data exchange from cyber threats with Kinsta's free, automatically renewed SSL with 256-bit encryption (SHA256).
Our free SSLs through Cloudflare also come with wildcard domain support! So if you use WordPress in multisite mode with dozens of multisite, all your subsites will be automatically protected, making HTTPS deployment significantly easier.
Get secure hosting that supports your business needs
With malicious attacks getting more dangerous, we back up our technology with expert support and services to ensure a 99.9% SLA-guaranteed uptime.
Proactive hack prevention + SLA-backed uptime
We have hardware firewalls, active and passive security, and other advanced features to prevent access to your data. And if you have a compromised site, we'll fix it for free.
Regular uptime checks
Website issues can happen anytime. Our Malware and Abuse team checks your site 720 times daily for uptime. If there's an issue, our engineers will respond quickly to get service restored to your site.
24/7/365 support
Website problems don't stick to a 9-5 schedule. Connect to a WordPress expert in less than a minute, 24/7/365! Yup! That includes holidays and weekends! 
At Kinsta, 97% of all our support inquiries in over the past 5 years were closed with the customer happy and satisfied.
It's the one area of my business I know I don't have to think about. The support is incredible, and everything about the platform is thoughtfully designed and incredibly easy to use, and my customers' sites are safe and secure.
Easy access multi-layer security
We can all agree that nothing could be worse than someone hijacking access to all of your sites, right? Here are more features to help you cover security basics with just one click.
Automatic backups
We automatically create 2 weeks' worth of backups to keep your data safe and protected for any worst-case scenario.
Each backup is a complete snapshot of a site's environment's files, database, redirects, and Nginx configuration at the time the backup was created.
Two-factor authentication
We support two-factor authentication, IP Geolocation blocking, and automatically ban IPs with over 6 failed login attempts in a minute.
This way, malicious actors can no longer access your account with just a username and password.
One-click WordPress staging environment
Intercept errors and test new core updates, plugins, themes, and custom code with our free WordPress staging environment.
Work with peace of mind knowing that you can catch any errors or incompatibilities before pushing your site live.
How do our top-notch security infrastructure and practices keep our customers worry-free?
Our team enforces active and passive measures 24/7 all year round to stop attacks. So you can sit back, relax, and focus on what you love to do most.
We have been extremely happy with our decision to work with Kinsta. We currently host over 110 sites on Kinsta, collectively handling over 1.2 million visits per month. In fact I was just Slacking my co-founder the other day: "We've made a lot of good decisions over the years here and I feel like Kinsta was one of the better ones."
The level of virus protection they offer for the great price is absolutely worth it
The most remarkable thing for us is the stability of Kinsta's system. Before we moved to Kinsta, every year we had several malfunctions that affected our users, but since migrating to Kinsta, those problems have completely disappeared. This is not only because Kinsta itself is highly stable, but also because the probability of failure has been reduced because we no longer need to link multiple systems through an API.
For any company that is serious about its internet presence, we would recommend working with Kinsta. There is nothing like having time to grow your business and the peace of mind that your hosting is in good hands.
Kinsta has been a reliable partner that we can count on. They handle the performance, security, and reliability so we can focus on what we do best, which is launching and enhancing client websites.
Kinsta has allowed us to offer a bulletproof service to our top tier clients and keep them happy. Especially those who have traffic spikes with sudden server demand.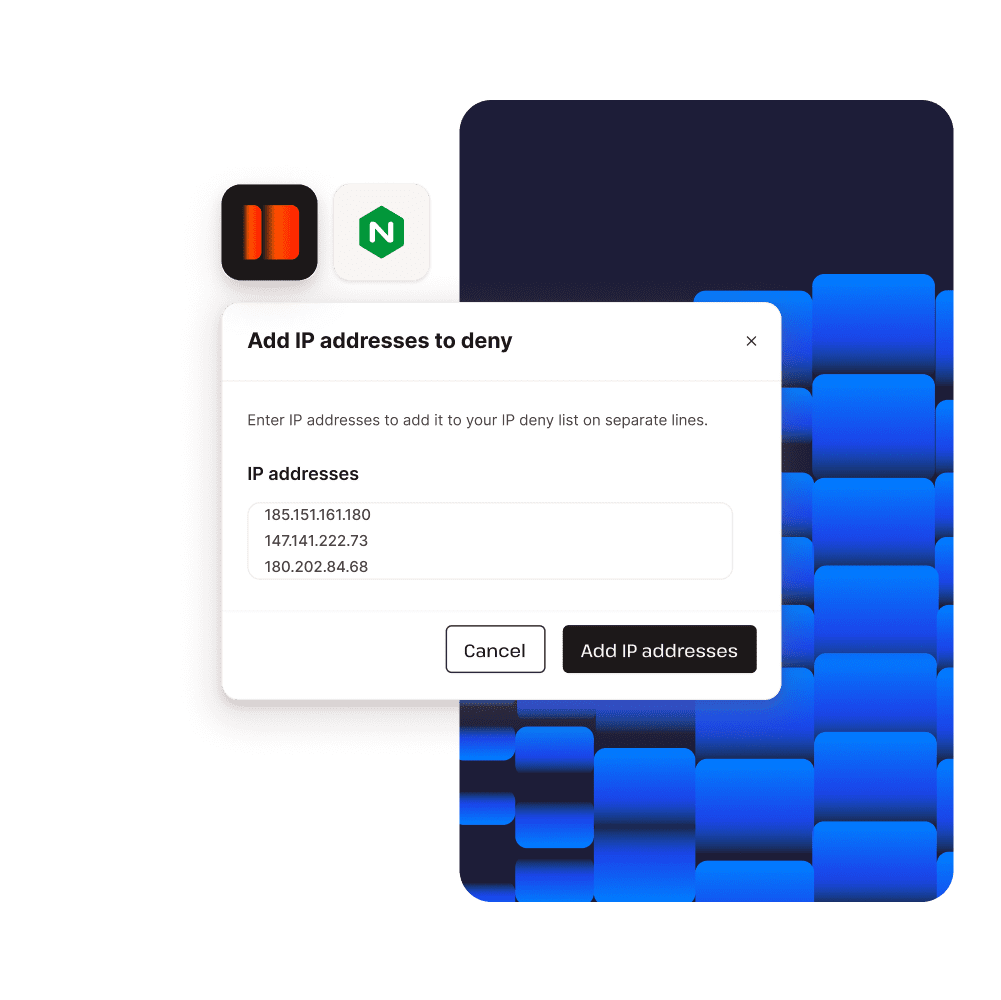 Rest easy at night knowing we go over and beyond to keep your site safe
Hide your WordPress and PHP versions from front-end requests.
Get new minor security updates from WordPress automatically. Core WordPress update is an exception.
Prevent malicious actors from accessing your site. Our open_basedir restrictions don't allow PHP execution above the ~/public directory.
Stop an attack in its tracks through XML-RPC; our custom snippet of code in the NGINX config file produces a 403 error – forbidding them to access your page by default
Use the IP Deny tool in your MyKinsta dashboard to block any IP address.
Contact us!
Talk to Sales to discuss your hosting needs and find the Kinsta plan that's right for you.
Or reach out to us and we'll get back to you within one business day.
Ready to protect your data and your business?
Our plans encompass starter to enterprise-level solutions. Find what fits your business risk-free with our 30-day money-back guarantee.
Starter
starting from
$24
USD
month
billed annually
Sign up
WordPress Installs

1 WordPress install

Monthly Visits

25,000 visits

Storage Space

10GB Storage

Free CDN

100GB CDN

Free Premium Migrations

1 premium migration

PHP Workers

2 PHP workers

Backup Retention

14 days backup retention
Business 1
starting from
$77
USD
month
billed annually
Sign up
WordPress Installs

5 WordPress installs

Monthly Visits

100,000 visits

Storage Space

30GB Storage

Free CDN

400GB CDN

Free Premium Migrations

3 premium migrations

PHP Workers

4 PHP workers/site

Backup Retention

14 days backup retention
Agency 1
starting from
$227
USD
month
billed annually
WordPress Installs

20 WordPress installs

Monthly Visits

400,000 visits

Storage Space

50GB Storage

PHP Workers

6 PHP workers/site

Free CDN

800GB CDN

Free Premium Migrations

unlimited premium migrations

Backup Retention

30 days backup retention