selected='selected'
Earn a commission after every referral
You earn $50 to $500 after every signup based on the type of plan you refer.
We understand users might not convert right away, that's why we provide 60-day tracking cookies to ensure you get credited for the sale.
Your earnings are paid in a 60-day conversion window.
You get 10% monthly recurring commissions
True profit sharing by giving you recurring commission for the lifetime of the customer you referred, enabling you to build passive income.
With less than a 4% churn rate Kinsta customers rarely leave. So recurring commissions hold real value.
Payouts are always made on time and sent right to your PayPal account each month.
$1,000
monthly income
next March
How to get started
1
Sign up
Registering only takes a minute and you'll receive access after a quick approval on our end.
2
Generate your links
Create as many affiliate links as you like and point them anywhere on our site. Then optimize based on what converts best.
3
Earn money
As soon as your links convert you'll be credited with your referral commission, ready for the next monthly payout.
From an affiliate perspective, web hosting generates us the highest revenue. I recommend Kinsta's dedicated affiliate program for WordPress!
Kinsta had essentially perfect LoadStorm and Blitz tests. They also had no flaws in any other tests. I'm at a loss for words to praise their performance.
The Kinsta affiliate program complements its high quality of hosting. Equipped with a powerful affiliate dashboard that provides important data points and timely payouts.
Kinsta has one of the friendliest affiliate programs. They're definitely one of the best hosting providers in the world. I've been using them for a long time and have never had any problems.
Join them and start earning with Kinsta today!
Sign Up
We're in this together
The beauty behind our profit sharing model is that we truly want you to succeed and there's no limit on the passive income you can earn! We're here to help.
Real-time tracking
Instead of another confusing and cluttered 3rd-party platform, we've built our WordPress hosting affiliate dashboard from the ground up.
Overview of all the right numbers

Our dashboard gives you a quick and easy way to see your total referred pageviews, recent referral subscriptions, and a graphical overview of the plan distribution. We stand behind our data and encourage you to double-check with your own measurements. Our system is ITP 2.0 ready.
Dig deeper with in-depth analytics

View detailed subscription data for each referral, including when they complete actions such as upgrading, downgrading, or canceling. View exactly when you'll get paid for each referral, receive one-time commissions, and your recurring commission
Create and track all your affiliate links

Create your unique affiliate link with a single click and point it anywhere on the Kinsta website. See how your links performs and then optimize based on what converts best.
Multilingual dashboard

The Kinsta affiliate dashboard is available in five different languages: English, German, French, Spanish, and Italian. More languages are on their way.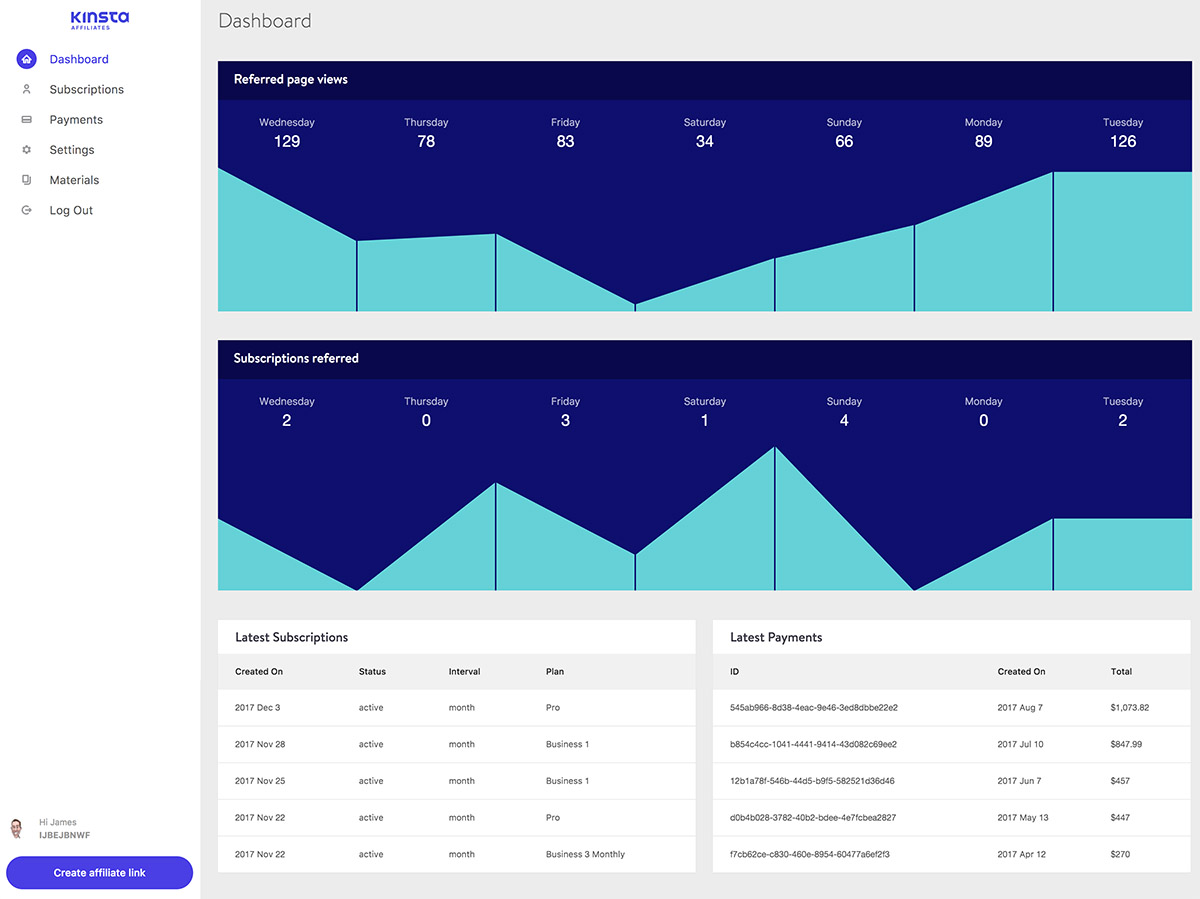 Download banners
In your affiliate account you can quickly download banners and promotional materials to use on your site. We already have a wide range of banners in each size with dark or light color sets, and varied wording which emphasizes different features.
Sizes currently available:
We want you to have everything you need to help increase your referrals. If you need another size or see something not available just let us know.
Learn affiliate marketing
Kinsta blog

We have a massive amount of content on our blog where we often discuss marketing and do interviews with some of the big name affiliates in the industry. Get inspired by what they're doing and start taking action on your own site.
Affiliate academy

Take advantage of our affiliate academy channel to quickly increase your referrals and earn more passive income. We share in-depth guides, advanced tips, and interview the top affiliate marketers in the industry.
Expert support

We have a talented marketing team and dedicated affiliate support channel here to assist you. We're happy to answer your questions and provide tips and strategies on ways to take your promotions to the next level.
The Kinsta Discord server

Join Kinsta's private Discord server to connect with other affiliates, developers, and even chat with Kinsta's team. You'll receive valuable tips and resources, get a sneak peek at what's coming next to Kinsta, and more.
Kinsta is an easy sell
A churn rate under 4% tells a lot. Once customers come to Kinsta, they rarely leave. And remember that you earn commissions over the lifetime of their stay!
Some of the features that make customers stay with us:
Powered by Google Cloud Platform, 35 global data centers
Lightning fast speeds and fortified security
All the latest tech with SSL, PHP 8, HTTP/2 CDN, staging areas, and more
24/7 professional support by WordPress experts
See all Kinsta features