Kinsta vs cPanel hosts
cPanel is a very popular online hosting control panel designed to make managing your websites easier. WordPress hosts that utilize cPanel typically include shared hosting providers as well as some basic managed VPS/dedicated server providers. These include the largest hosts in the industry such as EIG companies like Bluehost and HostGator as well as providers like Siteground, GoDaddy, and InMotion Hosting.
The average customer using a shared cPanel hosting plan usually only pays a few dollars per month, and at some point will most likely experience slowness or poor support. Why? Because shared hosts tend to overcrowd their servers, which in turn can impact the performance of your site. Support is usually subpar due to the sheer volume of sites vs support representatives. Shared hosts have to spread themselves very thin to even make a profit and this usually leads to an unpleasant experience for the client.
Read more about how shared WordPress hosting really works.
Speed
It is almost a certainty that you'll see faster page load times, along with back-end (WordPress dashboard) speed when you host with Kinsta. Our hosting infrastructure is built on extremely powerful servers, meaning your sites will not be starved for CPU and RAM resources. We utilize Google Cloud Platform and their data centers have extremely robust network connections. Independent reviews have shown Kinsta to be the fastest WordPress host on the market.
Many cPanel hosts are slow to upgrade to the latest versions of server-side software such as PHP and MySQL. PHP 7.3 is, in fact, three times faster than PHP 5.6. That's why we always offer the latest supported versions here at Kinsta, including PHP 7.3, 7.4, and 8.0 . You can switch to them at a click of a button. MariaDB, a faster drop-in replacement for MySQL is also standard in our environment. And in regards to our web servers, we don't use Apache as Nginx is much faster.
Another aspect of performance is caching, which is the process of storing resources from one request and reusing those resources for subsequent requests. In other words, caching will make your WordPress site load faster while doing less work. Usually, those with cPanel hosts will utilize a third-party caching plugin to implement this. At Kinsta, you don't need to worry about messing with any complicated and confusing caching plugins, as this is done at the server-level.
Read more about how Kinsta caching works.
Temporarily limited or suspended
Due to how shared hosting works, hosts will sometimes take a site down due to the fact that it's overloading a server. They have to do this to prevent it from affecting other customer's sites. This is one of the biggest flaws with shared hosting. Instead of your WordPress site, you and your visitors are met with a message like this:
The web service to this account has been limited temporarily! There is a server resource usage report open for this account in the User area. To remove the limits, please log into your User area and consider the options avaliable to resolve the case.
Shared hosting provider
Overloaded server
Or worse, your WordPress site might start throwing 500 errors as it surpasses the the low thresholds that shared servers have in place. These limits can include all sorts of various server processes, such as the number of concurrent MySQL connections, CPU usage, and even total database size.
Not only does this look bad for your brand, but every moment your site is down your losing money. You can rest assured that at Kinsta we take a different approach. We constantly monitor sites 24/7 and if for some reason we do determine that perhaps you need more PHP workers or disk space, we'll reach out to you and assist in determining the appropriate plan of action for your site.
WordPress-Specific features
Kinsta's hosting solution, along with our MyKinsta dashboard, was built from the ground up specifically for WordPress. This allows us to provide WordPress-specific features and tools that you typically won't find with a host that utilizes cPanel. Many of our features have come directly from client's feedback. We actively listen to all requests, and if something can help make everyone's lives easier and more productive, you can count on us looking into it.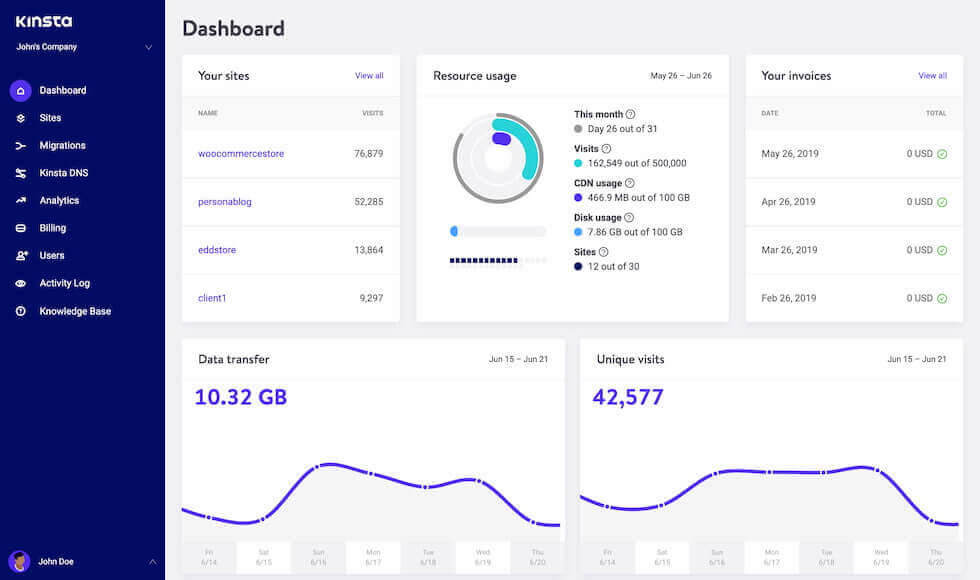 Some of these features and tools include:
Page caching performed by the server and tuned for WordPress.

WordPress-specific security rules.

Easy-to-use site creation and migration request wizard.

Ability to purge site cache from the dashboard.

Detailed analytics including bandwidth, CDN usage and insights, cache HIT and MISS ratio, and performance data.

Staging environments and the ability to push staging to live and restore backups to staging.

Option to add your own New Relic key to dive into further debugging and optimization on your site.

Use our search and replace tool to make bulk updates on your site. (Ex. change HTTP URLs to HTTPS or update old shortcodes).

MyKinsta is available in 10 languages: English, Spanish, German, French, Italian, Dutch, Portuguese, Japanese, Swedish and Danish!

Multi-user permissions and roles which allow you to define access on both the site and company level.
We also have other premium features, such as easy to use backup systems, simple PHP switching and restarting, easy-to-use SFTP and SSH access. Some of the features might be available from cPanel hosts, but we can promise you they aren't nearly as easy to find and use as they are at Kinsta.
Want to take the MyKinsta dashboard for a test drive? Click here to check out our free demo.
Security
We have several security measures in place and we take it very seriously, implementing active and passive measures to stop attacks and malicious intent in its tracks. We monitor your sites every minute for uptime, proactively stop malicious code from entering our network, and offer free DDoS protection for all sites hosted on our infrastructure.
In addition to our secure firewall powered by Cloudflare, we also implement tight software-based restrictions and malware scanning daemons that run continuously in the background to protect your WordPress site. The bottom line is: your site is monitored and secured 24/7.
Because of that, we typically do not recommend installing additional security plugins on your WordPress site. Why? A lot of these types of plugins cause performance issues due to their always-on and scanning functionalities. Kinsta also utilizes Cloudflare's firewall, which means in some cases IP blocking features of some security plugins won't work as intended.
This is actually an advantage for you. It means you don't need to worry or manage as many third-party plugins and you'll see a boost in performance! If you need extra protection or help to decrease bot and or proxy traffic, our support team is also standing by in case you need to block an IP from accessing your site.
Server-wise, cPanel hosts will let you drop as many sites as you wish into a single /public_html/ directory, here at Kinsta every site runs in an isolated Linux container, meaning that if one site is ever compromised the rest of your sites are still safely isolated from the affected site. We also offer unlimited hack fixes for free.
If you need extra protection or help to decrease bot and or proxy traffic we always recommend utilizing a solution such as Cloudflare or Sucuri, along with Kinsta. Our support team is also standing by in case you need to block an IP from accessing your site.
Read more about our security guarantee.
Support that is timely and knowledgeable
Unlike many other hosting providers, we don't have level 1 or level 2 support representatives. Our entire support team is made up of highly-skilled WordPress developers and Linux engineers. Many contribute to WordPress core, open source projects, and even develop plugins. Every Kinsta client gets to chat with the same team members that support our large enterprise and Fortune 500 companies. As a result, the expertise of our support department is second to none. Our average ticket response time in Q3 2019 was 1 minute and 19 seconds. When you need help you're always talking to a knowledgeable support engineer fast.
Our team is also proactive and we care about your uptime. Due to the fact that we're monitoring your sites 24/7, we'll reach out to you if we see something wrong with your site. This way you don't have to worry about checking it constantly or during the holidays. A few examples of this include:
Your SSL certificate or domain expires.

A third-party plugin is causing 500 error.

An external script is causing long delays.
Almost all hosts claim to have fanatical support, but many of them don't live up to the hype. With Kinsta, you get the best of the best. Their support team is available via chat 24/7, right from your admin area. And you'll get the friendliest, most helpful WordPress experts you've ever talked to.
Dave Warfel
Founder, WP Smackdown
I have tried many different hosts: Liquid Web, SoftLayer, WP Engine, Web Synthesis, Rackspace, etc. Out of all of them, Kinsta has been the best in terms of support, speed, and pricing. I am very impressed with their knowledge and the skill level of support. As well as their response times and not having to deal with the typical "level 1" support. Expert support fast, what more can you ask for? My WordPress site runs really fast with Kinsta and it was very hard to find the necessary expertise with these other companies. Additionally, I love the fact that I can scale-up a server for a week during peak traffic times to handle the load. Amazing.
As a small entrepreneur depending on online sales, managing a website can be daunting. Knowing that for any question I can reach out to Kinsta's support team (always there, always helpful and that I can fully trust) makes running my business so much easier. This must be the best support service I ever experienced with online services' providers.
Serena
Small business owner, LYONA Cakes