Earn Money by Referring World-Class Hosting as a Kinsta Affiliate
Join our high-paying affiliate program to receive 5% to 10% in lifetime monthly commissions for every referral of Kinsta's hosting services. With $1M in commissions paid out each year, you're slated to earn big.
Build a Stable Passive Income Through Our Simple Commission Models
Kinsta's hosting services are designed to power all sorts of web projects. You'll earn commissions no matter which your referrals choose.
Refer Managed WordPress Hosting
Earn a one-time commission between $50 to $500 plus 10% recurring monthly commissions on every WordPress package.
Refer Application Hosting
Earn 5% recurring monthly commissions on our à la carte resource-based service.
Refer Database Hosting
Earn 5% recurring monthly commissions on our à la carte resource-based service.
Recommend Hosting That Brings Real Value to Customers
Kinsta gives us everything we need in a host in an intuitive package, and nothing more — it's usable and understandable. Options are clear and not overwhelming, and support is A+.
It's the one area of my business I know I don't have to think about. The support is incredible, and everything about the platform is thoughtfully designed and incredibly easy to use, and my customers' sites are safe and secure.
Kinsta is the best hosting company in the world and it is not even close. Kinsta helps me provide incredible value, security, and performance to my clients.
Kinsta's support team is A+. Every time we have an issue they are on it and it is resolved within minutes. Kinsta was easy to setup and migrate to. We love the production/stage separations, CDN capability with just touch of a button and insightful analytics.
For any company that is serious about its internet presence, we would recommend working with Kinsta. There is nothing like having time to grow your business and the peace of mind that your hosting is in good hands.
Kinsta has been a reliable partner that we can count on. They handle the performance, security, and reliability so we can focus on what we do best, which is launching and enhancing client websites.
Kinsta support is fantastic. They just solve the issue, whatever it is, with a smile and keep going. Kinsta does business the way it should be done.Kinsta's platform has allowed us to migrate a non-Wordpress (WP) site gradually so that we make fewer mistakes. The ability to host a hybrid site (WP and non-WP) has been a huge help.
Maintaining many global WordPress sites, we've become well acquainted with all the major hosting providers. No one is running our sites as fast as Kinsta.
Calculate Your Recurring Passive Income
Add in your expected referrals to see how much money you can make as a Kinsta Affiliate in just 1 year.
In this graph you can see how your income will grow each month based on your selections.
Your monthly income next May:
$1,000
Calculations are based on the number and types of plans you refer each month. Factor in our 2% churn rate and this brings you to your estimated total passive income.
*Currently, the calculator only shows earnings from Managed WordPress Hosting referrals. An updated version for referrals of Application Hosting and Database Hosting is coming soon.
An Affiliate Program Tailored To Your Success
Lifetime Monthly Payments
With a churn rate of only 2%, Kinsta customers rarely leave. So recurring commissions hold real value. Get 5% or 10% recurring commissions based on the service the customer signs up for. Payouts are sent right to your PayPal account each month.
High Conversion and Retention Rates
Kinsta is an easy sell. Kinsta customers benefit from the best-performing and most secure infrastructure in the industry, not to mention our 24/7/365 expert support team.
Long Conversion Window
The user journey can be lengthy. That's why we provide 60-day tracking cookies and last-touch attribution to ensure you're properly credited for the sale.
Transparent In-House Tracking
Our custom-built affiliate system is Intelligent Tracking Prevention 2.0 ready and relies solely on first-party cookies. Login to your Kinsta dashboard to see page views, referrals, payments, and more.
Dedicated Affiliate Support
Get assistance by means of our FAQ page or by emailing us directly at [email protected]. Our affiliate team will respond to your query within one business day.
Ready-To-Use Assets and More Resources Boost Your Sales
Increase your referrals with in-depth guides and advanced tips. Plus you'll have an abundance of banners ready to use on your site.
Who is Kinsta's Affiliate Program For?
Kinsta's affiliate program is as amazing as the rest of the service. I had many previous experiences with other hosts, but no one has Kinsta's recurring payments on each referred client. Other hosts have something similar but with incredibly lower figures.

Kinsta also has a great feature that allows to transfer a website from my account to the client's. When I do it, I add my referral ID.
Developers
Make affiliate referrals with easy steps that fit into your development work. Our affiliate program is designed for developers who want to build a passive income. To start earning, you can:
Refer clients, whether through your affiliate link or our custom site transfer tool
Add your affiliate link to your existing GitHub repositories
Test Kinsta's hosting for free and post a review
Insert your affiliate link on your site's "Hosted by Kinsta" banner
Benefit from manual referrals by contacting our affiliate team
Agencies
Build your Monthly Recurring Revenue by referring clients to Kinsta. And you'll sleep easy knowing your client's sites are running on top-tier hosting. As an Agency, you can:
Get listed in our Agency Directory*
Earn referrals by sharing your custom link or by using our site transfer tool
Benefit from manual referrals by contacting our affiliate team
*If you reach the referral's threshold
With the expertise Kinsta offers, introducing clients as part of their affiliate program ensures that the client will be getting the highest level of service across hosting security, reliability, and speed, meaning that we could focus on what we do best – development and UX/UI for professional services firms.

Technology Solution Providers
Earn commissions by simply adding a trackable link when you partner with or make reference of Kinsta. Our cloud hosting affiliate program is the only one tailored for SaaS, platforms, open-source projects, applications, CMSs solutions, code libraries, and more.
To start earning, insert your affiliate link when you:
Create your Kinsta-specific deployment guide
Include Kinsta as a recommended hosting provider in your documentation
Mention our hosting in your blog posts
Add an in-app Kinsta reference
And more!
Email our team at [email protected] to discuss further collaboration.
Kinsta Customers
Get paid to share the power of Kinsta's premium hosting with your friends, family, and clients. It's easier than you think! 
As a Kinsta customer, register in 1 easy step and get automatically approved. To start earning referrals, you can:
Share your affiliate link through email or messaging apps
Include a "Hosted by Kinsta" banner with an affiliate link on your site
Add an affiliate link to your Kinsta review
Transfer a site through our custom tool and enter your affiliate ID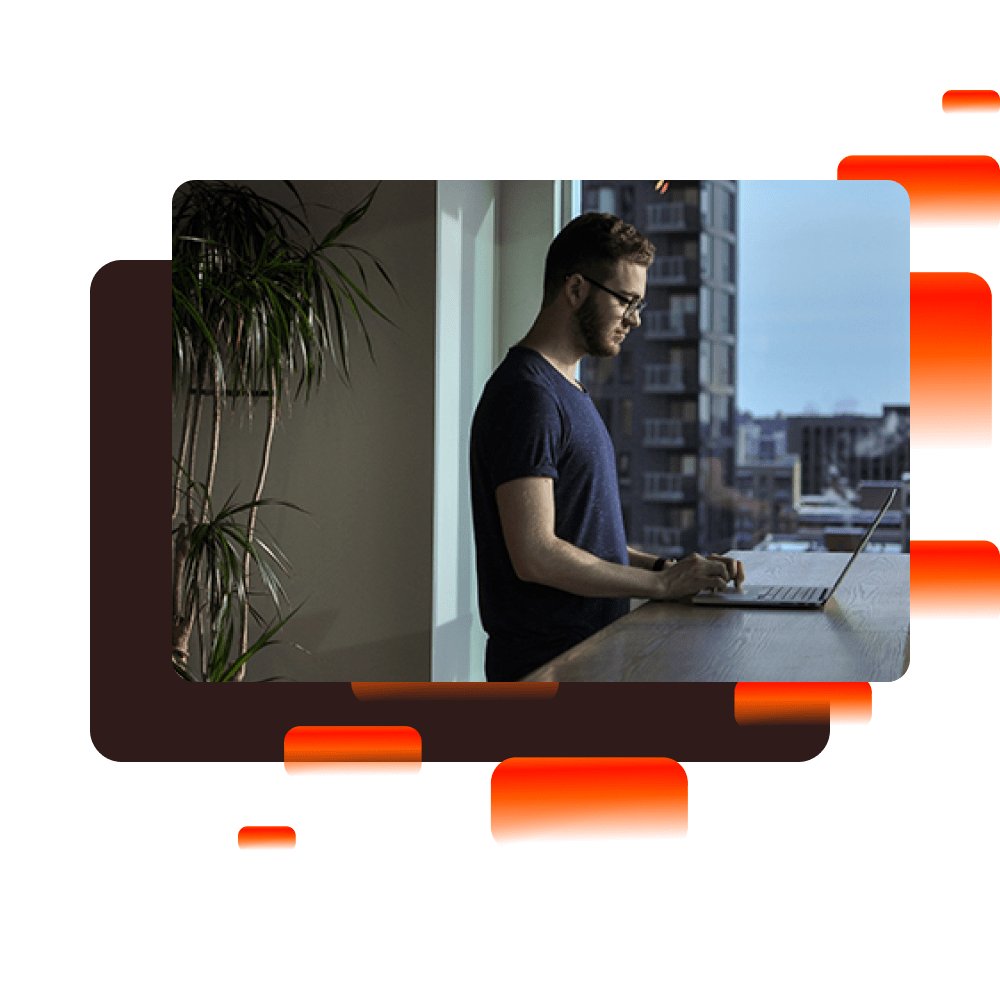 Content Publishers
Add hosting commissions to your monthly passive income. Receive custom banners, exclusive promotional materials, and tips to increase sales. To earn referrals, you can:
Test Kinsta's hosting for free and post a review or a comparison article
Include Kinsta as a recommended tool on your blog
Insert a trackable link when sharing our top-class web development articles
Email us at

[email protected]

to get dedicated support from our affiliate team
Since web hosting generates the highest affiliate revenue for us, I do appreciate Kinsta's recurring commissions. It's rare in the industry, and I think is great in aligning incentives: if Kinsta is doing well and retaining customers, we'll be doing well. I highly recommend Kinsta's affiliate program!
Learning Platforms / Educators
Give yourself peace of mind recommending premium hosting to students and subscribers. And earn recurring commissions along the way just by adding a trackable link! To start earning, you can:
Include an affiliate link in your in-course Kinsta recommendation
List Kinsta as a recommended tool on your site
Use Kinsta's hosting for free to test and showcase our platform to your students
Insert a trackable link when sharing our top-class web development articles
Email our team at

[email protected]

to discuss further collaboration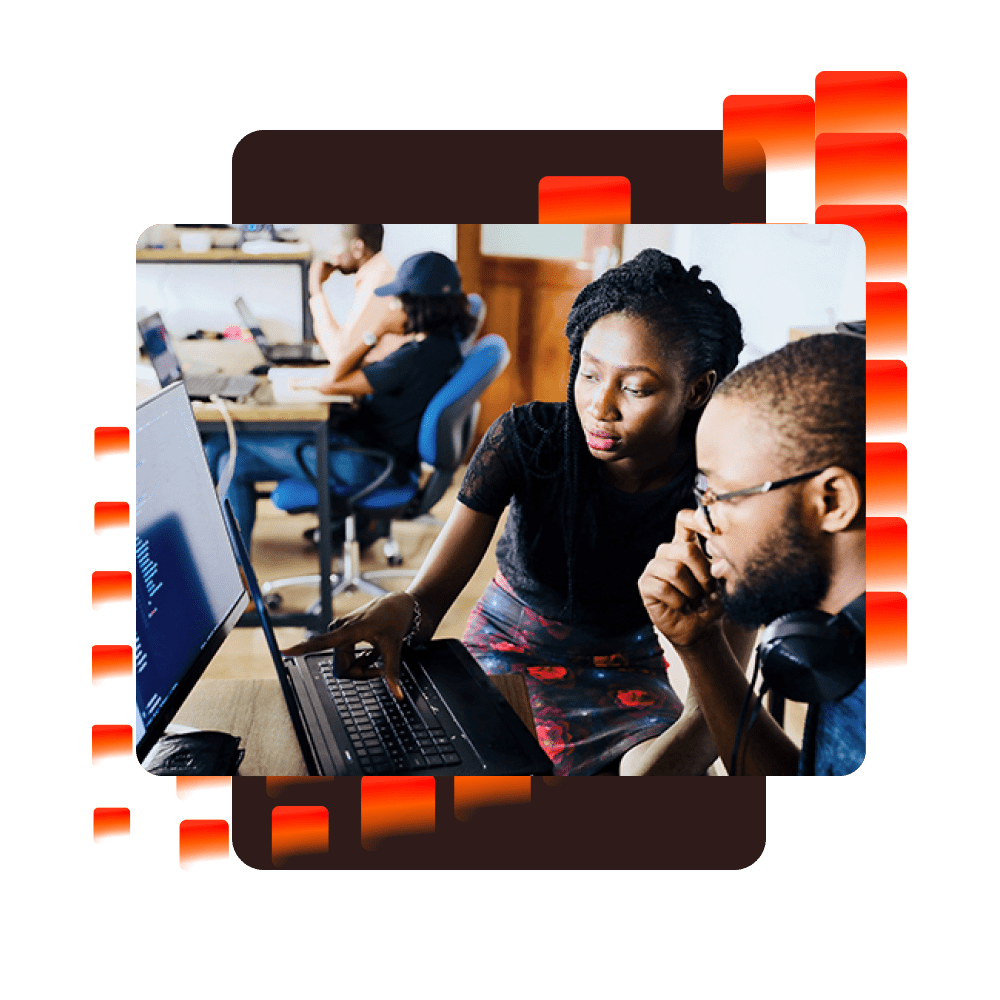 Get Started in Two Minutes
Step 1

Sign Up

Register in only a few minutes. After a quick approval on our end, you'll get access to our affiliate platform and receive everything you need to get started.
Step 2

Generate Your Links

Create as many affiliate links as you'd like and point them anywhere on our site. Then, optimize based on what converts best.
Step 3

Earn Money

As soon as your links convert, you'll be credited with your referral commission, ready for the next monthly payout.
Premium, Custom-Built Dashboard to Track Your Passive Income
There's no confusing and cluttered 3rd-party platform here. Enjoy a dashboard tailored to your needs.
Get An Overview of All Your Numbers
Get a quick and easy way to see your total referred pageviews, referrals, payments, and a graphical overview of the service distribution. We stand behind our data and encourage you to double-check with your own measurements. Our system is Intelligent Tracking Prevention 2.0 ready.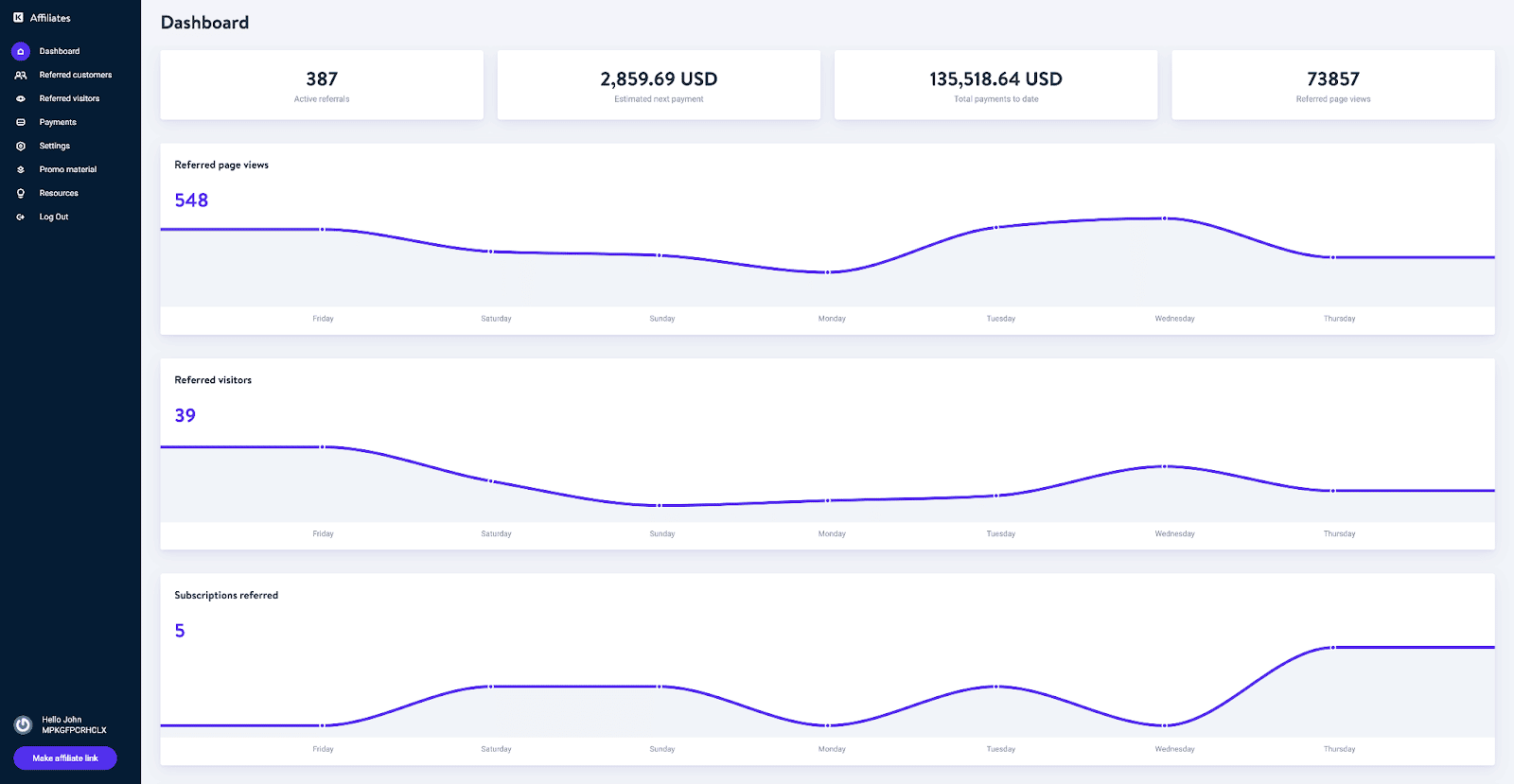 Dig deeper with in-depth analytics
View detailed subscription data for each referral, including when they complete actions such as upgrading, downgrading, or canceling. See exactly when you'll get paid for each referral and check when your one-time and recurring commissions are approved.
Create and track all your affiliate links
Create your unique affiliate link with a single click and point it anywhere on the Kinsta website. See how your links perform and then optimize based on what converts best.
Access your dashboard in your preferred language
The Kinsta affiliate dashboard is available in eight different languages: English, German, French, Spanish, Italian, Dutch, Portuguese, and Japanese.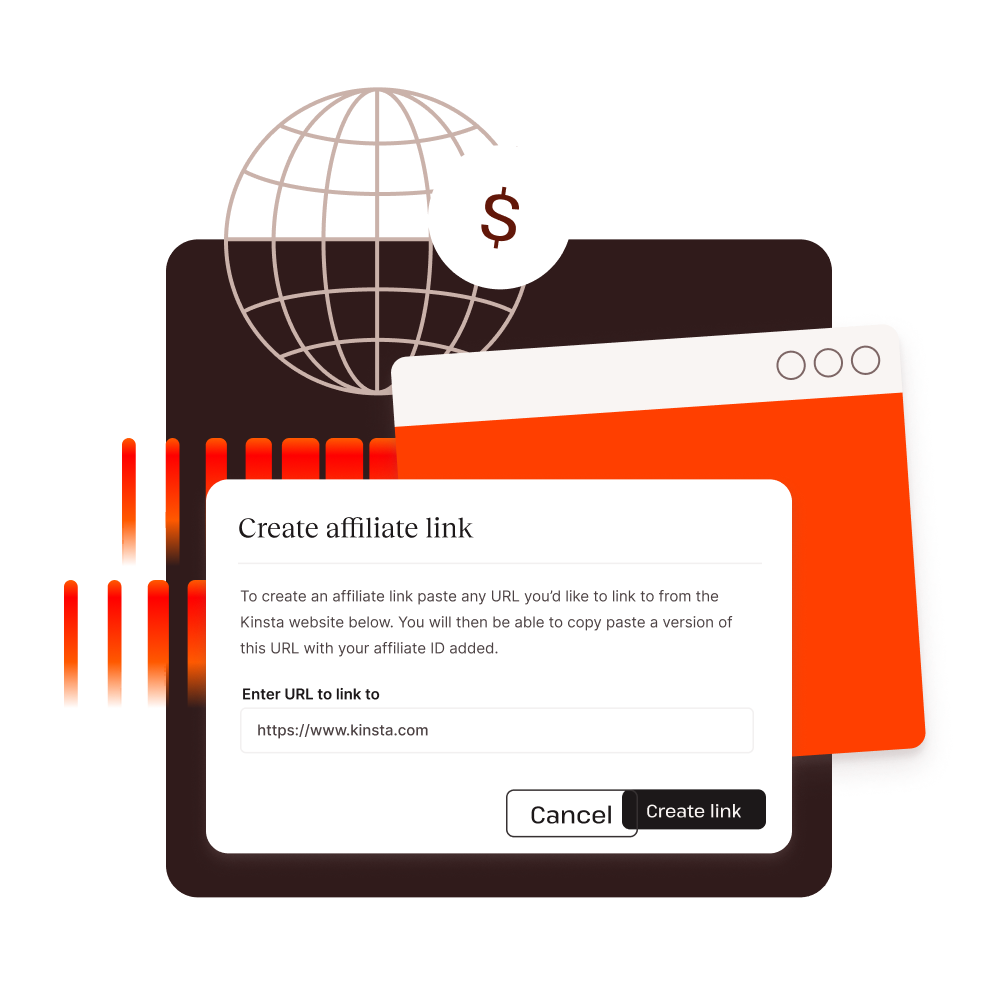 Learn Affiliate Marketing
Get everything you need to succeed and build your monthly passive income. From a variety of affiliate articles and guides to personalized affiliate support, we're here to help.
Affiliate Academy

Take your affiliate activity to the next level with the in-depth guides and advanced tips we share in our Affiliate Academy. Read more about proven tactics to increase your referrals, different affiliate marketing business models, useful statistics, and more.
Knowledge Base

Head to our Affiliate Knowledge Base for detailed information about Kinsta's cloud hosting affiliate program. You'll find articles explaining our commission model, our approach to coupon codes, how to create your affiliate link, and more.
Expert Affiliate Support

We have a talented marketing team and a dedicated affiliate support channel to assist you. We're happy to answer your questions and provide tips and strategies on ways to take your promotions to the next level. Email us directly at [email protected].
Affiliate Newsletter

Stay up to date with Kinsta's latest announcements, developer-focused blog posts, affiliate trends, and marketing tips shared in our monthly affiliate newsletter.
Already Earning With Us
The Kinsta affiliate program complements its high quality of hosting. Equipped with a powerful affiliate dashboard that provides important data points and timely payouts.
I have worked with countless hosts, but most offer just one-time payments. Isn't it fair that I am rewarded for a referral as long as the client keeps paying every month? Kinsta thought of this affiliate fairness, and it's the only hosting affiliate model you should use if you want true collaboration with developers who help you grow.
Kinsta has one of the best affiliate programs with recurring commissions. The registration process is simple and the team behind can help you with any questions. We're happy to share Kinsta with our clients because we always get positive feedback for their hosting performance.
Kinsta's affiliate program is great to work with. Registration was quick and painless; within minutes our office was provided a panel to manage our accounts. We've used several large cloud hosting providers, and have yet to find a single company that is as attentive and helpful as Kinsta.
Kinsta had essentially perfect LoadStorm and Blitz tests. They also had no flaws in any other tests. I'm at a loss for words to praise their performance.
Kinsta has one of the friendliest affiliate programs. They're definitely one of the best hosting providers in the world. I've been using them for a long time and have never had any problems.
Many of our clients come to us for hosting recommendations – they need hosting that performs well and has excellent support. Kinsta has always provided top notch hosting to us and any client we've referred over – that's why we've partnered with them and recommend them to our clients and white-label agencies.
The registration process was as simple as possible. And the dashboard is extremely clean so you always know exactly where your commission payments are, and the deposits are right on time. As an expert in the web design and development industry, people look to us for hosting advice where recommending Kinsta is very easy and is now a part of each of our proposals.
As an agency owner, Kinsta's affiliate program is the best affiliate program I have ever seen. It is nearly unheard of for a best-in-class hosting company to provide both one-time commissions and lifetime recurring commissions with every new customer you help bring to their ecosystem. But what I enjoy most is seeing client reactions after their site gets moved to Kinsta, and they realize how much faster their site is now.
Since I switched to Kinsta, I've never looked back. The performance and quality of support is second to none and I recommend them to all my clients. Even their affiliate program is world class.
The best thing about the Kinsta affiliate program is that on the one hand I can confidently recommend Kinsta as a great hosting platform and on the other hand, get a lifetime recurring commission from them. It's a win win! Since Kinsta is great at retaining their users, I get recurring commissions for years for each user I send them.
Ready To Make Money?
Click "Join Now" and become a Kinsta Affiliate today! If you have any further questions, read the FAQ list below or contact our affiliate manager directly by writing to [email protected].
FAQ
How Do I Create My Affiliate Link?

Log in to the affiliate dashboard, click on the "Make affiliate link" button, paste any URL you'd like to link to from the Kinsta website, and click on "Create link". Learn more about affiliate links.
I Just Made a Referral, but It Wasn't Tracked

Kinsta's affiliate dashboard can take up to 24 hours to show a new referral, so give it some time. To see your conversions, log in to the dashboard and check the 'Referred customers' area.

If your referral doesn't display after 24h, you can claim it by reaching out to [email protected] within 14 days of the subscription date. Sometimes the client you refer doesn't use the affiliate link in the right way, the cookie doesn't fire, or another disruption takes place. In these cases, please get in touch. You'll be required to provide some information so our team can investigate further and confirm that you should get credit for the sale.
When Will I Get Paid?

Once the balance of your approved commissions (both one-time and recurring) is more than $50.00, your commissions are eligible for payment and will be automatically included in the next payment round. Payments are made via PayPal between the 15th and 20th of each month.
My Customer Upgraded Their Plan. Will My Recurring Commission Increase?

Yes. Your recurring commission will be raised accordingly. Recurring commissions are always adjusted when a customer upgrades, downgrades, or makes any other plan change, so they are equivalent to 10% of the customer's new plan's price. 

When switching between billing intervals, we'll calculate the day period the customer was on each plan and prorate. Here are some example calculations.
Do I Need to Be a Kinsta Client to Become an Affiliate?

No. But you should try our premium hosting services, they're awesome!
Find more information about our program on our FAQ page