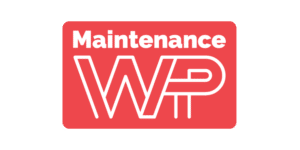 Location

Website

Languages

Services

Ecommerce/WooCommerce
eLearning/LMS/Membership
Graphic design
Search Engine Optimization (SEO)
Web design/development
Website maintenance

Technologies

JavaScript
Angular
Backbone.js
Node.js
React
Vue.js
PHP
WordPress
Whether you are designing your site yourself or looking for experts to maintain it, Maintenance WP is the WordPress maintenance, support, and personal assistance solution. We are experts in the WordPress and WooCommerce environment, the Maintenance WP team helps and advises you on all your needs for improvement, optimization, the addition of functionality and user experience.
Need assistance, support, or design assistance? We at Maintenance WP are at your side 7 days a week.
With the custom maintenance offers, devote yourself fully to your activity and no longer worry about updates and backups. Our experts take care of everything, fixing bugs, optimizing and securing data, and guaranteeing the security of your site.
Because your website represents you, your visitors' navigation must be fluid and efficient. Maintenance WP ensures the proper functioning of your WordPress site with personalized support offers adapted to each need.
You designed your site yourself? Personal WP assistance allows you to benefit from expert advice and personalized monitoring throughout the creation process. Our experts are at your side and help you achieve your goals. Maintenance WP also offers SEO optimization services for your site to improve its position in search engine results and boost your visibility.