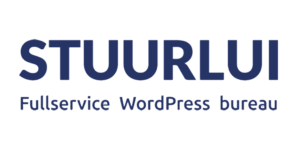 Location

Website

Languages

Services

Accessibility consulting
Graphic design
UI/UX design
Web design/development
Website maintenance

Technologies
We are a full-service WordPress agency with all the specialties in-house to develop professional WordPress websites/webshops/communities and platforms for our clients. Entrepreneurship, positivity, and honesty are concepts that characterize us.
At Stuurlui, we have a wealth of experience with diverse projects for a wide range of clients. We understand the challenges involved in managing different stakeholders and target groups and are comfortable working with diverse project teams. Our clients describe us as efficient, substantively strong, and honest. We manage around 400 websites and work for a.o. the Municipality of The Hague, Shell, Miele, Kwekkeboom, University of Tilburg, Strukton, Fire Brigade Netherlands, GGD, Jaarbeurs, Uit Paulines Keuken, and Heineken.
We operate with 30 experienced online specialists who breathe WordPress. We do not outsource anything to freelancers, do not work with interns, and do not outsource anything abroad. This is the only way we can keep full control over our high-quality standards. As an agency, we have won various prizes and awards, ranging from Website of the Year nominations to multiple FD Gazellen. Independent customer satisfaction surveys show that clients rate us with an 8.7.
Security, scalability, and continuity are the three spearheads of our company. By formulating a comprehensive Service Level Agreement (SLA) and properly implementing the AVG, among other things, we are constantly working on maximum security and stability for our clients. We are in possession of the certificates ISO 27001 and ISO 9001.