Node.js Hosting: Deploy and Scale With Ease
Join over 55,000 developers and digital entrepreneurs who host their projects on Kinsta's dev-centric cloud platform. Test your Node.js app deployment for free, the first $20 is on us!
How It Works
Manage your apps, databases, DNS, and analytics all from our simple MyKinsta dashboard. Be up and running in minutes.
Connect GitHub
Connect your GitHub account to your MyKinsta dashboard and select your Node.js repo.
Configure Your Machine
Select your data center, build machine, and server resources.
Deploy Automatically
We'll detect and install your app's dependencies from package.json, then build and deploy.
Get Online Fast
From there, run, rebuild, and scale however you want.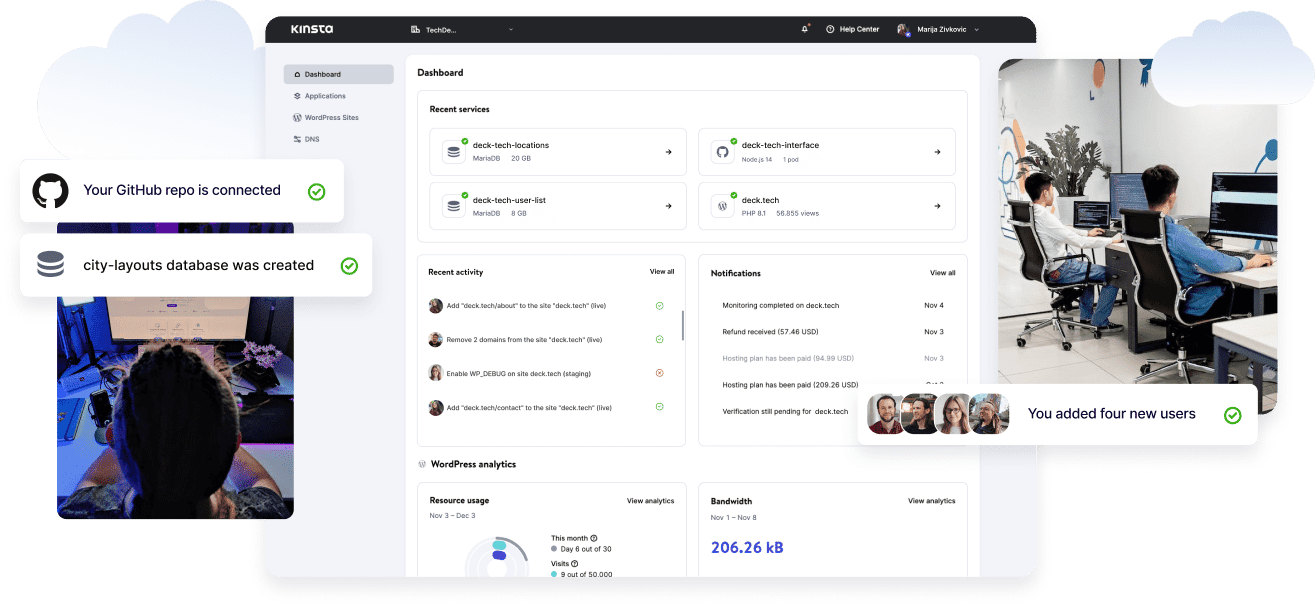 Give Your Node.js App The Best of Everything
Test It Yourself for Free
Try out your app on a live server with our Node.js hosting. This is a full-featured pod, not a low-powered trial tier. Your first $20 are free!
Choose Your Data Center for Maximum Speed
At no extra cost to you, select the region that works best for you and your customers. Choose from 25 data centers. All our locations offer Google's best C2 machines! Plus, our CDN has 275+ POPs giving your website a global presence and unequaled speed.
Turquoise

CDN Locations (275)
Changhua County, Taiwan
Hong Kong
Tokyo, Japan
Osaka, Japan
Seoul, South Korea
Mumbai, India
Delhi, India
Jurong West, Singapore
Sydney, Australia
Hamina, Finland
St. Ghislain, Belgium
London, United Kingdom
Frankfurt, Germany
Eemshaven, Netherlands
Zurich, Switzerland
Montréal, Canada
São Paulo, Brazil
Santiago, Chile
Council Bluffs, Iowa, USA
Moncks Corner, South Carolina, USA
Ashburn, Virginia, USA
The Dalles, Oregon, USA
Los Angeles, California, USA
Salt Lake City, Utah, USA
Las Vegas, Nevada, USA
Usage Based Pricing
Pay only for what you use. You have full control to build and run your Node.js app/s any way you want to. It's simple, transparent, and predictable.
Select your Application Pod for running your app, then,
Select one of the three powerful Build Machines to set up your ideal workflow and save time
Application Pods
Build Machines
Get Started for Free
Check it out with a full-featured account. Your first $20 worth of server resources are on us!
How Other Tech Stacks Up
How does Kinsta's Node.js hosting stack up against other options?
KINSTA
OTHERS
Support
✅ Included
24/7/365 live chat support included
❌ Tickets or forum support only
You'll pay $1000/month at Heroku, Digital Ocean, or Fly to access direct contact with a support agent.
Speed
✅ 30% faster
With internal database connections than Heroku after extensive testing
❌ No internal connections
Heroku and most other hosts don't offer internal database connections, which can lead to slower, less secure, yet more expensive hosting.
DDoS
✅ Enterprise grade
Protected by advanced DDoS protection powered by Cloudflare.
❌ Basic or DIY
DDoS protection is either not included, DIY, or basic with Heroku, Digital Ocean, or Fly.
Cron
✅ Unlimited
Set cron jobs at any time interval.
❌ Limited or not included
Heroku only offers 3 time interval settings, Fly does not offer cron.
These comparisons are based on hundreds of real-world speed tests performed on actual server clusters and good-faith comparative research performed throughout November and December 2022.
Here's What Our Customers Say
Customers love us for our commitment to cutting-edge technology, improving the developer experience, and expert support.
We're pretty excited that ultimately we're going to be able to aggregate all of our hosting here, and that's huge.
Kinsta's support team is A+. Every time we have an issue they are on it and it is resolved within minutes. Kinsta was easy to setup and migrate to. We love the production/stage separations, CDN capability with just touch of a button and insightful analytics.
Kinsta has excellent support, solid infrastructure, and reliable uptime. Most problems I've faced on my website have been due to my own inexperience—but even then, Kinsta support staff were ALWAYS around to save my bacon. They've been a pleasure to work with and I highly recommend them.
This is an awesome service that has everything you need to manage your apps and databases. It is really easy to use and to link with your GitHub account. I totally recommend it!
It's really cool that I can choose which type of database, the version, and even what data center I want. I didn't expect to have that granularity available.
FAQ
Do you have documentation for Node.js hosting?

Yes, see our Node.js Quick Start Example page for more details on deployment. Also, we have a starter (hello world) GitHub repo that you can fork and use as a starter Node.js app.
Do you have any resources for Node.js / npm development?

Yes, we have several articles to help you learn more about Node.js and npm. And more are on the way.
How Does the $20 off First Month Work?

Sign up and it will automatically be added to your account. For a limited time, get $20 off your first month of Application Hosting and/or Database hosting.

The $20 starts depleting when you add your first app or database service on your MyKinsta dashboard, not when you sign up for your account.

Note: This $20 off the first month does not "roll over" to the second monthly cycle. For example, if you only use $8 within the first monthly billing cycle, you cannot keep the remaining $12 off for the next monthly billing cycle.
How Does Billing Work?

You only pay for the server resources your app/database used in a post-payment method. We charge monthly at the end of your billing cycle. All services are prorated to the second. This means you only pay for what you use each day. If you create a service and delete it after a day, you pay just for the time used on that day
How Is Server Usage Calculated? Do You Charge for Pageviews?

No, we do not charge for pageviews. You are billed for server resources used (CPU cycles, RAM, and build time). Your charges are based on the pod size you select.
What Type of Support Does Kinsta Offer?

We offer 24/7/365 chat support. We average less than two minutes of wait time for the first response. 97% of support inquiries are closed with the customer happy and satisfied. Your happiness is our number one priority.

Find out more about the scope of support here.
Which Payment Methods Do You Accept?

We accept these major credit/debit cards; Visa, MasterCard, Maestro, American Express, and Discover. Your payment info is stored and processed securely by Stripe and never touches our servers.

Will Taxes Be Included in My Monthly Invoice?

Yes, if it is required in your region. We will comply with local tax regulations for USA sales tax, EU and UK VAT, and GST in India. Learn more about your region below:
Am I Charged When I Enter My Credit Card?

No. You won't be billed until the end of your first monthly billing cycle. At the end of your first month, you'll be billed for the server resources you previously used.

Note: Managed WordPress hosting plans are pre-paid, unlike Application Hosting or Database Hosting plans which are post-paid. If you have a new or existing Managed WordPress plan, that will be billed at the beginning of your monthly billing cycle.
What Currency Will I be Charged In?

You will be charged in US Dollars (USD). Your credit or debit card charge will be converted into your currency when deducted from your account.
Which Other Frameworks/Languages Can I Use?

We currently support Node.js, Ruby, Python, Java, Scala, PHP, and Go. When using one of these languages/frameworks, we'll determine and set up the container image automatically. Or you can run almost any app by using your own custom Dockerfiles with a few more configuration steps. Learn more about setting up applications.
Can We Also Host Standalone Databases? Which Types?

Yes, our Database Hosting service supports Redis, MariaDB, PostgreSQL, and MySQL. You can connect Kinsta-hosted applications and your Kinsta-hosted databases all within our infrastructure for blazing-fast speed and security. Learn more about setting up databases.
Can We Host Static Sites?

Yes, kinda. We will be adding full static site features in the future. For now, you can deploy a static site built with Gatsby. We even have a sample GitHub repository to fork or use as a guide.
Do You Have an Affiliate Program?

Yes! Earn 5% lifetime recurring commissions on referrals to Kinsta Application Hosting by sharing your affiliate link when recommending Kinsta to your clients, adding your affiliate link to GitHub repositories and deployment guides, inserting your affiliate ID when transferring a site, and much more!

Whether you're a developer, agency owner, blogger, product manager, or running an open source project, share Kinsta to help others build better and faster. We'll make it worth your while.
Get Your Node.js App off Your IDE and on the Web
The first $20 are on us! You can try any pod size you want for real world testing and time trial results.