Node.js Hosting: Deploy and Scale With Ease
Join over 55,000 developers and digital entrepreneurs who host their projects on Kinsta's dev-centric cloud platform. Test your Node.js app deployment on our free trial.
How It Works
Manage your apps, databases, DNS, and analytics all from our simple MyKinsta dashboard. Be up and running in minutes.
Connect Git
Connect your GitHub, Bitbucket, or GitLab account to your MyKinsta dashboard and select your Node.js repo.
Configure Your Machine
Select your data center, build machine, and server resources.
Deploy Automatically
We'll detect and install your app's dependencies from package.json, then build and deploy.
Get Online Fast
From there, run, rebuild, and scale however you want.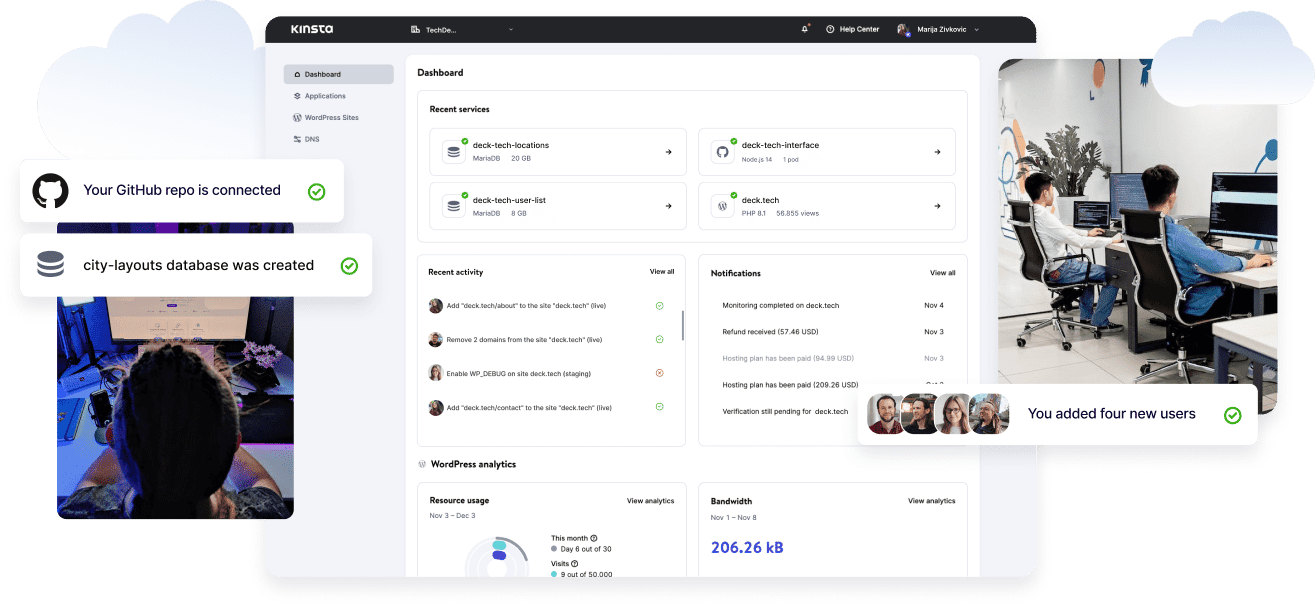 Give Your Node.js App The Best of Everything
Start Your Free Trial
Try out your app on a live server with our Node.js hosting. This is a full-featured pod, not a low-powered trial tier.
Choose Your Data Center for Maximum Speed
At no extra cost to you, select the region that works best for you and your customers. Choose from 25 data centers. All our locations offer Google's best C2 machines!
Turquoise

CDN Locations (275)
Usage Based Pricing
Pay only for what you use. You have full control to build and run your Node.js app/s any way you want to. It's simple, transparent, and predictable.
Select your Application Pod for running your app.
Select one of three powerful Build Machines to set up your ideal workflow and save time. You can run unlimited concurrent builds to deploy and redeploy as quickly as possible.
| | | | |
| --- | --- | --- | --- |
| Standard | 1 CPU | 4GB RAM | |
| Medium | 8 CPU | 8GB RAM | |
| Plus | 32 CPU | 32GB RAM | |
Start For Free
Check it out with a full-featured account.
How Other Tech Stacks Up
How does Kinsta's Node.js hosting stack up against other options?
Kinsta
Fly.io
Platform.sh
Render
Heroku
Railway.app
Unrestricted Support 24/7

Yes

No

No

No

No

No

99.9% Uptime SLA in all Tiers

Yes

Yes

No

No

No

Regions
25
data centers
26
regions
9
data centers
4
regions
2
regions
1
region
Infrastructure
GCP
Own
GCP, Azure, AWS
GCP, AWS
AWS
GCP
Enterprise-Level Cloudflare DDoS Protection

Yes

No

No

Yes

No

Unlimited Free Users

Yes

Yes

No

No

No

No

Concurrent Build Limits
Unlimited
1 per service
Up to 300
Here's What Our Customers Say
Customers love us for our commitment to cutting-edge technology, improving the developer experience, and expert support.
We're pretty excited that ultimately we're going to be able to aggregate all of our hosting here, and that's huge.
This is an awesome service that has everything you need to manage your apps and databases. It is really easy to use and to link with your GitHub account. I totally recommend it!
Deploying my application through Kinsta made so much sense. I was able to host my database, backend and frontend all in one place! Managing all 3 through the fuss-free UI was easy. As soon as I connected my GitHub account, the steps were clear. (Sponsored)
It's really cool that I can choose which type of database, the version, and even what data center I want. I didn't expect to have that granularity available.
Absolutely fantastic – cannot rate highly enough in terms of speed, support, and UI. Went from WP Engine to Flywheel, then to Kinsta and couldn't be happier.
Kinsta is my new goto hosting provider for large sites with volume. Pricing is a little higher than other options, but the service and the product are worth it! My site is safe, secure and runs like a dream. Something it hasn't done for years.
Kinsta APM allowed me to identify a plugin that was seriously slowing down WordPress, and thus my visitors' experience, leading to a potential loss of revenue. While running the tool, there was barely a noticeable difference in the site's speed, and I didn't have to run Kinsta APM for more than two hours.
For any company that is serious about its internet presence, we would recommend working with Kinsta. There is nothing like having time to grow your business and the peace of mind that your hosting is in good hands.
FAQs
Do You Have Documentation For Node.js Hosting?

Yes, see our Node.js Quick Start Example page for more details on deployment. Also, we have a starter (hello world) GitHub repo that you can fork and use as a starter Node.js app.
Do You Have Any Resources For Node.js / npm Development?

Yes, we have several articles to help you learn more about Node.js and npm. And more are on the way.
How Does the Free Trial Work?

You can sign up for a free trial of our Application Hosting or Database Hosting. The trial is limited to $20 in server credits and applies only to your first billing month.
How Does Billing Work?

You only pay for the server resources your app/database used in a post-payment method. We charge monthly at the end of your billing cycle. All services are prorated to the second. This means you only pay for what you use each day. If you create a service and delete it after a day, you pay just for the time used on that day.
How Is Server Usage Calculated? Do You Charge for Pageviews?

No, we do not charge for pageviews. You are billed for server resources used (CPU cycles, RAM, and build time). Your charges are based on the pod size you select.
What Type of Support Does Kinsta Offer?

We offer 24/7/365 chat support. We average less than two minutes of wait time for the first response. 97% of support inquiries are closed with the customer happy and satisfied. Your happiness is our number one priority.

Find out more about the scope of support here.
Get Started
Your free trial awaits. Get your Node.js app off your IDE and on the web.