Q1: What is your background, and how did you get involved in WordPress?
I studied at Sheridan College and always wanted to become a computer animator, however when I graduated the market got flooded with animators. I took an animation job with a startup here in Toronto, Canada. We produced online videos for the hotel industry in 2000, way before YouTube. My job eventually got me into JavaScript development.
My first experience with WordPress, was when I wanted to start a blog called AboutMyPlanet.com. WordPress just felt right, both from the content management side, and also for my developer needs.
Eventually, I started my own WordPress company which did very well. We then merged with another WordPress agency run by Ben Fox. We formed FlowPress Inc. in 2013 and this is when we set off to build the Sidekick training platform and where we continue to run WordPress DevOps for various enterprise level clients.
Q2: There's been a lot of chatter about your new project w/ Ben Fox, YT2FB. How did that come about?
YouTube to Facebook was an idea generated by one of our lead developers, Mario Dabek. He saw the opportunity to improve the YouTube viewing experience on Facebook. Facebook makes the YouTube video embedding experience not as good as native Facebook videos.
It's doing really well. It's had over 5 million views in its first month, we're very proud of that.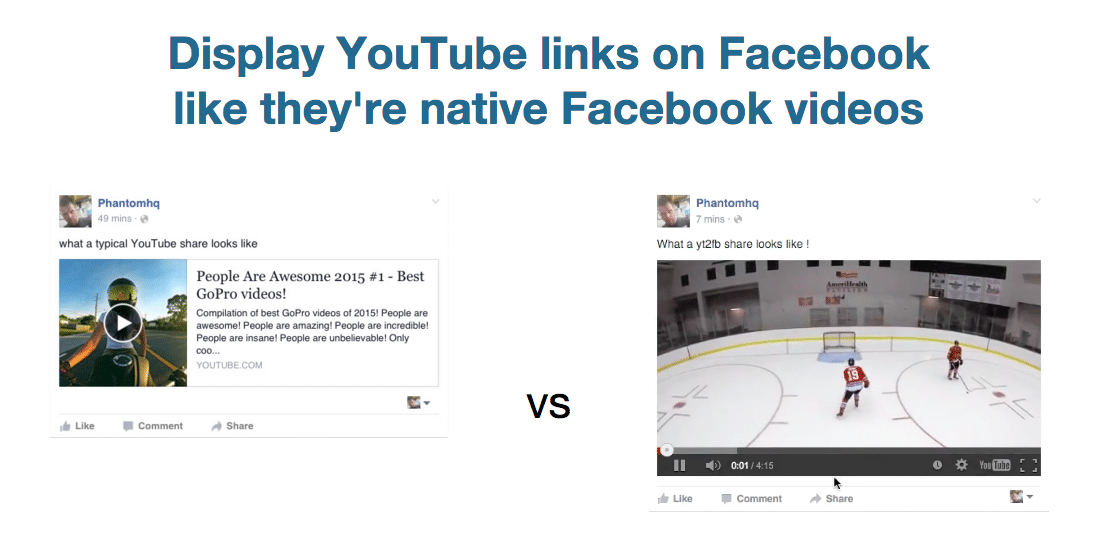 Q3: What was the Product Hunt experience like?
It's a great platform to feature your product in front of the right audience. We've had great success and feedback from being on Product Hunt. The first time around we generated over a 1,000 leads and quite a bit of buzz around Sidekick.
Q4: What kind of clients are a good fit for your agency FlowPress?
We look for enterprise level clients that are running WordPress. I always joke that we love the nightmare projects. We love to be able to come in and make a big difference to a client's WordPress infrastructure. We work on very tight timelines, where the client needs us to optimize their WordPress builds. This can vary from a full rebuild to WordPress audits… all focusing on performance and WordPress standards.
Q5: Why should someone pick FlowPress over another WP agency?
We're looking for clients who understand the need for Developer Operations. Clients who understand what performance means to the bottom line of their business. We're looking for long-term relationships, where we help you run your WordPress infrastructure and a team that isn't afraid to say no, but with a reason.
We focus on three primary areas, performance, standards, and process. Our goal always is to run very high-performance WordPress based websites. It means performing in-depth audits, that clearly identify what any areas that need to be fixed or rebuilt. This leads to improvements of coding standards, either through education or refactoring. Lastly, it means a clean process to make things run smoother. We will come in and implement clear processes that improve day to day technology tasks.
Q6: Will you be attending any conferences/events during the remainder of 2016?
We're heading to PressNomics as we speak, it's one of the best conferences for networking and developing and maintaining relationships with founders of many WordPress products. Other than that, I'm sure I'll get out to WordCamp Toronto. You can also follow me on Twitter to keep up with my schedule.
Q7: As a CTO, what's in your toolkit?
My day to day tools are split between management and coding. From a management point of view, we use Teamwork.com, StoriesOnBoard.com, Google Apps, & Slack. On the dev side, I use Sublime but switching to Atom, Sequel Pro, SourceTree, Gulp, & WP-CLI.
Q8: What's one thing that most people don't know about you, that would surprise them?
Well, in the summers I bike to work daily and I've been hit by a car three times now… thankfully nothing broken :)
Q9: What's the startup scene in Toronto like?
It's been great! There has been a vibrant community of tech startups here ever since I moved to Toronto in 2000. There is plenty of tech meetups you can attend weekly. You could call Toronto, the Silicon Valley of Canada.
Q10: If you could meet one famous entrepreneur, who would it be and why?
Elon Musk hands down, he's one of the greatest role models you could ask for. I love his drive, hard work ethic, and that he's willing to risk it all, to make the world a better place. There isn't too many people like this on earth. He could have retired a long time ago, but he's one of those people that's willing to put it all on the line to improve the human race.