One of the key principles we stand by here at Kinsta is empowering our users. This comes with different shapes and formats, starting with proactive and great support, to leveraging tech stack for faster performances and improved security, to the powerful custom MyKinsta dashboard for site management.
That's just the tip of the iceberg, as they say. Our development team is always looking for opportunities to improve the overall experience of Kinsta users.
And that's exactly what happened with the latest two features being released: Notification Center and automatic invoice emails.
Let's take a closer look!
Notification Center Now Available in Mykinsta Dashboard
In a world led by noise and notification proliferation, being able to immediately get the right message in a convenient way is an incredible benefit.
Now, thanks to the Notification Center, every user at Kinsta gets notified about crucial information such as:
New features available
Phasing out of some old technology
Info about your sites
Site migration status updates
Dashboard updates
Changes to our plans
Some of these notifications are already available, while others are in the making and will be implemented soon.
Where to Find the Notification Center
The Notification Center is a complete framework for internal communications within MyKinsta that shortens the distance between our users and Kinsta even further.
Here's where you can trigger it: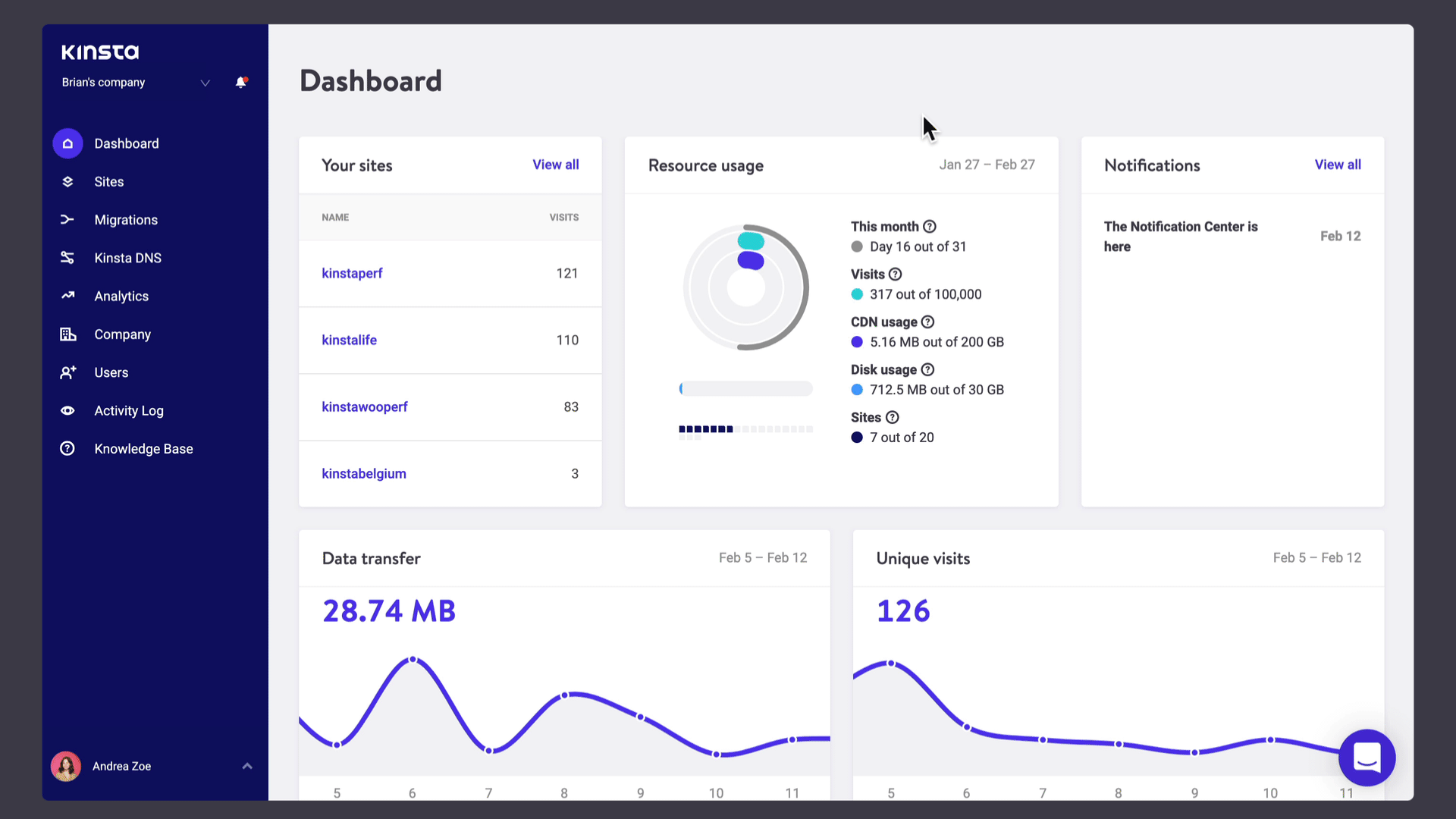 Specifically, here are the steps required:
Step 1: log in to your MyKinsta account.
Step 2: Click on the bell icon at the top of the left-hand sidebar.
Step 3: Check the Notifications tab you'll find on the right-hand part of your screen. Are you on mobile? You shouldn't worry! As the MyKinsta dashboard is fully responsive, you'll be able to see notifications even when accessing it through mobile devices.
In the near future, we are going to move most of our communication into the Notification Center to make communications with you as consistent as possible.
Want to help us improve the Notification Center? Join our Kinsta Beta Crew! Just go to your Notification Settings and click Join to get started.
Automatic Invoice Emails
While speaking about notifications, here's another feature we're happy to officially release to everyone: automatic invoice emails.
Thanks to this useful and convenient feature, you can now receive invoices via email attached as PDF files.
This is delivered for all companies where you have permission to visit the Company section.
How to Enable Automatic Invoice Emails in MyKinsta
To start receiving invoices via email automatically, you'll need to enable this feature in the User Settings section within MyKinsta: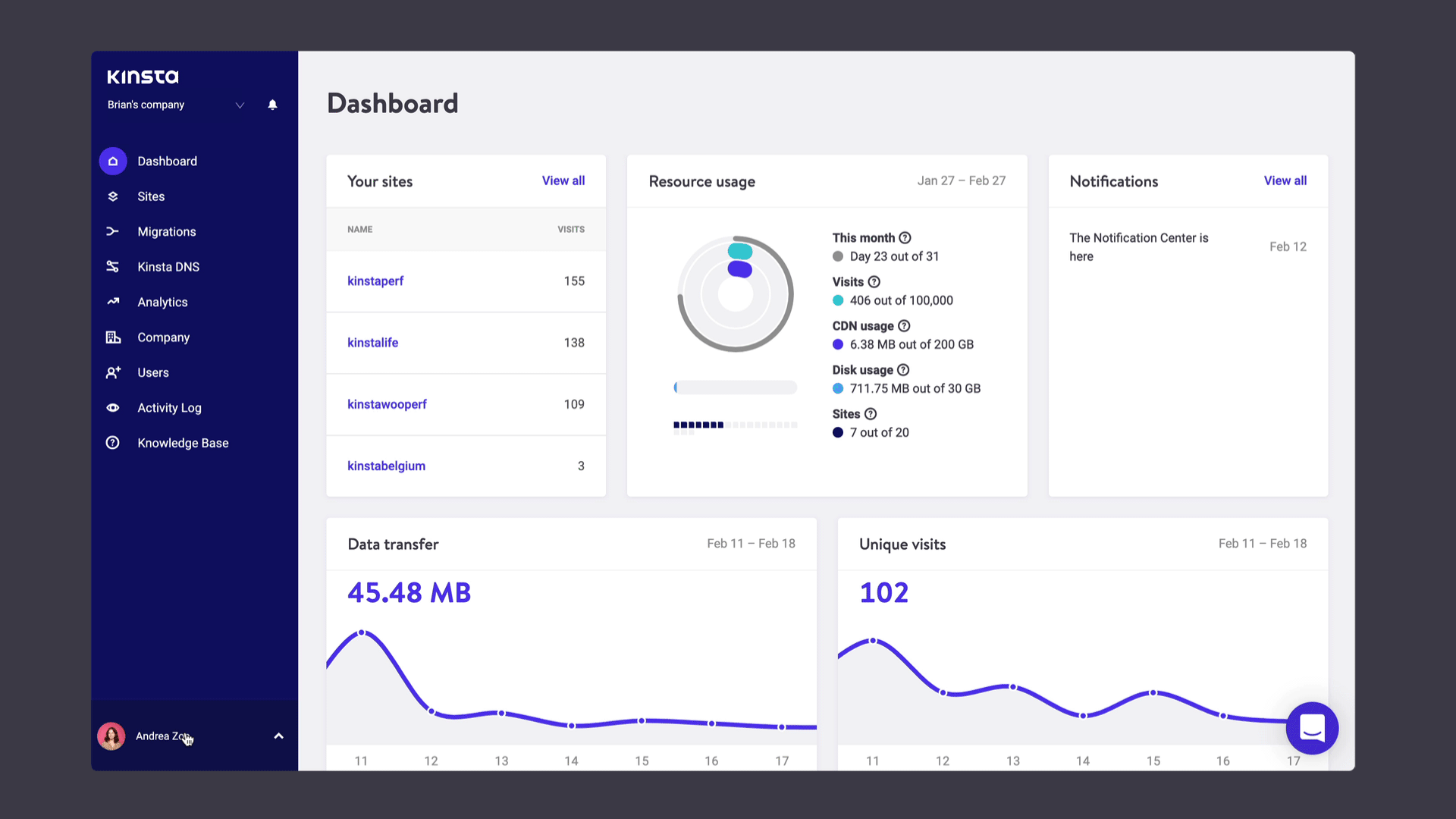 Specifically, here are the steps required to enable the automatic invoice emails:
Step 1: log in to your MyKinsta account.
Step 2: Click on your user in the lower-left corner.
Step 3: Click on the User Settings option.
Step 4: Click on Notifications within the User Settings page.
Step 5: Move to the Invoice in email section and toggle the switch.
We're always working to improve the MyKinsta dashboard and our services and hope you'll enjoy these features as much as we love releasing new ones. Make sure to subscribe to our newsletter to never miss one!