Global CMS Market Share for 2023
The CMS market is a hyper-competitive one. With offerings ranging from self-hosted to fully-hosted, and everything in between, it can be hard to decide which CMS is right for you. Learn more about global CMS market share in our in-depth guide below!
What Is the Most Popular CMS Platform in 2023?
WordPress retains its lead as the most popular Content Management System (CMS). However, 2020 and the start of 2021 brought some drastic changes to the CMS market. Although WordPress is a juggernaut, other platforms are still fighting for market share, and their numbers are growing.
There are dozens of CMS platforms to choose from, depending on what type of website or project you're working on. However, when it comes to CMS market share, only a few names are worth mentioning.
Before we start talking about individual platforms, let's check out what the top ten CMSs are in 2021 according to their global market shares:
| CMS | Market Share |
| --- | --- |
| WordPress | 64.7% |
| Shopify | 5.4% |
| Joomla | 3.3% |
| Squarespace | 2.5% |
| Wix | 2.4% |
| Drupal | 2.3% |
| Bitrix | 1.6% |
| Blogger | 1.5% |
| Magento | 1.1% |
| Opencart | 1.1% |
CMS market share statistics from April 2021.
The competition among CMS platforms isn't very close — and it hasn't been for a long time. WordPress powers over 60% of all the websites that use a CMS. Even beyond these platforms, more than 40% of all sites in the world use WordPress.
Despite WordPress' dominance in the CMS market, it's important to note that even a 1% market share still translates to millions of websites. For example, Magento is one of the most popular CMS platforms among enterprise sites, yet it "only" has a 1% market share.
To understand the shifting landscape of CMS market shares, we need to consider historical data and see how those numbers have changed within the last few years. With that in mind, we're going to take a closer look at 2020 market share data in particular, since COVID had (and continues to have) a lasting impact on technology adoption.
Shopify's Market Share Increases Drastically
By April 2020, Shopify had a market share of around 3.7%. One year later, the ecommerce CMS had an adoption rate of about 5.4% of the entire market. That's a growth of 1.7% in a year, which is almost unheard of in the CMS market.

Although many industries felt the impact of the COVID pandemic, it also represented an opportunity for technology companies. In that context, we can attribute part of Shopify's drastic growth during 2020 to the fact that a lot of customers needed to find a way to bring in new incomes to their households.
With millions of workers around the world furloughed or laid off due to closing businesses, Shopify positioned itself as the most user-friendly option for launching an online store quickly. The ecommerce market accelerated dramatically during 2020, and Shopify provided an option for non-tech savvy users to sell their products outside of traditional platforms such as Amazon.
Shopify's CMS market share growth also translated to significant financial returns for the company. During Q4 2020, Shopify registered earnings of $977.7 million, marking a 94% increase compared to the same period in 2019.
To increase adoption during tough financial times worldwide, Shopify expanded the length of its free trial period from 14 to 90 days for merchants that joined the platform between March 21 and May 31, 2020. It also expanded its payment processing channel to more regions around the world, and introduced new marketing channels for its clients.
Joomla Adoption Falls to a New Low
Joomla remains among the most popular CMS platforms globally, but its market share has been in free fall for the last decade — a trend that continued through 2020 and into 2021.
At the start of 2010, Joomla commanded an impressive 12% market share among CMS platforms. In 2021, that number dropped to 3.3%.
| Year | Joomla Market Share |
| --- | --- |
| 2010 | 12% |
| 2011 | 10.9% |
| 2012 | 9.5% |
| 2013 | 8.7% |
| 2014 | 9.3% |
| 2015 | 8.6% |
| 2016 | 7.5% |
| 2017 | 7.2% |
| 2018 | 6.5% |
| 2019 | 5.4% |
| 2020 | 4.6% |
| 2021 | 3.3% |
Joomla market share statistics from 2010 to 2021.
For a long time, Joomla was seen as the most direct competitor to WordPress. It offers a flexible system with plenty of documentation, a broad library of extensions, and an active community. Most importantly, it's a CMS aimed more towards developers, which garnered it a loyal userbase.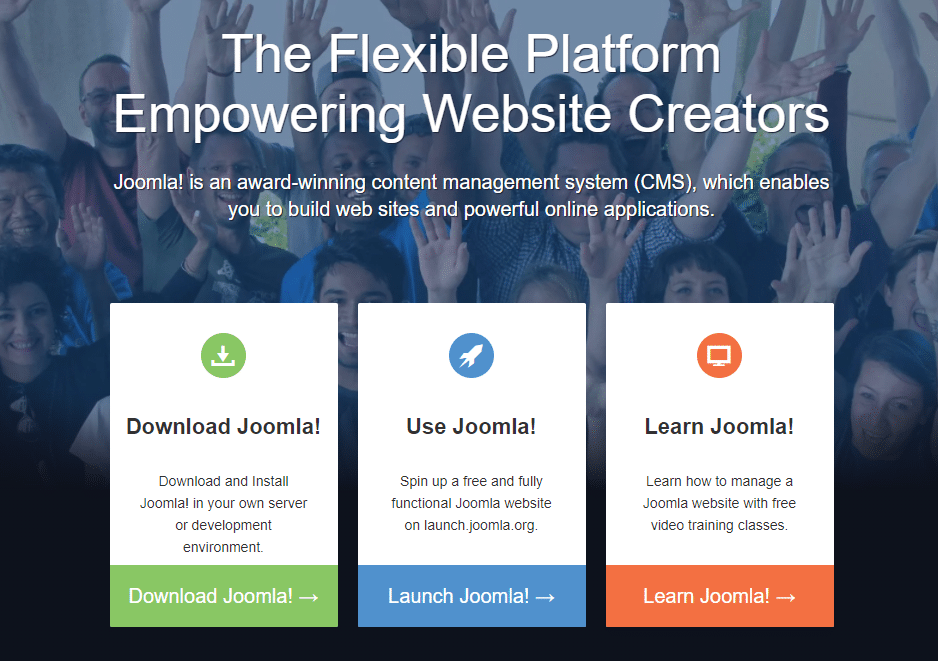 By its nature, however, Joomla is not as user-friendly as other CMS platforms like WordPress or even Shopify. It has a steep learning curve, making it a less attractive option in 2021 when most platforms boast of how easy they are to use, even if you've never written a single line of code.
Despite its decrease in popularity throughout the years, Joomla still commands an impressive market share when compared to platforms that share similar userbases, such as Drupal and Magento. Most importantly, the Joomla community remains active.
Still, if Joomla fails to update its vision to find a broader audience, its market share will likely continue to slip as many opt for more user-friendly CMS platforms.
Squarespace and Wix Maintain Their Market Shares
When people think about Squarespace and Wix, they usually label both as page-builder tools. While this is arguably true, both Squarespace and Wix also offer CMS functionality. That, in a nutshell, is what separates them from purely design-based services.
Squarespace and Wix have the distinction of being two of the only CMS platforms that largely maintained their respective market shares from 2020 to 2021. The former dropped from 2.7% to 2.5%, and Wix went from 2.3% to 2.4%.
To put those numbers into context, let's check out both CMS platforms' market share throughout the past six years:
| Year | Squarespace Market Share | Wix Market Share |
| --- | --- | --- |
| 2016 | 0.8% | 0.4% |
| 2017 | 1.1% | 0.6% |
| 2018 | 1.5% | 0.9% |
| 2019 | 2.6% | 1.8% |
| 2020 | 2.7% | 2.3% |
| 2021 | 2.3% | 2.4% |
Squarespace and Wix market share from 2016 to 2021.
Historically, Wix adoption has been slower when compared to Squarespace's growth. However, from 2019 to 2021, Wix caught up to its main competitor. Most importantly, it continued to grow slightly during the past year, whereas Squarespace lost a fraction of its foothold.
Although Wix and Squarespace are somewhat evenly matched in terms of features, Wix does have an edge in a few aspects. For example, Squarespace doesn't offer website backup functionality outside of enabling users to export data, which is unheard of for a CMS in 2021.
Moreover, Wix provides better support for multilingual websites.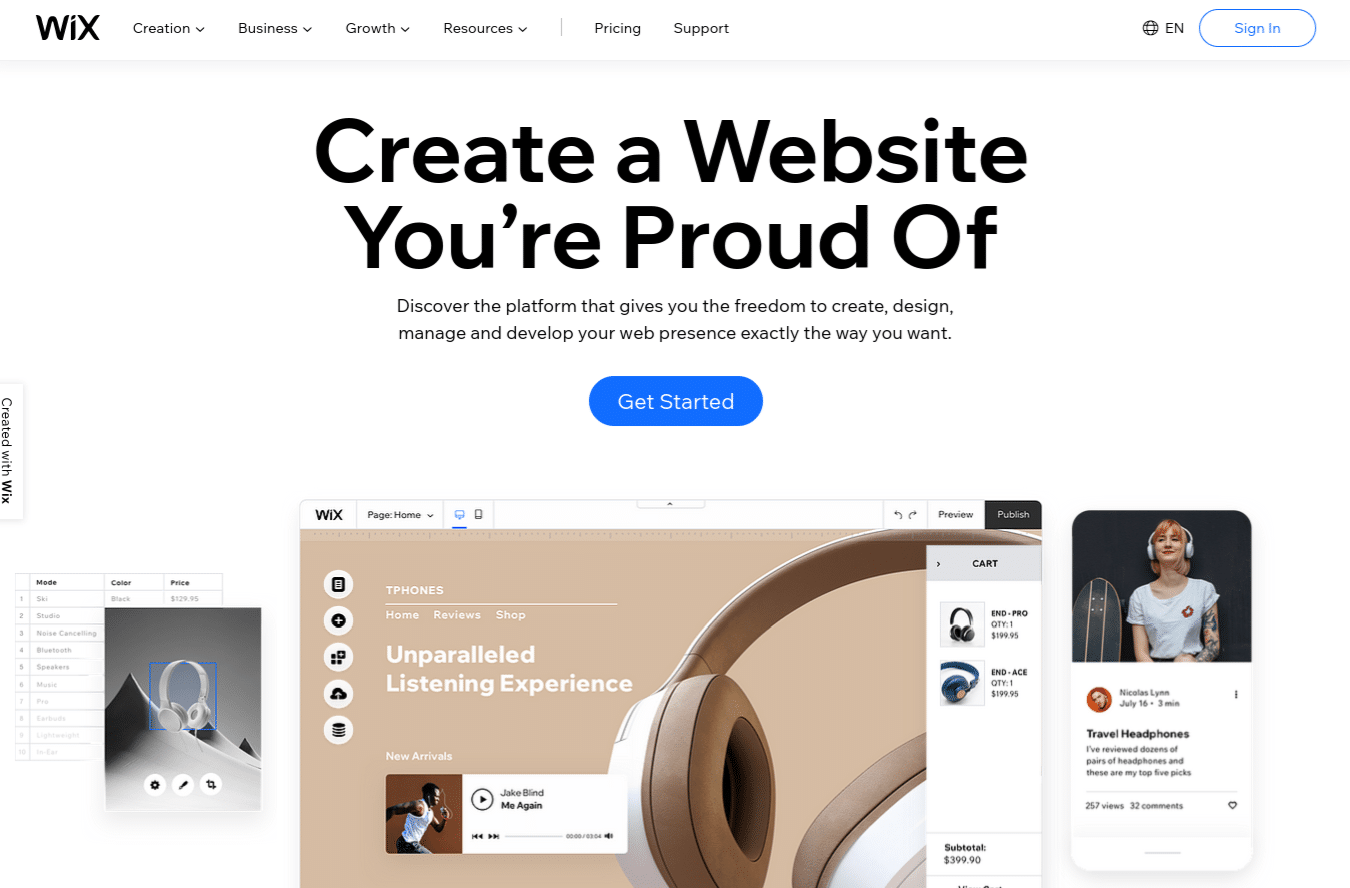 It's also worth noting that Wix offers cheaper entry-level plans than Squarespace, although the latter does a much better job from a marketing perspective.
For the near future, we expect both of these CMS platforms to remain mostly neck and neck in terms of market share.
WordPress Continues to Dominate the CMS Market Share
WordPress continues to dominate compared to other CMS platforms, and that trend is unlikely to change any time soon.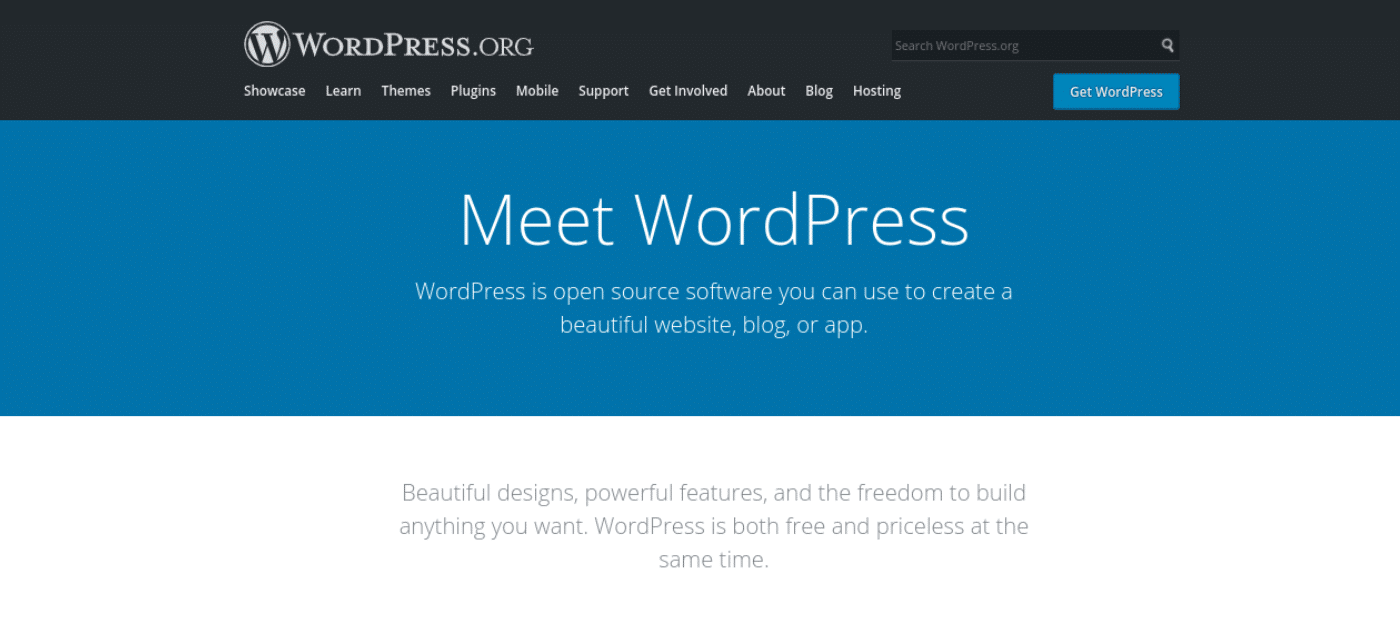 No other CMS comes close to matching its popularity. Even if you combine the market shares for the other nine top platforms, they still don't add up to WordPress' massive userbase.
We're the first to admit some bias when it comes to using WordPress. However, even if you're not a WordPress enthusiast, it's easy to see why this CMS continues to grow its market share annually.
During the past few years, WordPress drastically overhauled the way that most users tackle website building. Thanks to its new Block Editor, users can create pages using a much more visual approach: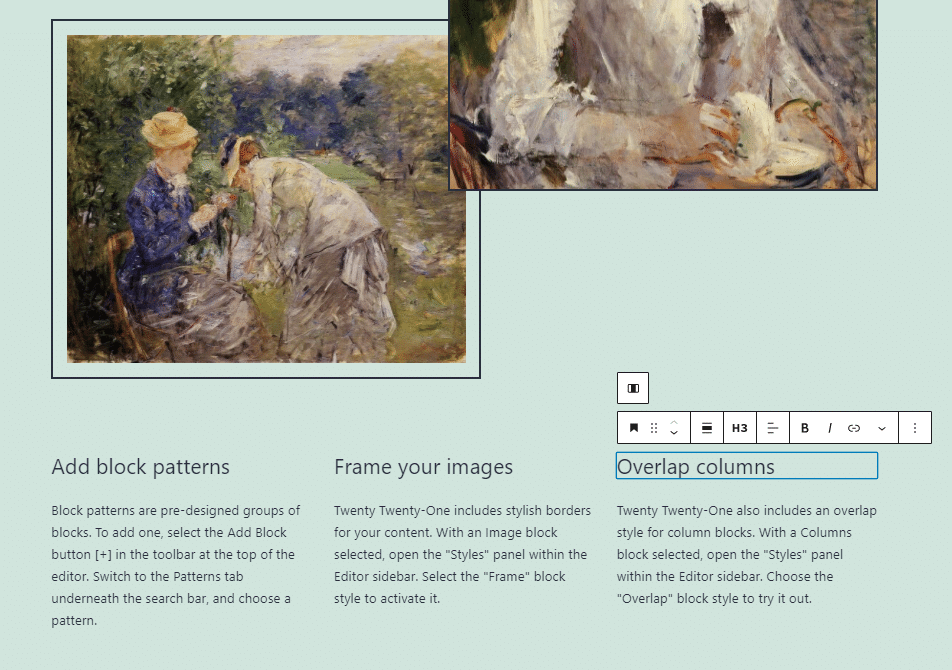 As WordPress grows more and more popular, it becomes even easier for new users to adopt the CMS, which only helps cement its role as industry leader. More users translates to a more lucrative environment for WordPress developers and service providers, all of which collaborate to make the platform more accessible.
WordPress' market share has grown by approximately 1% per year since around 2016. From 2020 to 2021, the number increased from 62.1% to 64.7%, which means it outperformed expectations.
Summary
If you're thinking about launching a website or you're in the market for a new CMS now, WordPress is your best pick. With it, you get a CMS that can adapt to nearly any type of project, from blogging to ecommerce.
Thanks to WordPress' open source nature, you can set up the CMS on any hosting platform that you want, or modify it in any way you see fit. Plus, you have thousands of easy-to-install plugins and stylish themes to choose from to extend your website's functionality and customize its style.
If you're ready to get started using WordPress, check out our plans, all of which come with the CMS pre-installed!