Get High-Performance WordPress Hosting in Australia
Save time and money with Kinsta's premium managed WordPress hosting. Our 26,700+ clients include blogs, small businesses, and large enterprises across Australia. No matter the plan, benefit from high-performance hosting and expert support. Migrate to Kinsta today risk-free with our 30-day money-back guarantee.
Make use of the power of WordPress in Australia
WordPress powers over 41% of the internet, so it's not surprising that some of Australia's most popular websites are among them. That includes about.abc.net.au, news.com.au, xero.com, businessinsider.com.au, and yours! Join the 26,700+ companies that rely on Kinsta for fast and secure hosting.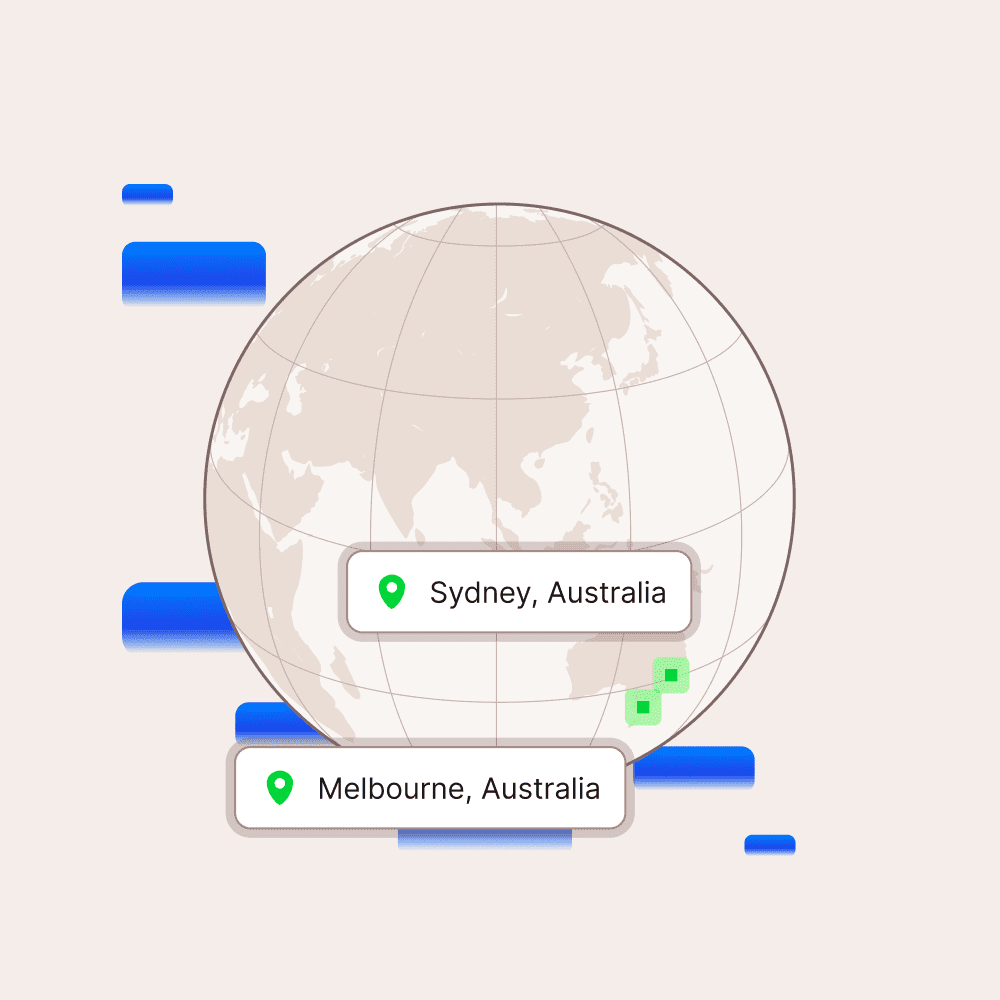 Byron Clinic spends more time on business and less on maintenance with Kinsta.
When we first migrated to Kinsta, the speed difference over our previous VPS was unbelievable. It's been a treat to run our WordPress sites on Kinsta, with total confidence in everything they do to make WordPress run optimally. From caching, backups, and developer tools to their fast and reliable support. It allows us to focus on our business and not on the server, knowing we are in the best possible hands when it comes to managed WordPress hosting.
Prioritize your site's performance with Kinsta hosting
Slow sites will hurt your business. That's because every 1-second delay in page load time decreases your conversion rates by 7%, not to mention the impact on SEO and user experience. Thanks to the cutting-edge technology we employ via Google Cloud Platform, PHP 8.1, LXD, and others we are able to serve your Australia-based and international visitors with the speed they deserve.
Kinsta CDN is in 6 Australian cities
Improve mobile and desktop performance with Kinsta's HTTP/3-enabled CDN (content delivery network) solution at no additional cost. It's powered by Cloudflare's global network, which is available in 250+ cities worldwide including Adelaide, Brisbane, Canberra, Melbourne, Perth, and Sydney.
Sydney and Melbourne data centres
Host your site in Google Cloud Platform's Sydney or Melbourne data centre for the fastest coverage throughout Australia. Is your audience outside of Australia? Our growing list of data centres currently spans 5 continents, all of which are accessible from your MyKinsta dashboard.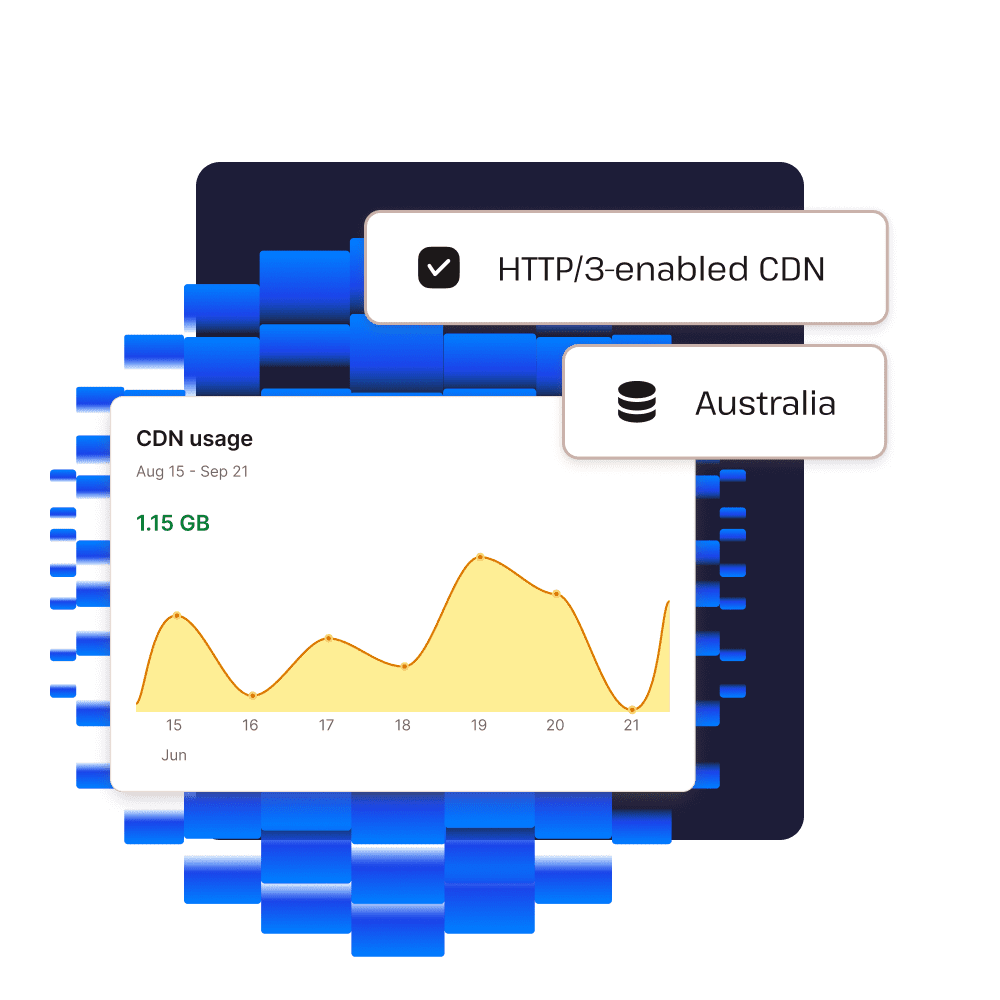 Google Cloud's premium tier network and C2 machines
Kinsta's web hosting stack is backed by Google Cloud Platform's premium tier network and the fastest C2 virtual machines to give you swift content delivery and up to 200% in website performance improvements.
If the majority of your website's traffic is from Australia, choose between our data centres in Sydney and Melbourne.
Our testing shows 80% to 95% reductions in round-trip time (RTT) latency when serving customers from New Zealand and Australian cities such as Sydney, Auckland, Wellington, Melbourne, Brisbane, Perth and Adelaide, compared to using regions in Singapore or Taiwan.
Keep your business's data, reputation, and bottom line intact with Kinsta's secure WordPress hosting
Choose a host that supports your security needs by implementing active and passive measures to stop attacks in their tracks. In addition to the status of your website being checked every 2 minutes, you'll receive:
Enterprise-level firewall and DDoS protection

Included for free in all plans, benefit from Kinsta's Cloudflare integration that's designed to reduce the chances of a malicious attack and protect your business.
Hack fix guarantee

Complete isolation and the latest security updates are just a couple of ways we'll secure your site. But in the unlikely event your site is compromised, we'll fix it for free.
Automatic backups

Feel comfortable making changes to your site knowing there are daily automatic backups in place to fall back on. Need additional options? We also include hourly, manual, system-generated, external, and downloadable backups.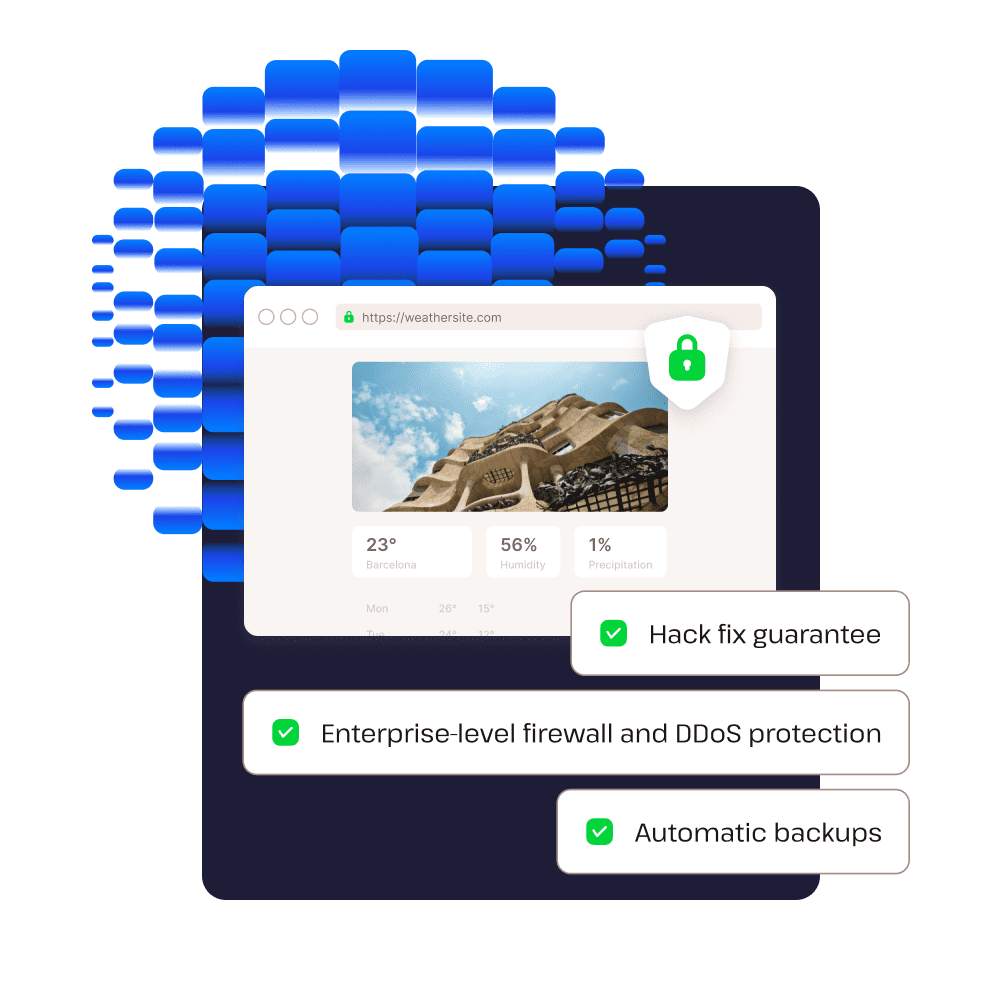 Receive 24/7 support by veteran WordPress professionals
Website issues happen, sometimes at the most inopportune time. The speed in which you can access an expert support team can make or break what happens next. At Kinsta, our average response time is 1 minute and 27 seconds.
Our quick response time, 39-minute close time, and 97% satisfaction rate save time so you can continue to make money. We service 2500+ support-related conversations a week.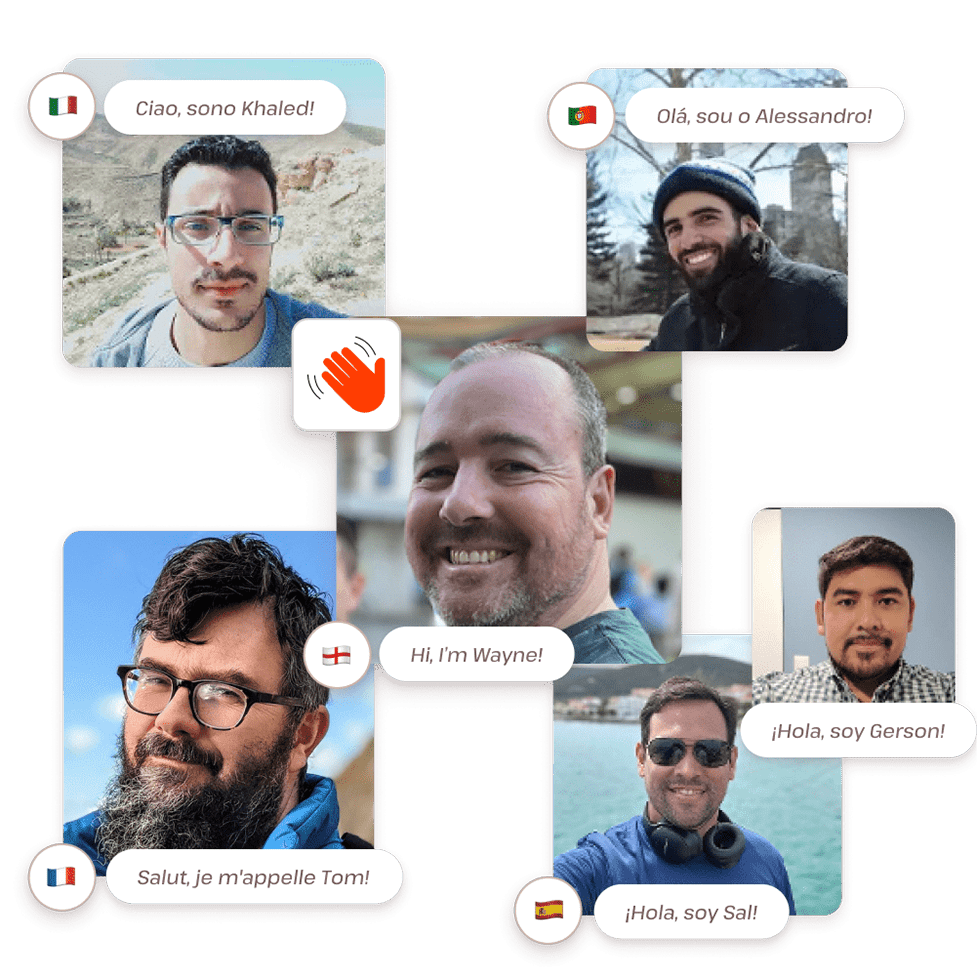 iCompareFX.com enjoys the speed and security they get with Kinsta; the expert support is an added bonus.
Living in Australia, we're used to unavailable live support from international services. This has changed with the Kinsta Support team who are professional, polite, always available and eager to help. Our search for a new hosting provider was due to hosting security concerns and unresponsive hosting partners. Migrating to Kinsta was a straightforward and surprisingly pleasant process. Since migrating iCompareFX.com, we are seeing faster website speeds, higher conversions within a more secure environment.
A speed and security-obsessed dashboard designed to improve your WordPress maintenance workflows
Make your WordPress management routine more efficient with the MyKinsta dashboard. At Kinsta, we weren't happy with the maintenance dashboards on the market so we built our own from the ground up.
With your dashboard, easily:
✔ Create or move sites easily
✔ Set up and optimize for speed
✔ Implement security measures
✔ Analyze and troubleshoot problems
✔ Work with your team 
✔ Contact Kinsta's 24/7/365 expert chat support
✔ And more!
Here's how to make the most of the free tools included in all Kinsta plans
At Kinsta, all our plans come equipped with a variety of free tools to help you manage your website successfully.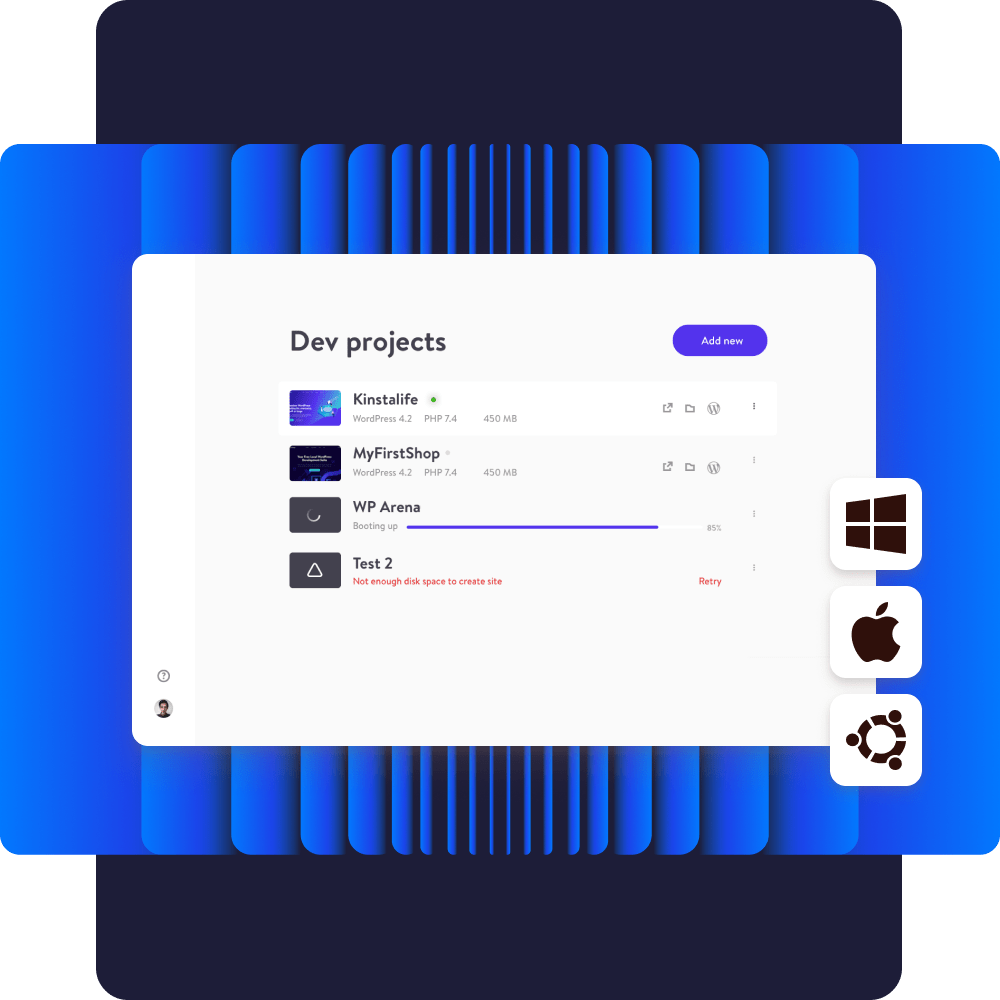 Free local development tool
Design, develop, and launch a site locally with Kinsta's free local development tool DevKinsta. It comes jam-packed with features like advanced database and email management tools. And while available to anyone, being a Kinsta customer does have its perks as it integrates nicely with MyKinsta. Combine DevKinsta with the free staging site that comes with every Kinsta hosting plan and your development needs are all set!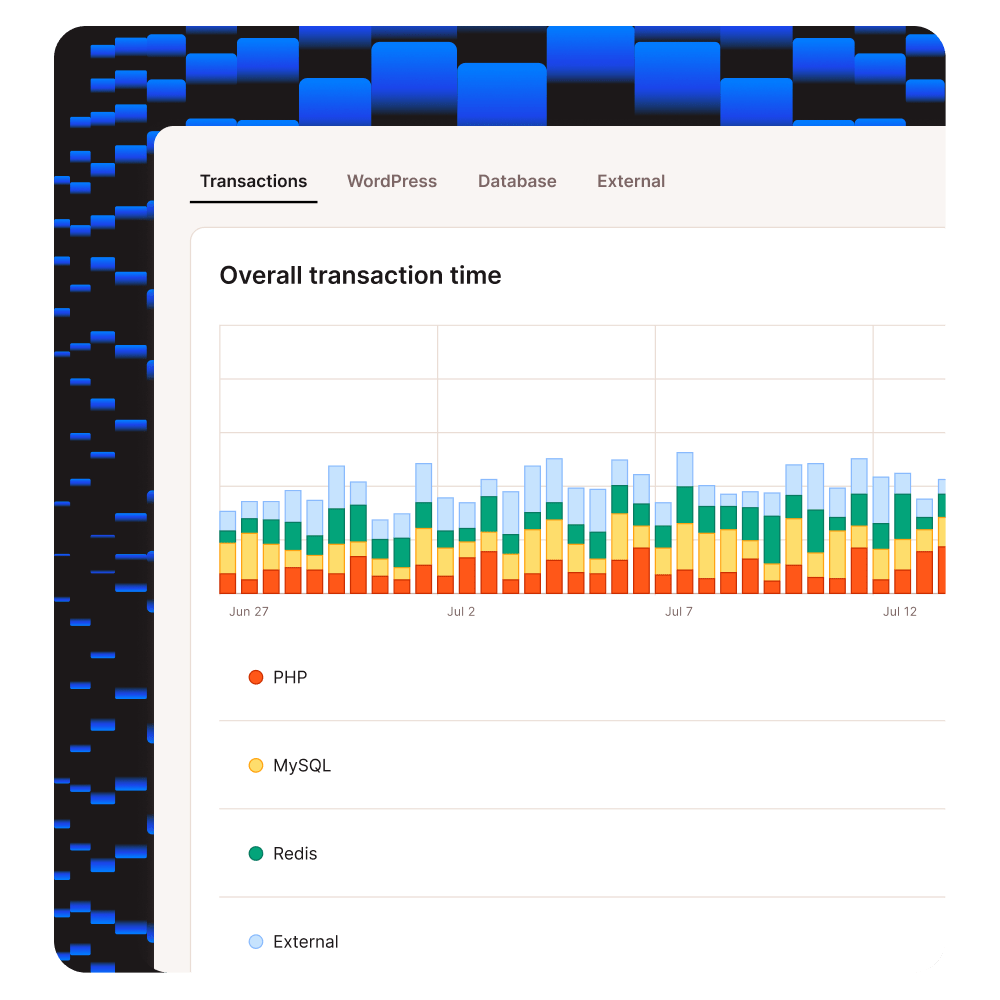 Free application performance monitoring tool
We've already sold you on the importance of a fast website, so we understand how stressful it can be to get to the bottom of performance issues. Kinsta's APM tool is included for free in every plan, so you can easily diagnose performance bottlenecks on your site and see what is needed to take action.
Comply with data privacy regulations
Kinsta takes data privacy seriously and utilizes Google Cloud Platform's encryption at rest. You and your clients can comply with privacy regulations that require data to reside in a specific country or region. Rest assured that, if you choose Sydney or Melbourne for your data centre, no data is ever hosted outside of Australia. By design, any add-ons or features that do transmit data outside of the country are optional and not enabled by default.
Reading time

2 min read

Post type

Case Study
Screaming Frog switched to Kinsta and saw a 46% performance boost.
Dan Sharp, Director
"Kinsta is fantastic. Fast and reliable with excellent customer service. We highly recommend!"
Smooth migration process
High-performance CDN
Response and upload times
Knowledgeable support
Ready to choose a host that means business? Join Kinsta
Choose a plan that fits your needs, or contact us if you need something special. Take comfort in your choice with our 30-day-money-back-guarantee and unlimited free basic migrate
Starter
starting from
$24
USD
month
billed annually
Sign up
WordPress Installs

1 WordPress install

Monthly Visits

25,000 visits

Storage Space

10GB Storage

Free CDN

100GB CDN

Free Premium Migrations

1 premium migration

PHP Workers

2 PHP workers

Backup Retention

14 days backup retention
Business 1
starting from
$77
USD
month
billed annually
Sign up
WordPress Installs

5 WordPress installs

Monthly Visits

100,000 visits

Storage Space

30GB Storage

Free CDN

400GB CDN

Free Premium Migrations

3 premium migrations

PHP Workers

4 PHP workers/site

Backup Retention

14 days backup retention
Agency 1
starting from
$227
USD
month
billed annually
WordPress Installs

20 WordPress installs

Monthly Visits

400,000 visits

Storage Space

50GB Storage

PHP Workers

6 PHP workers/site

Free CDN

800GB CDN

Free Premium Migrations

unlimited premium migrations

Backup Retention

30 days backup retention
Thousands of five-star ratings.
And counting.
We truly cannot say enough about the level of customer service that Kinsta provides – it's always a great experience, with very personable and helpful support.
We love Kinsta! They're no doubt one of the least negotiable expenses we have each month. Incredible speed and absolutely unbelievable support.
Kinsta provides an amazing service, with a simple control panel and top performance. Their support is even more amazing, always available, and fast at fixing any issue.
Really love the level of experience and support Kinsta's live chat engineers provide. The 24/7 support is a game-changer for large sites, especially ecommerce.
Absolutely fantastic – cannot rate highly enough in terms of speed, support, and UI. Went from WP Engine to Flywheel, then to Kinsta and couldn't be happier.
When we first migrated to Kinsta, the speed difference over our previous VPS was unbelievable. It's been a treat to run our WordPress sites on Kinsta, with total confidence in everything they do to make WordPress run optimally. From caching, backups, and developer tools to their fast and reliable support. It allows us to focus on our business and not on the server, knowing we are in the best possible hands when it comes to managed WordPress hosting.
The speed of Kinsta for our WooCommerce shop, in terms of setup and overall page load times, has been a welcome relief from previous managed WordPress hosting platforms.
Hands down one of the best bootstrapped WP hosting companies. Absolutely love their support staff and developer-friendly features (not to mention they are insanely fast).
Kinsta is the best WordPress host I've had so far. They are quick to help, easy to deal with, and really know their stuff. Plus their servers are super fast!
Great performance and the best technical support! Moved from WiredTree at which I experienced a lot of downtime since the acquisition. I'm amazed how my website's performance drastically improved and is loading fast now. They do have the best support too. Specifically, the technical knowledge compared to the other hosting providers. Really glad I switched to Kinsta!
Kinsta saves us time so that we can focus on building our business instead of worrying about hosting or downtime. It's quick and easy to use, has good support, and the websites load quickly and have excellent uptime.