Trusted by 26,750+ growing businesses
Speed up your site with top-performing WordPress hosting
Our customers see up to a 200% speed boost simply by migrating to Kinsta. That's what happens when your tech stack is built on the fastest infrastructure on the market.
Google's Top CPU Servers
Host your WordPress sites on the highest-end CPUs and global availability thanks to Google's fastest servers and Premium Tier network. From these alone, our clients see up to a 200% boost in performance improvements.
High-Performance CDN
Take advantage of 260+ locations worldwide to deliver blazing-fast pages by serving your cached assets from your website visitors' closest location. Kinsta's CDN is HTTP/3-enabled and has a one-click setup.
Reduce load times by 49% with Edge Caching
Kinsta's Edge Caching makes serving cached content from multiple data centers possible with minimum setup. Plus, no separate plugins or add-ons are required here. Based on our tests, Edge Caching:
Cut time to first byte (TTFB) an average of 50%
Dropped time to transfer complete pages by almost 55%
Cut the time to serve cached WordPress HTML by an average of 50%+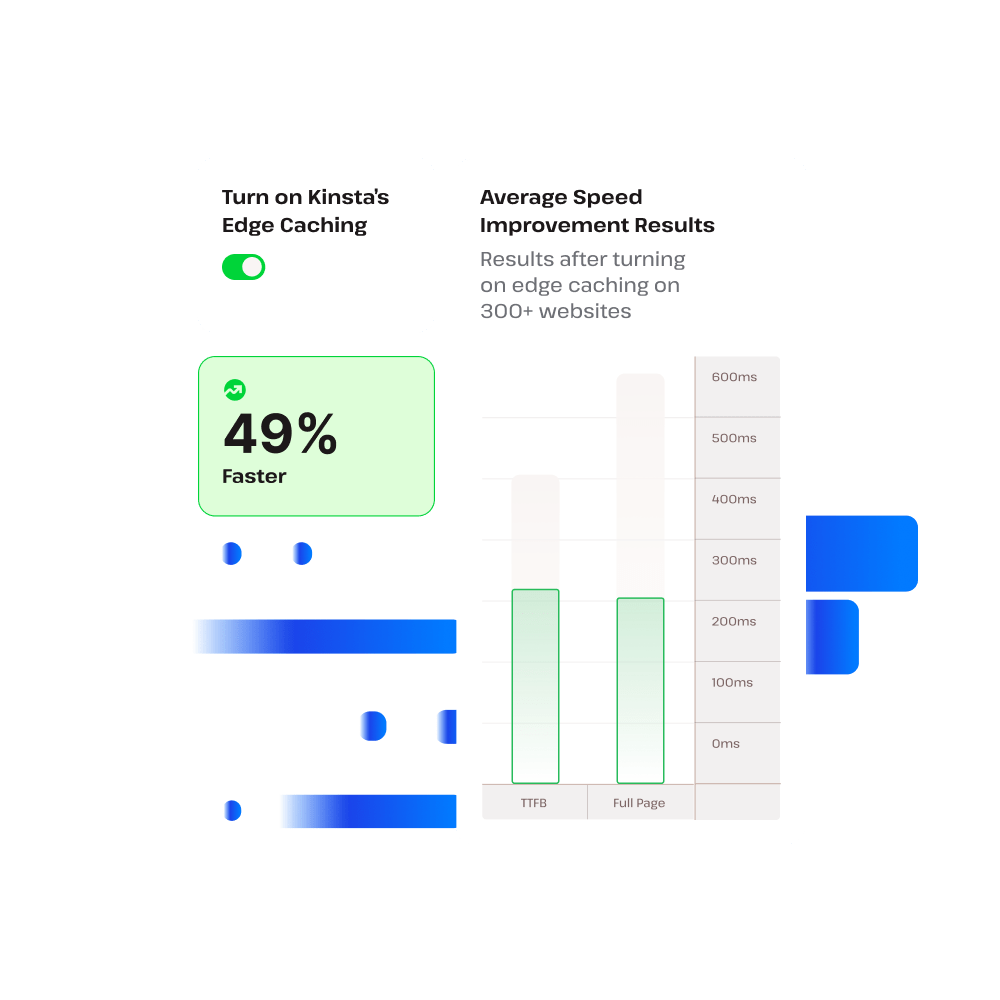 Troubleshoot your WordPress site in 1 click
Kinsta's Application Performance Monitoring (APM) Tool visualizes site speed issues. No matter your technical skills, easily identify performance bottlenecks and take action. Unlike our competitors, Kinsta APM is home-built and included free in all of our managed WordPress hosting plans. Say goodbye to external plugins or paid services like New Relic.
Choose your data center
for maximum speed
At no extra cost to you, select the region that works best for you and your customers. Choose from 35 data centers. All our locations offer Google's best C2 machines! Plus, our CDN has260+ POPs giving your website a global presence and unequaled speed.
Purple

CDN Locations (260)
The proof: customer success
Credo saw a 50% decrease in page load times
A 1-second drop in load time resulted in an overall increase in their SEO rankings on Google which also directly correlated to higher conversion rates and revenue.
Neuralab's average response time improved by 80%
This development agency also migrated over 50 sites to Kinsta and decreased client site load times by 2x. Neuralab credits Kinsta's data centers and server-side caching.
ONE18MEDIA achieved a 1600% page speed boost
ONE18MEDIA cut their client's page load time from 8 seconds to under a second—a 1600% improvement. This directly enhanced user experience and opened doors to higher revenue.
Free migration for the holidays
Make sure you're ready for holiday traffic spikes. Our dedicated migration experts are ready to do the heavy lifting 24/7. Start speeding up your site now.
Top security for peace of mind
Kinsta is SOC 2 compliant and focused on protecting your WordPress sites and your business with enterprise-level security. It's baked into every aspect of our managed WordPress hosting, from infrastructure to SLAs.
Enterprise-Level Firewall DDoS Protection
Detect and block DDoS attacks (or any malicious event) immediately thanks to our free Cloudflare integration with IP-based and firewall protection.
Simplified SSL Management With Free Wildcard SSL Support
Easily secure your root domains with an unlimited number of subdomains thanks to Kinsta's Cloudflare integration.
HTTP/3 Out-of-the-Box Support
HTTP/3 improves performance, security, and reliability. Get full HTTP/3 support so you don't have to waste time tweaking your server settings.
Site Backups & Uptime Checks
Automatic daily backups with hourly, 6-hour, and external backup add-ons available. We monitor your sites 720 times every day and have a 99.9% uptime guarantee.
SFTP / SSH Protocols
Be confident that no one can access your connection while using it. Log in remotely to your servers to securely issue commands (WP-CLI, Git, Composer) and via SFTP.
Malware Security Pledge
We have hardware firewalls, active and passive security, and other advanced features to prevent access to your data. If you have a compromised site, we'll fix it for free.
MyKinsta dashboard
Manage your WordPress sites, databases, and even your applications in one place.
Free local WordPress development with DevKinsta
One-Click WordPress Site Creation
Every DevKinsta site is powered by a modern hosting stack plus the latest version of WordPress Core.
PHP 7x and 8x Support
Test your site with the latest version of PHP in a safe environment. DevKinsta supports PHP 7.2 – 8.2 and you can switch versions with just a few clicks.
Local Email Management
DevKinsta ships with a powerful SMTP server and email testing tool. Catch outgoing emails to debug contact forms, marketing automations, site notifications, and more.
Built-In Database manager
DevKinsta includes Adminer, a lightweight database management tool. Use Adminer to edit WordPress database tables, execute SQL queries, and more.
Advanced tools for developers
Developers can access all their favorite tools and settings right from the MyKinsta dashboard.
24/7/365 support from Kinsta experts
Get technical support from Kinsta experts in under two minutes. No ticket system or tiered support. Only useful and in real-time replies.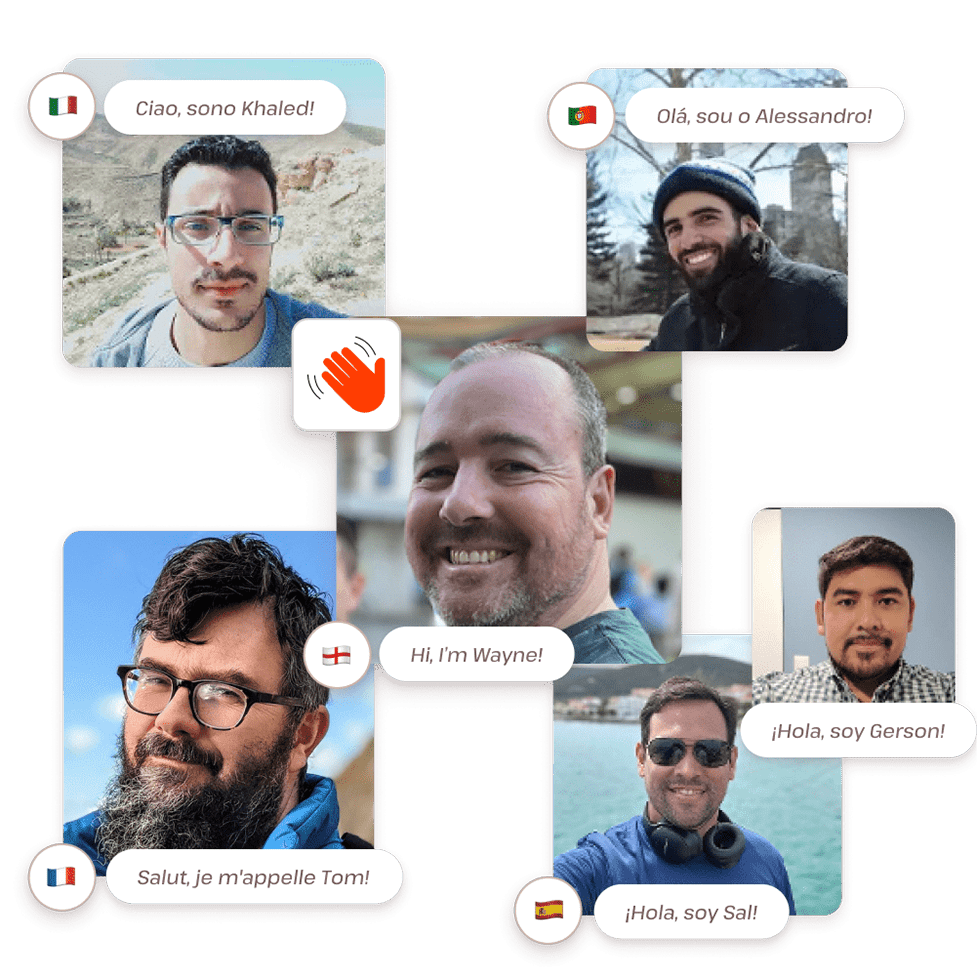 Get max speed and security for the holidays
Save $290+/month with Kinsta
Without Kinsta, you'll need to add these add-ons to get the same level of performance and security.
Kinsta
Monthly Cost Without Kinsta
Cloudflare Enterprise

Included

$250+
Cloudflare
CDN

Included

$8.99
Rocket CDN
Advanced Caching

Included

$4
WP Rocket
Backups

Included

$7.41
BlogVault
Migrations

Included

$5.83
UpdraftPlus Premium
Uptime Monitoring

Included

$10
Pingdom
SSL Certificates

Included

$4
SSL.com
Free
Total $290+
per month
One Platform, Dozens of Premium Hosting Features
Host all your web projects in the intuitive MyKinsta dashboard. Enterprise-level features come free in every plan.
Google Cloud Platform
Highest CPU servers
Premium tier network
24/7 expert support
Uptime monitoring
User activity logs
35 data centers
CDN
Cloudflare DDoS protection
Two enterprise firewalls
Private network
99.9% uptime SLA
Optional add-ons
Premium Staging Environments
Each Premium Staging Environment has 12 CPUs, 8 GB of Memory, and the same number of PHP Workers you have for your live site.
$20
monthly / environments
Redis
Open source, in-memory data structure store, used as a database, cache and message broker.
Nginx
Nginx Reverse Proxy support to load WordPress from a subdirectory while a separate website (WordPress or otherwise) loads at the root domain.
External Backup
Automatically back up your WordPress site once per week or per month to either Amazon S3 or Google Cloud Storage.
Extra Backups
Do you have an ecommerce site, membership site, a news publication with continuously changing content and data? Our extra backup options are a perfect fit.
Every 6 hours
$20
monthly / site
Every hour
$100
monthly / site
Disk Space Add-On
For additional flexibility, you can increase the storage space of your hosting plan with a few clicks inside the MyKinsta dashboard.
+20GB
$20
monthly / company
Managed WordPress hosting plans for any use case
Get high-performing infrastructure and features no matter your use case.
Single-Site Plans
High-resource plans for one WordPress install. Perfect for high-traffic websites. Get up to 25% off the regular plan price and free migration.
Agency Plans
Build and manage client sites with ease. Get the first month of client site hosting on us, plus unlimited free migrations and free hosting for your agency site.
WooCommerce Plans
Every second counts. Host your online store on high-performance infrastructure that can help with revenue, SEO, ROI, and user experience.
Custom Plans
Can't find a standard plan that fits your needs? Reach out to the Sales team here at Kinsta to have a custom plan created to fit your needs.
Our customers love us
Customers love us for our commitment to cutting-edge technology, improving the developer experience, and expert support.
Kinsta provides an amazing service, with a simple control panel and top performance. Their support is even more amazing, always available, and fast at fixing any issue.
Kinsta is a fast and reliable host that resolves issues as quickly as they arise. Demand for our product and content grew to the point where our former host was cratering under the pressure; after serving one too many 5XX errors, we moved over to Kinsta, and the rest was history. Kinsta support deserves a special shoutout, as they're available 24/7 and go above and beyond to ensure our satisfaction.
If I'm talking with another developer and they want recommendations on WordPress hosting, Kinsta hands down. It'll save you headaches and all sorts of issues and your clients will be super happy so it's a no brainer.
Two months after making the switch to Kinsta, we saw a dramatic decrease in the utilization of employees. We saved 2 hours per day per helpdesk employee on time lost to administrative tasks. With our current staffing, that is the equivalent of hiring another full-time employee. We never understood how good tools and proper hosting organization could affect our average time spent on what was most important: our customers!
Great performance and the best technical support! Moved from WiredTree at which I experienced a lot of downtime since the acquisition. I'm amazed how my website's performance drastically improved and is loading fast now. They do have the best support too. Specifically, the technical knowledge compared to the other hosting providers. Really glad I switched to Kinsta!
The speed of Kinsta for our WooCommerce shop, in terms of setup and overall page load times, has been a welcome relief from previous managed WordPress hosting platforms.
FAQ
Can't find what you're looking for?
Do you offer hosting for a single high-resource site?

Absolutely. Our single-site plans are geared toward those who need hosting for a single WordPress installation that requires more resources than the average site.
Do you provide special agency offers for WordPress hosting?

Our agency plans include unlimited free migrations, free hosting for your agency site on a Pro plan, and being listed in our Agency Directory. Plus, for a limited time, sign up and get the equivalent of your first month of client site hosting on us. (If you select annual billing, that's 3 free months!) Learn more about agency hosting.
Is Kinsta's hosting good for WooCommerce shops?

Absolutely! The top WooCommerce shops choose Kinsta and reap the benefits of hosting their shops on top-performing and highly secure infrastructure. Learn about our WooCommerce hosting.
Do you provide custom plans?

Can't find a standard plan that fits your needs? Reach out to the Sales team here at Kinsta to have a custom plan created to fit your needs. Contact sales to find the right plan for you.
Can I try Kinsta's Managed WordPress Hosting for free?

Pretty much. Take advantage of our free migrations to move to Kinsta without any hassle, and if you're not happy with the service, you can be refunded thanks to our 30-day money-back guarantee.
What Is Managed WordPress Hosting?

Managed WordPress hosting is a service that comes with a multitude of features and support, to help websites run efficiently, securely and quickly, leaving the technical know-how to the experts, so you can focus on running your business.
What Is WordPress Hosting?

WordPress hosting is a type of hosting specifically designed for WordPress websites. Servers are configured for WordPress, allowing WordPress sites to run faster and more efficiently. WordPress hosting plans also include WordPress-specific features, such as:

– Customer support from WordPress experts
– Site migrations
– SSL Certificates
– One-click WordPress Installs
– Pre-installed plugins
– WordPress Staging environments
How Much does WordPress Hosting Cost?

Our WordPress Hosting services start from $35/month, with a range of plans on offer that can be tailored to your specific needs.
Get holiday-ready
Be prepared for holiday traffic spikes. Plus, get four months free when you pay annually. Free migrations and 30-day money-back guarantee.