Reliable WordPress Hosting for Mission Critical Single Sites
For many, your website is the entire business, especially during the holidays. Without it everything grinds to a halt. If that's you, our single-site plans are calibrated just for you and cost 25% less than comparable plans.
Your Website Is Your Business
For many of us, our website is the entire business. Without it everything grinds to a halt. If that's you, our single-site plans are calibrated just for you and cost 25% less than comparable plans.
Migrate Your Site for Free
Our dedicated team will migrate your site to Kinsta without any work on your end and with minimal service interruption. Migrate risk-free with our 30-day money-back guarantee.
A Kinsta Plan Includes More
Our single-site plans are turbocharged with 6 or more PHP workers and include premium features to save time and money.
Efficient Development
Simple staging environment setup (with additional environments add-on)
Kinsta API
Unlimited collaborators with granular control of user roles
Handoff to clients with transferable sites
Local development with DevKinsta app
Peace Of Mind
30-day money-back guarantee
24/7/365 single-tier expert-only live chat support
Automatic daily backups
Manual backup points
Self-healing database technology
Free hack and malware removal
99.9% uptime SLA
Enterprise-Class Security
Cloudflare Enterprise DDos Protection and Web Application Firewall
Auto-renewing SSL
HTTPS/3
Force HTTPS option
IP Deny interface in MyKinsta
Monitor admin user activity, error logs, access logs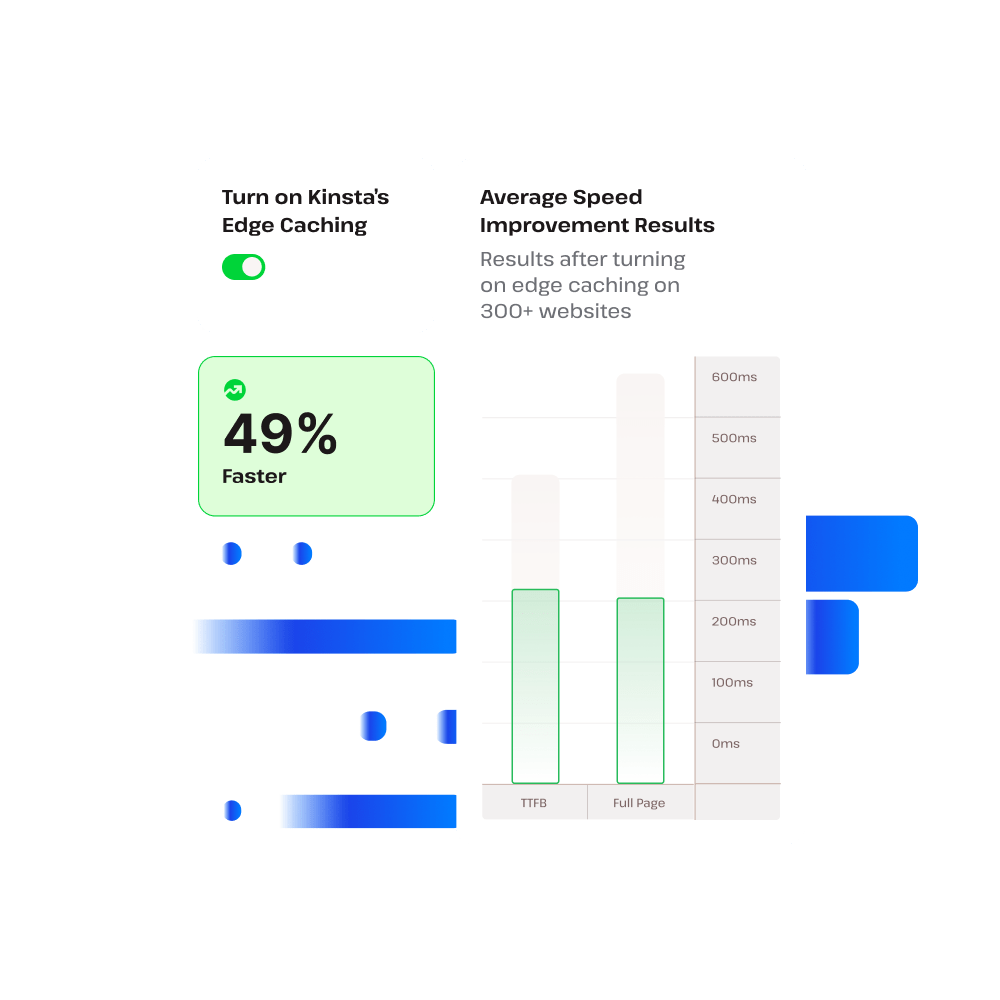 Edge Caching
Kinsta's Edge Caching makes serving cached content from multiple data centers possible with minimum setup. Plus, no separate plugins or add-ons are required. Based on our tests, Edge Caching:
Cut time to first byte (TTFB) an average of 50%
Dropped time to transfer complete pages by almost 55%
Cut the time to serve cached WordPress HTML by an average of 50%+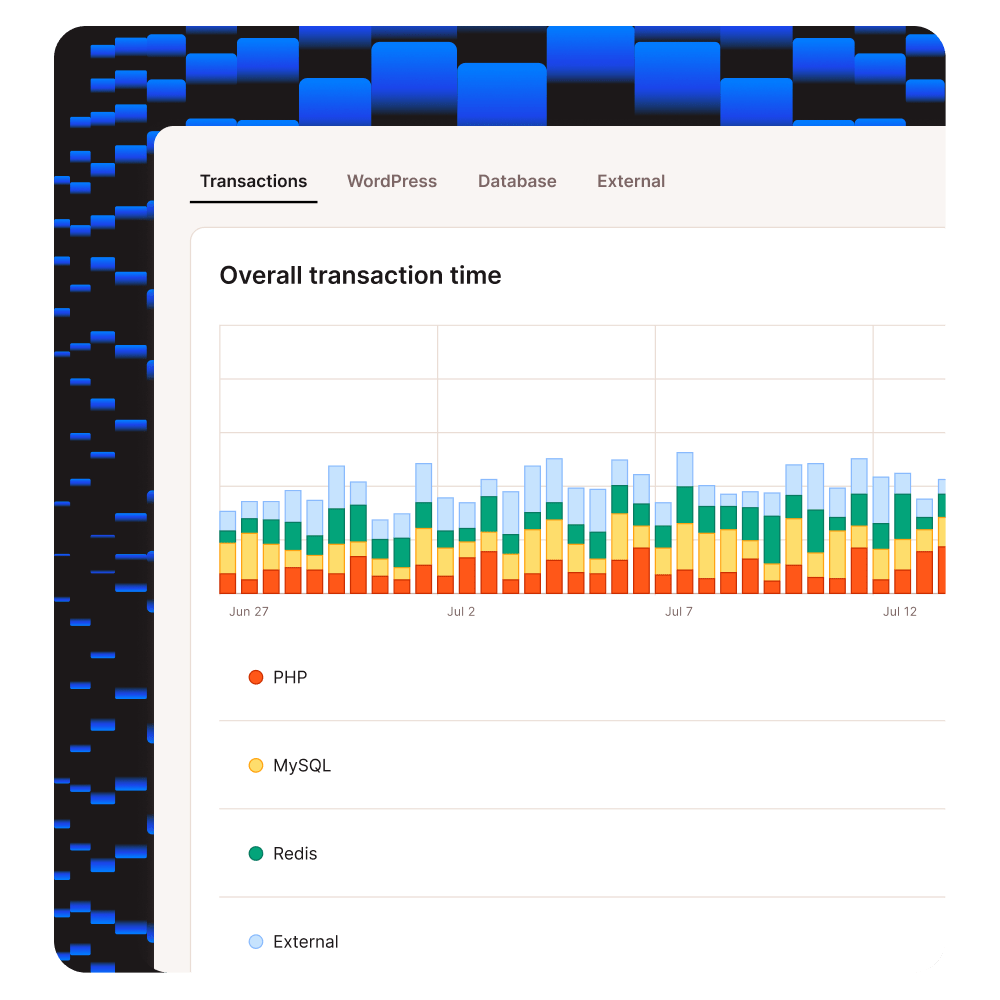 Troubleshoot With One Click
Kinsta includes a free Application Performance Monitoring (APM) tool right inside your MyKinsta Dashboard.
Visualize speed issues in a way you'll understand no matter your technical skills
Easily identify performance bottlenecks and bug then take action
No need to research, purchase, install, and, maintain external tools
Is Your Site Ready for Black Friday / Cyber Monday?
Find out fast. Our experts will run a free performance audit of your website and share the results within one business day or less.
Save $290+/Month With Kinsta
With "cheaper" hosting, you'll still need to add these add-ons to get the same level of performance and security you get from Kinsta.
Kinsta
Monthly Cost Without Kinsta
Cloudflare Enterprise

Included

$250+
Cloudflare
CDN

Included

$8.99
Rocket CDN
Advanced Caching

Included

$4
WP Rocket
Backups

Included

$7.41
BlogVault
Migrations

Included

$5.83
UpdraftPlus Premium
Uptime Monitoring

Included

$10
Pingdom
SSL Certificates

Included

$4
SSL.com
Free
Total $290+
per month
Find Your Perfect Hosting Plan
Be ready for Black Friday and Cyber Monday. Get two months free when you pay annually.
Business Plans WordPress Hosting Plans
Enterprise Plans WordPress Hosting Plans
Our Customers Love Us
Here's what other LMS, membership, and high-demand WordPress site owners have to say about Kinsta.
Our WordPress site is at the core of our business and we know it is vital that we use the best possible hosting and have just-in-time access to quality hosting support. The limitations of our previous cloud-based hosting became apparent following a massive increase in website traffic during the COVID-19 pandemic. We reached out to Kinsta and they stepped up providing amazing support during service testing, site migration and subsequently in optimizing our site performance. I have absolutely no hesitation in recommending them as the premium WordPress hosting service!
Kinsta has been an invaluable partner from day one. We shifted from a well-known service provider where we were paying three times as much with no way near the service and competence offered by Kinsta. Our website, os.me, gets 80% of its traffic from our registered members. Usual WordPress performance techniques fall a bit short for a platform like ours. Kinsta WordPress platform with caching, inbuilt CDN & support for plugins like WP Rocket made it very easy for us to get a good performance despite the traffic pattern. Truth be told, we can't imagine going with any other provider. Service, pricing, turnaround time, and technical excellence — Kinsta has exceeded our expectations on every front.
Switching to Kinsta turned out to be the best decision we've ever made when it comes to our website infrastructure. We saw a 60% drop in server response times, faster delivery of our pages, and nearly 100% uptime. The most insane part of it all was that this came at nearly 40% lower cost than the previous host.
Really love the level of experience and support Kinsta's live chat engineers provide. The 24/7 support is a game-changer for large sites, especially ecommerce.
Kinsta provides an amazing service, with a simple control panel and top performance. Their support is even more amazing, always available, and fast at fixing any issue.
Maintaining many global WordPress sites, we've become well acquainted with all the major hosting providers. No one is running our sites as fast as Kinsta.
After moving WordPress sites to Kinsta, we saw faster load times, and the whole system became healthier and robust. I'm amazed by the competency of the Kinsta crew, their expertise, and most of all, their eagerness to solve problems.
Kinsta is the best WordPress host I've had so far. They are quick to help, easy to deal with, and really know their stuff. Plus their servers are super fast!
If I'm talking with another developer and they want recommendations on WordPress hosting, Kinsta hands down. It'll save you headaches and all sorts of issues and your clients will be super happy so it's a no brainer.
Trusted and Certified
Kinsta is a SOC-2 Type II compliant organization. We also comply with GDPR and CCPR privacy standards. See our security and trust report.
Contact Us!
Talk to Sales to discuss your hosting needs and find the Kinsta plan that's right for you. Or reach out to us and we'll get back to you within one business day. Call or send us a message at: +1 (888) 610-2915
FAQs
What are Single Site Plans for?

Single Site Plans are for a mission critical or high demand site that needs more server resources than a typical site. They include features usually only included in our Business Plans, but allow you to access those features at a lower price. You can even create a customized plan.
Why are PHP workers important?

PHP Workers generate the pages your visitors see as well as processing other server tasks. The more you have the faster your site can serve simultaneous visitors. Our Single Site plans include 6 or more PHP Workers for high demand sites.
Do you provide custom plans?

Can't find a standard plan that fits your needs? Reach out to the Sales team here at Kinsta to have a custom plan created to fit your needs. Contact sales to find the right plan for you.
Can I try Kinsta's Managed WordPress Hosting for free?

Pretty much. Take advantage of our free migrations to move to Kinsta without any hassle, and if you're not happy with the service, you can be refunded thanks to our 30-day money-back guarantee.