You can find Puneet on LinkedIn or Twitter. This is our recent interview with him, as part of our Kinsta Kingpin series.
Q1: What is your background, & how did you first get involved with WordPress?
I started wrangling with web projects in my fifth grade (Year 2000) when Internet was still a big deal in India. I started writing C/C++ Programs in my eighth grade and since then, my love for programming kept growing. After my school, I completed my graduation in Electronics & Communication Engineering.
During college days, I met a professional blogger from my city and started contributing to his blog. That was my first encounter with WordPress. Seeing my experience and interest in programming, my fellow blogger requested me to customize his WP theme for the blog and that's how it all began.
Q2: What should readers know about your company IdeaBox, & what kinds of clients are a good fit?
IdeaBox was started in 2012 as one-man show and we are now a team of 7 which includes – developers, designers, content writer and quality analyst. We enjoy working on all kind of small and medium WordPress websites, custom plugins and themes.
We have done a lot of white-label jobs for leading agencies and designers and we enjoy doing it! Recently, we launched our first Premium WordPress Plugin – PowerPack Beaver Builder Addon (https://wpbeaveraddons.com/) and are now exploring more opportunities in product development.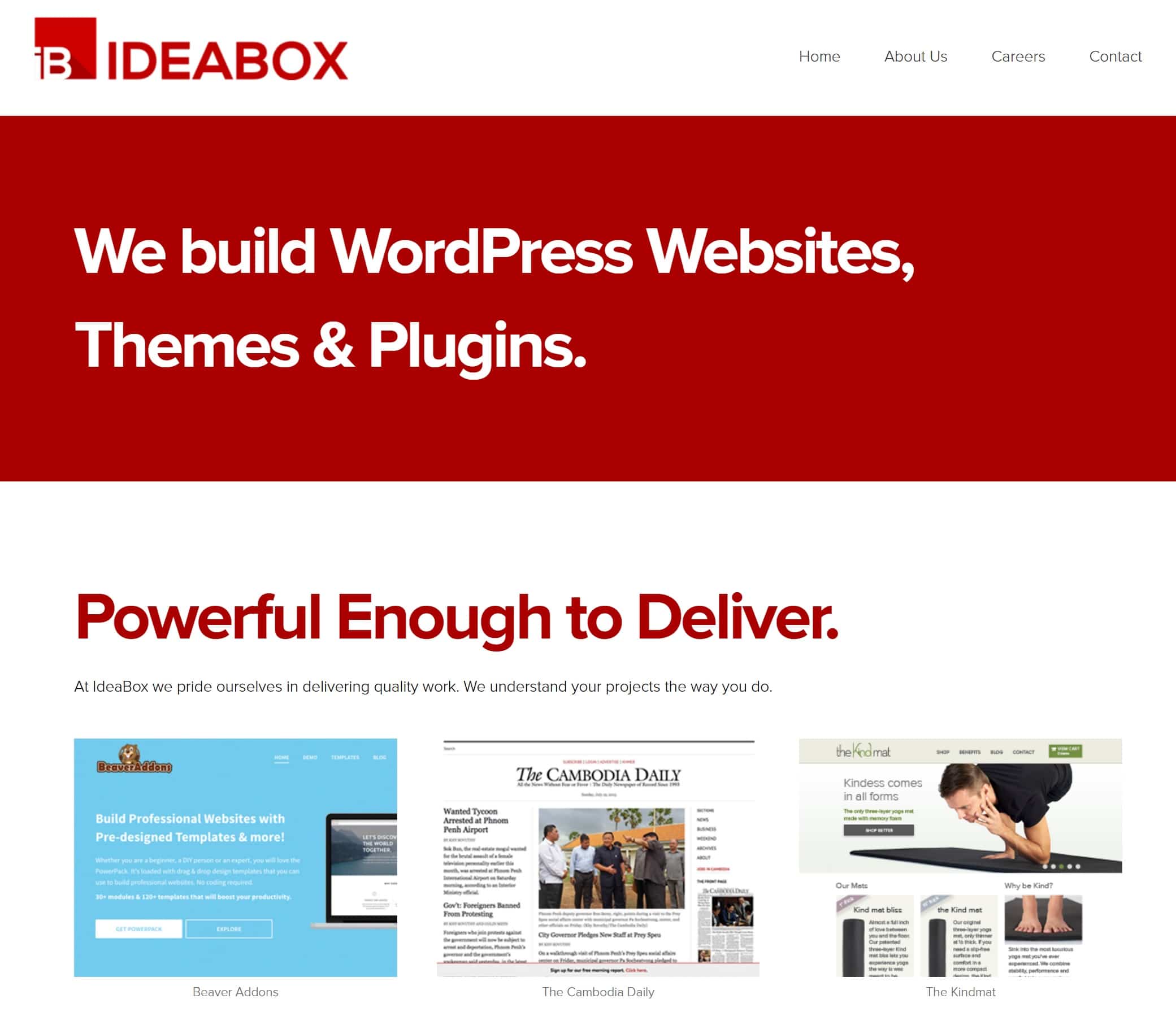 It was on our list to move into product development and since we were always busy with client projects, it became difficult to explore other possibilities. It was a challenging task to keep both of these going together. But, we decided to hold on taking up new projects for a few months, build our product and launch it. In 6 months, we have our PowerPack Addon at a very solid stage with over 2000 users.
It's been an amazing experience to build a product that runs on thousands of websites, that changes how people build websites, and how we end up receiving new ideas and suggestions. Working with client's projects is a completely different experience, it's a one time show, it's done and delivered. A product is like a baby. We are always pleased to see it growing.
Apart from all of this, we believe in contributing back to the WordPress community in various ways which includes theme review, core contribution and translation.
Q3: What challenges did you face in building it?
We are based in a small, beautiful tier-2 city (Udaipur) of India, so our biggest challenge was to find the right people for our team. It took us sometime to get the pieces together and now I can say that we are in good shape. We are a small, skilled and happy team.
India is one of the biggest outsourcing markets and we didn't want to be known as just another outsourcing agency, work at cheap prices and deliver sub-standard work. This is something I focused during my freelancing career and followed with IdeaBox as well.
Since day one, we focused on quality more than anything else. None of our team members start working on client's projects until and unless their coding standards are up to the mark. This slows down things initially but, it's good for the long run.
Q4: Did anything surprise you during the process of growing it?
Before starting IdeaBox, I worked as a freelancer and had no experience of working with a team. It all started without any partnership and self-investment of $1000. I had no idea that within a few years we would cross the $100k mark in revenue. We are still a team of only seven.

Finding my first team member was a great relief as it's not easy to find people who want to work with a company that has just started. As our team grew, I was amazed by how easily we could solve problems, how team-work improved our productivity and revenue. It took a while to get used to managing a team but, it was a wonderful experience.
One of the best experience was to work with the leading and oldest National Daily of Cambodia (cambodiadaily.com). We re-built their site with new membership features to boost their revenue.
Q5: What does the future look like for IdeaBox?
We look forward to venturing into product development in 2017 and also scale up our services business. We also plan to bring in a few more team members this year.
Q6: What do you look for in a managed WordPress host?
Updates, security, speed, backups, staging environment and expert support is the bare minimum I look for in a managed WordPress hosting provider. One thing that I love about Kinsta is that it's always running on the latest infrastructure and technology.
Q7: What is the WordPress community & market like in your area?
We have several web companies who use WordPress for websites and the community is growing here. We are organizing our first WordCamp on January 28, 2017 (https://2017.udaipur.wordcamp.org).

Q8: What do you enjoy doing when you're away from your laptop?
I enjoy spending time with my family and friends. I have a younger sister, a nephew and a niece to keep me busy outside of the web world. Hanging out at Lakeside with a bunch of friends and traveling during the holidays is a part of my non-tech life. :)