Global Desktop Browser Market Share
Google Chrome is the most popular and widely-used desktop web browser by far. However, when you take a look at the market share numbers worldwide, there are a variety of other browsers that are gaining traction and shouldn't be overlooked.
In the web browser space, there are a variety of other well-known players such as Safari, Microsoft Edge, and Firefox. However, we'll also take a look at a few browsers you may not be too familiar with yet, including Opera, Brave, Yandex, and more.
| | |
| --- | --- |
| Browser | Percentage of Global Desktop Browser Market Share |
| Google Chrome | 77.03% |
| Safari | 8.87% |
| Mozilla Firefox | 7.69% |
| Microsoft Edge | 5.83% |
| Internet Explorer | 2.15% |
| Opera | 2.43% |
| QQ | 1.98% |
| Sogou Explorer | 1.76% |
| Yandex | 0.91% |
| Brave | 0.05% |
Browser market share – desktop
Google Chrome Dominates the Browser Market Share Worldwide 
If Google Chrome is your preferred desktop browser, you're no stranger to the benefits of using it. Chrome is intuitive, well-organized, and boasts a pleasing aesthetic. It's undeniably a popular browser, and one that many people turn to for accessing the internet both on desktop and mobile devices.
However, the power of Chrome really becomes evident when you look at the numbers. According to Global Stats StatCounter, as of November 2020 Chrome holds a whopping 70.33 percent of the desktop browser market share worldwide:
As you can see, Chrome significantly dominates the market. Not only does it command more than two-thirds of the market share for desktop browsers specifically, it holds nearly as much when compared with all web browsers in general.
According to W3Counter, Chrome accounts for 63 percent of the total market share for all browsers worldwide:

Unsurprisingly, Google also dominates the search engine market share on desktops, coming in with nearly 92 percent of global usage. However, one area where there's certainly room for improvement is Google's dedicated Operating System (OS).
ChromeOS holds just 0.42 percent of the desktop OS market share worldwide. In comparison, Windows accounts for 87.82 percent, and macOS holds a 9.42 percent share. 
Mozilla Firefox Maintains a Steady Market Share
As we mentioned earlier, Mozilla Firefox and Safari hold just about the same market share as of November 2020. Coming in second place behind Chrome, Firefox accounts for 8.99 percent of global desktop browser usage:
Firefox is one of the most popular browsers available, and is often recommended as a Chrome alternative. Nearly all of Firefox usage comes from desktop devices, with the mobile browser market share resting at a mere 0.47 percent (placing it behind Opera).
This browser's current market share is slightly less than it was at this time last year, which was 9.76 percent. However, Firefox may rise again, as it has recently made some updates to focus on delivering a more secure experience for users. This includes privacy features for tracker blocking, password protection, security alerts, and more.
Safari Usage on the Rise Despite Security Concerns
Coming in behind Firefox is Apple's Safari, accounting for 8.75 percent of usage. Of course, this is nowhere near the usage that Chrome boasts. However, Safari is often neck-and-neck with Firefox, which we'll look at next. 
The current number is a noteworthy increase from the 5.64 percent desktop browser market share Safari had only a year earlier, in June 2019. It's also worth mentioning that macOS is the second most popular OS on desktop devices, holding 17.76 percent of the global market share: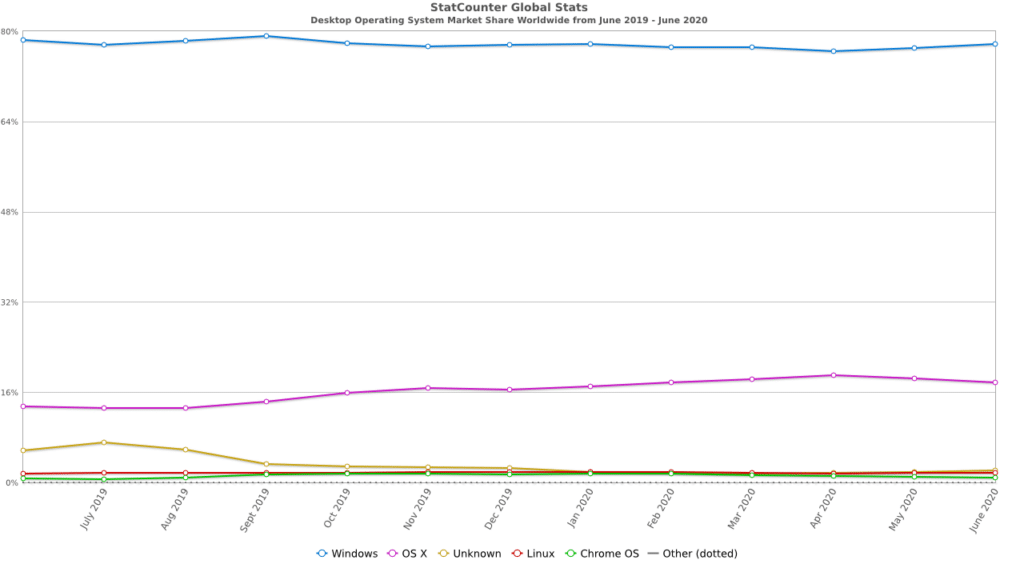 However, it's important to note that there's been some concern among users when it comes to Safari's privacy and security. For example, earlier this year Google released a report indicating that Safari demonstrated notable security vulnerabilities, allowing users to be tracked. However, Apple has since indicated that it has corrected these security flaws.
Microsoft Edge's Desktop Browser Market Share Pulls Ahead of Internet Explorer
Microsoft Edge or 'Edge Legacy' has a current market share of 3.45 percent. This is a slight decrease from its 4.5 percent desktop browser market share in June 2019. However, in April Edge's market share climbed to 4.86 percent, so it appears to be in flux.
Regardless, the overall outlook for Microsoft Edge is positive. This is due in part to its availability across most devices and OSs, including Android, macOS, Windows, and iOS:
Microsoft's other browser, Internet Explorer (IE), seems to be on the decline. As of November 2020, IE had a desktop browser market share of 2.15 percent, which is nearly half of the 5.03 percent it held at this time last year. Most IE usage can be attributed to businesses and enterprises.
As you can see in this monthly market trend chart by W3Counter, Edge 4.8 currently has the highest market share of all the Edge and IE versions, followed by IE 11:

It's also likely that much of Microsoft Edge's adoption can be attributed to its position as the default browser on Windows 10 devices. Windows accounts for 77.68 percent of the global OS market share, with Windows 10 making up 73.34 percent of that pie.
Microsoft Edge is based on Chromium, and offers a store with a plethora of add-ons and extensions. Recent updates have also enabled users to choose Google as their default search engine, rather than Bing.
Opera's Desktop Browser Market Share Slips Slightly
Opera Web Browser currently has a 2.43 percent market share among global desktop browsers. This places it only slightly behind IE. 
However, looking at the data available from W3Counter, it's evident that Opera usage is beginning to decline by a marginal amount each month. For example, in March 2020, W3Counter put Opera's web browser market share at 3.0 percent, as compared to its current 1.6 percent:

One of Opera's key features is its free, built-in VPN that helps boost online security. It is available for macOS, Windows, and Linux (Android users can take advantage of Opera Mini).
Brave Browser Makes Tracking Market Share Difficult
Brave is an open-source web browser that offers a fast, secure, and private browsing experience by blocking ads and trackers. Developed by Brave Software, Inc., this browser can be used on PCs, Macs, and mobile devices: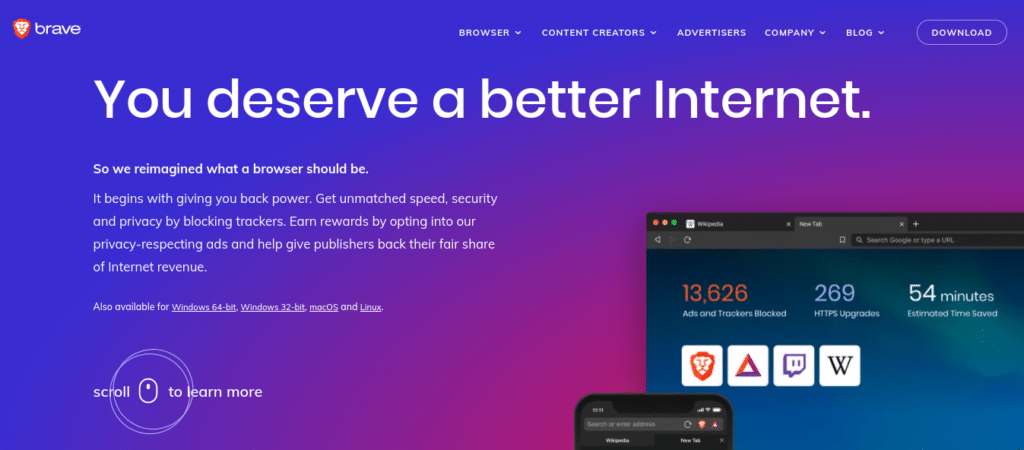 However, finding any statistics or data on Brave's global market share can be challenging. The reason for this is because it's 'disguised' as other more popular browsers. Therefore, users will be counted and seen as originating from Chrome or Firefox, rather than from Brave itself.
However, it is worth noting that Brave uses and is based on Chromium, which according to NetMarketShare has a 0.05 percent global browser market share for desktop devices. Also, Brave offers some information on its website, and claims to have over 20 million active users and 7 million daily active users.
Sogou Explorer and QQ Share Similar Desktop Browser Market Shares
According to NetMarketShare, in November 2020 Sogou Explorer and QQ demonstrated similar market shares for desktop browsers worldwide.
Sogou Explorer, a popular browser in China, has a global market share of 1.76 percent. Sogou is a freeware browser based on Chromium. It also uses two web browser engines: IE's Trident and Google Chrome's Webkit.
QQ, a web browser developed by Chinese technology company Tencent, has a just slightly higher global market share at 1.98 percent: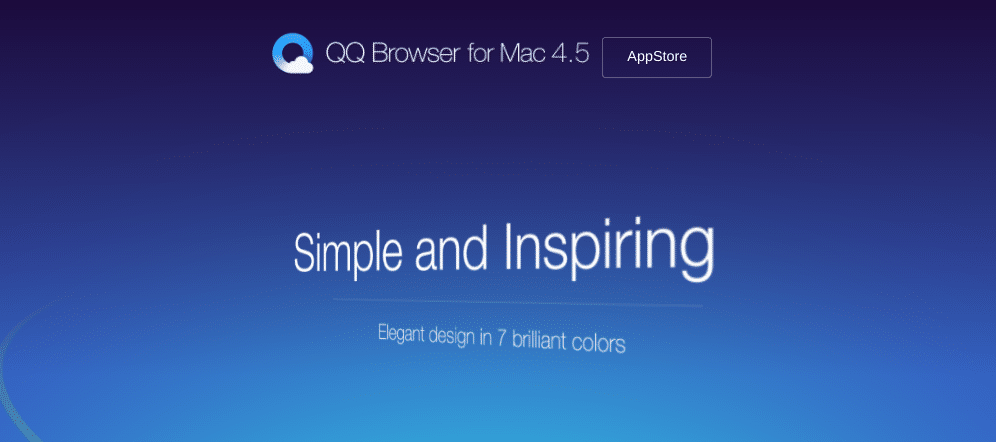 However, in China QQ is the second biggest desktop browser, holding a market share of over 7 percent:
The QQ browser can be used on all Android, Windows, Mac, and iOS platforms. As you'll notice, Sogou is also particularly popular in China, with a regional desktop market share of 4.52 percent.
Popular Russian Yandex Browser Holds a Small Percentage of the Global Market Share 
Unless you live in Russia, you may not have heard of the Yandex Browser. Among desktop devices worldwide, this browser holds a small 0.87 percent market share:

However, in the Russian Federation Yandex has a 16.17 percent market share for desktop browsers, making it second only to Chrome:
One of the advantages of Yandex is that, like Brave, it offers a private and safe browsing experience. It ships with built-in Kaspersky antivirus software, and any files that are downloaded are automatically scanned. Yandex is also based on Chromium, and uses the Blink web browser engine as well as Opera Software's Turbo technology. 
Looking to Leverage Google's Powerful Technology for Your Website?
The browser you use to access and navigate the internet every day is critical. You want to make sure you're using one that is feature-rich, fast, and (perhaps most importantly) secure. 
As far as desktop browsers go, there are some powerful options gaining traction in the market, including Firefox, Microsoft Edge, and Opera Web Browser. However, the global giant Google Chrome continues to dominate the market share by a landslide, and is a browser that many users rely on.
Backed by innovative infrastructure and powerful technology, the Google network delivers unmatched speed and performance. This is why we use Google's premium-tier network and cloud-based platform to power our managed hosting. To get started, check out our plans and learn how Kinsta can take your site to the next level!