When we launched our affiliate program, we decided to build our own affiliate system from the ground up. There are many companies out there offering solid affiliate solutions, but none of them could meet our standards and provide all the features we wanted for our program.
Kinsta's affiliate dashboard is an intuitive, fast, professional-looking platform that offers detailed subscription data and it's available in 5 languages. We have 60-days long cookies, monthly payouts, a library of promotional materials, and transparent referral tracking (our system is ITP 2.0 ready).
But it's been a while since we first released the platform, so we thought it could get a makeover. That's why we've launched a new version of our custom-built affiliate dashboard designed to strengthen the performance of our infrastructure.
What's New in the Dashboard?
With this upgrade, our Dev Team has focused on enhancing the foundations of the affiliate system. Some of the technology that enabled us to move past the previous iteration of our affiliate dashboard and unlock new and exciting improvements were a transition to NextJS, fully strict TypeScript, a migration from NoSQL to SQL, and Apollo GraphQL.
The results?
The backend is now stronger and more advanced, and the dashboard runs faster: it'll perform any actions you take in the blink of an eye! Besides the speed, there are two aspects where you'll notice the change:
New look: We've updated the visual style of the dashboard. Does it remind you of something you know already? Yep, we got inspired by the awesome MyKinsta dashboard!
More frequent data refresh: While on rare occasions it could still take up to 24 hours, the system will now update data several times a day. That means that the dashboard will reflect performance events such as new referrals much earlier than before.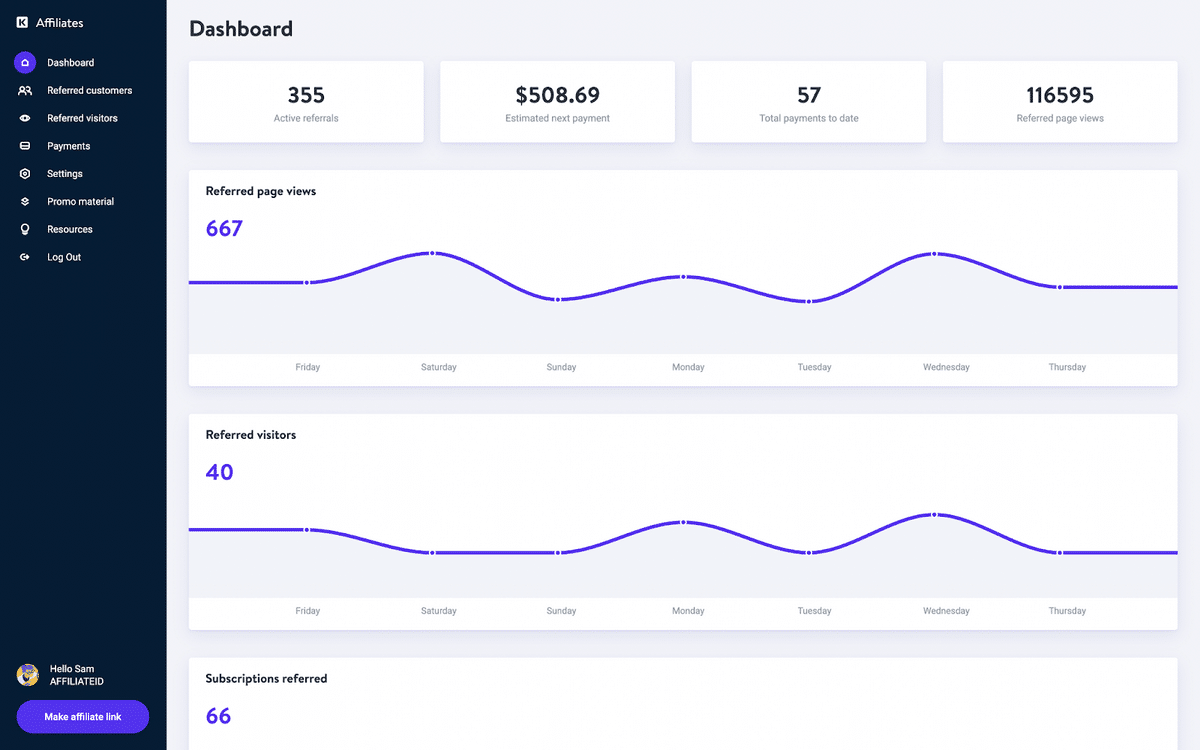 What Do Current Kinsta Affiliates Need To Do?
No action is required! The URL remains the same, and all our affiliate partners will access the new version as soon as they log in to their accounts. Just enter the dashboard, explore, and play around with it.
What's Next?
As we've strengthened the bedrock of the affiliate system, from now on, it'll be much easier for our developers to apply changes and make updates. And we've been taking notes of all our affiliates' great suggestions. Stay tuned in the next few months; new features will be coming soon!
If you aren't part of our affiliate program yet, what are you waiting for? Learn more about our juicy affiliate commissions.