Enterprise WordPress Hosting
Kinsta delivers powerful WordPress enterprise hosting that's secure and instantly scalable, with remarkable performance, tools for enterprise needs, and a worldwide team of experts you can talk to any time.
Class leaders in enterprise hosting
Kinsta offers flexible solutions designed for large-scale WordPress projects. We partner with a variety of enterprise customers with a focus on performance, security, scalability, availability, and expert support.
World-class security
We work hand-in-hand with Google Cloud and Cloudflare to protect your site and data, employing the same security model that protects Google Search, Gmail, and YouTube. Multilayered security and always-on protection secure your sites against DDoS, web attacks, and other threats. Add to this our comprehensive suite of WordPress-specific security measures, SSL support, and software-based restrictions.
Performance when you need it
Extend your site's reach with unparalleled speed and availability for users all over the world. We obsess over achieving top-tier performance using Google Cloud's premium network, global data centers, and compute-optimized virtual machines. Leverage the latest hosting technologies and server-level caching, together with KinstaCDN's HTTP/2 and IPv6-powered CDN. All finely tuned for WordPress.
Scale on Google's global network
Scale WordPress on the same future-proof network that supports Google Search, YouTube, and Gmail. Our scalable infrastructure, built on Google Compute Engine servers and our isolated container technology, is ready to handle sudden surges in traffic and still load your content fast. It's WordPress hosting that's private and secure by design while simultaneously enabling your site to scale instantly.
Google Cloud partners
Kinsta is an official Google Cloud recommended managed WordPress host. We'll help you move to the cloud so you can build and launch faster, scale smarter, and stay secure on the Google Cloud platform. Build on the same infrastructure that returns billions of search results in milliseconds and serves 6 billion hours of YouTube video each month — and expand what's possible with WordPress in the cloud.
WordPress experts
We're here when you need us, 24/7/365. We don't just troubleshoot when something goes wrong—we actively monitor your website, assist with migrations, and provide advice for optimizations to improve speed and performance. We're expertly equipped to support enterprise WordPress so you can plan for future growth of all kinds — of your customer base, your site's complexity, and high-value features.
Kinsta provides peerless WordPress depth-of-knowledge and expertise for our multiple sites; some of which have high-bursting event traffic and many of which are of a considerably complex nature. Customer service is first-rate; we always receive a quick answer regarding the best configurations - from plugins to firewalls and CDN setup. We consider the Kinsta team a part of our team.
Kinsta is a leader in managed WordPress hosting
FreshBooks, GE, Tripadvisor, Drift, and some of the world's biggest brands rely on Kinsta's enterprise WordPress hosting solutions. They choose Kinsta because their business needs easy scaling, state of the art security for customers' data, unmatched performance, and blazing fast knowledgeable support.
Real WordPress expertise
Whether you need technical advice, suggestions for optimizations, or hands-on support, we're here to help, every step of the way. Our award-winning support team is here when you need us, 24/7/365.
Book a Demo
Available around the clock
We cover every time zone, working around the clock to assist customers in over 120 countries. We deliver expert help at the scale you would expect from a leading WordPress host.
We know WordPress
We only hire experienced developers and engineers who've managed servers, developed themes and plugins, and contributed to the WordPress project, ensuring you get real technical expertise.
In-depth insights
It's our goal to make sure your site is always running at peak performance. That's why we use our built-in Kinsta APM tool that provides zero-hassle performance monitoring for your WordPress website.
Extending your team
Our engineers don't just troubleshoot when something goes wrong. We assist with migrations and can provide advice to help optimize your site's performance.
Focused on you
We encourage knowledge sharing within our support team so when complex issues call for teamwork, we're ready to mobilize.
Kinsta is my new goto hosting provider for large sites with volume. Pricing is a little higher than other options, but the service and the product are worth it! My site is safe, secure and runs like a dream. Something it hasn't done for years.
The best of Google, for your enterprise site
When you depend on the availability and scalability of your site, get the power, performance and security of Google Cloud's global network, optimized by Kinsta. We support you in the cloud, with WordPress-specific optimizations, convenient management, and expert guidance.
Fast, secure and scalable global network
Get WordPress in the cloud, fine-tuned for enterprise needs. Your traffic transits Google's private backbone for most of its journey, ensuring high performance and exceptional user experiences.
Custom containerized hosting
Proven cloud infrastructure with 99.95% availability
34 globally distributed data centers
World-class security with Cloudflare firewall and DDoS protection
Enterprise-grade solutions built to scale
Six types of automatic backups
24/7/365 expert support
We started to use Kinsta around 2016-2017 and that has proved to be a great decision. We used to struggle with different hosting services for years, which hurt our business and created a lot of additional work for our developers. Kinsta is the way to go for our company. Our developers do not need to worry about server issues, like whether the server security is up to date or anything like that. When we develop a site on our local environment, we know it is also going to work in production.
Flexible plans designed for enterprise needs
We're about delivering highly flexible hosting with plenty of freedom to customize, opportunities to choose enterprise-grade features and tools, and confidence in the quality of our platform.
Find a plan that suits
Choose from one of our enterprise plans, designed for companies of all sizes. Don't see what you need? We can support all kinds of WordPress sites and requirements, whether you have a mission-critical project or hundreds of websites.
Get a dedicated virtual machine
Need more power? Get a blazingly fast, high-performance, virtual machine dedicated to your site. There's no faster, more powerful option on our hosting platform. Get in touch with us to learn more about our dedicated server offering.
We're here to help
We understand the complexities of the enterprise environment. Whether you're launching a new venture or looking to migrate, we're here to discuss your plans and challenges and provide advice.
Protect your data with multilayered security
The same technology that secures Google's private global network protects your website. Our platform leverages Google Cloud's multilayered, secure-by-design infrastructure, and we optimize everything for WordPress. Externally, all sites hosted on Kinsta are also protected by Cloudflare's enterprise-level firewall, which includes free DDoS protection.
Security at scale
Cloudflare's global infrastructure and battle-hardened firewalls provide always-on protection against DDoS, web attacks, and other threats.
Complete resource isolation
We use Linux containers and LXD to orchestrate them, completely isolating not just each hosting account on our servers, but each instance of WordPress.
Fine-tuned for WordPress
We build on Google's security stack with our own active and passive measures, WordPress-specific security rules, WAF and SSL support, plugin vulnerability scans, continuous monitoring, and malware removal, delivering true defense in depth.
Modern hosting stack on world-class infrastructure
We leverage the latest in hosting technology, from our top-tier server hardware to the software we run. No matter what development stack your team uses, we'll always have the latest framework version installed and up to date.
Latest version
We use best-in-class technologies, including Nginx, PHP 8.1, LXD software containers, MariaDB to make sure your site loads blazing fast.
Compute-optimized virtual machines
Google Cloud's next-generation compute-optimized virtual machines form the backbone of our infrastructure, and the default for new sites created in available regions.
Ready for WordPress
We've implemented hundreds of server-level optimizations and WordPress-specific rules, ensuring our hosting platform is ready to handle even the most demanding, resource-intensive WordPress sites.
Continuous monitoring all day, every day
You'll never have to worry about whether your site is online and available. We check the status of all sites we host every 2 minutes — that's 720 times a day, including evenings, weekends, and holidays. Bottom line: we monitor your site — and data — 24/7/365.
Proactive monitoring
In the rare event there's a problem, we'll proactively reach out to alert you and then work with your team to quickly implement a fix.
Internal monitoring
We monitor the status of our other external and internal systems just as rigorously, ensuring our servers are healthy, and enabling us to focus on continuous improvements.
PHP workers
Our enterprise plans include a generous number of PHP workers to meet the demands of dynamic, high-traffic, resource-intensive WordPress websites. Need more PHP workers? Contact us.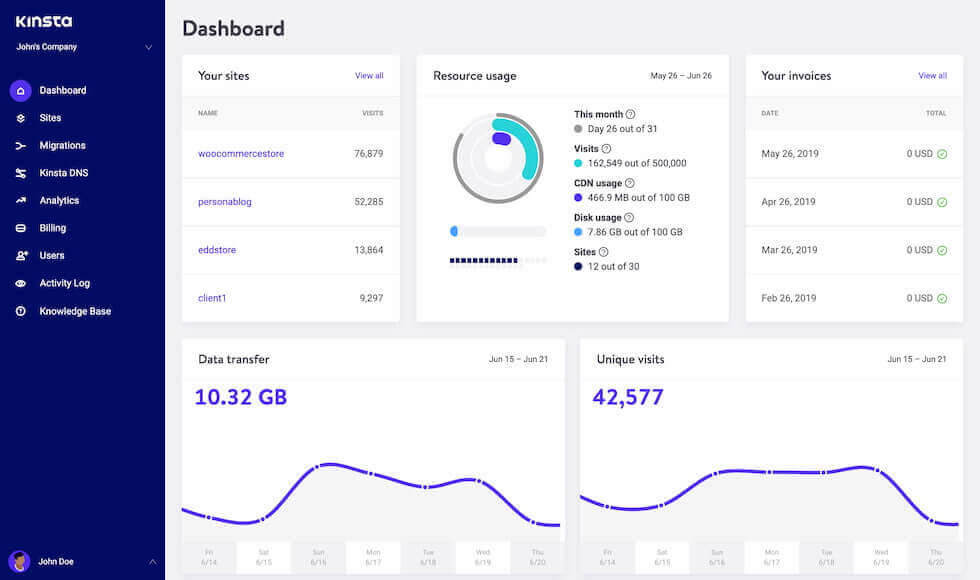 Convenient management with MyKinsta
We've made website admin simple with our industry-leading dashboard — it's modern, streamlined, and designed from the ground up specifically for WordPress.
Overview of your website
We've implemented hundreds of server-level optimizations and WordPress-specific rules, ensuring our hosting platform is ready to handle even the most demanding, resource-intensive WordPress sites.
Analyze and troubleshoot
Track the metrics that matter most for your enterprise, from traffic and resource usage to response times, and cache ratio. Gain further insights into site performance with our free Kinsta APM tool.
Manage users
Control who can do what on your site. Grant access to all or a subset of your sites and monitor what's happening across your network with detailed activity logs.
Work more efficiently with your team
Whether you work on your WordPress website with a large team, an external agency, or want to give your finance team access to your account, Kinsta provides an easier, more organized way to manage your hosting.
For teamwork of any size
Kinsta supports collaboration at an enterprise scale. Add unlimited users and monitor who does what across your sites with detailed activity logs. Our MyKinsta dashboard provides a single point of visibility for your organization.
Manage user roles
Give everyone the access they need to do their job with company-wide and site-specific user roles. Company admins can access everything and company developers can manage all websites. Site admins can access specific production and staging sites, while site developers have restricted access to specific staging environments.
Enable efficient teamwork
Give developers access to staging environments so they can work on several or specific sites and push changes live. Tailor to your existing development workflow with SSH access, and use Git or WP-CLI.
Support for reverse proxy setups
Whether you want to host your main website and blog with us, just your main site, or a proxied site such as a blog, our engineers can tailor a custom Nginx reverse proxy solution for your enterprise.
Solutions based on your needs
Load WordPress from a subdirectory or point a subdirectory of your website to an external server. We'll handle the behind the scenes set-up, ensuring you've got the infrastructure in place to deliver a smooth experience to every user.
Enterprise-level technical support
Reverse proxies can be technically complex to configure and support, and sites that use them typically require more support than standard WordPress installs. We've done this countless times — count on our engineers for proactive help when you need it.
Reduce risk with automatic backups
Your WordPress website and data are safe, secure, and recoverable with automatic daily backups, as well as system-generated backups, for all sites on your account. Enterprise plans include 30 days of backups.
Six types of backups
Access daily, hourly, manual, system-generated, external, and downloadable backups from your MyKinsta dashboard. Hourly and six-hourly backups are available as optional add-ons.
WordPress backups
Each backup is a complete snapshot of your site's files, database, redirects, and Nginx configuration at the time the backup was created.
Reliable recovery
Automatic, manual, and system-generated backups are available as restore points in your MyKinsta dashboard. When you restore a backup, a new backup will be auto-generated reflecting the state of your site just before you restored it — handy if you'd like to undo the restore. Want to restore a backup to staging? You can do that too.
Build with developer-friendly tools
We're developers at Kinsta. That's why we've built our hosting platform with developers in mind. Get all the tools you know and need to help control, speed up, and automate your development workflow.
Familiar tools
SSH, SFTP, WP-CLI, Composer, Git, one-click cloning, and staging environments come standard across all hosting plans. Redis, and more are available as add-ons.
Support for custom setups
We don't lock you into a single WordPress configuration. Instead, we provide flexibility and support for custom setups like Bedrock and Trellis, making it easier to develop, maintain, and deploy WordPress sites.
PHP versions
We support the latest version of PHP, including 8.0, 7.4, and 7.3. Switch versions for any of your sites in your MyKinsta dashboard, and have the freedom to run what your third-party plugins need to operate efficiently.
When making the leap from offering a Saas product to adding an SEO component, we knew we could trust Kinsta with our blogs. Using Kinsta's installs and features, our SEO channel (blogs via Kinsta) are now among the top producers of all our sales.
Optional tools and services
Extend your hosting plan with powerful tools and expert services.
Need something else? We can help you figure out what resources you need and tailor a solution to meet your needs. Contact us.
From day one Kinsta has provided us with a premium managed hosting solution; with new features being added regularly that continue to save us time, and ultimately money. It's allowed us to continue to increase our client base without any degradation to the service our existing clients receive. We look forward to continuing to grow as an agency, alongside Kinsta as a valued partner, for many years to come.
Leading companies trust Kinsta
Ready to grow your digital enterprise?
Compare our plans and find the right solution for your company. Or get in touch for a custom solution. Whatever you need, we can tailor your infrastructure and service based on your needs.
Contact us!
Talk to Sales to discuss your hosting needs and find the Kinsta plan that's right for you.
Or reach out to us and we'll get back to you within one business day.