WordPress Hosting in Germany
Choose a managed WordPress host that prioritizes security and speed. It's even possible to keep all your data in Germany. Powered by Google Cloud Platform and backed by Cloudflare's secure firewalls, Kinsta's hosting solution is perfect for bloggers, agencies, developers, enterprises, and WooCommerce shops. Migrate for free risk-free with our 30-day money-back guarantee.
These German websites are successful with WordPress
WordPress powers over 41% of the internet, so it's not surprising that some of Germany's most popular websites are among them. That includes yandex.ru, inside.bahn.de, nielsen.com, heise.de, and yours! Join the 26,700+ companies that rely on Kinsta for fast and secure hosting.
DACCORD – Get top of the line service with Kinsta.
🇦🇹 Vienna, Austria
Johannes Gerstendörfer & Alexander Gerstendörfer
Owners and Managing Directors
"We have been working closely with Kinsta for several years now and nothing is left to be desired. At Kinsta, we get the service we want at all levels. The state-of-the-art MyKinsta dashboard gives you complete control over all websites in a very clear way. Another aspect that particularly impresses us at Kinsta is their outstanding support."
Yes – your web host can have a huge impact on site speed
Never choose a web host without seeing what they can do for your site speed. Why? Every 1-second delay in page load time decreases your conversion rates by 7%. At Kinsta, we're constantly working to provide the fastest hosting available. Every company relies on a strong user experience.
Google Cloud's premium tier network and C2 machines
Kinsta's built on the best of what Google offers. This architecture is designed to minimize distance and hops, resulting in faster, more secure data transport. Our customers see up to 200% in performance improvements.
Frankfurt data center
Our growing list of data centers currently spans 5 continents and includes Frankfurt, Germany as an option. Choosing the Frankfurt data center reduces latency, and keeps your data in Germany.
According to our tests, here are the average website latency (ping times) from the Frankfurt data center to nearby regions: 3.949 ms to Frankfurt, 7.305 ms to Amsterdam, 10.103 ms to Paris, and 13.398 ms to London.
Kinsta CDN is in 5 German cities
Get Kinsta's HTTP/3-enabled CDN (content delivery network) solution at no additional cost. Powered by Cloudflare's global network, it's available in 250+ cities worldwide including Frankfurt, Düsseldorf, Berlin, Hamburg, and Munich. Deliver content quicker with Kinsta's high-performing CDN.
Keep your site secure and comply with data privacy regulations
Kinsta takes data privacy seriously and utilizes Google Cloud Platform's encryption at rest. You and your clients can comply with privacy regulations that require data to reside in a specific country or region. Rest assured, if you choose Frankfurt for your data center, no data is ever hosted outside of Germany. By design, any add-ons or features that do transmit data outside of the country are optional and not enabled by default.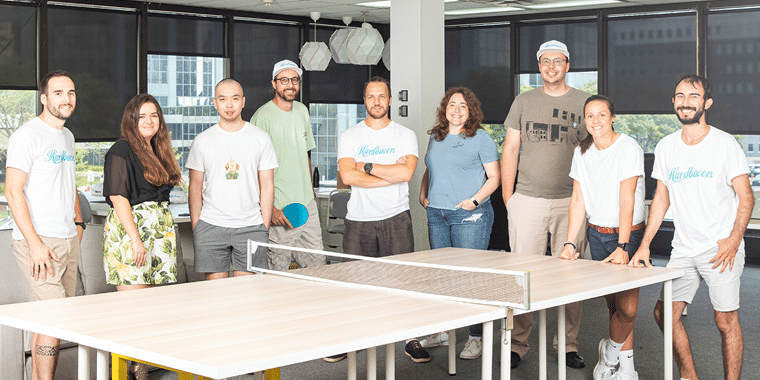 Hardbacon switched to Kinsta and saw a 63% drop in average site load time
Time is money for all companies, but especially those in fintech. CEO Julien Brault credits their speed improvements to our:
Google Cloud infrastructure
Canadian data centre options
High-performing CDN
Special configurations made by Kinsta's expert support team
Your web host selection also affects your site's security
Data, bottom lines, and reputations can easily come crumbling down if you choose a host that doesn't take security seriously. Kinsta supports your security needs by implementing active and passive measures to stop attacks in their tracks.
Enterprise-level firewall and DDoS protection

Cloudflare is a major player in the web security and performance space. Reduce the chances of a malicious attack (that can have a huge impact on business revenue) with Kinsta's free Cloudflare integration.
Hack fix guarantee

Complete isolation and the latest security updates are just a couple of ways we'll secure your site. But in the unlikely event your site is compromised, we'll fix it for free.
Automatic backups

Feel comfortable making changes to your site knowing there are daily automatic backups in place to fall back on. Need additional options? Try our hourly, manual, system-generated, external, and downloaded options.
Support that's ready to jump into action at a moment's notice
1 minute and 27 seconds is on average how long it'll take to get assistance from our support team. We know website issues happen even at the most inopportune times so our expert support team is available every day including weekends, holidays, and evenings.
Get back to your business sooner with Kinsta support.
Benefit from free features and tools included in all Kinsta plans
At Kinsta, all our plans come equipped with a variety of free tools to help you manage your website successfully.
Free local development tool
DevKinsta is the easiest way to design, develop, and launch a site locally. It's 100% free to use, even if you aren't a Kinsta customer, and comes jam packed with features like advanced database and email management tools. Combine DevKinsta with the free staging site that comes with every Kinsta hosting plan and your development needs are all set!
Free application performance monitoring tool
Website performance is everything, which is why it can be stressful when you can't figure out what's slowing yours down. Kinsta's APM tool is included for free in every plan. No matter your technical capacity, easily diagnose performance bottlenecks on your site and see what is needed to take action.
MyKinsta dashboard for insights and action
To successfully manage your sites, you deserve an interface that makes your job easier while prioritizing performance and security. 
With your dashboard, you can:
Create or move sites easily
Set up and optimize for speed
Implement security measures
Analyze and troubleshoot problems
Work with your team 
Contact Kinsta's 24/7/365 expert chat support
And more!
Ready to choose a host that means business? Join Kinsta
Choose a plan that fits your needs, or contact us if you need something special. Take comfort in your choice with our 30-day-money-back-guarantee and unlimited free basic migrate
Starter
starting from
$24
USD
month
billed annually
WordPress Installs

1 WordPress install

Monthly Visits

25,000 visits

Storage Space

10GB Storage

Free CDN

100GB CDN

Free Premium Migrations

1 premium migration

PHP Workers

2 PHP workers

Backup Retention

14 days backup retention
Sign up
Business 1
starting from
$77
USD
month
billed annually
WordPress Installs

5 WordPress installs

Monthly Visits

100,000 visits

Storage Space

30GB Storage

Free CDN

400GB CDN

Free Premium Migrations

3 premium migrations

PHP Workers

4 PHP workers/site

Backup Retention

14 days backup retention
Sign up
Agency 1
starting from
$227
USD
month
billed annually
WordPress Installs

20 WordPress installs

Monthly Visits

400,000 visits

Storage Space

50GB Storage

PHP Workers

6 PHP workers/site

Free CDN

800GB CDN

Free Premium Migrations

unlimited premium migrations

Backup Retention

30 days backup retention
Enterprise 1
starting from
$450
USD
month
billed annually
WordPress Installs

60 WordPress installs

Monthly Visits

1,000,000 visits

Storage Space

100GB Storage

Free CDN

2000GB CDN

Free Premium Migrations

5 premium migrations

PHP Workers

8 PHP workers/site

Backup Retention

30 days backup retention
Sign up
Thousands of five-star ratings.
And counting.
Many thanks again to @kinsta for being such a great host. Their support team is incredible and they've made my development life easier!
Kinsta is a fast and reliable host that resolves issues as quickly as they arise. Demand for our product and content grew to the point where our former host was cratering under the pressure; after serving one too many 5XX errors, we moved over to Kinsta, and the rest was history. Kinsta support deserves a special shoutout, as they're available 24/7 and go above and beyond to ensure our satisfaction.
The most remarkable thing for us is the stability of Kinsta's system. Before we moved to Kinsta, every year we had several malfunctions that affected our users, but since migrating to Kinsta, those problems have completely disappeared. This is not only because Kinsta itself is highly stable, but also because the probability of failure has been reduced because we no longer need to link multiple systems through an API.
Hands down, Kinsta is the best WordPress hosting provider I have come across after trying out heaps of hosting solutions for the past 10+ years. From speed, uptime, performance, CDN, UI, and backups to the migration, Kinsta has been beyond fantastic! Their professional customer support is simply impressive, and I couldn't ask for more. I do not think I will ever be thinking of switching to another hosting provider, at least for many years to come!
The neat and shiny user interface of DevKinsta lets you create a new WordPress site, import an existing site, or create a custom site. So if you are looking to find an alternative for the Local, I would highly recommend you to take a look at this new amazing tool.