WordPress Hosting Singapore
Not all hosting plans are created equal. At Kinsta, get the best infrastructure and tools available in all plans, regardless of tier. That includes Google Cloud Platform infrastructure, 24/7/365 expert support, and enterprise-level Cloudflare protection. No long-term contracts, assisted migrations, and a 30-day money-back guarantee. Join today!
Make use of the power of WordPress in Singapore
WordPress powers over 41% of the internet, so it's not surprising that some of Singapore's most popular websites are among them. That includes press.agoda.com, ahrefs.com, blogs.ntu.edu.sg, channelnewsasia.com, and yours! Join the 26,700+ companies that rely on Kinsta for fast and secure hosting.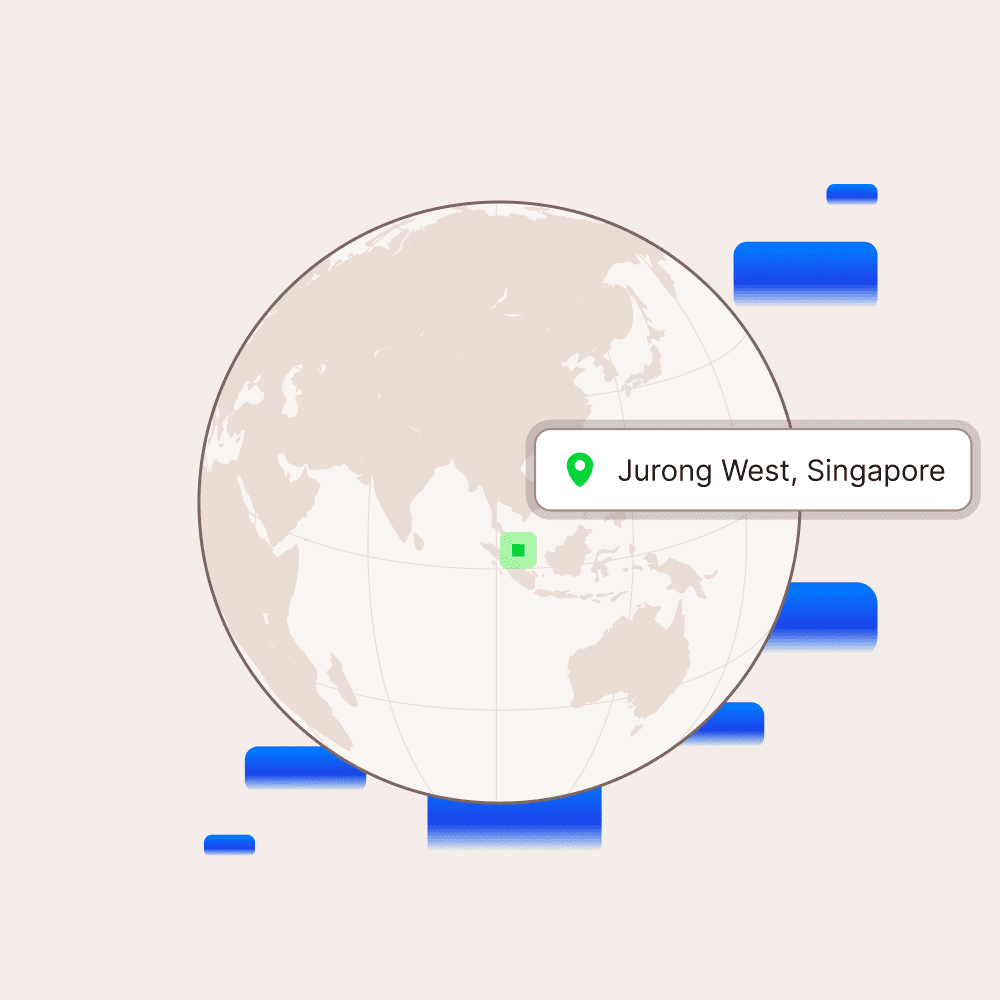 Widget Options saw an immediate improvement in performance after migrating to Kinsta
Great performance and the best technical support! Moved from WiredTree at which I experienced a lot of downtime since the acquisition. I'm amazed how my website's performance drastically improved and is loading fast now. They do have the best support too. Specifically, the technical knowledge compared to the other hosting providers. Really glad I switched to Kinsta!
Thriving businesses and fast hosting go hand in hand
Every 1-second delay in page load time decreases your conversion rates by 7%. Not only that, but slow performance can also impact your SEO, user experience, and bounce rate.
Thanks to the cutting-edge technology we employ via Google Cloud Platform, PHP 8.2, LXD, and others, you'll be able to serve your Singapore-based and international visitors with the speed they deserve.
Google Cloud's premium tier network and C2 machines
GCP's premium tier delivers traffic over their well-provisioned, low latency, global network. Add in Google's finest high-performance compute-optimized machines, and Kinsta customers see up to a 200% increase in performance.
Jurong West data center
Reduce latency by choosing a data center nearest to your visitors right in the MyKinsta dashboard. Our speed tests show the average website latency (ping times) from the Jurong West data center to nearby regions as 1.535 ms to Singapore, 68.171 ms to Tokyo, and 50.161 ms to Taipei.
Security built for 21st-century problems
Protect your and your customer's data with active and passive measures built straight into your plan. Sleep easy knowing your site has:
Enterprise-level firewall and DDoS protection

Cloudflare is a major player in the web security and performance space. Reduce the chances of a malicious attack (that can have a huge impact on business revenue) with Kinsta's free Cloudflare integration.
Hack fix guarantee

Complete isolation and the latest security updates are just a couple of ways we'll secure your site. But in the unlikely event your site is compromised, we'll fix it for free.
Automatic backups

Feel comfortable making changes to your site knowing there are daily automatic backups in place to fall back on. Need additional options? Try our hourly, manual, system-generated, external, and downloadable options.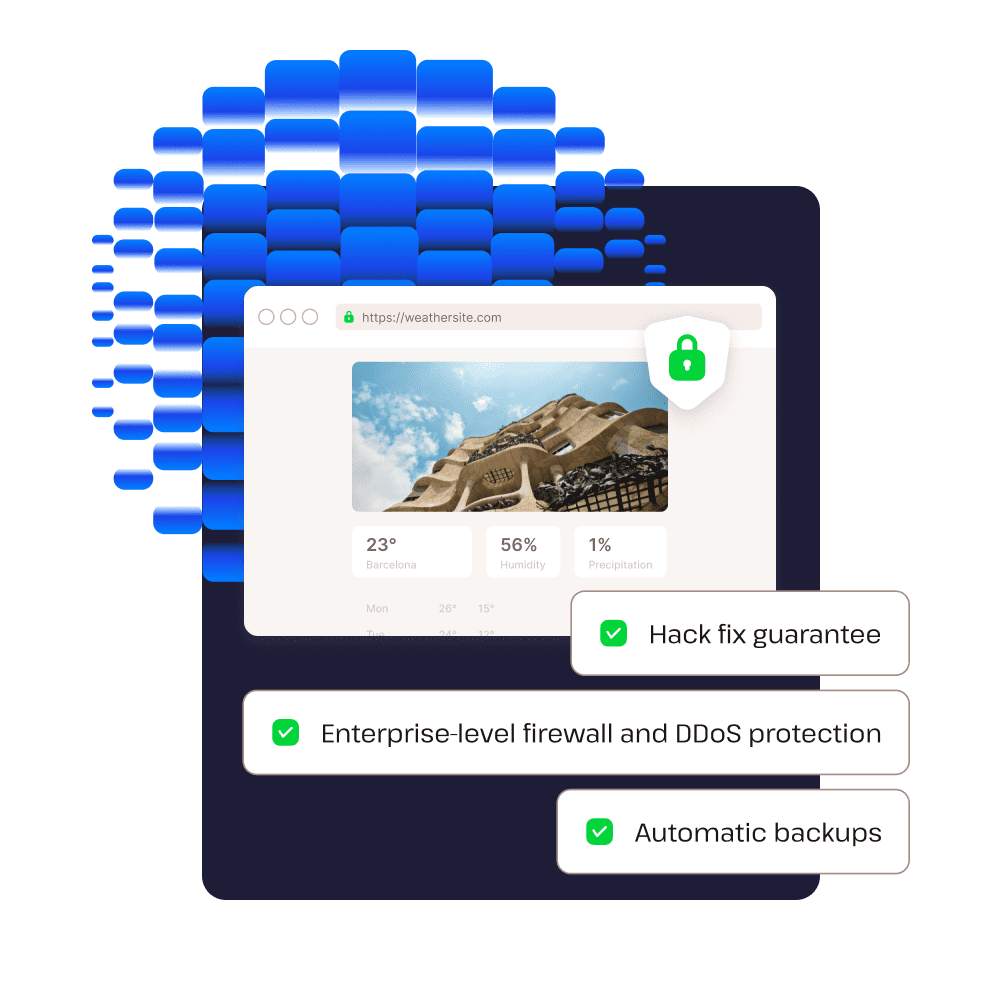 24/7/365 single-tier expert WordPress support
Our team of in-house support professionals are here to help you solve even the trickiest of problems. Our average response time is 1 minute and 27 seconds and we handle around 2500 support conversations weekly!
David Wang New Media's site is now always online and always speedy
I've used other WordPress hosts, but Kinsta has been the best by far. My site is always online and speedy without even really trying. I have never experienced caching issues like some other managed hosts and I'm never worried about getting suspended for exceeding resources like on shared hosts. Their support team is small but they've never let me down. They may be a significant investment, but they have been worth every penny. I can't recommend Kinsta enough.
Make site management a breeze with MyKinsta
Simplify site management and optimization with MyKinsta, a tool built from the ground up specifically for WordPress.
With your dashboard, you can:
Create or move sites easily
Set up and optimize for speed
Implement security measures
Analyze and troubleshoot problems
Work with your team 
Contact Kinsta's 24/7/365 expert chat support
And many more!
Request a free demo free
Free features and tools included in all plans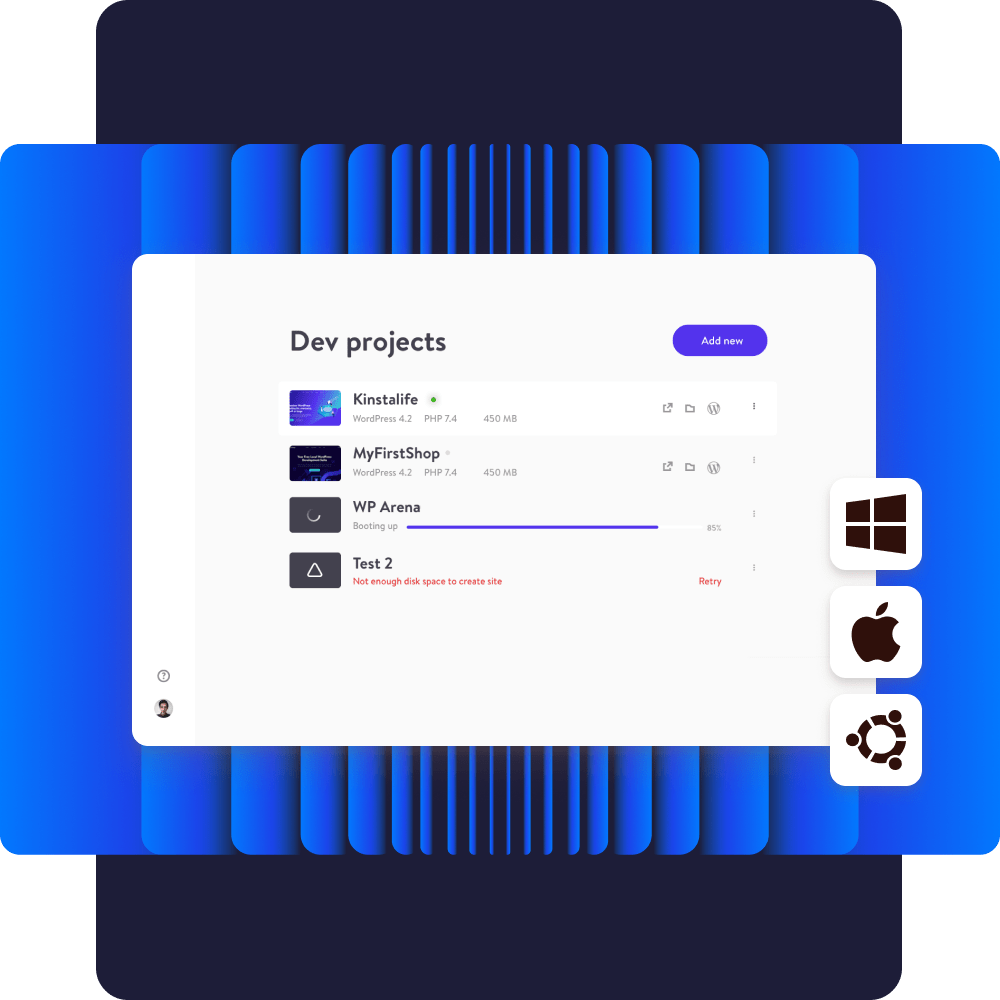 Free local development tool
DevKinsta is the easiest way to design, develop, and launch a site locally. It's 100% free to use, even if you aren't a Kinsta customer, and comes jam-packed with features like advanced database and email management tools. Combine DevKinsta with the free staging site that comes with every Kinsta hosting plan and your development needs are all set!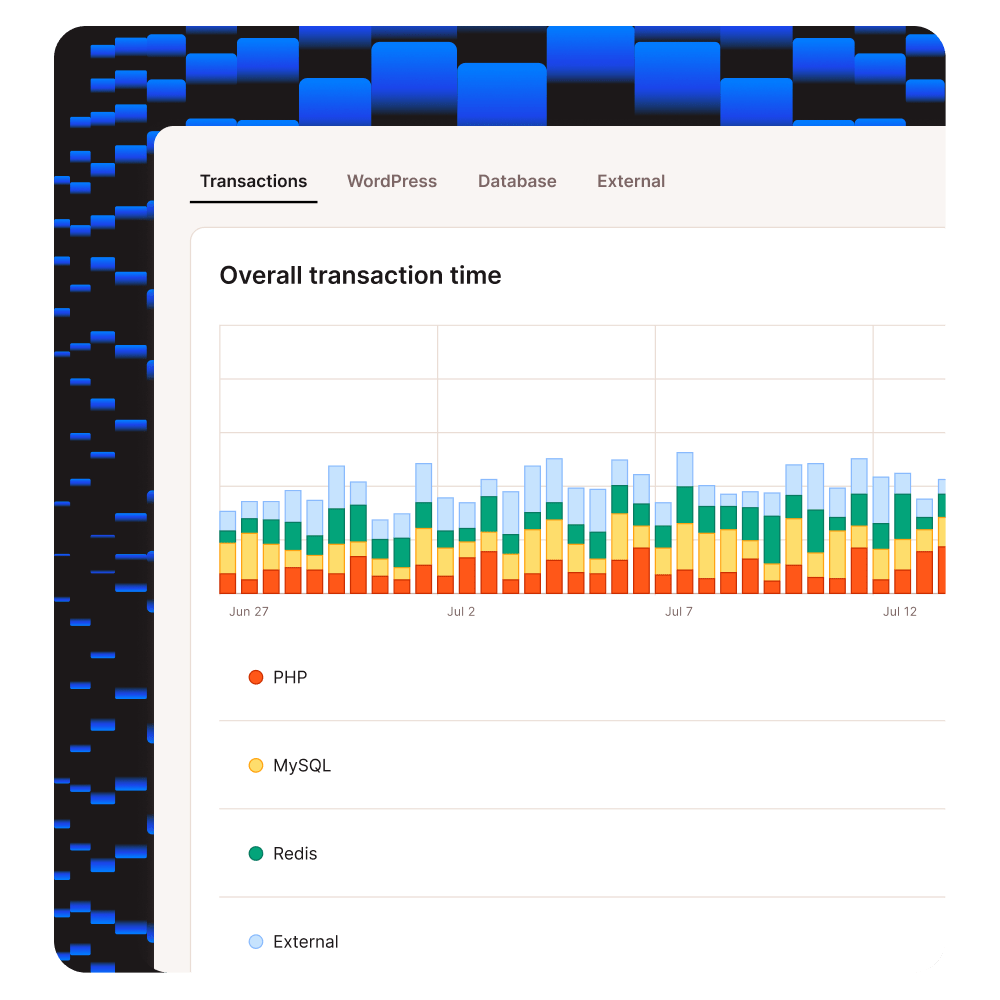 Free application performance monitoring tool
Easily solve website problems at the root cause. Our in-house application monitoring tool will identify bottlenecks quickly and display all information in an easy-to-understand dashboard. We consistently preach the importance of performance, so our APM tool is built for WordPress performance and is completely free with every plan.
Comply with data privacy regulations
Kinsta takes data privacy seriously and utilizes Google Cloud Platform's encryption at rest. You and your clients can comply with privacy regulations that require data to reside in a specific country or region. Rest assured, if you choose Jurong West for your data center, no data is ever hosted outside of Singapore. By design, any add-ons or features that do transmit data outside of the country are optional and not enabled by default.
Ready to choose a host that means business? Join Kinsta
Choose a plan that fits your needs, or contact us if you need something special. Take comfort in your choice with our 30-day-money-back-guarantee and unlimited free basic migrations.
Starter
starting from
$24
USD
month
billed annually
Sign up
WordPress Installs

1 WordPress install

Monthly Visits

25,000 visits

Storage Space

10GB Storage

Free CDN

100GB CDN

Free Premium Migrations

1 premium migration

PHP Workers

2 PHP workers

Backup Retention

14 days backup retention
Business 1
starting from
$77
USD
month
billed annually
Sign up
WordPress Installs

5 WordPress installs

Monthly Visits

100,000 visits

Storage Space

30GB Storage

Free CDN

400GB CDN

Free Premium Migrations

3 premium migrations

PHP Workers

4 PHP workers/site

Backup Retention

14 days backup retention
Agency 1
starting from
$227
USD
month
billed annually
WordPress Installs

20 WordPress installs

Monthly Visits

400,000 visits

Storage Space

50GB Storage

PHP Workers

6 PHP workers/site

Free CDN

800GB CDN

Free Premium Migrations

unlimited premium migrations

Backup Retention

30 days backup retention
Thousands of five-star ratings.
And counting.
Hands down one of the best bootstrapped WP hosting companies. Absolutely love their support staff and developer-friendly features (not to mention they are insanely fast).
Kinsta provides us with enormous relief in the daily routine of monitoring and maintaining a fast and secure WordPress website. There is no better feeling for our customers and us!
Maintaining many global WordPress sites, we've become well acquainted with all the major hosting providers. No one is running our sites as fast as Kinsta.
Really love the level of experience and support Kinsta's live chat engineers provide. The 24/7 support is a game-changer for large sites, especially ecommerce.
We truly cannot say enough about the level of customer service that Kinsta provides – it's always a great experience, with very personable and helpful support.
Kinsta is the best host I've had in 10 years. Smooth migration, no stress, and friendly support one click away. I'm very happy and recommend their services!
We love Kinsta! They're no doubt one of the least negotiable expenses we have each month. Incredible speed and absolutely unbelievable support.
Kinsta is the best WordPress host I've had so far. They are quick to help, easy to deal with, and really know their stuff. Plus their servers are super fast!
Kinsta provides an amazing service, with a simple control panel and top performance. Their support is even more amazing, always available, and fast at fixing any issue.
Absolutely fantastic – cannot rate highly enough in terms of speed, support, and UI. Went from WP Engine to Flywheel, then to Kinsta and couldn't be happier.
Kinsta saves us time so that we can focus on building our business instead of worrying about hosting or downtime. It's quick and easy to use, has good support, and the websites load quickly and have excellent uptime.