Managed WordPress Hosting for Elementor on Kinsta's Lightning Fast Platform
Choose a managed WordPress host that prioritizes security and speed. Migrate risk-free with our 30-day money-back guarantee and join the more than 20,000 Elementor-powered websites on the Kinsta platform.
Why Kinsta for Your Elementor Website?
Kinsta is optimized for speed, security, and peak traffic and is unlike any other platform out there.
Forget about setting up caching plugins or unreliable solutions. Kinsta takes care of everything for you with different layers like Bytecode, Object, Page, and CDN caching. We accomplish this at a PHP level and make your site faster than any plugin could ever make. 
Elementor is an ecosystem inside of WordPress and is the most popular page builder on the market today
Elementor is now running on over 5% of the top 1 million websites and on over 4% of the top 10k websites. Kinsta hosts more than 22,000 Elementor-powered websites. Combine the power of Elementor with the power of the MyKinsta dashboard and supercharge your site with our lightning-fast platform.
We're Obsessed With Speed and Infrastructure
Every 1-second delay in page load time decreases your conversion rates by 7%. For many Elementor site owners, those delays can result in major dips in revenue.
Choose a web host that puts speed first. At Kinsta, we continue to provide the fastest hosting experience possible built around the most advanced infrastructure around.
Kinsta can speed up your website by up to 200%
Google Cloud's C2 Machines
Kinsta's architecture is built on Google Cloud Platform's premium tier network and finest C2 machines. Reduce latency further with our Elementor cloud hosting by selecting a data center closest to your web traffic (we have 29 spanning 5 continents).
Server-Level Caching
Our lighting fast server-level caching includes rules to ensure proper Elementor functionality. By default, certain pages like cart, my-account, and checkout are excluded from caching.
High-Performance and HTTP/3 Enabled CDN
Powered by Cloudflare, take advantage of our free premium CDN (content delivery network) solution at no additional cost for all Kinsta plans.
Manage Your Elementor Site Easy With the MyKinsta Dashboard
Kinsta utilizes Google Cloud's Premium Tier Network with all of our managed WordPress hosting plans. This minimizes distance and hops, resulting in faster, more secure global transport of user data.
This means users can take advantage of the global fiber network, with globally distributed Points of Presence and 30% improved latency or 50% better bandwidth.
Everything we build at Kinsta is designed to provide you with a faster, more secure, easier-to-manage website. 
100% compatible with the free and pro version of Elementor
Fast and built-in CDN
Cloudflare integration, free DDoS protection, automatic SSLs, and so much more
Add domains
Switch on HTTPS
Automatic website backups and easy restore options
Choose from 35 global data centers
Cache performance metrics
Free, built-in Application Performance Monitoring (APM) tool for debugging WordPress issues
WordPress staging environments that include our new Selective Push tool
Easily switch PHP versions
Interested in learning more about the Kinsta platform? See first hand what makes it the best solution available today by scheduling a demo.
Our 22,000+ Elementor Website Clients Love Us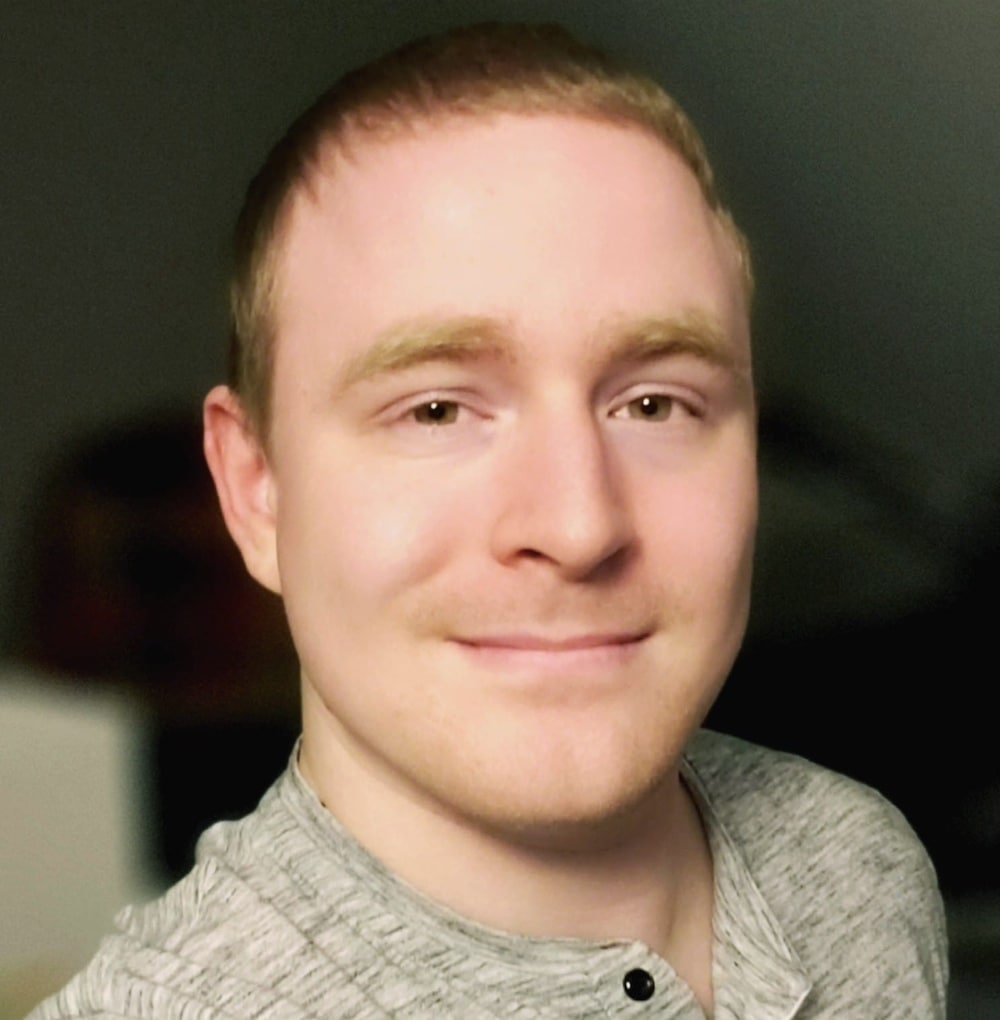 I have used a dozen reseller hosting plans and a handful of the other big-name web hosts out there but Kinsta has without a doubt provided me with the best all-encompassing solution. Using their built-in caching tools, CloudFlare CDN at the click of a button, a smart WP Rocket setup, and at least a basic understanding of website optimization, will completely negate Elementor's performance issues. Now I am able to get in the mid-80s and 90s for Google Lighthouse mobile scores, while consequently creating a smoother experience for our end-users. This makes our users, clients, and search engines happy. Kinsta's and Elementor's user-friendly interface, fully-featured products, make my teammates and agency happy. If that wasn't all I could already ask for, I have to mention at least once that Kinsta's unmatched customer support is just the cherry on top that has kept me working with them for over three years and no end in sight.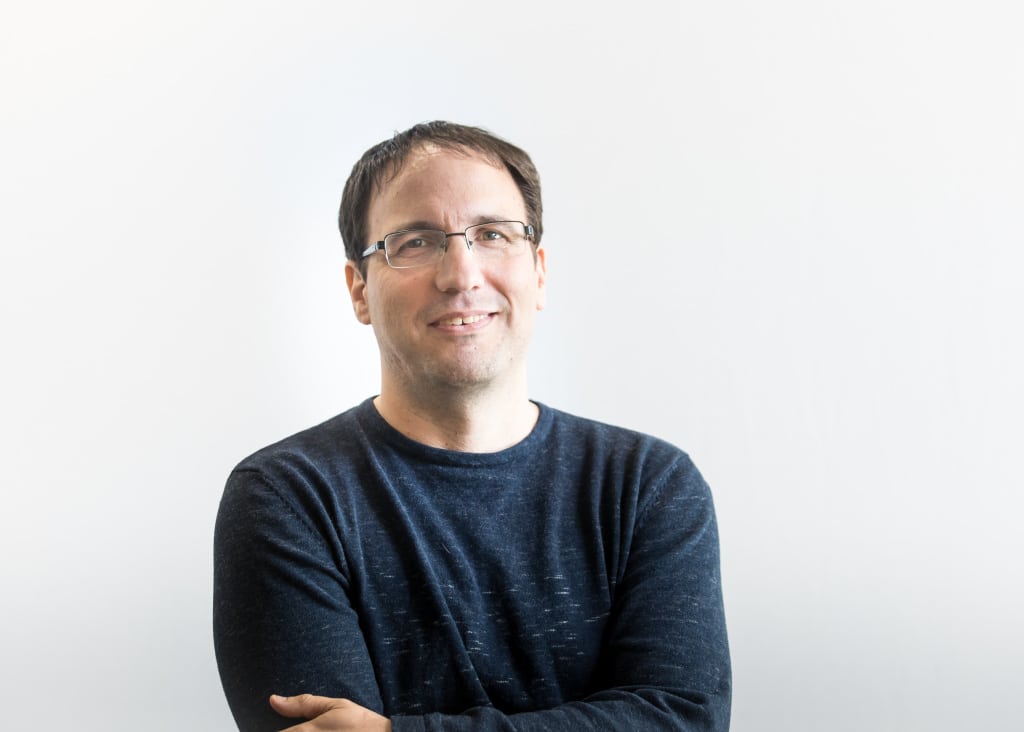 Elementor certainly makes it easy to design beautiful pages and user-friendly navigation. However, the editor can be slow, and it's something I've faced with some of my past hosting companies. Things instantly changed when I switched to Kinsta – the backend, even when using Elementor and some of its addons, became pretty swift, and page editing stopped feeling like an excruciatingly slow chore. And most importantly – it's also fast for our readers, even when hundreds of them are on the site at the same time. Furthermore, as someone who switched between page editors over the years, on the same website (from Divi to Elementor + Gutenberg), things can get a bit messy under the hood – but Kinsta handled our hosting migration superbly, with zero downtime.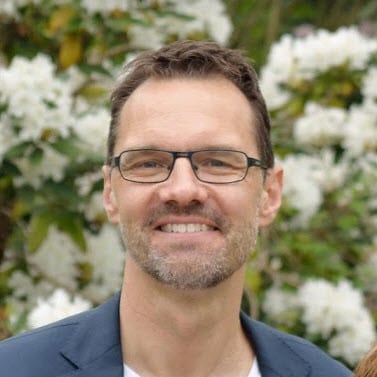 Kinsta gives us a high degree of security and supports our agile workflow. We can easily create test sites when testing new functionality, and automatic alerts- and monitoring of plugins from Kinsta, helps up keeping our sites secure and up to date. Working with Elementor gives our designers great freedom to design beautiful web content without any need for coding. Having both Elementor and Kinsta in our web stack provides fantastic agility that enables us to focus on content instead of technical issues.
Leverage Local Development and Staging for
Free
Comprehensive staging environments, backups, and a local development tool give you everything you need to design and scale your Elememtor website.
DevKinsta
Design, develop, and deploy your Elementor website from the comfort of your local machine. DevKinsta is free forever, available for macOS, Windows, and Ubuntu, and is used by 48,500+ developers, web designers, and freelancers.
Selective Push
Get granular control on what you want to push live from your staging environment. With the ability to push files, databases, or both, this functionality is even more useful on an Elementor site where subscriptions and purchases are frequent.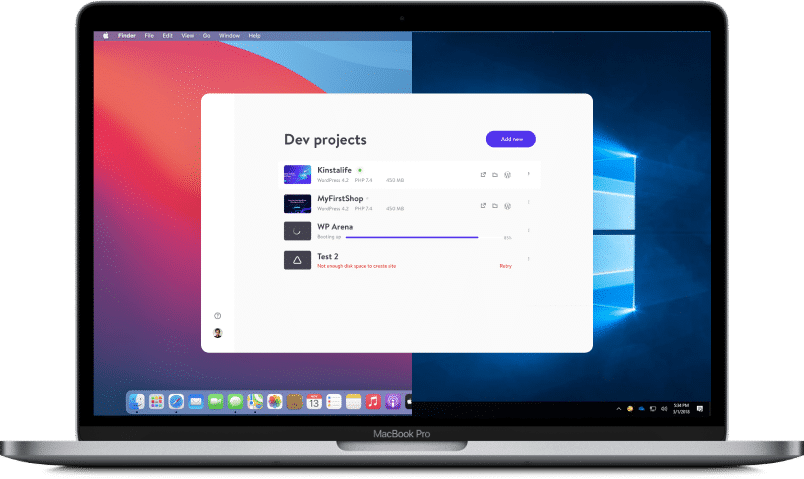 Custom-Designed
Performance Monitoring Tool

for Elementor Sites

Kinsta APM is included for free in all Kinsta plans. By simply enabling it in the MyKinsta dashboard, you'll be able to:
Troubleshoot all your installed plugins
Identify the reason your payment gateway is timing out 
Gain insight into how MySQL queries and AJAX calls are slowing down your online store
Find out which Elementor add-ons are slowing down your WordPress site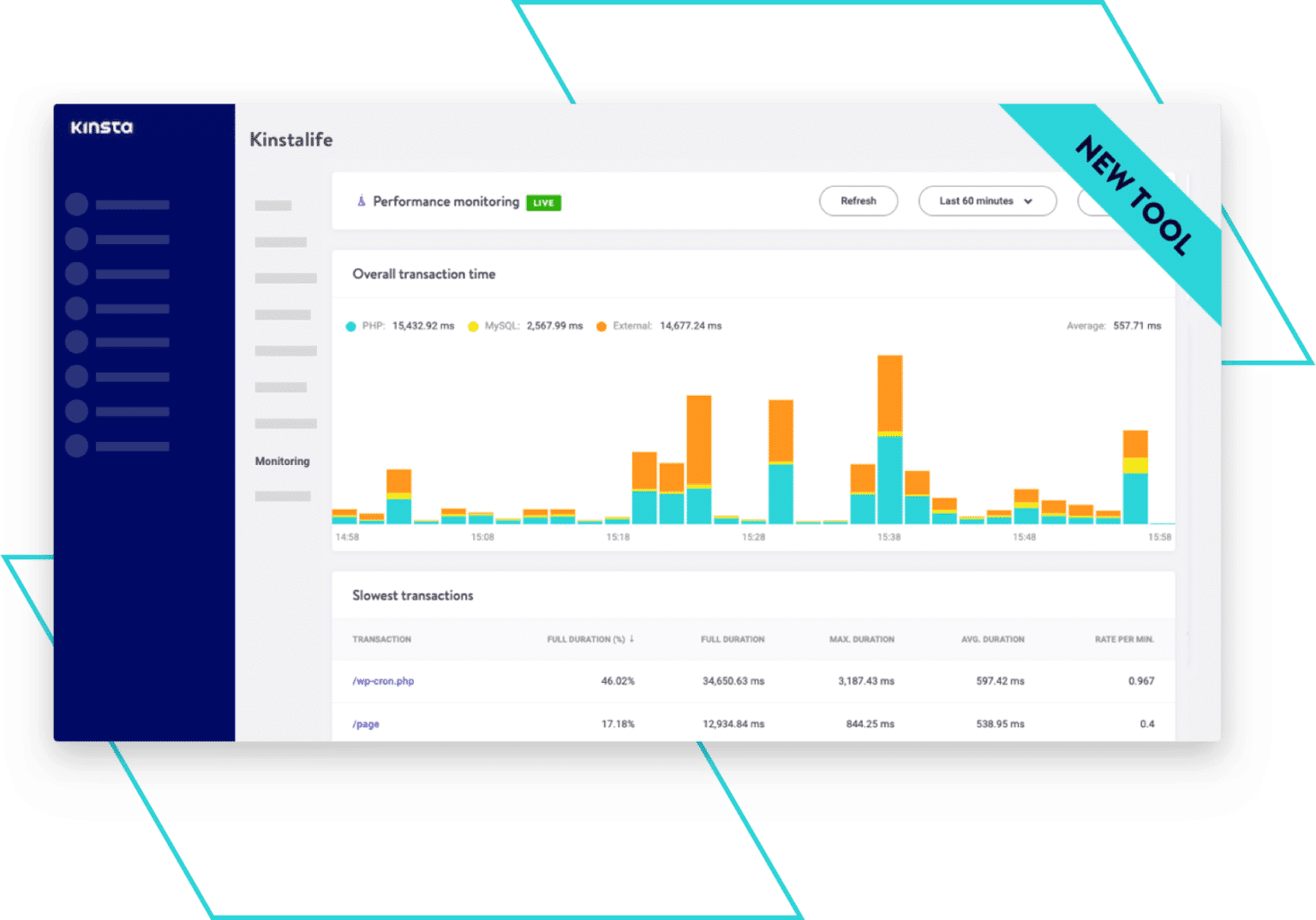 World-Class Support That Bends Over Backwards For You
Website issues can happen at any time, including weekends, evenings, and holidays. Having expert support a click away can mean all the difference, especially when it comes to missed sales.
Kinsta's team of expert support engineers is available 24/7/365 in 10 languages. With an average response time of 1 minute and 27 seconds and a 39-minute close time, you can be sure your website issues will be taken care of swiftly.
Combine all that with the fact that we check your site 720 times a day for uptime, and you have full coverage of all issues at all times.
Cloudflare Security Features and Free Global CDN

Your savings: $200/mo. per site
All Kinsta plans include enterprise-level Cloudflare integration free of charge which comes with the fastest CDN and advanced security solutions. 
This means you can spend less time worrying about the performance and security of your site, and more on publishing the content your readers crave. Did we mention you save $200/mo with this enterprise-level Cloudflare integration?
Firewall and DDoS Protection
Kinsta leverages Cloudflare's secure firewall to protect customer sites. 
The IP-based firewall we provide from the Google Cloud Platform firewall, allows us to block malicious traffic with specific rulesets.
Cloudflare integration also includes free DDoS protection that protects your site at all times.
Fast and Built-In CDN
The Kinsta CDN is powered by Cloudflare's global network in over 200 cities across the globe.
This gives you an ultra-fast CDN solution for your website and allows Kinsta to serve assets from your primary domain.
Gone are the days of dealing with complicated setups that involve external CDN domains.
HTTP/3 Support
Since we put our infrastructure behind Cloudflare, it means that HTTP/3 support is now available for sites hosted at Kinsta.
If you host your website at Kinsta, you don't have to worry about configuring your server for HTTP/3 support.
Wildcard SSL Support
Wildcard SSLs are fully supported.
A wildcard SSL is very useful for a site with several subdomains. 
Oftentimes publishing sites have several different subdomains, we make it easy for you to implement Wildcard SSL across your sites!
Ready to Choose a Host That Means Business?
Choose a plan that fits your needs, or contact us if you need something special. Take comfort in your choice with our 30-day-money-back-guarantee and unlimited free basic migrate
Starter
starting from
WordPress Installs

1 WordPress install

Monthly Visits

25,000 visits

Storage Space

10GB Storage

Free CDN

100GB CDN

Free Premium Migrations

1 premium migration

PHP Workers

2 PHP workers

Backup Retention

14 days backup retention
Sign up
Business 1
starting from
WordPress Installs

5 WordPress installs

Monthly Visits

100,000 visits

Storage Space

30GB Storage

Free CDN

400GB CDN

Free Premium Migrations

3 premium migrations

PHP Workers

4 PHP workers/site

Backup Retention

14 days backup retention
Sign up
Agency 1
starting from
WordPress Installs

20 WordPress installs

Monthly Visits

400,000 visits

Storage Space

50GB Storage

PHP Workers

6 PHP workers/site

Free CDN

800GB CDN

Free Premium Migrations

unlimited premium migrations

Backup Retention

30 days backup retention
Enterprise 1
starting from
WordPress Installs

60 WordPress installs

Monthly Visits

1,000,000 visits

Storage Space

100GB Storage

Free CDN

2000GB CDN

Free Premium Migrations

5 premium migrations

PHP Workers

8 PHP workers/site

Backup Retention

30 days backup retention
Sign up
Supercharge Your Elementor Website With Premium Add-Ons
Take your Elementor website to the next level with a selection of premium add-ons that are all easily accessible right from your MyKinsta dashboard.
Nginx Reverse Proxy
Nginx, pronounced "engine-ex," is an open-source web server used as a reverse proxy, HTTP cache, and load balancer.
It's built to offer low memory usage and high concurrency. Rather than creating new processes for each web request, Nginx uses an asynchronous, event-driven approach where requests are handled in a single thread.
Nginx supports the ability to load WordPress from a subdirectory while a separate website (WordPress or otherwise) loads at the root domain.
With Nginx, one master process can control multiple worker processes. 
Redis
At Kinsta, page caching is already built-in for all sites running on our platform. However, some more dynamic sites do not make the best use of page caching.
Ecommerce sites, membership sites, forums, discussion boards, blogs with extremely active comment sections, and other types of highly dynamic websites will benefit greatly by using Redis.
Redis cache allows for the reuse of cached objects rather than requiring the MySQL database to be queried a second time for the same object. 
This reduces the load on a website's MySQL database, while simultaneously decreasing the response time of the site and increasing the site's ability to scale and handle additional traffic.
Automatic External, Hourly, and 6-Hour Backup Options
External backups can be configured for either a weekly or monthly frequency. You also have a choice between backing up your files only, WordPress database only, or both.
Your ecommerce site is a continuously changing site. Our hourly and 6-hour backup options could be a perfect fit. Rest assured that you can upgrade or downgrade this add-on at any time.
These are additional restore points. When you have the hourly backups add-on enabled, automatic daily backups are still taken and available to restore.
Scale Visits and Disk Space
A peak in traffic shouldn't have you scrambling to change your plan. Our transparent overage pricing lets you calculate in advance. For large sites with a lot of files or images, increase your plan's disk space with our monthly add-on.
For additional flexibility, you can increase the storage space of your hosting plan with a few clicks inside the MyKinsta dashboard.
FAQ
What is Elementor?

Elementor is a visual drag & drop page builder for WordPress. Elementor lets you build any website, on any theme with advanced design capabilities. Choose from hundreds of templates and build a stunning website faster than ever before. 
Is Elementor good for beginners?

Yes, Elementor is an excellent page builder to use for beginners. It provides a WYSIWYG (what you see is what you get) editor and has a lot of resources and documentation that you can learn from.
Is Kinsta compatible with Elementor?

Yes, Elementor is the most popular page builder for WordPress and Kinsta is the perfect Elementor hosting solution. You can build fast, secure, high-performing websites, with 1-click installation. All while utilizing the MyKinsta platform.
What is the best theme to use?

Elementor is compatible with most WordPress themes. As long as the theme is built and coded according to WordPress standards, Elementor will work.
Do I need any special plan for Elementor?

All Kinsta plans come with the same amazing capabilities. The plan you choose will be based on certain needs, and custom plans can be created if needed.
Do Elementor sites load fast at Kinsta?

Kinsta utilizes Google's C2 VMS and Premium Tier network, which offers low-latency and 30-50% faster traffic routing by avoiding public Internet pipelines as much as possible. By combining our unique hosting stack with Google's fastest VMs, traffic routing, and the in-depth experience of our team, Kinsta is able to squeeze every ounce of performance out of Google Cloud Platform to give our customers a truly performance-focused WordPress hosting experience.
Is Elementor slow?

The short answer is, no it isn't. While Elementor does add extra CSS, JavaScript, fonts, and div wrappers to your site, what really slows down a WordPress website is poor hosting, inefficient images, slow themes, and using too many plugins.
How many Elementor sites are hosted on Kinsta?

We host more than 20,000 Elementor-powered websites and it's growing day by day.
What is the difference between WordPress and Elementor?

WordPress is a content management system (CMS) that allows you to host and build websites. Elementor is a page builder plugin you add to WordPress to fully customize a website without having to use code.
We Take Privacy Seriously at Kinsta
Kinsta takes data privacy seriously and utilizes Google Cloud Platform's encryption at rest. You and your clients can comply with privacy regulations that require data to reside in a specific country or region. Rest assured, no data is hosted outside of the data center you choose. By design, any add-ons or features that do transmit data outside of the country are optional and not enabled by default.
Free Migrations and a Money-Back Guarantee
If your Elementor website is currently on another host, we offer unlimited free migrations from all hosting providers, including:
WP Engine | Flywheel | Siteground | Pagely | Pantheon | Cloudways | GoDaddy | Dreamhost | Bluehost | HostGator | A2 Hosting | tsoHost | WPX Hosting | Savvii
We know migrations can be tricky, so let our team move all your sites for you and take that burden off your plate.
30 day money-back guarantee

and the most flexible plans in the industry
Easily upgrade or downgrade

2 months free if paid yearly

No fixed term contracts

Instant prorated refunds