Managed WordPress Hosting for Publishers
You have enough to worry about when running an online publication. Kinsta's Managed WordPress Hosting for Publishers gives you industry-leading speed thanks to the fastest Google servers available on the market, exceptional performance for peak traffic, and access to a global content delivery network in 200+ cities.

Grow Your Audience and Create a Global Presence With Kinsta
When you run an online publication, you know you'll need to be prepared for risky scenarios such as: 
High traffic spikes causing slowdowns
Unreliable servers
Caching issues
Lack of good and fast support
DDoS attacks
A clunky backend dashboard
These issues are common within publishers, but they can be handled and taken care of if you choose Kinsta to host your publishing website. Powered by Google Cloud and combined with Cloudflare, Kinsta customers benefit from blazing fast speed, enterprise-level security with DDoS protection and firewall rules, and a built-in site management dashboard.
Kinsta for publishers is optimized for speed, security, and peak traffic is unlike any other platform out there.
Forget about setting up caching plugins or unreliable solutions. Kinsta takes care of everything for you with different layers like Bytecode, Object, Page, and CDN caching. We accomplish this at a PHP level and make your site faster than any plugin could ever make. 
Publishers Trust Kinsta
Hosting Infrastructure Optimized for Pro Publishers
Local news websites, large national publications, and news outlets websites need to be available all the time and load fast, even on mobile devices. That's why you need a hosting platform like Kinsta, which can provide your site with blazing speed and security at any level.
Our entire infrastructure is built on Google Cloud Platform's fastest C2 virtual machines and is completely different from the traditional shared, VPS, or dedicated infrastructure hosting setup. 
This makes Kinsta one of the fastest WordPress hosting solutions available and gives you access to all the tools we have built to specifically power and manage your busy publishing website.
Cloudflare Security Features and Free Global CDN

Your savings: $200/mo. per site
All Kinsta plans include enterprise-level Cloudflare integration free of charge which comes with the fastest CDN and advanced security solutions. 
This means you can spend less time worrying about the performance and security of your site, and more on publishing the content your readers crave. Did we mention you save $200/mo with this enterprise-level Cloudflare integration?
Firewall and DDoS Protection
Kinsta leverages Cloudflare's secure firewall to protect customer sites. 
The IP-based firewall we provide from the Google Cloud Platform firewall, allows us to block malicious traffic with specific rulesets.
Cloudflare integration also includes free DDoS protection that protects your site at all times.
Fast and Built-In CDN
The Kinsta CDN is powered by Cloudflare's global network in over 200 cities across the globe.
This gives you an ultra-fast CDN solution for your website and allows Kinsta to serve assets from your primary domain.
Gone are the days of dealing with complicated setups that involve external CDN domains.
HTTP/3 Support
Since we put our infrastructure behind Cloudflare, it means that HTTP/3 support is now available for sites hosted at Kinsta.
If you host your website at Kinsta, you don't have to worry about configuring your server for HTTP/3 support.
Wildcard SSL Support
Wildcard SSLs are fully supported.
A wildcard SSL is very useful for a site with several subdomains. 
Oftentimes publishing sites have several different subdomains, we make it easy for you to implement Wildcard SSL across your sites!
All of these features and more are built directly into the MyKinsta dashboard, our custom-built dashboard for site management. You don't need to create a separate Cloudflare account. However, if you already have a Cloudflare account, that will stay separate.
Kinsta also reserves IPs for its customers. All IP addresses are unique to Kinsta so your website will not be shared by any adult or spam sites that lie outside the Kinsta infrastructure.
How Top Publishers use Kinsta
A faster site, a support team that provides useful insights, and a cheaper plan. Find out what else motivated Ryan Robinson to choose Kinsta.
Reading time

3 min read

Publish date

September 17, 2021
Learn how Open Plan Media is able to serve hundreds of thousands of pageviews without a single glitch thanks to Kinsta's hosting.
Reading time

7 min read

Publish date

June 11, 2020
After migrating to Kinsta The Sport Review saw a 50% increase in speed and a platform capable of handling thousands of concurrent connections.
Reading time

2 min read

Publish date

November 4, 2017
Site Management Made Easy
Kinsta utilizes Google Cloud's Premium Tier Network with all of our managed WordPress hosting plans. This minimizes distance and hops, resulting in faster, more secure global transport of user data.
This means users can take advantage of the global fiber network, with globally distributed Points of Presence and 30% improved latency or 50% better bandwidth.
We also have our entire infrastructure on C2 VMs. Whether your publishing website is in North America, Europe, or Asia, there is a C2-equipped region close to your site users providing the fastest machines.
Everything we build at Kinsta is designed to provide you with a faster, more secure, easier-to-manage website. 
Their MyKinsta dashboard, reporting, instant backups, and staging environments save them hundreds of hours a year on admin tasks. This way, we can focus more on our clients.
Performance Monitoring Tool
Kinsta gives users a free, built-in, custom-developed, performance monitoring tool that can be used to pinpoint all of your WordPress performance issues in minutes. 
Your in-house developers will have a fast and easy way to find bottlenecks and fix slow pages and sections of your website.
Kinsta APM
Kinsta APM is available for you for free and can be easily enabled right from your MyKinsta dashboard.
This tool captures and provides you timestamped information about your WordPress site's PHP processes, MySQL database queries, external HTTP calls, and much more.
The APM tool will allow you to debug:
Slow database queries
Long API calls
Non-optimized plugin and/or theme code
Slowest, average, and median transactions
Long external URL requests
Available in 10 different languages.
Fast, 24/7/365 Available Support in Five Languages
At Kinsta, we pride ourselves on providing the very best customer support available. Our expert support team is second to none and is made up of skilled engineers and WordPress experts. 
24/7 premium support is provided to all Kinsta clients regardless of plan. We have an ongoing initial ticket response time of fewer than two minutes and offer multilingual support that includes a knowledge base and resources that are available in 10 languages.
All of this world-class expert support can be easily accessed right from your MyKinsta dashboard.
Thousands of five-star ratings.
And counting.
When we first migrated to Kinsta, the speed difference over our previous VPS was unbelievable. It's been a treat to run our WordPress sites on Kinsta, with total confidence in everything they do to make WordPress run optimally. From caching, backups, and developer tools to their fast and reliable support. It allows us to focus on our business and not on the server, knowing we are in the best possible hands when it comes to managed WordPress hosting.
We truly cannot say enough about the level of customer service that Kinsta provides – it's always a great experience, with very personable and helpful support.
Kinsta provides us with enormous relief in the daily routine of monitoring and maintaining a fast and secure WordPress website. There is no better feeling for our customers and us!
Great performance and the best technical support! Moved from WiredTree at which I experienced a lot of downtime since the acquisition. I'm amazed how my website's performance drastically improved and is loading fast now. They do have the best support too. Specifically, the technical knowledge compared to the other hosting providers. Really glad I switched to Kinsta!
We love Kinsta! They're no doubt one of the least negotiable expenses we have each month. Incredible speed and absolutely unbelievable support.
Really love the level of experience and support Kinsta's live chat engineers provide. The 24/7 support is a game-changer for large sites, especially ecommerce.
Hands down one of the best bootstrapped WP hosting companies. Absolutely love their support staff and developer-friendly features (not to mention they are insanely fast).
Maintaining many global WordPress sites, we've become well acquainted with all the major hosting providers. No one is running our sites as fast as Kinsta.
Absolutely fantastic – cannot rate highly enough in terms of speed, support, and UI. Went from WP Engine to Flywheel, then to Kinsta and couldn't be happier.
Hands down, Kinsta is the best WordPress hosting provider I have come across after trying out heaps of hosting solutions for the past 10+ years. From speed, uptime, performance, CDN, UI, and backups to the migration, Kinsta has been beyond fantastic! Their professional customer support is simply impressive, and I couldn't ask for more. I do not think I will ever be thinking of switching to another hosting provider, at least for many years to come!
Kinsta saves us time so that we can focus on building our business instead of worrying about hosting or downtime. It's quick and easy to use, has good support, and the websites load quickly and have excellent uptime.
Website Backups
The importance of daily automatic backups can't be overstated. This is especially true when you have 5-10 or more editors working on hundreds of articles and things can go wrong.
Kinsta backups provide you with a complete snapshot of a site environment's files, database, redirects, and Nginx configuration at the time the backup was created. 
This means that when you restore a backup, all changes to the website's files, database, redirects, and Nginx configuration are rolled back to the time the backup was created.
At Kinsta, we take website backups and disaster recovery seriously. Our infrastructure has multiple redundancies in place to keep your data safe and secure. These include:
Automatic Snapshots of Every Site

Kinsta creates snapshots of every WordPress site every 24 hours, 6 hours, or hourly, depending on the options you select. You can use these to restore your site in one click from the MyKinsta dashboard.
Machine Level Snapshots

Kinsta also creates and stores persistent disk snapshots of every machine in our infrastructure every 8 hours for 24 hours. This means that if your website snapshots were ever unusable for any reason we would have snapshots of our entire infrastructure we could use to restore your data.
Downloadable Backups

Are automatic backups and redundant backups not enough? We go a step further and allow you the ability to download a backup of your WordPress site anytime. The archive file (.zip) generated from the MyKinsta dashboard will contain your website's files as well as the SQL file containing the contents of your database. You can then store these somewhere safe to act as yet another backup.
External Backups (Add-On)

Kinsta provides the external backups feature for weekly or monthly backups as an add-on you can enable when needed as an additional security measure. This means you don't have to install any third-party plugins or additional tools. 

And, if all that still isn't enough, rest assured that we monitor the uptime of all sites that we host every 2 minutes. This translates to 720 checks for each of your sites every day. Our support team is also available 24/7 for anything you need.
Utilizing the Google Cloud Platform

One of the biggest cloud computing providers in the world. Not only do they have state-of-the-art data centers designed to withstand disasters, but they are recognized as some of the most energy-efficient and secure in the world.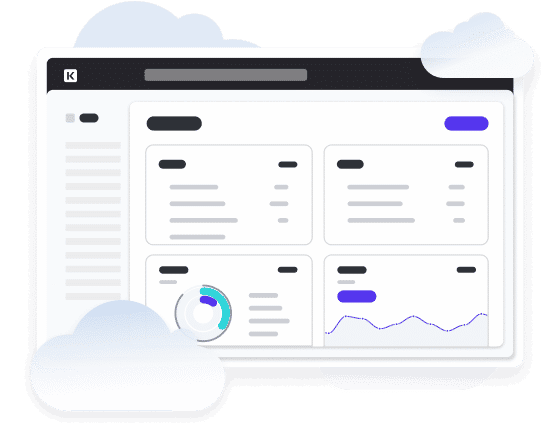 MyKinsta Dashboard
Are you ready for a solution that makes managing your publishing site a breeze? The MyKinsta dashboard is unlike anything else you have ever seen or used.
You have probably seen the other control panel solutions that are available. Since none of these really satisfied us, we went ahead and built our own from the ground up and made it WordPress specific.
Managing your websites from the MyKinsta dashboard has never been easier:
Why MyKinsta for Publishers?
Fast and built-in CDN
Cloudflare integration, free DDoS protection, automatic SSLs, and so much more
Add domains
Switch on HTTPS
Automatic website backups and easy restore options
Cache performance metrics
Free, built-in Application Performance Monitoring (APM) tool for debugging WordPress issues
WordPress staging environments that include our new Selective Push tool
Easily switch PHP versions
Safe and Secure
At Kinsta, we take your site security very seriously. Nothing is more important to us than keeping your data safe. Our secure WordPress hosting solution for publishers implements both active and passive measures to stop attacks. 
You can rest easy knowing your site is monitored every two minutes for uptime. Kinsta also has tight software-based restrictions in place. These restrictions detect DDoS attacks as they happen, stopping malicious code in its tracks from entering our network.
Next Level Security
Linux containers (LXC) on top of the Google Cloud Platform
Cloudflare's enterprise-level firewall
Free DDoS protection
WordPress security patches automatically applied
We only run updated versions of PHP
TLS 1.3 encryption protocol that reduces HTTPS overhead
PHP versions being used are removed from HTTP headers
XML-RPC brute-force attacks blocked by default
Built-in IP deny tool in the Kinsta dashboard
One-click password protection (htpasswp) tool
Two-factor authentication
IP Geolocation blocking
Hack fix guarantee
Only fully encrypted SFTP and SSH connections are supported
Automatic backups
Free Migrations and a Money-Back Guarantee
If your publishing site is currently on another host, we offer unlimited free migrations from all hosting providers, including:
WP Engine | Flywheel | Siteground | Pagely | Pantheon | Cloudways | GoDaddy | Dreamhost | Bluehost | HostGator | A2 Hosting | tsoHost | WPX Hosting | Savvii
We know migrations can be tricky, so let our team move all your sites for you and take that burden off your plate.
30 day money-back guarantee

and the most flexible plans in the industry
Easily upgrade or downgrade

2 months free if paid yearly

No fixed term contracts

Instant prorated refunds