You can find Bob on LinkedIn or Twitter. This is our recent interview with him, as part of our Kinsta Kingpin series.
Q1: What is your background, & how did you first get involved with WordPress?
Well, I guess that depends on how far back you want me to go. I started in freelance graphic design in the mid-1990's. Shortly after that, we opened our first business, Cat's Eye Marketing, helping small to middle-sized business with branding, marketing, design and copywriting.  We did that for close to 17 years. In 2007, after struggling with expanding our reach into web design, I began looking for an easier solution. That was the year I discovered WordPress. By 2008, we were using it to build client sites and by 2010, we had shifted over to WordPress exclusively, dropping all our print clients. That year, I started BobWP,  where initially, I did a lot of coaching, training and yes, even support.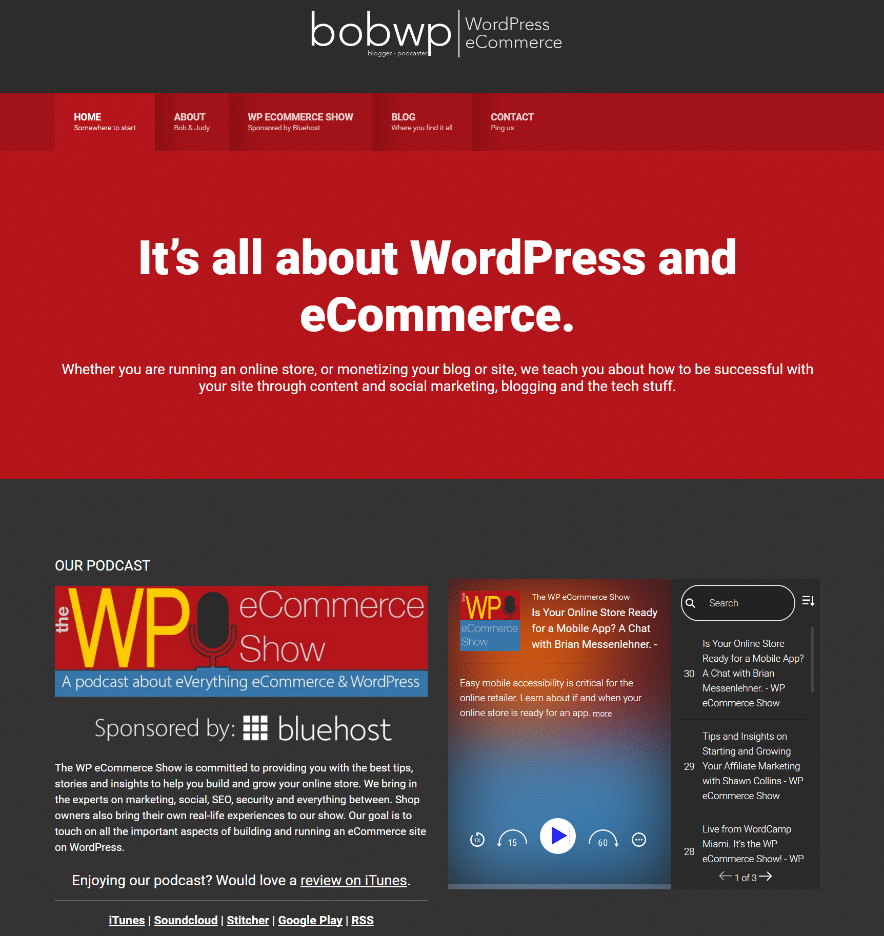 Q2: What should readers know about all the stuff you're doing in WordPress these days?
The focus points now are our blog and the podcast. We have tons of archives from the last 7 years that can help people with almost every aspect of WordPress. Over the last year, we have been moving more to WordPress and eCommerce, and that's what our podcast, The WP eCommerce Show, grew from.
Q3: What challenges did you face in getting to where you are now professionally?
I believe anyone that has been in the game as long as I have could give a long list of challenges. If you don't have many, that must mean you are either not growing, adapting to the times or taking your business seriously. I guess, if I were to choose one, the sales side of things was not my strong point and I have had that challenge throughout my professional career.
Q4: Has anything surprised you while coming up in the WordPress world?
Nothing really. Again, being in business and having been involved in different business communities, participating in chambers of commerce and a ton of other "standard" business activities, it's hard to be surprised at anything. I know that many people view the WordPress world, or community, as something very special. In a sense, it is. But at the same time, it's not unlike other business communities in that it has its own challenges, egos and politics.
Q5: What does the future look like for you in the WordPress world?
I'm an adaptable and flexible person, so I find it hard to predict what my relationship with WordPress will be in one year, three years or even more. I imagine I will continue to be around a while, in one way or another.
Q6: What do you look for in a WordPress host?
Personally, I look for speed and support. And not only receptive support. I must have chat. Tickets don't do me well, and I'm not a phone person. Of course, as other elements fall into place, I've used quite a few different hosts over the years. On a side note, my suggestion is if someone is looking for a host for the first time, or thinking about switching their host, do not ask for advice in a Facebook group because that will just confuse you more. Find someone you know and trust that you can personally ask, or heck, go with your gut.
Q7: What do you enjoy doing when you're away from your laptop?
First, I am an avid reader. I love my books. Give me anything fiction, typically crime, mystery or sometimes horror, if it's more on the psychological side of things. Also, I am a big fan of old movies, and I mean old classics. Alfred Hitchcock stuff. Almost any movie with stars such as Humphrey Bogart, Cary Grant, Katherine Hepburn, James Cagney, Roy Milland, to name just a few. But my tastes are very eclectic because I also go for comedies such as Christopher Guests movies and stuff with Steve Martin, Woody Allen, etc, etc.
Q8: Whom should we interview next & why?
Wow, can I list about 30 people? No, but seriously, off the top of my head? Patrick Rauland. I've known Patrick for quite some time and we are even planning some cool stuff together here in the near future. He is a bright and innovative guy. He knows WordPress and eCommerce. Did I mention that he's a bright and innovative guy?