A day doesn't go by without multiple news networks and late night hosts pulling Tweets down from the social media and microblogging giant Twitter to get a grasp on what's happening in today's fast-paced world, dropping Twitter stats and facts along the way.
Twitter is a favored platform for news outlets because of its ability to send real-time updates, but it's also popular with marketers who use the network to socially listen to feedback about their business's products and services through the use of hashtags.
When it comes to Twitter facts and statistics, nothing has caused more commotion since the company's launch then doubling the number of characters allowed in a Tweet: from 140 to 280. 😮Of course, the deeper you dive into Twitter statistics, the better you understand the importance of the platform.
A Tweet in History
The first ever tweet was sent by Jack Dorsey on March 21, 2006, when the social network was known "twttr" and had yet to be launched. Created that month by Dorsey, Evan Williams, Noah Glass, and Biz Stone, Twitter wasn't officially open to the public until July of that year.
just setting up my twttr

— jack (@jack) March 21, 2006
If you're interested in learning more about the company's founding, the book Hatching Twitter: A True Story of Money, Power, Friendship, and Betrayal by Nick Bilton, is certainly worth a read.
Whether or not Twitter later played a significant role in the Arab Spring and other bouts of civil unrest, from Moldova in 2009 to the Egyptian Revolution in 2011, is something that even the scholars can't seem to be certain of. However, one thing is sure—many people believe in "Twitter Revolutions."
As dissenters were overthrowing the Egyptian government in 2011, they were stuck to communicating with no more than 140 characters. Then, after about 11 years of the internet seeming to be just fine microblogging, trash talking, and supporting revolutions with just 140 characters, Twitter doubled down.
The social media platform is now, without a doubt, a favorite of U.S. President Donald Trump, who is infamous for early morning Twitter tirades as he warns world leaders, fires White House staff, and connects directly with his supporter base. A favorite Google Chrome extension by this article's author, "Make Trump Tweets Eight Again", is worth installing if you're #overit.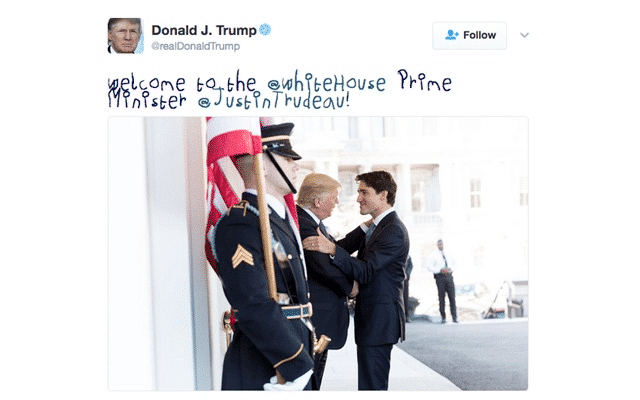 Digging through Twitter Demographics
Though there are more than 1.3 billion Twitter accounts, there are only about 335 million monthly active users. However, nearly coinciding with the US presidential primary election in 2016, Twitter has recently been experiencing double-digit increases in the number of daily active users (although this changes all the time).
Of the 335 million active Twitter users, only about 69 million are from the US. The fact that Twitter is available in 40 different languages certainly plays a role in its popularity abroad. Nonetheless, the US still plays home to more Twitter users than any other country, followed by Japan and the United Kingdom.
Within the US, about 24% of adults use Twitter, with 45% of those falling into the 18- to 24-year-old category.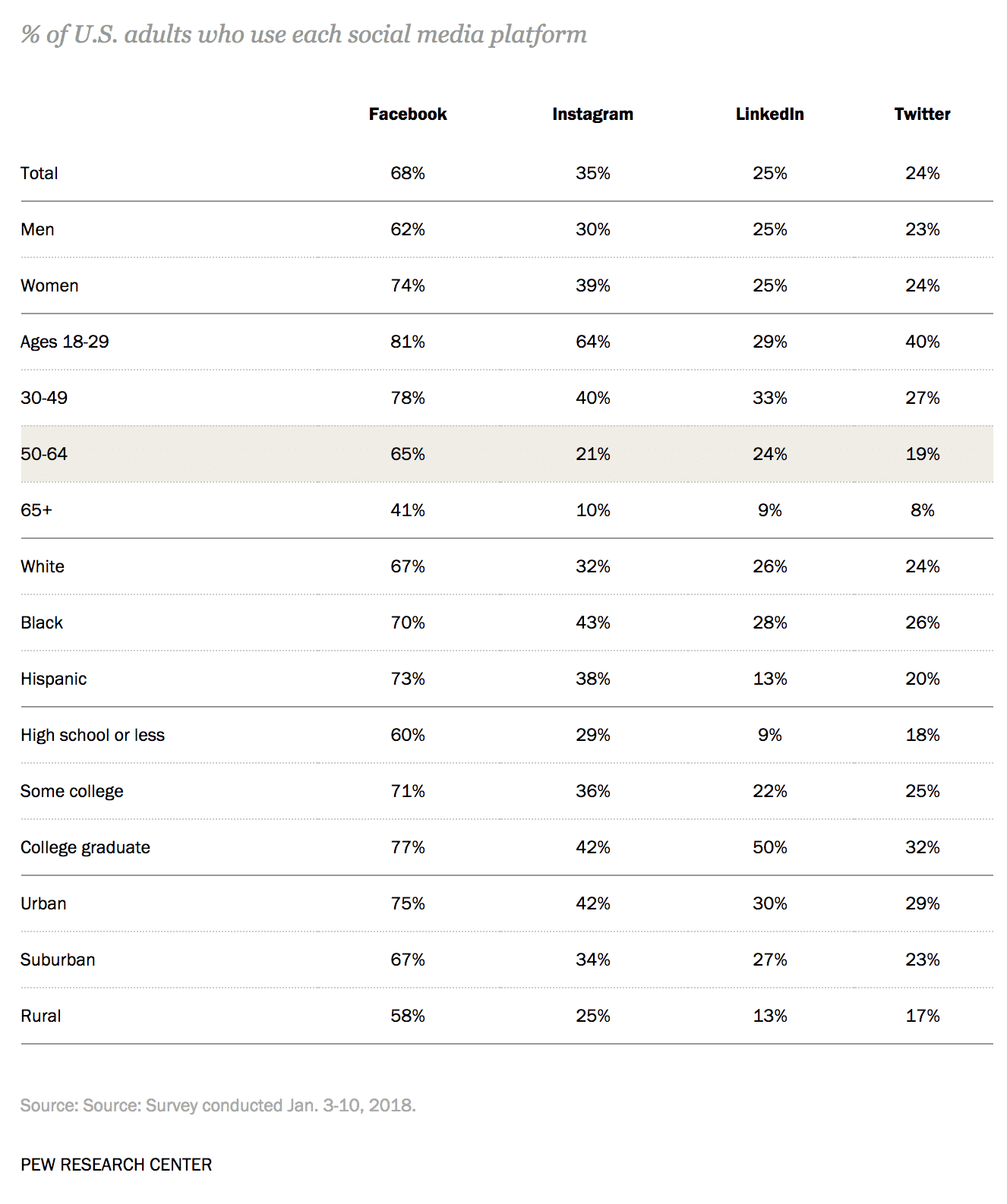 A stranger Twitter statistic than the most popular age group is how many Twitter users aren't even people.
It turns out that about 15% of Twitter users are bots. Twitter recently released its 2018 Q2 earnings report, which showed that the platform lost 1 million monthly active users in an attempt to make Twitter "healthier" by deleting bot and spammy accounts. Did you feel the sting?
After the purge, CEO Dorsey lost 200,000 of his followers, while Twitter's official account lost 7.7 million followers.
Twitter Stats on Usage
About 46% of Twitter users use the site daily, with 66% of users logging in at least once a week. However, that doesn't mean everyone is sending out Tweets. In fact, a 2014 study found that 44% of Twitter 'users' have never sent out a single Tweet.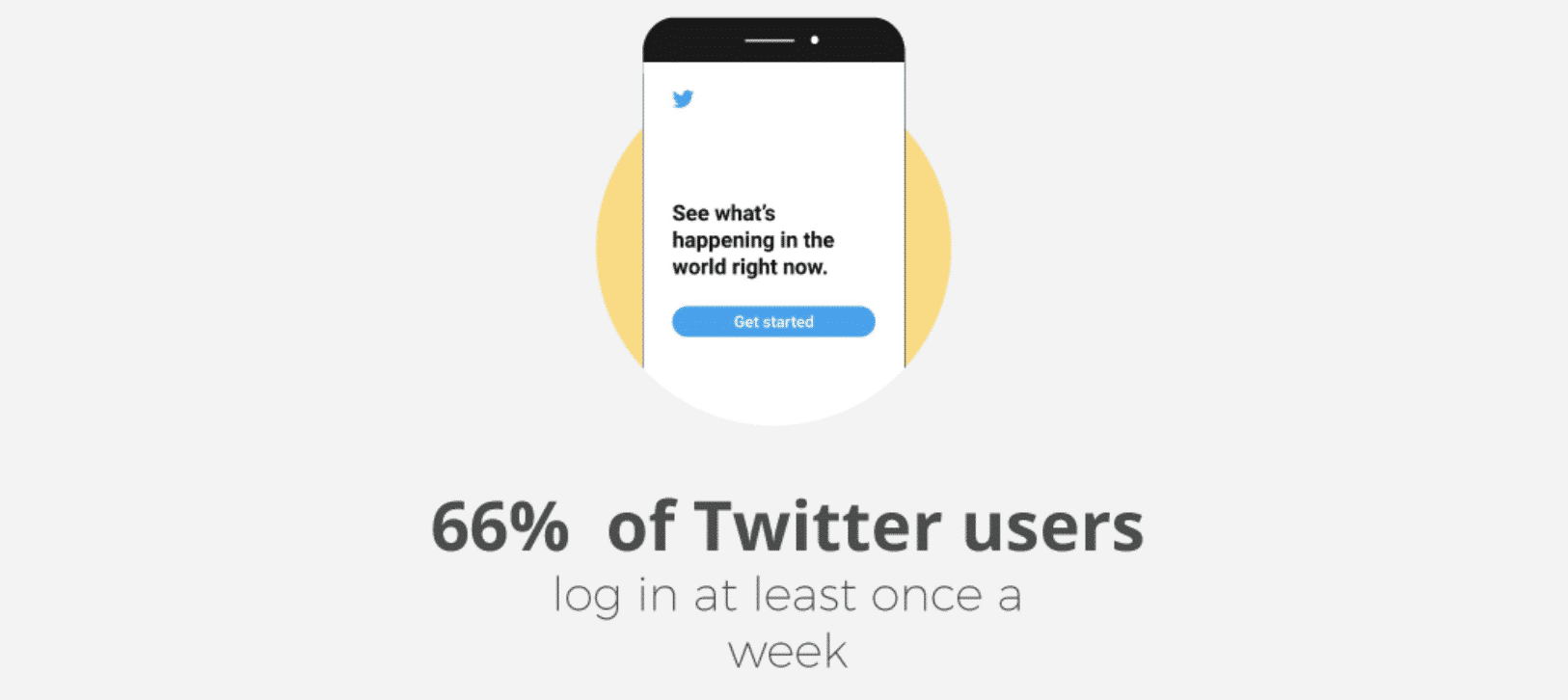 Of those who do use Twitter, 74% use it to get news, which is up about 15% compared to 2017.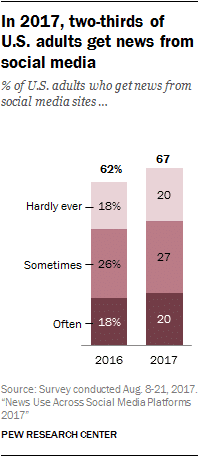 One of the reasons Twitter is so popular for news is because it tends to be where news breaks, it's also well-known as a news source because journalists are incredibly active on the network. It turns out that journalists make up 24.6% of verified accounts.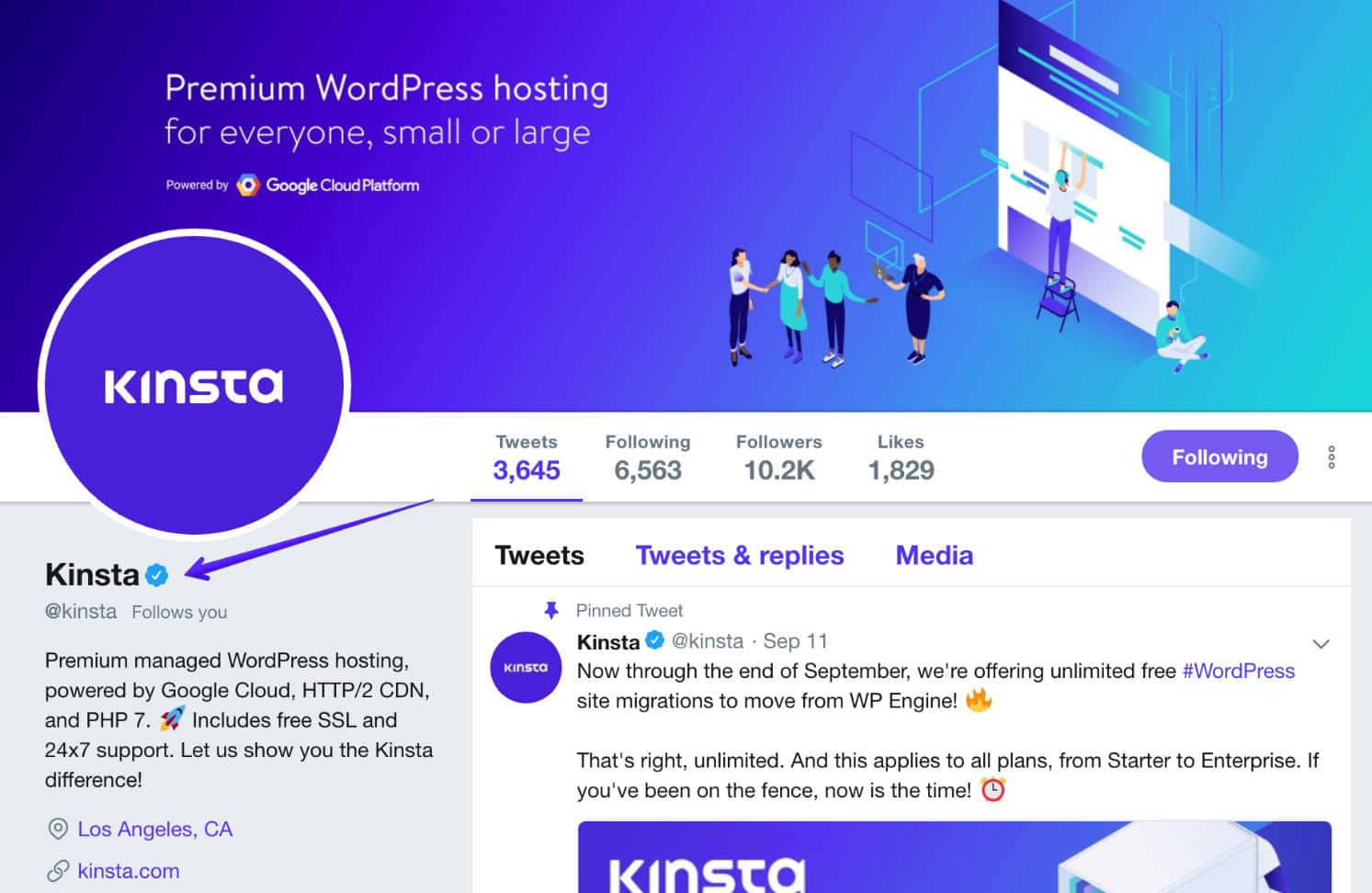 These accounts, introduced to the public in 2016, allow popular users and personalities to receive a verification badge, which lets users know that the Twitter account in question is authentic and is owned by the actual personality. This all came about after Kanye West, in 2009, criticized Twitter about impostor accounts.
But good luck getting verified, even if you "deserve" it—the submission page has been inactive for a very long time. Unless you have an inside track, it's unlikely that you'll be verified anytime soon.
We've paused public submissions for verification.👇 https://t.co/0KZd4Kxkp9

— Verified (@verified) February 26, 2018
Perhaps the biggest boon for Twitter usage is that fact that it is a choice platform for world leaders, with 83% of them having official accounts. As mentioned, President Trump's accounts (@POTUS and @realDonaldTrump) drive both Twitter usage and the news cycle as he Tweets a scope of personal and political opinions.
The microblogging nature of Twitter and the design of the platform is perfectly geared toward mobile use (which is surpassing desktop website visitors as a general rule). About 80% of people access Twitter via mobile devices and 93% of video views occur on such devices.
Because most Twitter users access the platform via mobile devices, Twitter released a lite version keeping in mind those who live in developing countries. The lite version takes up 3MB of memory, launches 30% faster than the regular app, and uses 70% less data. After the launch, Twitter noticed 50% more Tweets being sent from Twitter Lite devices than the standard app.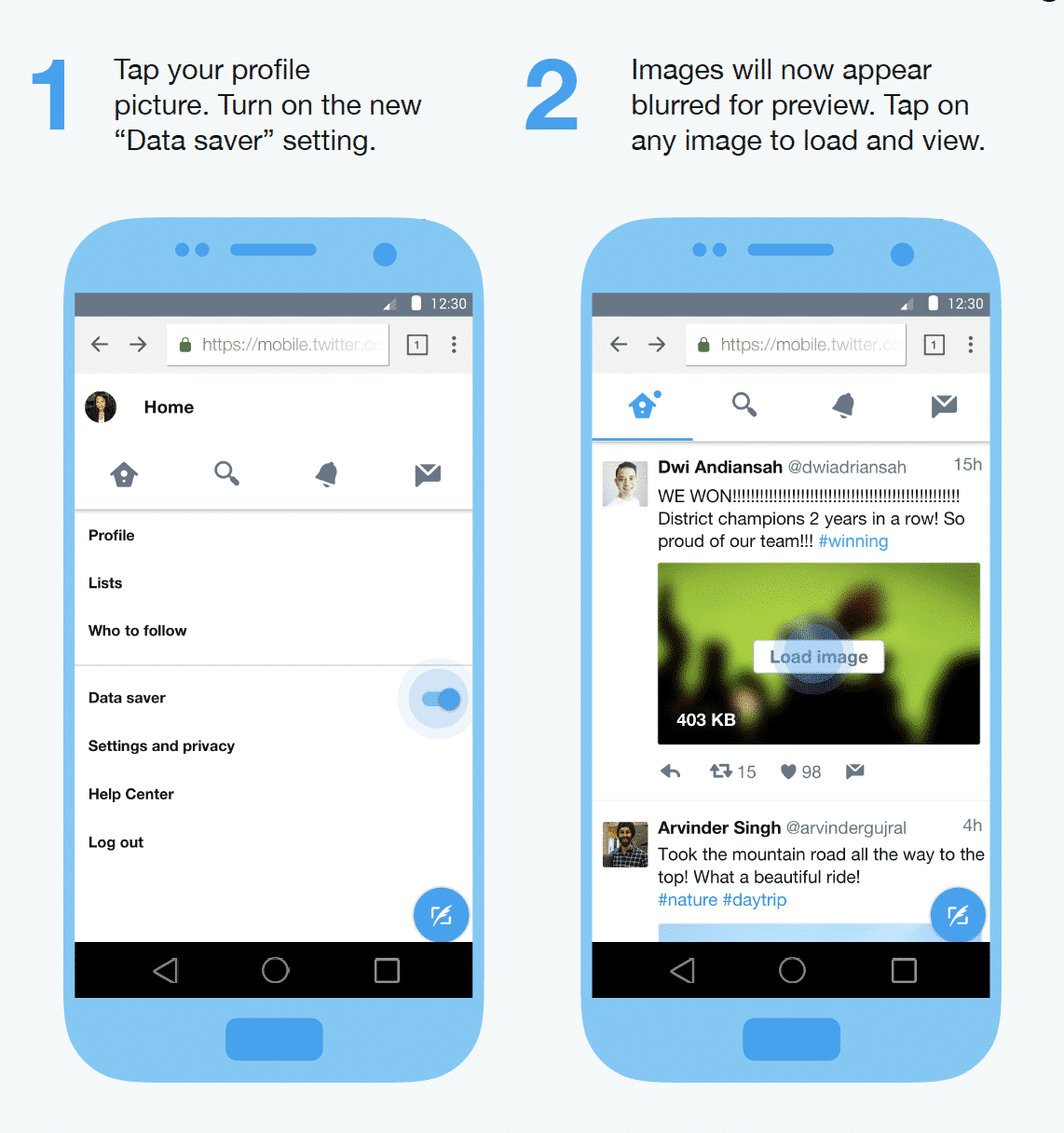 Despite a huge number of inactive accounts, and the fact that the average Twitter user only has 707 followers, 456,000 Tweets are sent per minute, which is about 656 million Tweets per day. That's up from 2011 when there were about 200 million Tweets per day, which was enough to fill a 10 million page book!
And those Tweets added up quickly. It only took 3 years, 2 months, and a day to go from the first Tweet to the billionth Tweet. Of course, once the momentum was going Twitter's way, a billion Tweets were being pushed out a week, and now it only takes about 36 hours for users to generate such an insane amount of content.
As it stands, Twitter gets 2 billion search queries per day.
Hashing out Hashtags with Twitter Stats
Hashtags are so deeply ingrained in Twitter that it seems like Twitter isn't Twitter without them. With billions of Tweets going live every week, hashtags are essential for users to cut through the jungle and find topics and content in which they are interested.
Basically, hashtags make it easy for users to track what other people are saying about a certain topic. When a user clicks on a hashtag, all public posts with that hashtag are shown. If there are several Tweets with a hashtag in a certain area, they become part of that area's trending topics.
Trending topics appear in the left-hand corner of a user's screen, when using Twitter on a desktop, and under the magnifying glass icon when using Twitter on a mobile device. If hashtags are used all over the world, they become part of worldwide trending topics.
Most would not guess it, but the world record for the most-used hashtag in 24 hours is #AlDubEBTamangPanahon, with 40,706,392 uses. AlDub is a celebrity couple from the Philippines.
Group shot! #ALDubEBTamangPanahon pic.twitter.com/4YK0iMle8U

— Eat Bulaga! (@EatBulaga) October 24, 2015
However, contrary to popular belief, Twitter wasn't born with the hashtag. It was Twitter user Chris Messina, a technology and open-source advocate, that suggested the use of the pound symbol (later becoming known as the hashtag), to group similar content.

The pound symbol was first used as a hashtag in August 2007. At that time, Twitter was looking for a grouping feature. However, despite the detailed proposal Messina made regarding hashtags—Messina intended them to act like metadata, providing additional information about the Tweet—not everyone was completely on board with the idea until there ended up being wide user adoption.
Once in play, hashtags were used to collect tweets, join a conversation, and listen socially. However, just like on Instagram, there's such a thing as over-hashtagging and there's an optimum number of hashtags—beyond that point users often end up with decreased engagement.
A Buffer study on hashtags reveals some interesting Twitter stats. For example, tweets with hashtags receive twice the amount of engagement as those without, and Tweets with one or more hashtags are 55% more likely to be retweeted. Additionally, the study found that Tweets with just one or two hashtags receive 21% more engagement than those with more than two hashtags.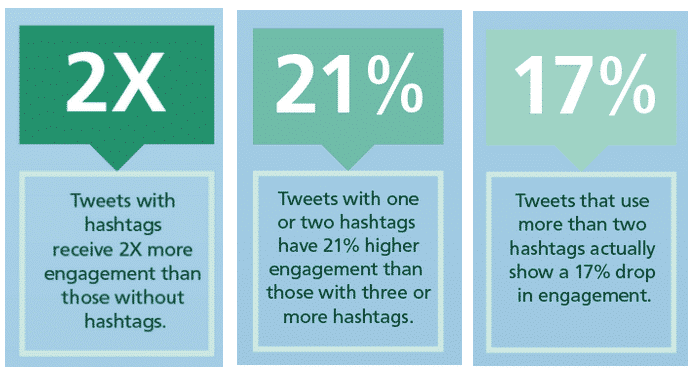 Not sure which hashtags to use? Use a tool like RiteTag to see which hashtags are the most popular, which ones to use to get seen right away, and which ones to get seen over time.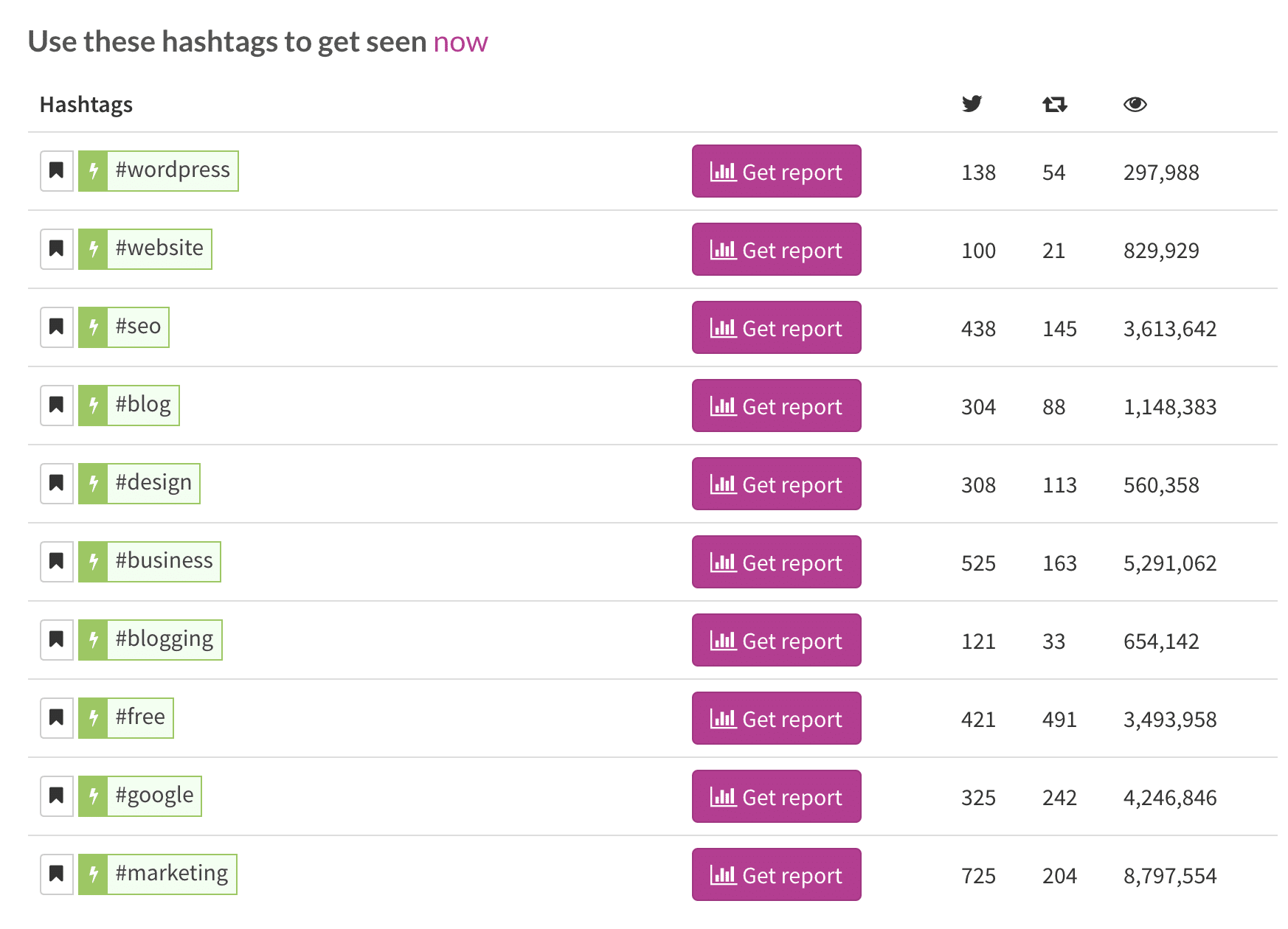 Twitter for Business
Although Twitter is known for its fast-paced style of content which would normally deter businesses from advertising on the platform, Twitter still plays an important role for businesses concerned with social media engagement, especially small and medium enterprises.
A few basic Twitter statistics make it obvious as to why this is the case. The average Twitter user follows five businesses on Twitter, and 80% of Twitter users have mentioned a brand in a Tweet.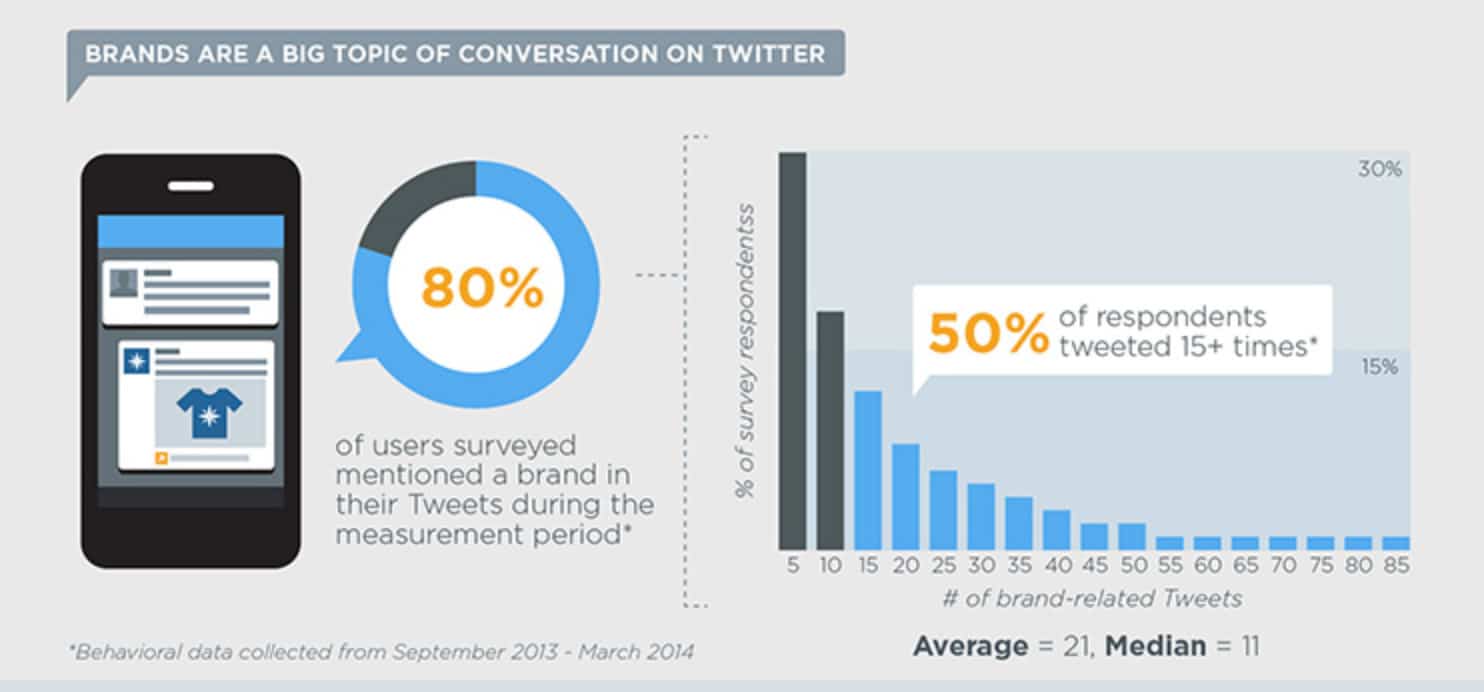 More importantly, Twitter found that 54% of users that have seen a brand mentioned in a Tweet take action, such as by visiting the company's website, searching for the brand, or retweeting company Tweets. When it comes to retweets, one Twitter stat that's good to know is that one-third of users who follow a business on Twitter have retweeted a brand's tweet, which can go far in helping spread a message.
And that road goes both ways, with 77% of Twitter users feeling more positive when a brand replies to their Tweet.
Twitter for Customer Service
Aside from being able to socially listen to customers and monitor competition, Twitter can (and should) also be used as a customer service channel. In fact, Twitter found that there has been a 250% increase in customer service conversations on Twitter. This increase is probably due to 85% of Twitter users saying that it is important that businesses provide customer support on Twitter.
Just offering customer service on the platform isn't enough. According to Twitter's findings, 60% of customers expect brands to respond within an hour. Unfortunately, the average response time from companies falls short of that with a time of 1 hour and 24 minutes.
Twitter Marketing
Twitter is a great platform to showcase a brand's unique style and voice. For example, the Wendy's Twitter account is known for being witty and roasting other fast food chains, while the KFC Twitter account is on-brand with their 11 herbs and spices by only following the Spice Girls and 6 guys named Herb.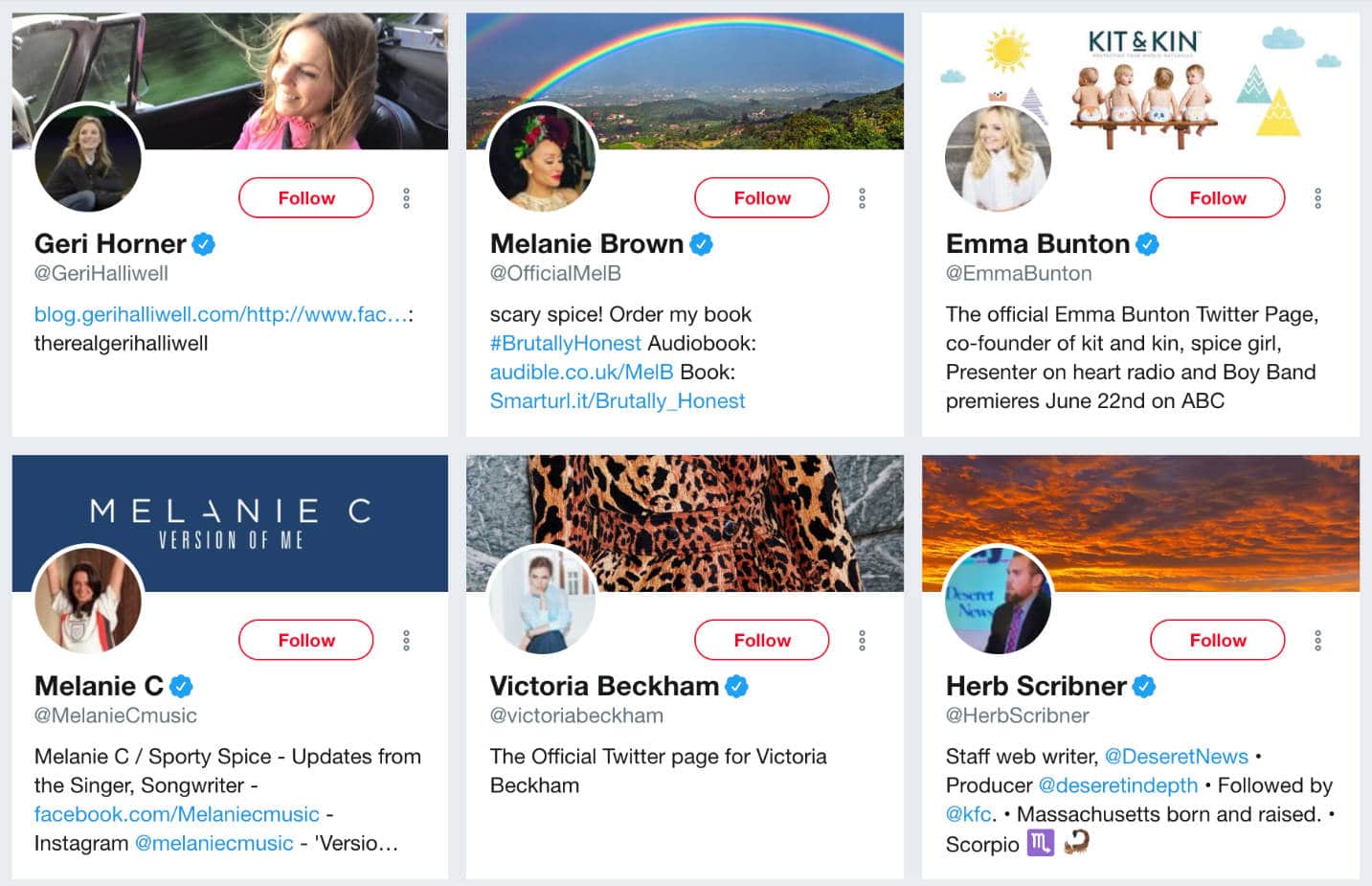 About 93% of the people that follow SMEs (small to medium enterprises) on Twitter intend to purchase something from the business they follow, and 69% have already purchased something from the business after seeing it promoted on the network.
Twitter Advertising Advantages
With the popularity of videos across all platforms, it's no surprise that Twitter says video is the company's largest revenue-generating ad format since 2016, making up more than 50% of its ad revenue.
In the company's Q2 2018 earnings report, there was a cost per engagement decrease of 32% year-over-year which contributed to the fact that video is the preferred format, and that videos often have lower CPEs (cost per engagement) than other formats.
Overall, ad engagement on Twitter is also increasing, up to 81% in Q2 2018, versus 69% in Q1. Because of this, more marketers are expected to increase Twitter video ad spending over the next year.
Some of Twitter's video ad formats include:
Promoted videos, which are videos that advertisers pay to put in front of people that normally wouldn't see them.
In-stream video ads, which are short ads that appear before a publisher's video clip.
Video sponsorships, where Twitter sells spots to publishers for its lineup of live shows (such as the live stream of Major League baseball games).
The impact of these forms of advertising is backed up with hard Twitter stats. It turns out that users who watch promoted videos are 28% more likely to purchase from the brand.
Volumes of Twitter Video
Tweets with images are 150% more likely to be retweeted, but video content is where it is at. As if the Twitter ad stats weren't convincing enough, it turns out that Tweets with videos get six times more retweets than photos and three times more retweets than GIFs.
Tweets with video have increased by over 50% since 2016, with 41% of Twitter users preferring Twitter as a way to discover video content. Although not as aggressive as Facebook or Instagram when it comes to video, there have been more than 1,300 live streamed events on Twitter and more than 30 live partnerships—a majority of which involved live streaming.
Figuring out Twitter Finances
Twitter's 2018 Q2 earnings report shows that the company earned a net income of $100 million in the last quarter, up from $61 million in the first quarter. This is the third straight quarter in which Twitter has posted a positive income.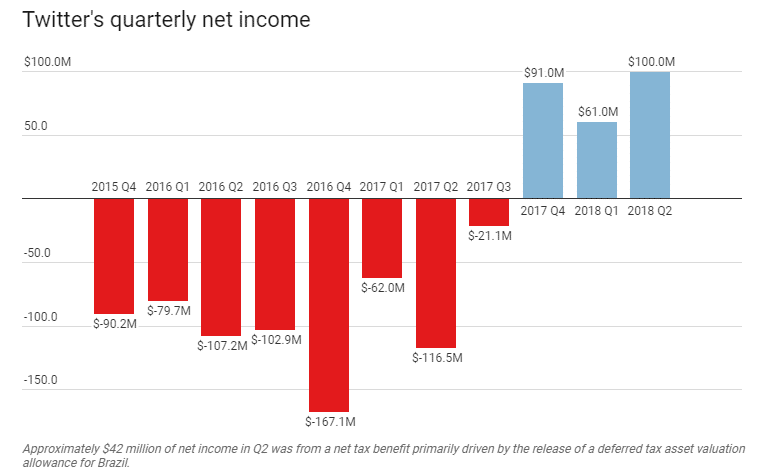 Twitter's revenue grew by 24% year-over-year, earning $711 million in Q2 2018, with $601 million coming from advertising. About half of this came from the company's total US revenue, which was at $367 million, an increase of 10%, with US revenue from advertising sitting at about $293 million.
Summary
When it comes to important and interesting Twitter stats, there are some that are just too crazy not to mention, such as the fact that Katy Perry (@katyperry) has the most Twitter followers at 107 million. She was also the first person to reach 100 million Twitter followers.
Joining her on the podium are Justin Bieber (@justinbieber) with 104 million followers and former US President Barack Obama (@BarackObama) at 102 million. President Trump pulls in with 53.8 million followers.
Though not the top dog when it comes to most followers, Obama is credited with the most liked Tweet, which is a quote from Nelson Mandela. It has 4.5 million likes.
"No one is born hating another person because of the color of his skin or his background or his religion…" pic.twitter.com/InZ58zkoAm

— Barack Obama (@BarackObama) August 13, 2017
Now, the most retweeted tweet comes from left field, well, it actually came from Twitter user Carter Wilkerson (@carterjwm), who asked Wendy's Twitter account how many retweets he'd need to get free chicken nuggets.
HELP ME PLEASE. A MAN NEEDS HIS NUGGS pic.twitter.com/4SrfHmEMo3

— Carter Wilkerson (@carterjwm) April 6, 2017
The answer: 18 million retweets. He didn't reach 18 million, but he got help from Twitter users to bag 3.6 million. Those retweets landed him a guest spot on Ellen and in a Katy Perry music video, as well as a year's supply of chicken nuggets.
There are the golden nuggets of Twitter stats buried on the internet, so if you didn't see your favorite Twitter statistic, share it in the comment section below!