A WordPress tag is one of the default tools you can use categorize your WordPress posts. Each post can contain multiple tags and visitors can click on a tag to find similar posts that have that same tag.
Unlike WordPress categories, tags are completely optional. That is, you're free to add WordPress tags to your post, but you can also publish a post without tags. The choice is yours!
In this article, we'll dig more into WordPress tags, covering topics like:
WordPress Tags vs Categories: What's The Difference?
On a technical level, both tags and categories are types of taxonomies. A taxonomy is just a fancy word for a way to group things together (like your WordPress posts).
Beyond the fact that every WordPress post needs a category, while tags are optional, here's the main difference between tags vs categories:
Categories are hierarchical, while tags are not hierarchical. Basically, this means that you can have a parent category with child subcategories. But with tags, there are never any parent/child relationships – each tag is a 100% standalone entity.
While categories should be broad topics that apply to many different posts, tags are usually more specific and unique to the actual content in that post.
For example, say you wrote a post about Michael Jordan, the famous Chicago Bulls basketball player. Here's an example of how you might set up the tags and categories:
Category: Basketball (broad)
Tags: Michael Jordan, Chicago Bulls (narrow and specific to the post)
How To Add Tags In WordPress
WordPress gives you two easy ways to add tags to your site.
First, when you're writing a new blog post or editing an existing blog post, you can always quickly add new tags using the Tags box on the right side of your screen: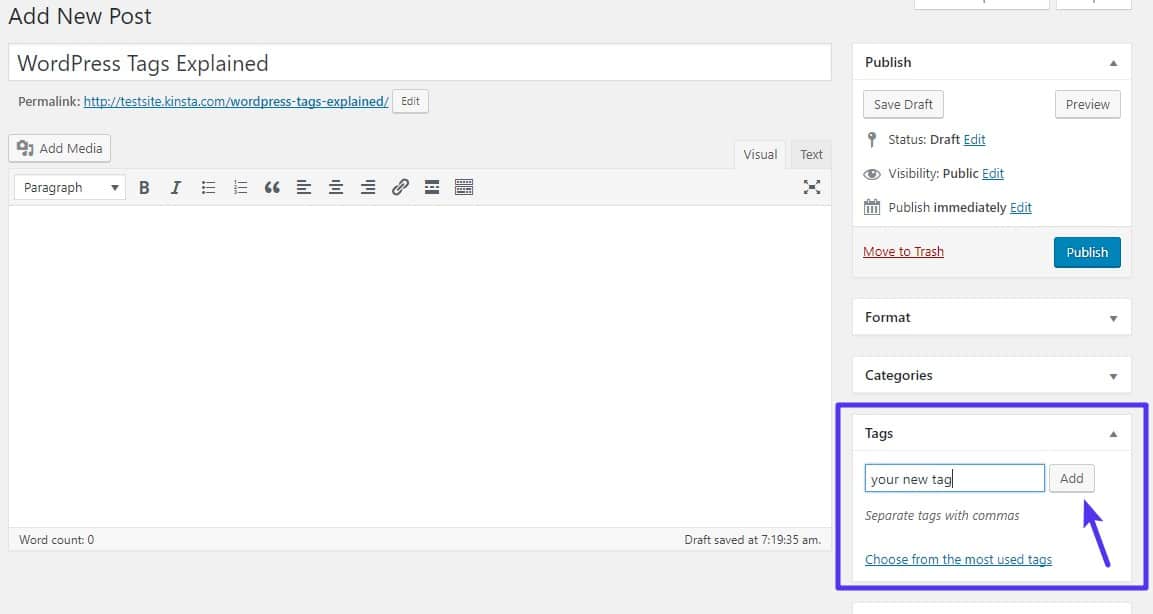 Second, you can also directly add tags by going to Posts → Tags. In this interface, you can both add new tags and manage the existing tags used on your site: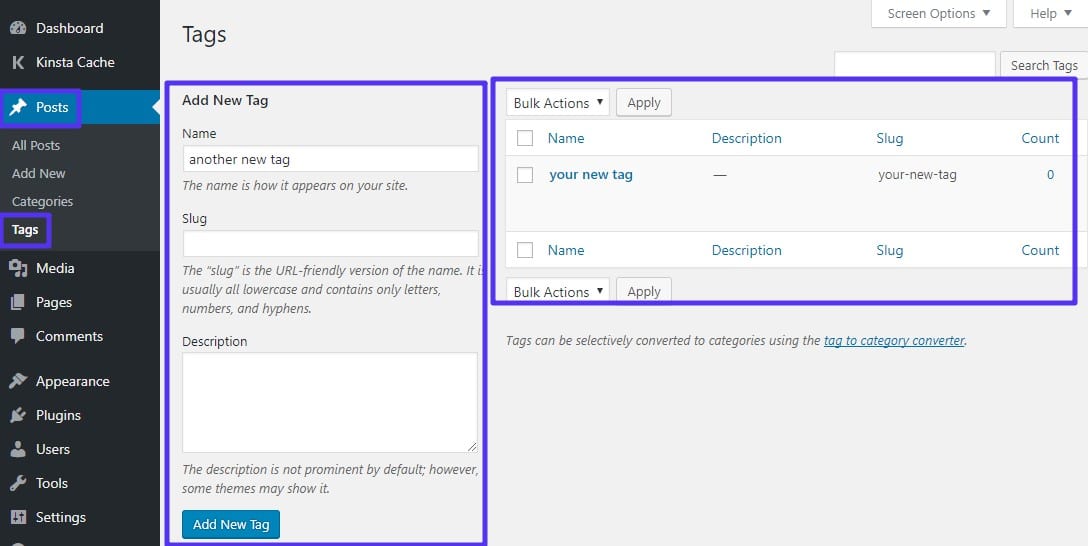 This second interface is helpful because, in addition to simply adding a new tag, you can also set or edit each tag's URL slug.
How To Display Tags On Your WordPress Site
Most WordPress themes will automatically display the tags assigned to a post as part of the post's metadata. Usually, these tags will be shown at either the beginning or end of the post.
If desired, though, you can also use a WordPress widget to easily display all of the tags that you've used on your site as part of something called a tag cloud.
A tag cloud is basically a big list of the tags used on your site, oftentimes with more frequently used tags marked by larger text (though the exact styling depends on your specific theme). You can see an example of a tag cloud below:

To add a similar tag cloud to your WordPress site:
Go to Appearance → Widgets
Drag over the Tag Cloud widget from the Available Widgets area to the location where you want it to display
Give it an optional title and choose whether or not to show the actual number count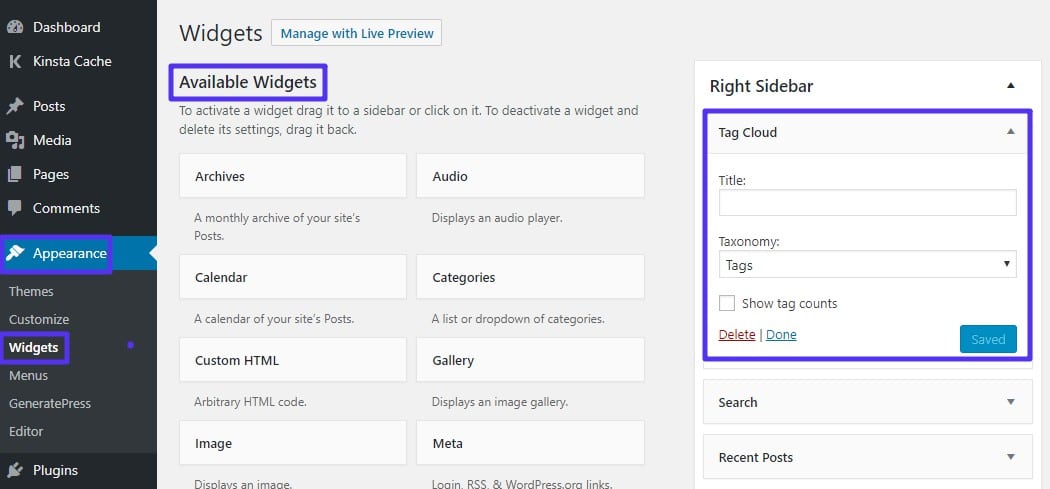 WordPress Tags SEO Best Practices
While WordPress tags are often helpful from a usability perspective, there are some SEO best practices to follow to ensure that your use of tags doesn't have any negative effect on your site's search engine optimization (SEO).
By default, each tag that you use creates a separate archive page that lists all the posts using that tag.
That's good for humans because they can easily find similar content – but for search engine robots, it creates lots of low-quality duplicate content pages (because all your posts are also listed on your main blog archive page, as well as each post's individual URL).
Rather than wasting Google's time with these tag archive pages, a better approach is to use the noindex directive to tell Google not to bother indexing your tag archives in the first place.
How To Noindex WordPress Tag Archives In Yoast SEO
The easiest way to noindex WordPress tag archive pages is via the free Yoast SEO plugin.
Assuming you already have the plugin installed and activated, here's how to do it.
First, you need to enable the advanced settings pages:
Click on the SEO link in your WordPress dashboard sidebar
Go to the Features tab
Enable Advanced settings pages
Save your changes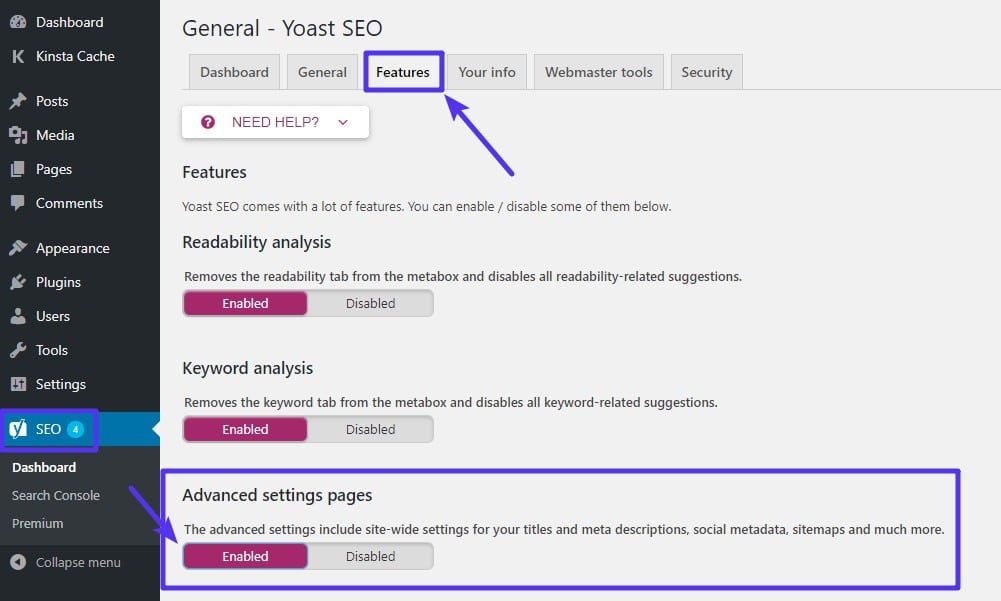 Then:
Go to SEO → Titles & Metas
Click on the Taxonomies tab
Find the Tags section
Choose noindex under Meta Robots
Save your changes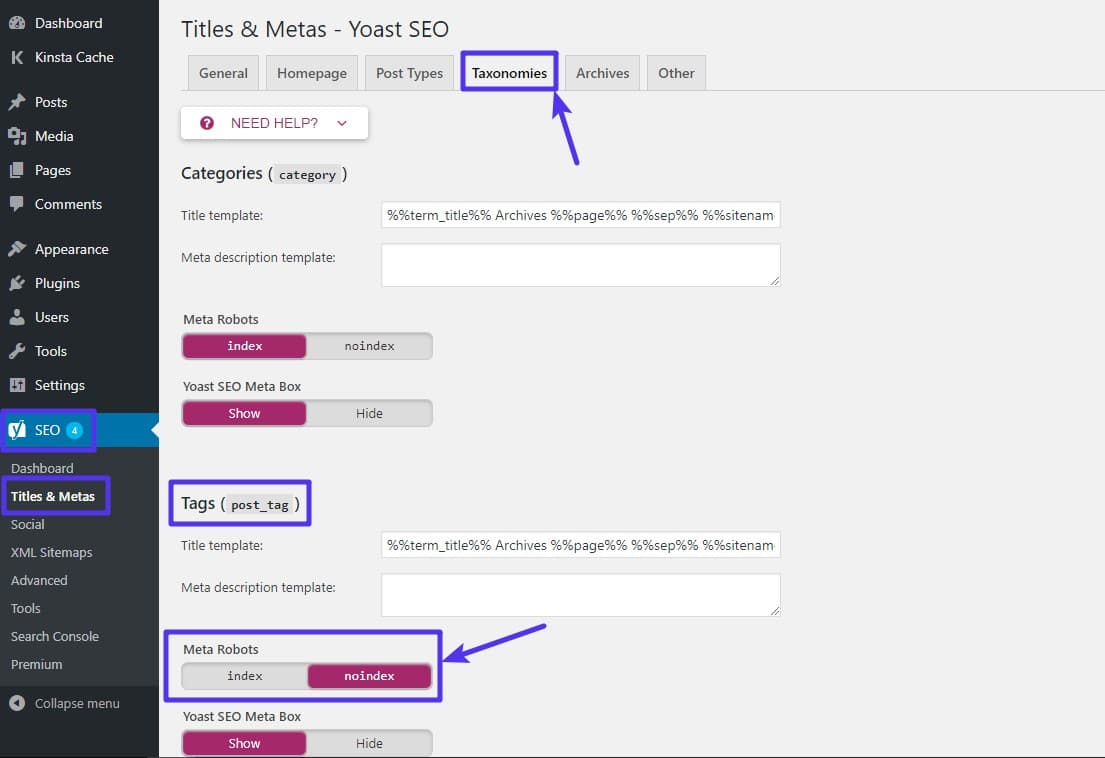 Now, your tag archive pages will still function regularly for humans, but Google and other search engines won't index your tag archive pages and create duplicate content.
Other Helpful Uses For WordPress Tags
Beyond front-facing usability, you can also use WordPress tags in creative ways with certain WordPress plugins.
For example, here at Kinsta we use the Easy Social Share Buttons for WordPress plugin to help visitors share our posts.
With this social media plugin, we can make it so that if a visitor clicks the button to share one of our posts on Twitter, Easy Social Share Buttons will automatically pre-populate the Tweet with hashtags based on the tags used on the post.
So even though we don't display tags publicly on the Kinsta blog, we still use them behind the scenes to help fine-tune our social media sharing strategy.
Depending on the specific plugins that you're using, you might be similarly able to get double-duty from your WordPress tags.
And that wraps up our explanation of WordPress tags!