Providing great support is much more than answering questions we receive. It's about walking in our customers' shoes and providing actionable information to get issues fixed. It's proactively helping people whose business website is experiencing an issue. It's about turning unknowns into resourceful opportunities and actively suggesting what the best course of action could be.
At Kinsta, we take support seriously. Our support staff, available 24/7/365 and in different languages, is made up of WordPress experts, developers, and engineers who help you regardless of how tech-savvy you are.
But this description paints only half of the picture here as there can't be top-notch support without thorough documentation. And that's where things are changing… starting today!
Introducing Kinsta's Help Center
At Kinsta, we're on a mission to share in-depth documentation with the world in the form of blog posts, knowledgebase articles, videos, ebooks, webinars, just to name a few.
With the abundance of such information spread around different formats and channels, though, we had to revisit the way we're curating it to always make sure Kinsta customers are able to find answers easily. Specifically, we had different teams (Support, Content, UX, Website Development) joining efforts to re-think our approach and work on a more efficient solution that makes information retrieval and search easily accessible for customers.
The result is Kinsta's Help Center: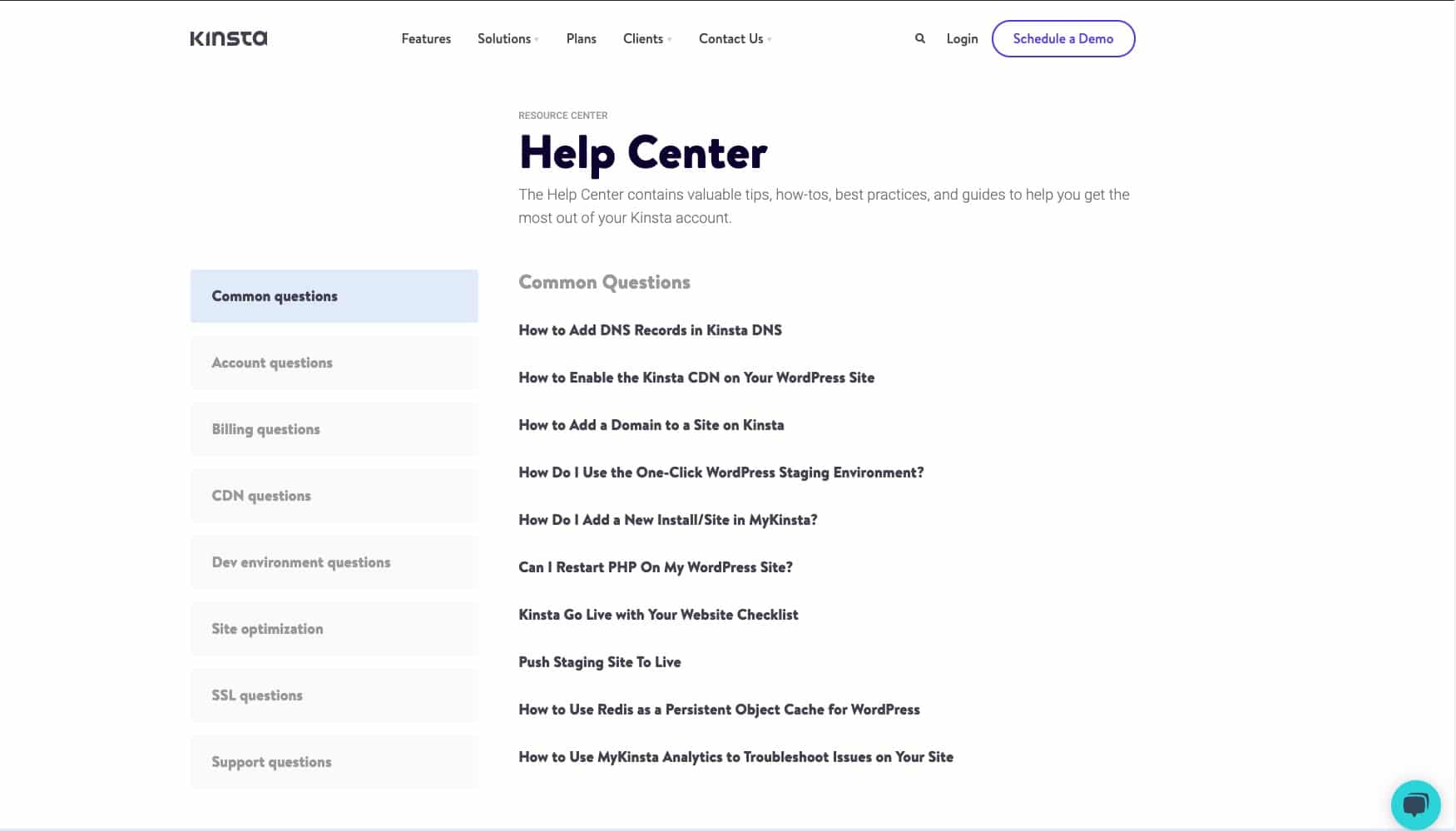 What Is the Help Center?
We're always looking for ways to provide better and easy-to-find documentation to customers. In the past, most of the documentation answering specific Kinsta-related questions was living in our Knowledge Base. In some cases, finding the correct answers required longer than it should to Kinsta customers.
With that in mind, we launched Kinsta's Help Center, a new section of the website that hosts all specific answers and technical information important for Kinsta customers. In it, you'll find answers to questions related to development, billing, features, and more, such as:
How Can I Access the Help Center?
The Help Center is a public repository of technical documentation that anyone is able to access and browse through at kinsta.com/help/. You can also find a direct link to it in our footer.
For Kinsta customers, who are the main audience this section is targeting, the Help Center is also accessible directly from the top-right corner of MyKinsta:

Once clicked, the Help Center will open up for you: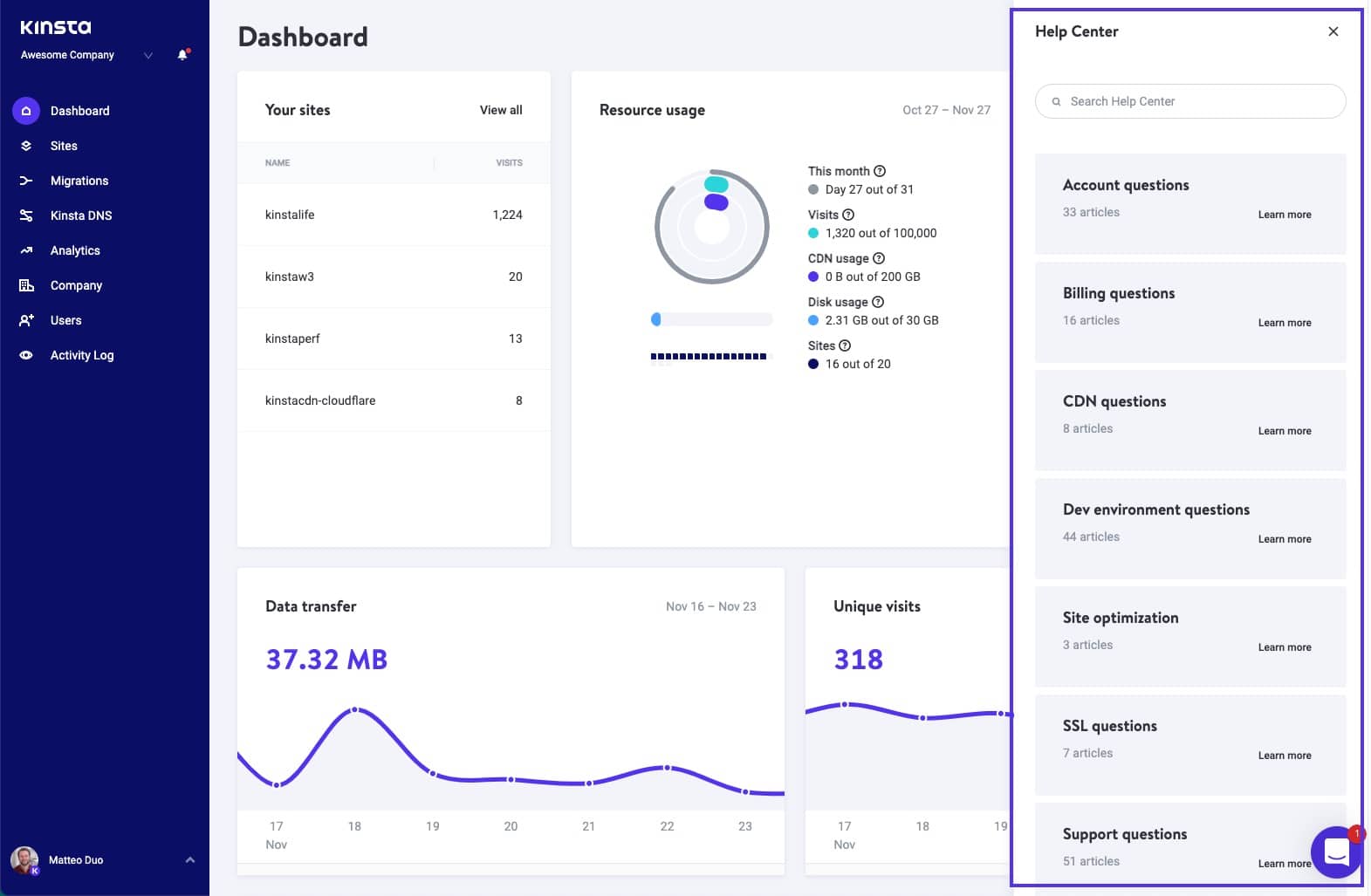 How Is the Help Center Different From Knowledge Base and the Blog?
The Help Center is an additional section of the website that enriches Kinsta's documentation and editorial publication by providing to-the-point answers for Kinsta-specific queries. Thanks to it, Kinsta customers can gather such information faster and without the need to read through long articles.
From a bird's eye view, here's how the three operate and support each other:
Help Center: it curates and houses all documentation related to Kinsta hosting. If you're a Kinsta customer and are looking for specific answers related to billings, accounts, features, other support questions, and many more, the Help Center will be your best friend.
Knowledge Base and the Kinsta blog: there are scenarios in which a question or topic requires "more" than a to-the-point answer and need also to take into account different perspectives (Kinsta customer vs non-Kinsta customers). That's where the Knowledge Base and the Kinsta blog come into play: in them, everyone interested in WordPress, development, SEO, tech tips, how-to's, and more have the opportunity to dig deeper, regardless of them being customers.
Summary
With dedicated sections on our website targeting different use cases and readers, we're on a mission for removing as many frictions as possible that sit between a problem and its resolution. When looking for answers to your queries, make sure to check out the Help Center!
To keep up with the latest news and updates from Kinsta, don't forget to subscribe to our newsletter.