WordPress Hosting for Agencies Made Simple
Reliable Managed WordPress Hosting and an Agency Partner Program that helps you focus on your core business, control costs, and make it easier to manage your clients' sites. Find out why Kinsta offers the best WordPress Hosting for agencies.
Speed
Rest assured your clients' sites will run blazing fast. Each runs on Google Cloud Platform's highest CPU machines on their fastest and most reliable Premium Tier Network. Plus, choose from 35+ data centers with 260+ CDN PoPs.
Containers
Don't overpay for dedicated servers that force your clients to share resources. With our hosting plans each site runs inside it's own isolated container with dedicated resources. Better performance and uptime with cost efficiency!
Security
Your clients' sites are safe. Protected by enterprise Cloudflare DDoS protection and web application firewall. You're backed by our Malware Security Pledge: we fix hacks for free. Plus, every site you migrate to Kinsta will get a free malware cleaning.
Uptime
Don't worry about your client sites staying live. We will. We monitor sites every 2 minutes. If there's a problem, we're on it. Traffic spikes or problems on one site won't affect others. Each site is isolated, optimized, and separately cached.
Busywork or Building More Business?
Reduce time spent on maintenance and management and focus on developing new experiences for your clients with our automated systems. Migrate all your clients' websites for free. Plus, our team of experienced WordPress migration experts will do all the heavy lifting. Find out how our WordPress Hosting for agencies can save you time and money!
See Why Motto.ca Trusts Kinsta to Host Their 100+ Client Sites
Kinsta's platform and staff really feel like an extension of our own team.
Motto is a Montreal-based web agency that focuses on building and managing sites for all types of clients.
Easily Manage Client Sites at Scale With MyKinsta
Manage your sites with MyKinsta, which gives you simplified access to advanced customization and optimization tools—loved by busy business owners and advanced developers alike. 
Plans
All Agency plans include enterprise-level features and integrations to keep your clients' sites fast, secure, and efficient.
Agency 1

$227

USD

month

billed annually

WordPress Installs

20 WordPress installs

Monthly Visits

400,000 visits

Storage Space

50GB Storage

PHP Workers

6 PHP workers/site

Free CDN

800GB CDN

Agency 2

$300

USD

month

billed annually

WordPress Installs

40 WordPress installs

Monthly Visits

600,000 visits

Storage Space

100GB Storage

PHP Workers

6 PHP workers/site

Free CDN

1,200GB CDN

Agency 3

$450

USD

month

billed annually

WordPress Installs

60 WordPress installs

Monthly Visits

1,000,000 visits

Storage Space

150GB Storage

PHP Workers

8 PHP workers/site

Free CDN

2,000GB CDN
All Taken Care Of
We don't just take care of hosting. We provide perks and tools to help you grow your business.
Agency Directory
Get additional visibility and client inquiries by listing on our Agency Directory. Build trust with your clients by displaying a partnership badge on your website.
Free Hosting for Your Site
Your agency site is hosted for free. You'll get the same high-performance and secure hosting we provide to your clients, plus you'll know your way around.
White Label
Easily resell our hosting to your client by removing Kinsta branding from the WordPress admin. 
Early Access
Get early access to Beta tools. Test them out and give feedback to have a direct influence on your toolset.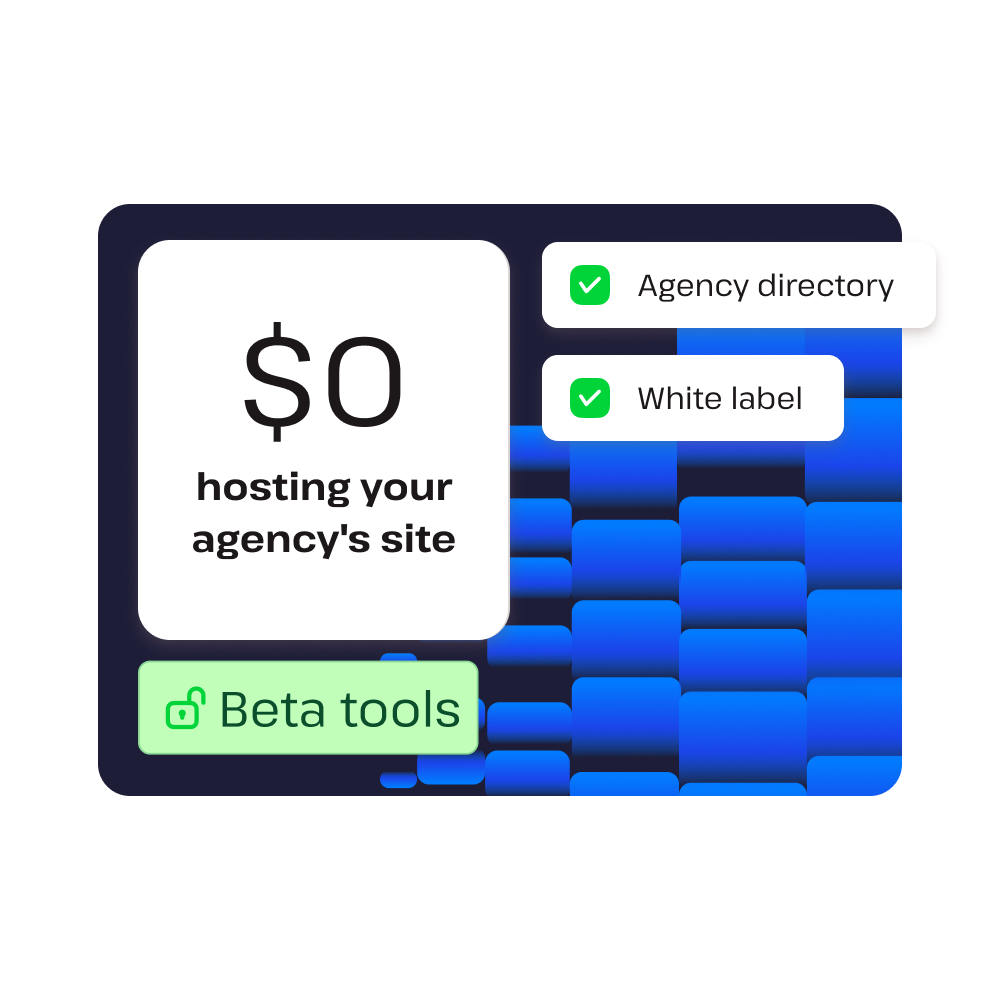 Trusted and Certified
Your clients are safe. Kinsta is a SOC-2 Type II compliant organization. We also comply with GDPR and CCPR privacy standards. See our security and trust report.
Are You Holiday-ready?
Prepare yourself and your clients for holiday traffic spikes. Get your first month of client site hosting on us when you sign up for any Agency plan. Avoid paying for two hosts while you migrate your sites to Kinsta with our special onboarding discount.
If you select annual billing, that's 3 free months of Kinsta hosting.
Promotion ends December 31, 2023, one-time offer for new Kinsta customers only.
Save $290+ Per Month Per Site
Without Kinsta, you'll need to pay for these add-ons for each site to get the same level of performance and security we provide.
Kinsta
Monthly Cost Without Kinsta
Cloudflare Enterprise

Included

$250+
Cloudflare
CDN

Included

$8.99
Rocket CDN
Advanced Caching

Included

$4
WP Rocket
Backups

Included

$7.41
BlogVault
Migrations

Included

$5.83
UpdraftPlus Premium
Uptime Monitoring

Included

$10
Pingdom
SSL Certificates

Included

$4
SSL.com
Free
Total $290+
per month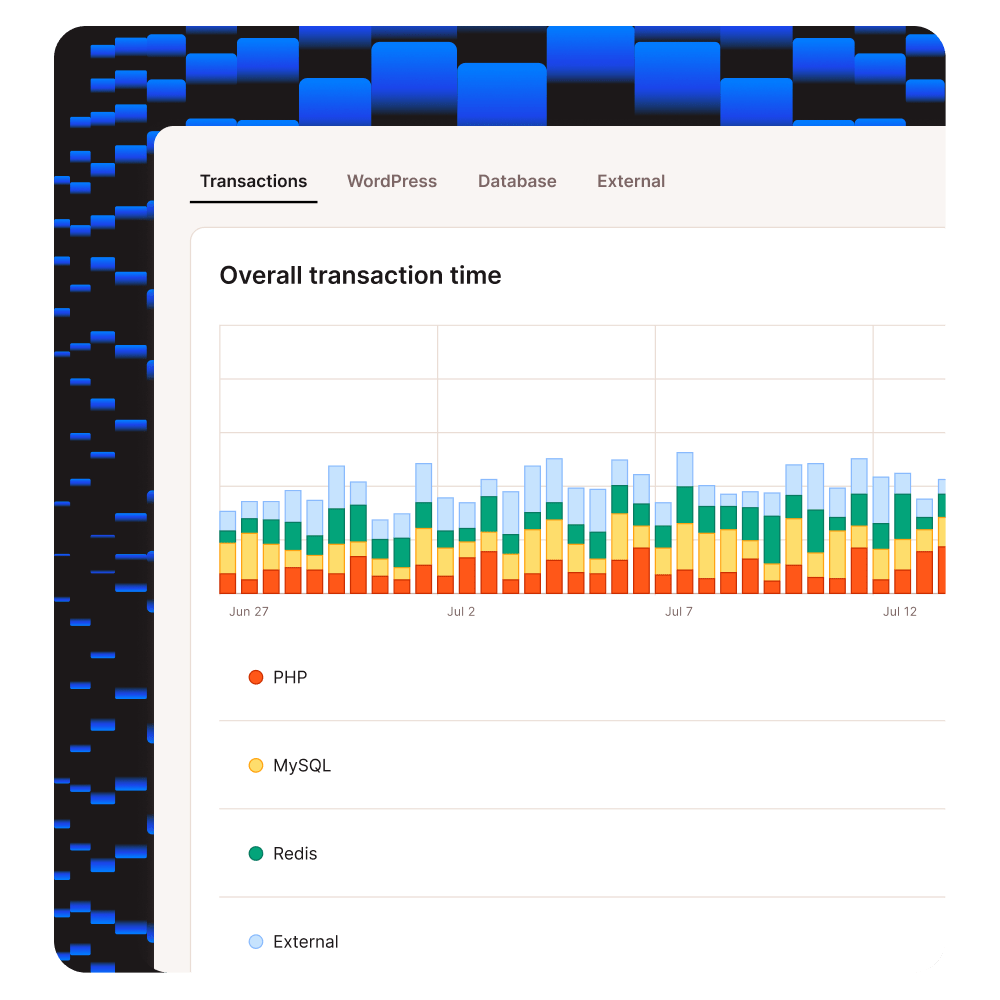 Debug and Speed Up Client Sites With Our Free APM
Only Kinsta provides a free Application Performance Monitoring tool. All from within MyKinsta, enable it on any client site to find slowdowns and bottlenecks. Make the fixes and wow your clients.
Develop Locally With Our Free Integrated App
DevKinsta is our simple and powerful local development tool. It's been downloaded by 51,800+ developers, designers, and freelancers. Create one-click sites with PHP version switching, database manager, local email testing, and SSL support. Build faster on your local desktop or laptop! Deploy changes to staging or production with just a click.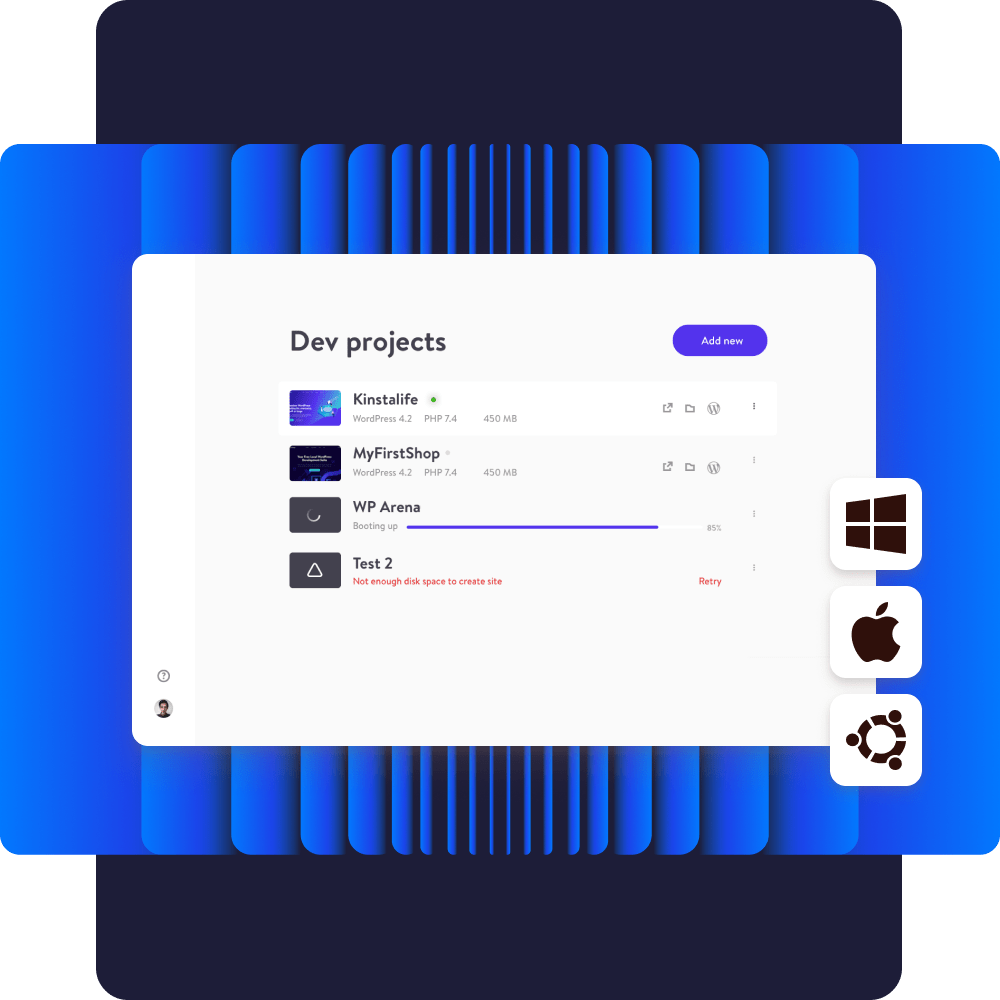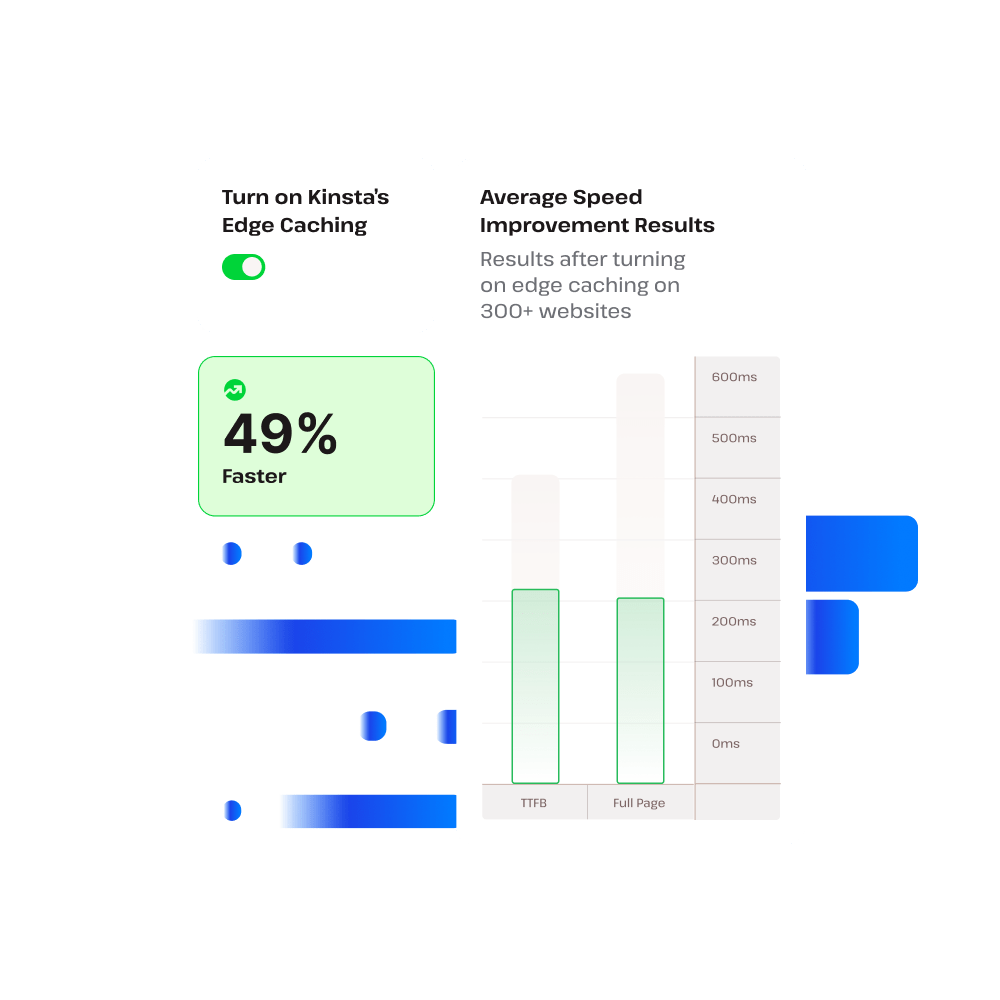 49% Faster Edge Caching
With just one click within MyKinsta, you can speed up your client's site by up to 49%. Enable Edge Caching to serve up the static HTML parts of your webpage from one of 275+ data centers closer to your users. It makes your site faster no matter where in the world they are.
Is Your Site Ready for the Holidays?
Find out fast. Our experts will run a free performance audit of your website and share the results within one business day or less.
24/7/365 Support From Kinsta Experts
Get technical support from Kinsta experts in less than two minutes. No ticket system or tiered support. Only useful and in real-time replies.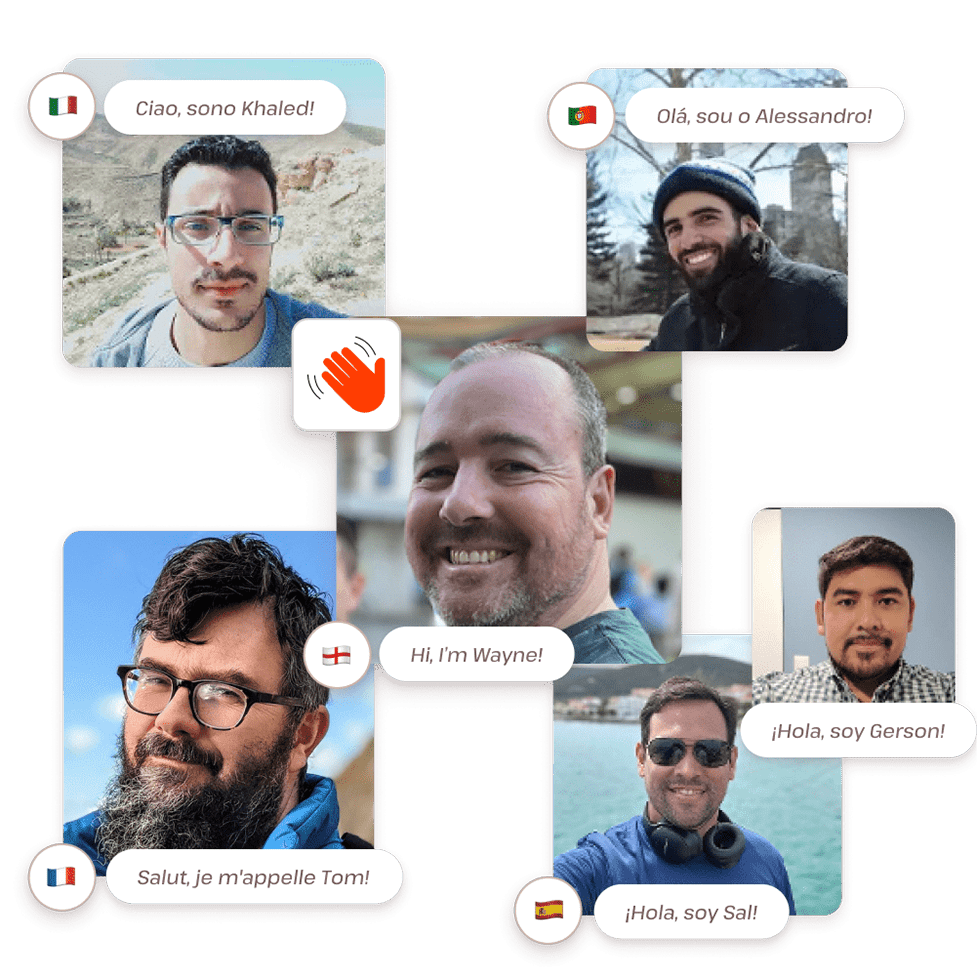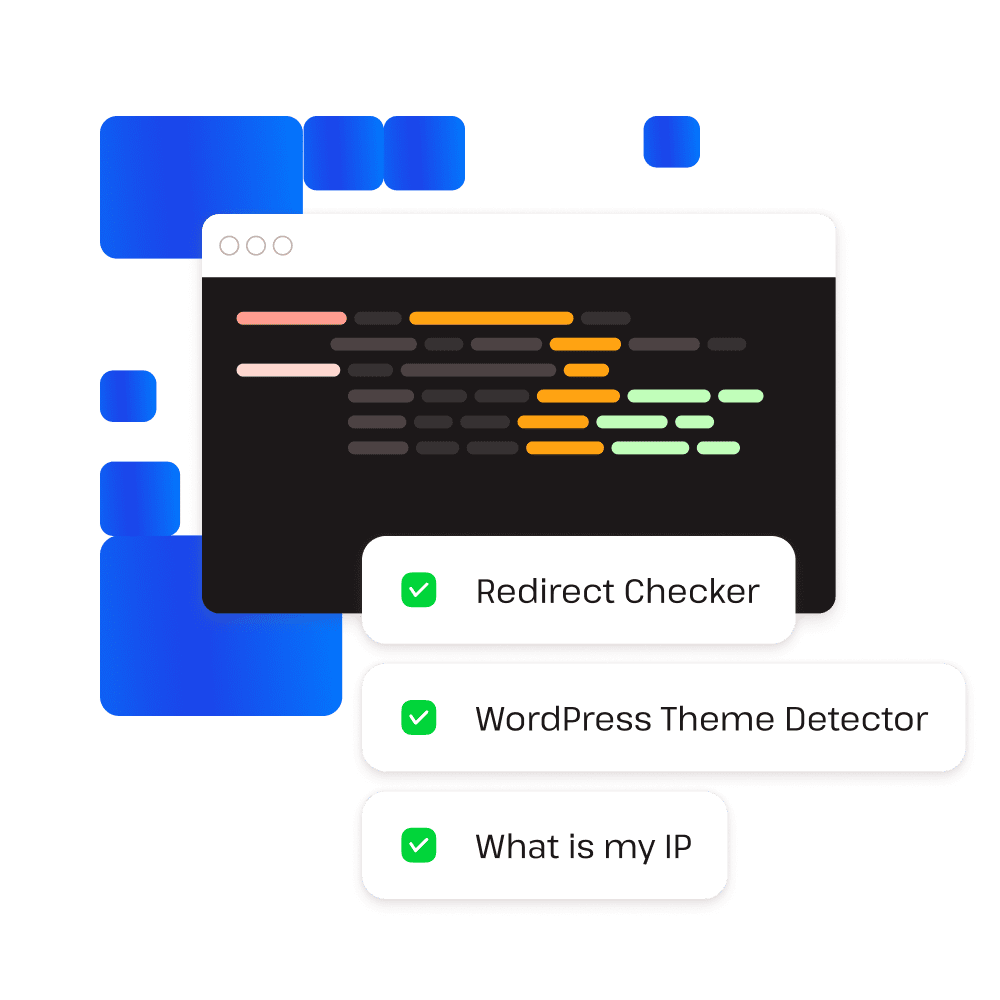 Get the Tools Your Developers Want and Need
One-click cloning
SSH and WP-CLI
Git integration
Redirects
Sage
Self-healing PHP
IP Geolocation blocking
Kinsta API
ionCuber loader
Redis (add-on)
Bedrock and Trellis
Kinsta APM
Disk space add-on
PHP version switching
Kinsta API
If you manage a lot of sites you'll love our open REST API. As you scale your client base, you'll scale your efficiency.
Create automations and workflows
Creating new sites
Gathering site data for monitoring or maintenance
Automate cache clearing or restarting PHP
Thousands of 5-Star Reviews and Counting
Customers love us for our commitment to cutting-edge technology, improving the developer experience, and expert support.
Kinsta provides an amazing service, with a simple control panel and top performance. Their support is even more amazing, always available, and fast at fixing any issue.
Kinsta is a fast and reliable host that resolves issues as quickly as they arise. Demand for our product and content grew to the point where our former host was cratering under the pressure; after serving one too many 5XX errors, we moved over to Kinsta, and the rest was history. Kinsta support deserves a special shoutout, as they're available 24/7 and go above and beyond to ensure our satisfaction.
If I'm talking with another developer and they want recommendations on WordPress hosting, Kinsta hands down. It'll save you headaches and all sorts of issues and your clients will be super happy so it's a no brainer.
Two months after making the switch to Kinsta, we saw a dramatic decrease in the utilization of employees. We saved 2 hours per day per helpdesk employee on time lost to administrative tasks. With our current staffing, that is the equivalent of hiring another full-time employee. We never understood how good tools and proper hosting organization could affect our average time spent on what was most important: our customers!
Kinsta have also done a great deal of work to make their control panel and domain management interface very easy to navigate and simple to manage. All of our future WP sites will be hosted on Kinsta.
As a small entrepreneur depending on online sales, managing a website can be daunting. Knowing that for any question I can reach out to Kinsta's support team (always there, always helpful and that I can fully trust) makes running my business so much easier. This must be the best support service I ever experienced with online services' providers.
FAQ
Do you offer hosting for a single high-resource site?

Absolutely. Our single-site plans are geared toward those who need hosting for a single WordPress installation that requires more resources than the average site.
How does white labeling work?

By default, there are two spots on the WP admin screen that mention Kinsta.

The Kinsta Cache left-menu item
In the footer it says ' Thanks for creating with WordPress and hosting with Kinsta.'

You can remove these by adding a line to your wp-config.php file. Here's how.
Should I become a Kinsta Affiliate or use a Kinsta Agency Plan for all my client sites?

You can do either one or both!

With the Affiliate model you refer your clients to Kinsta and earn a commission. You won't,  however, have any control or access to their account, unless your client gives it to you.

With the Agency model, you fully control your client's hosting experience, including billing.

We understand that your different clients have different needs, so we let you choose. Learn more here.
Do you provide special agency offers for WordPress hosting?

Our agency offer includes unlimited free migrations, free hosting for your agency site on a Pro plan, and a white-labeled Clear Cache plugin. Plus, for a limited time, sign up and get the equivalent of your first month of client site hosting on us. (If you select annual billing, that's 3 free months!)
Is Kinsta hosting designed for WooCommerce shops?

Absolutely! The top WooCommerce shops choose Kinsta and reap the benefits of hosting their shops on top-performing and highly secure infrastructure. Learn about our WooCommerce hosting.
Do you provide custom plans?

Can't find a standard plan that fits your needs? Reach out to the Sales team here at Kinsta to have a custom plan created to fit your needs. Contact sales to find the right plan for you.
Can I try Kinsta Managed WordPress Hosting for free?

Pretty much. Take advantage of our free migrations to move to Kinsta without any hassle, and if you're not happy with the service, you can be refunded thanks to our 30-day money-back guarantee.
Talk With Us
Are you ready for holiday traffic spikes? Be sure. Get in touch with our experts to discuss your hosting needs. We'll help you choose or customize a plan that's ready for anything.
Recommended Resources
Looking for ways to make your WooCommerce faster? Learn 18 powerful ways to speed up your WooCommerce store (frontend + backend) with this in-depth…
WordPress security should never be neglected. Read this step-by-step guide on security to make sure your clients' sites are safe. And your business…
Download our free ebook to gain insights on streamlining tasks, using efficient tools, and choosing the right technology partners for your WordPres…