AWS Market Share: Revenue, Growth & Competition (2023)
Amazon Web Services (AWS) was founded back in 2006 and was the first company to offer modern cloud infrastructure as a service. Since its launch, AWS has become a staple for both hosting and data storage in particular.
What is AWS?
Amazon Web Services (AWS) is a cloud service provider that uses Amazon's own infrastructure and experience. Rather than a division of the company, like Microsoft's Azure, AWS is a subsidiary company of Amazon.
AWS offers a wide range of cloud services, from basic hosting and deployment to analytics, blockchain, machine learning, and more.
All the storage and computing resources come from a distributed network of data centers spread across the globe, to facilitate less latency and a better experience for your end-users.
AWS offers a hosting and storage service called Amazon Simple Storage Service, more commonly known as Amazon S3, as well as elastic block storage, and more.
There are Over 9 Million Live Websites Using AWS
Just a few percent of the web hosting market is a big deal. To further illustrate exactly how big, we're going to look at the live number websites currently hosted by AWS.
According to BuilWith's latest data, an estimated 9,054,410 live websites are hosted by AWS.
9 million. That's more than the entire population of Switzerland.
AWS is the hosting service provider of choice for a lot of global enterprises and well-known companies, including Netflix, Facebook, and the BBC.
Because of data-intensive video, Netflix alone uses over 100,000 server instances for its storage and computing needs. Many leading companies use AWS to host their websites and data.
With 34% market share among cloud hosting providers in the top 100k, Amazon owns the bigger piece of the visible internet out of the big three.
Google Cloud comes in at 13% and Microsoft Azure clocks in at just 7%, a share that's over 4 times smaller than AWS.
But of course, the IaaS market isn't just about web hosting either. In a survey, 61% of technical professionals said they were currently running a cloud app with AWS. Amazon's platform as a service (PaaS) products for deployment are also the market leader.
Will AWS Keep Growing its Share of the Cloud Market?
First, let's take a look at the expected growth rate in the public cloud market in general. According to expert analysts at Gartner, total public cloud revenues will grow from $227.8 billion in 2019 to $354.6 billion in 2022.
IaaS is forecasted to explode with an impressive 24% YoY growth rate. Together, IaaS and PaaS markets are expected to grow by more than $58 billion in revenue over the coming years.
Next, let's take a look at AWS's growth rate. AWS had an explosive growth rate early on but has started to slow down.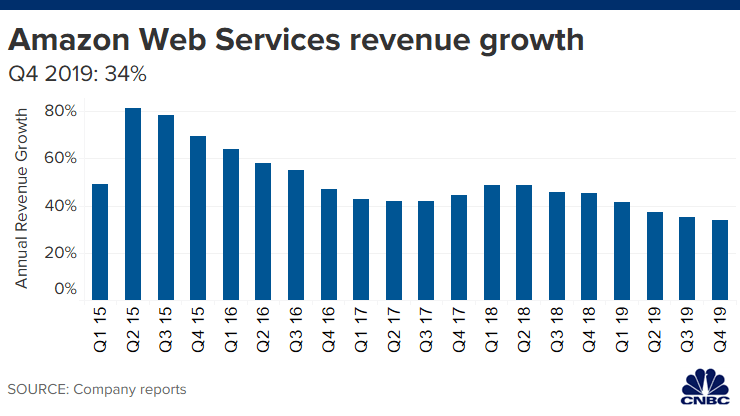 As you can see, 2019 is the first year the growth rate has dipped beneath 40% in over 5 years, and it remained below 40% consistently for quarters two, three, and four. 
According to data from Synergy Research Group, AWS is already starting to slow down compared to the overall market, while major competitors like Microsoft, Google, Alibaba, and Tencent are still growing faster and increasing their market share in the process.
For example,  Microsoft Azure has established itself as one of the market leaders, by clocking in at 62% YoY growth Q4 2019, far above the average growth rate.
The other cloud solutions have matured while AWS is no longer the clear-cut innovator and market leader anymore. 
Plus, many large enterprises don't seem to like the idea of being solely reliant on a single cloud provider. That has led to the partial migration of some of AWS's highest caliber clients, like Apple moving $400-600 million of cloud spending to Google Cloud Platform.
All in all, it seems likely that AWS will continue to grow at a sustainable rate, but lose market share as the pie grows to competitors that are growing at a faster clip, like Azure or Google.
AWS vs. Google Cloud Platform
So far, we've covered AWS's general market share in cloud computing and services, but we haven't looked at how they stack up against a competitor in particular. 
In this section, we'll do a deep dive into both AWS and the Google Cloud Platform, and see who comes out on top in different areas.
First, let's take a look at how they stack up against each other in web hosting market share according to W3Techs data.
Surprisingly, over the past year, both Amazon and Google have lost a tiny bit of market share. AWS dropped 0.1% to 5.8%, and Google dropped 0.2% to 3.2%.
But when you examine the BuiltWith data on live websites, the numbers are much closer:
At 9 million and 8 million websites a piece, they are head and shoulders above other IaaS providers like Microsoft, at only 767,602 sites.
When it comes to the complete cloud revenue from IaaS, PaaS, and private cloud services, AWS has a much larger advantage over Google in terms of market share. 
Their revenues reflect this. AWS hit a $40 billion annual run rate earlier this year and Google Cloud Platform just hit a $10 billion annual run rate.
Research from Synergy Research Group, confirms how big the gap between AWS and the competition still is.
In 2019, AWS had a 33% market share, Microsoft 16%, and Google was in third place with 8%.
But market share isn't everything. One of the most important factors when it comes to hosting and cloud services is reliability.
Google Cloud Platform and AWS are also industry leaders when it comes to uptime, with both only reporting a total of about 300 hours between May 2018 and May 2019.
On the surface, AWS was the slightly more reliable option, with 338 reported hours vs. Google GCP's 361.
Azure and Google Cloud couldn't be more different, with a difference of over 1,500 hours.
For more information, read our in-depth Google Cloud vs AWS comparison where we cover infrastructure, services, security, networks, latency, and more.
Want the Power of the Cloud Without Feeling Like a Sysadmin?
Google Cloud platform offers the most robust cloud hosting, with the least downtime, latency, and high performing virtual machines.
As a WordPress user, setting up a secure environment and efficient system in the cloud can be complicated.
Kinsta offers managed hosting powered by the Google Cloud Platform, with one-click WordPress and WooCommerce installations.
Get the best of both worlds – stable, scalable, fast, and secure hosting, and a user interface that's easy to use and customized for WordPress users.