Cloud computing has grown into a vast and complex ecosystem of technologies, products, and services. Giving rise to a multi-billion dollar economy where many cloud providers compete for an ever-expanding cloud market share.
As consumers, navigating and understanding this cloud ecosystem is increasingly difficult. Outside the industry giants – Amazon Web Services, Microsoft Azure, and Google Cloud Platform — the cloud market remains a mystery to many.
Today, we are going to take a deep dive and demystify the cloud market. We'll explain the different cloud services, identify the leading cloud providers, and explore their cloud market share.
We'll also help you to discover how and why enterprises are moving to the cloud, the associated benefits, and the costs involved.
Understanding the Three Main Types of Cloud Computing Services
Before exploring the cloud market and the cloud market share, first you must understand the three main types of cloud computing. Each type has its own distinct range of services and cloud providers that make up the market. The three main cloud computing types are:
Infrastructure as a Service (IaaS)
IaaS is an offering of cloud computing where the provider supplies you on-demand access to computing resources such as networking, storage, and servers. Within the providers' infrastructure, you run your own platforms and applications. This provides a flexible hardware resource that can scale depending on your storage and processing needs.
Platform as a Service (PaaS)
PaaS is an offering of cloud computing where the provider gives you access to a cloud environment in which to develop, manage, and host applications. You will have access to a range of tools through the platform to support testing and development.
The provider is responsible for the underlying infrastructure, security, operating systems, and backups.
Software as a Service (SaaS)
SaaS is an offering of cloud computing where the provider gives you access to their cloud-based software. Instead of installing the software application on your local device, you access the provider's application using the web or an API.
(Suggested reading: 7 Key Principles of SaaS Marketing).
Through the application, you store and analyze your own data. You don't have to invest time in installing, managing or upgrading software, this is all handled by the provider.
Within each of these service categories, you have the option of public, private, hybrid cloud solutions:
Private Cloud
A private cloud is where you host on your own data center or intranet. You own, manage, update and upgrade your own cloud ecosystem of server, networking, software, or platform resources. Protecting it all with your own firewall and security solutions.
Public Cloud
A public cloud is where the provider supplies you with access to their data center infrastructure. They are responsible for all management, maintenance, security, and upgrades.
Hybrid Cloud
A hybrid cloud is where you opt to use a mix of both public and private cloud solutions. You are responsible for managing how the two services interact,  especially the security of data passing between both public and private cloud setups.
An Overview of the Cloud Computing Market
The cloud computing market is huge. New data from the Synergy Research Group, across seven key cloud service and infrastructure market segments, operators, and vendors – reports revenues in excess of $150 billion for the first half of 2019. A 24% growth on the previous year.
As big as the cloud market has become, there is massive scope for expansion. Especially when you consider Gartner is projecting worldwide IT spending of $3.79 trillion in 2019.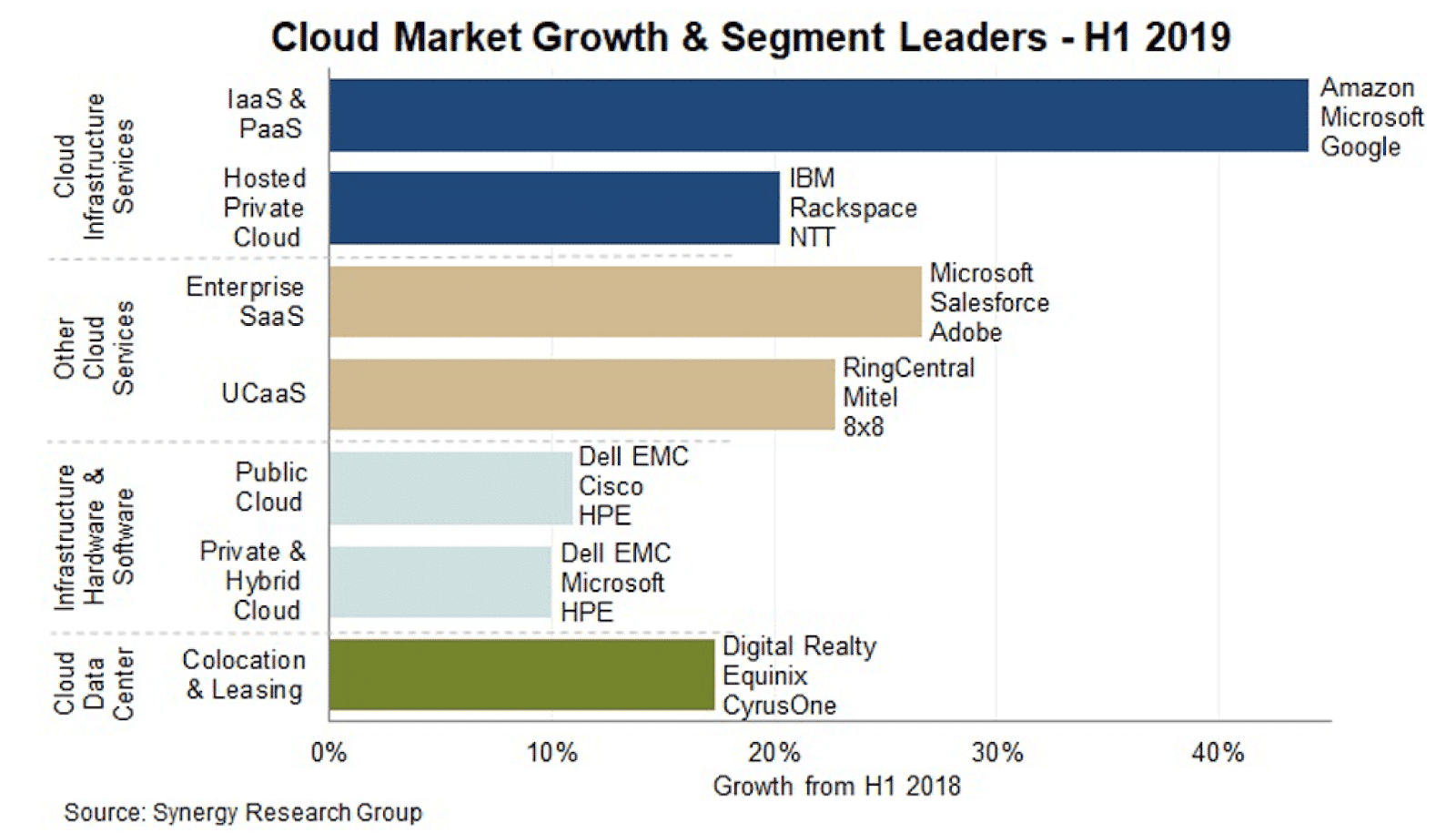 Taking a detailed look at the segments making up the cloud market, public cloud solutions make up the majority. This aligns closely with the RightScale 2019 State of Cloud report. According to which, 91% of businesses reported using a public cloud service, 72% opting for a private cloud solution, and 69% selecting a hybrid solution.
Based on projections from the IDC, worldwide spending on public cloud services and infrastructure is forecast to double over the next five years. It's not surprising when you think about how many benefits come with cloud computing. Growing from a $229 billion run rate in 2019 to almost $500 billion by 2023. Driven by a five-year compound annual growth rate (CAGR).
The IDC report identifies SaaS as the largest spending category, capturing more than half of all public cloud spending throughout the forecast period. IaaS is reported as the second largest spending category and is the fastest growing with a projected five-year CAGR of 32.0%. PaaS is the lowest spending category, with the second largest five-year CAGR of 29.9%.
For a more detailed look within the public cloud market we must turn to alternative research and reports.
A Deep Dive into the SaaS Public Cloud Market Share
Software as a Service is the most mature public cloud market, showing healthy growth. Recent data from the Synergy Research Group reports software vendors generating revenue in excess of $23 billion for Q1 2019.
Putting the market on an annual run rate in excess of $100 billion. The report highlights annual growth of almost 30%, correlating closely with the IDC's aforementioned Worldwide Public Cloud Services Spending Guide.
The SaaS market is dominated by five key vendors. Combined, these SaaS vendors account for 51% of the worldwide SaaS cloud market share.
Leading the way is Microsoft, with a 17% market share and impressive annual growth of 34%. Microsoft continues to gain market share, primarily due to its dominance in the high- growth collaboration segment.
Salesforce comes next with 12% SaaS market share and annual growth of 21%. Followed closely by Adobe, with a 10% SaaS market share and an annual growth of 29%. Next is SAP, closing on the vendors above thanks to a 6% SaaS market share and a 39% reported annual growth – highest of the top five vendors. Lastly is Oracle, also taking a 6% market share and reporting annual growth of 29%.
The next ten vendors account for another 26% of the SaaS market, with a reported 26% growth. These vendors include Cisco, Google, IBM, ServiceNow, and Workday.
Evolution of the SaaS Market
Despite the apparent maturity of the SaaS market, there is still huge scope for expansion. As the current SaaS market only accounts for approximately 20% of total enterprise software spending. With the majority of enterprise software spending still focussed on on-premise software solutions, SaaS vendors are turning to this market to entice businesses to a cloud setup.
In 2019, the SaaS vendor landscape is largely split into three camps – traditional enterprise software vendors, born-in-the-cloud vendors and large IT vendors looking to expand in the market:
Traditional enterprise software vendors
This camp includes the big names you would expect like Microsoft, SAP, Oracle and IBM. They have a huge base of existing on-premises consumers which they will be looking to convert to SaaS-based subscription models.
Born-in-the-cloud vendors
These relatively new companies are experiencing rapid expansion with higher growth rates. They include the likes of Zendesk, Workday, and Atlassian. What they lack however is the huge brand recognition of the Microsoft's of this world.
Large IT vendors
Making a play for the SaaS market, this group includes the likes of Google and Cisco. Carving a niche for themselves in the market with services like Google Workspace and Cisco's collaboration apps.
Exploring and Understanding the IaaS and PaaS Public Cloud Market
When it comes to getting an accurate picture of the IaaS and PaaS markets, things get a little tricky. Leading vendors in this space – including Amazon and Microsoft – often report combined IaaS and PaaS revenues.
Add to this a lack of transparency in their report breakdowns, and it's easy to see why getting a true picture of the market is so challenging. Thankfully, reports from leading research agencies – like Gartner and IDC – help to give us some deeper insight.
Which Provider Has the Largest Market Share in Public Cloud Infrastructure?
The most recent data from Gartner on the worldwide Infrastructure as a Service market shows annual revenues of $32.4 billion. A 31.3% growth from $24.7 billion in 2017.
According to Gartner, the market is dominated by five vendors who account for nearly 80% of worldwide IaaS cloud market share in 2018. These vendors are Amazon (47.8%), Microsoft (15.5%), Alibaba (7.7%), Google (4.0%) and IBM (1.8%).
Table: Worldwide IaaS Public Cloud Services Market Share, 2017-2018 (Millions of U.S. Dollars)
Company
2018

Revenue

2018

Market Share (%)

2017

Revenue

2017

Market Share (%)

2018-2017

Growth (%)

Amazon
15,495
47.8
12,221
49.4
26.8
Microsoft
5,038
15.5
3,130
12.7
60.9
Alibaba
2,499
7.7
1,298
5.3
92.6
Google
1,314
4.0
820
3.3
60.2
IBM
577
1.8
463
1.9
24.7
Others
7,519
23.2
6,768
27.4
11.1
Total
32,441
100.0
24,699
100.0
31.3
Let's take a closer look at the top 5 public cloud infrastructure providers' infrastructure in 2019. Combining data from Gartner and the providers' respective revenue reports.
Amazon Web Services (AWS)
Owning almost half the world's public cloud infrastructure market, Amazon is the clear market leader. In 2018, Amazon reported revenues of $15.4 billion, a growth of 26.8% on the previous year. Carrying this dominance into 2019, Amazon reports Q1 and Q2 combined AWS revenue of $16.1 billion, a 39% growth from H1 2018.
Microsoft Azure
With a market share at 15.5%, Gartner estimates Azure annual revenues of $5 billion and a growth of 60.9% in 2018, boosting Azure market share. However, getting a true picture of Microsoft's public cloud infrastructure market share remains a mystery. As Microsoft continues to mask Azure revenue in a combined "commercial cloud business".
In 2019, Microsoft looks set to claim  AWS market share, reporting H1 YoY growth of 70% in Azure revenues. Overall, Microsoft's Q1 and Q2 combined commercial cloud business revenue is now reported to be $20.6 billion, a 40% growth on H1 2018.
Alibaba
Owning a 7.7% public cloud market share according to Gartner, Alibaba has annual revenues of $2.49 billion, and impressive growth of 92.6% in 2018. The Chinese ecommerce giant continues its impressive growth into 2019, reporting Q1 and Q2 combined revenues of $2.2 billion, a growth of 66%. This places the company's annual revenue run rate in excess of $4 billion.
Google Cloud Platform (GCP)
Google's Cloud Platform is estimated by Gartner to command a public cloud market share of 4%, with annual revenues of $1.3 billion and growth of 60% in 2018. This year could see the Google overtake Alibaba, with Google CEO Sundar Pichai reporting cloud service revenues on track for $8 billion. This needs to be taken with a pinch of salt as Google combines the GCP revenues with it's SaaS Google Workspace offering.
Make sure to check out our in-depth Google Cloud Platform Market Share guide to know more.
IBM
According to Gartner, IBM owns a 1.8% market share with annual revenues of $577 million and a growth of 24% in 2018. Renowned primarily for its hybrid cloud services, IBM is set to shake up the market in 2019 having acquired fellow IaaS provider Red Hat for $34 billion.
Understanding the Opportunity in the PaaS Market
In 2019, the PaaS market is forecast to generate in excess of $20 billion according to Gartner. A figure expected to double by 2022. The market continues to grow with more than 360 vendors and 550 cloud platform services across 22 categories.
Unlike IaaS and SaaS, the PaaS market is said to be near impossible to dominate. Incredibly, Gartner reports only 10 of the existing 360 PaaS vendors are able to offer 10 or more of the 22 services outlined in the report. Driving the majority of vendors to focus on a single fit-for-purpose PaaS offering over a multipurpose solution.
For those with the resources available, there is an opportunity to claim a majority in the PaaS market, by developing a multipurpose solution covering all 22 services. At present, there are only a handful of vendors able to compete in this space. Unsurprisingly, these mega-vendors include Amazon, SAP, Google, Oracle, Microsoft, Salesforce and IBM.
Why Businesses Are Moving to the Cloud
Every business's decision to move to the cloud is unique. However, there are some common reasons and natural evolutions which lead a company to make the transition. Let's take a look at the most common reasons that could lead your business to migrate a cloud-based ecosystem:
Added Benefits of Cloud
One of the most common reasons to make the transition is the wide range of benefits offered by cloud computing. Greater flexibility, scalability, and security are just a few of the more popular reasons. We'll cover these benefits in more detail in the next section.
End-of-life Events
All hardware and software products have a lifecycle. When a vendor announces an end-of-life event, it's an opportunity for you to consider alternative solutions. Increasingly, businesses are using these naturally occurring events to move from on-premises to cloud-based solutions.
Allowing you to decommission old licenses and hardware. Not to mention avoiding the security risk of running a solution following an end-of-life event.
Business Acquisitions
When companies merge, challenges often arise due to the incompatibility of the different applications and technology landscapes. Especially if you need to consider managing these landscapes across multiple on-premises data centers.
If you're in this situation, migrating these applications and technologies to the cloud might be the ideal solution. Offering a smoother transition with a consistent solution able to seamlessly accommodate new geographies and employees moving forward.
Contract Renewals
Many businesses have contracts with private data centers, hardware, and software providers that must be periodically renewed. Much like an end-of-life event, this presents you with an opportunity to reconsider how you deploy specific services and solutions.
Increasing cost bases and a range of other limiting factors present you the opportunity to make the transition to a more cost-effective cloud-based solution.
Compliance
Data compliance is the cornerstone of business operations if you're in industries like financial services and healthcare. If you operate on-premises solutions, the evolution and continuing management of compliance regulations can present a significant resource challenge.
Moving to cloud allows you to choose the services that are already compliant. With the cloud provider responsible for any upgrades should those compliance requirements change.
Security Risks
In an environment where cyberattacks are increasing in severity and scale, you may find your business underprepared to defend itself.
Whether it's lack of tools or talent – like many businesses – you will find public cloud offering you a ready-made solution to mitigate risk. Not to mention the vast resources cloud providers can offer to protect against threats.
Capacity Requirements
Like many businesses, you may have hardware utilization issues when experiencing rapid growth – or huge seasonal capacity shifts. Costs can quickly mount if you're unable to meet business demand or end up paying on on-premises services which are largely underutilized.
A move to the cloud will give you the flexibility to rapidly increase and decrease compute. Reducing costs via a pay-as-you-go model.
Software and Hardware Refresh Cycles
Managing an on-premises data center or software application, you are responsible for keeping everything up to date. When evaluating an upcoming refresh cycle, you may find it significantly less expensive and beneficial to transition to cloud.
A SaaS subscription, or the lift-and-shift of an application into the public cloud, can provide significant cost savings versus costly on-premises software licenses and hardware upgrades.
Benefits of Moving to Cloud Computing Services Business-Wise
Now we've covered the main reasons for your business to move to the cloud, let's look at the associated benefits.
Cost Savings
One of the key motivations for many to move to cloud is the associated cost savings – both direct and indirect. Depending on your business and how you use the cloud, you can make cost savings in a number of ways.
A few examples include scaling your compute to changing demands, reducing resources spent managing hardware and software, or gaining greater insight to your data.
Scalability
One of the key benefits of cloud services is scalability. Cloud computing gives you the ability to rapidly scale your compute and storage requirements to meet business demands. Through a pay-as-you-go model, you can better control your costs, scaling up or down to meet seasonal demand.
Competitive Edge
As a business, your IT team has a finite amount of resources available. Moving to the cloud lets your business move more quickly than competitors.
Focusing your IT team on projects that create revenue, rather than locked in a server room managing on-premises infrastructure. In fact, a Verizon study showed 77% of businesses feel cloud technology gives them an advantage over competitors.
Make sure to check out our in-depth look at why trying to be a sysadmin is a bad idea.
Security
Cloud providers offer your business a vastly improved security solution. Microsoft, as an example, monitors over 6.5 trillion threat signals per day, with a team of 3500 in-house security experts whose sole purpose is to protect your systems and data. Moving to the cloud places the resource demands of security in the hands of the provider, freeing your team to focus on other areas.
Disaster Recovery
A key factor in the success of your business is ensuring your technologies remain operational. No matter how in control you are of business processes, your systems will eventually let you down. In today's market, even limited downtimes can impact significantly on your productivity, revenue, and brand reputation.
Cloud technology provides the protection of rapid data recovery and vast data centers able to failover in the event of outages.
Increased Collaboration
Cloud computing can simplify and improve your business's collaboration. Cloud-based platforms give your team members the ability to create, edit, view, and share information easily and securely. Built mobility features enhance collaboration, allowing your team to connect on the go, through their mobile device.
Mobility
Cloud computing keeps your employees in the loop, wherever they are in the world. By supporting mobile access, cloud technology gives your employees the ability to securely access your business's systems and data via their mobile device. Supporting remote working and keeping your employees connected and productive, even when they are on the move.
Insight
In this digital age, you can now track countless data points surrounding your customers transactions and interactions with your business. Of course, analyzing this data for business value is both difficult and time-consuming.
Without huge investment, the right cloud provider can quickly offer powerful compute and storage capabilities with built-in analytics to process, analyze, and find value in your data. Especially with the recent advancements and availability of BI tools, supported by AI and machine learning.
Quality Control
A lack of quality and inconsistent reporting can have a huge impact on the success of your business. Cloud-based systems help prevent this, storing all documents in one place in a single format. These collaborative systems offer backup and version control, giving your employees access to the same information whilst maintaining data accuracy and consistency.
Sustainability
With the current state of the environment, sustainability has become a top priority for businesses. Choosing a cloud provider will help lower your carbon footprint. As leading cloud technology providers champion the use of renewable energy in their data centers.
They also opt for a virtual services model, reducing reliance on physical products and hardware. Cloud computing also provides the benefit of remote accessibility, helping cut down on commuter related emissions from your employees.
Calculating the Cost of Cloud for Your Business
One of the original motivating factors to move to the cloud has been reducing costs. However, the narrative surrounding cloud being cheaper than on-premises solutions is changing.
While it's still possible to significantly cut expenditure by moving your operations to the cloud, it's not guaranteed. Achieving cost savings for your business depends on the cloud pricing model you select and how efficiently you operate your cloud services.
It's also important to recognize that initial investments in cloud migration and optimization will create a negative ROI in the short term.
Marco Meinardi, Research Director at Gartner, published a use case of workload migration for 2500 virtual machines from an on-premises data center to Amazon Web Services EC2.
After initial investment in migration and cloud optimization techniques – rightsizing, scheduling policies, and reserved instances – the total cost of ownership fell by 55% for cloud IaaS versus on-premises deployment.
Of course, when calculating the cost of cloud, it's always important to consider the indirect cost savings for your IT department. This can include the time your business saves not having to carry out software updates, manage failing hardware, or maintaining compliance.
If you're considering a move to the cloud, there are a number of tools and pricing calculators to help you calculate the migration costs and TCO for cloud IaaS compared with your current on-premises deployment:
Comparing Costs for AWS, Azure, and Google Cloud Platform
If you're planning your migration to public cloud infrastructure, you'll want to choose the right cloud provider and pricing model. No easy task, as the pricing schemes offered by public cloud vendors is anything but simple. Cloud prices can change significantly depending on any number of factors. Some of which include:
Specification and number of servers you want to deploy.
The volume of data you need to store and transfer.
Which operating system and software you deploy.
Paying by the minute, hour, or month.
Opting for a pay-as-you-go, reserved instances or a long-term contract.
The location of the cloud data center you require.
That's just scratching the surface. Leading vendors like AWS, Azure, and Google Cloud Platform offer hundreds of different services. Each with its own pricing schedule and thousands of configuration options that change the price.
We've already taken a deep dive into comparing AWS and Google Cloud Platform helping you to understand the range of IaaS and PaaS products and services available. Microsoft also has a handy guide for AWS to Azure services comparison, to help you compare their services like for like.
To help you conceptualize some of the costs of a cloud deployment, we've compared the leading IaaS and PaaS providers: AWS, Azure, and Google Cloud Platform looking at a combined public cloud hosting deployment of servers and storage.
To simplify the price comparison we've used Cloudorado. The tool allows you to select basic specifications such as CPU power, RAM, storage requirements, and operating systems. Using this base level configuration, it compares and contrasts the providers' different services with a price per month.
For this example, I've input the following setup:
CPU Power: 4
RAM: 8GB
Storage: 1TB
OS: Linux
| | | |
| --- | --- | --- |
| Cloud Provider | Cloud Hosting Offer | Price Per Month |
| Google Cloud Platform | Custom Machine 8 GB RAM / 4x CPUs | $126 |
| Microsoft Azure | A4 v2 Virtual Machine | $159 |
| Amazon Web Services | EC2 c5.xlarge + 1 TB SSD EBS | $225 |
After comparing and contrasting a range of cloud hosting setups, Google Cloud Platform is consistently the most economical option. The exception being when you opt for a Windows OS, where Microsoft Azure comes out on top due to its ownership of the operating system.
Of course, these costs and setups are just scratching the surface. If you begin to dig deeper, each of the providers offers hundreds of customizations and discounting models that combine to create a highly personalized cloud deployment. Many provide huge committed use discounts if you are willing to purchase the cloud computing time upfront.
If you're familiar with your deployment requirements and want to create a quote, each of the providers offers a pricing calculator. The calculator gives you the full picture of the IaaS and PaaS offering, allowing you to create highly personalized quotes, representative of your deployment needs.
Summary
As customers, the cloud market has given us a vast range of competitive services to help realize real business benefits. To make this a reality, you'll need to have the in-depth knowledge to navigate the many options available. You'll also need a willingness to optimize your cloud deployment to recognize real cost savings over on-premises deployments.
Across all SaaS, IaaS, and PaaS markets we see the familiar names of Google, Amazon, and Microsoft. These technology giants continue to dominate the market share across all segments. And with the resources to back research and development of new and existing products, expect to see dominance remain in the coming years.
When considering a move to cloud providers, make sure you research and understand the competitive products, service options, and discounting models. Investing time here will ensure you a cloud setup customized to your business's needs at the most efficient (not cheapest) cost. And when calculating costs, always make sure you consider the indirect cost benefits from switching to a cloud model.
While GCP is still one of the smallest cloud providers, it's also one of the fastest-growing ones. Part of this is due to their constant innovation in performance, price advantages from committed use discounts, and a fast global network that reaches all parts of the globe.
Kinsta was one of the first hosting companies to exclusively use GCP to power its entire WordPress Hosting infrastructure (back in 2016), and many competitors have followed suit. Now, even our Application Hosting and Database Hosting offerings have their infrastructures built on Google Cloud Platform servers.
What about you? What's your experience with cloud services? Tell us in the comment section below!