In 2011, Stanford University students Evan Spiegel, Bobby Murphy, and Reggie Brown created Snapchat as a new way for people to send photos and videos. The rise of Snapchat as one of the more influential social media platforms can be followed alongside the rise of Snapchat statistics, Snapchat users, and, some other really odd Snapchat stats.
Brown first brought the idea for Snapchat to Spiegel, who had business experience, and Murphy, who had coding experience. As a result, the startup experienced a similar business hiccup to Facebook with regards to ownership and all the piles of money the company was eventually worth.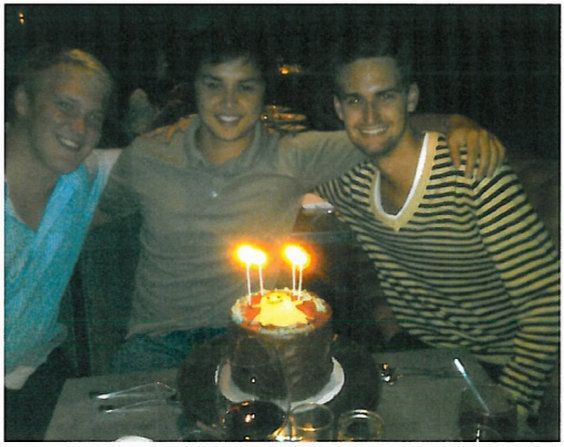 In 2013, the ousted Brown tried to renegotiate his share regarding company ownership but received no equities. Instead, he settled for $157.5 million and was given credit as one of the original founders of Snapchat.
When Snapchat first launched in July 2011, it was initially given the more adorable name of Picaboo. However, by September, the social media platform credited with introducing the world to ephemeral (disappearing) content was renamed as Snapchat.
In the beginning, Snapchat users could only send and receive photos and video messages of up to 10 seconds, after which time they'd disappear. In October 2013, Snapchat introduced Stories (which Facebook, Instagram, and many other social networks eventually latched onto and integrated into their platforms), which were available for 24 hours. Unlike with the standard messaging feature, any user following a person could view the Snapchat Story (assuming public sharing).
However, perhaps Snapchat's biggest breakthrough beyond its original concept was filters. These filters introduced augmented reality objects to pictures, allowing Snapchat users to show off whiskers or top hats (or any number of quirky, fun adjustments to reality).
Who hasn't given themselves a Snapchat flower crown or puppy dog ears?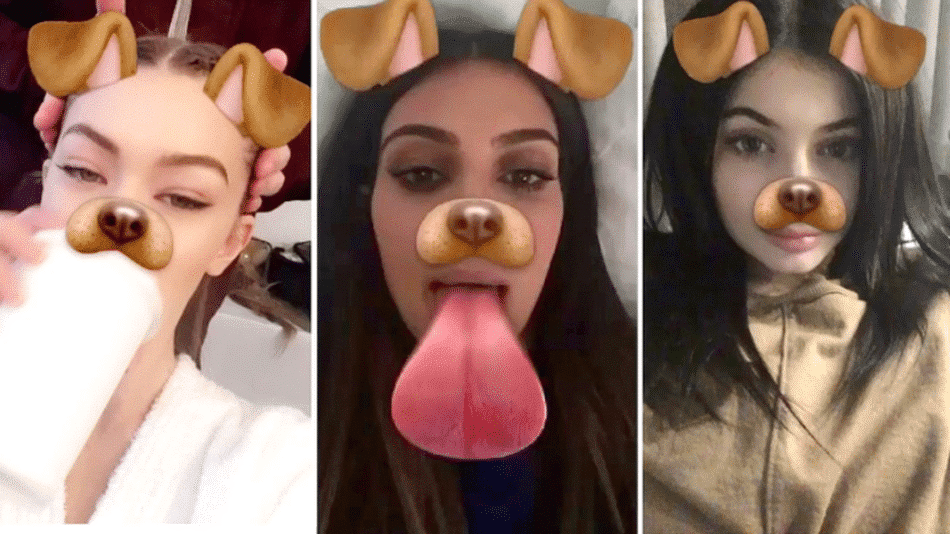 "Snapchat isn't about capturing the traditional Kodak moment. It's about communicating with the full range of human emotion — not just what appears to be pretty or perfect," CEO Evan Spiegel explained. This position stands in stark contrast to Instagram, which has a reputation for being users' go-to for creating personal highlight reels that show off their best selves.
Additionally, Spiegel points out that disappearing content was an answer to the stress caused by content that stays permanently on the internet. Even if you untag yourself from a Facebook photo, whatever is online can always be rediscovered.
Snapchat stats, however, are even more revealing than the company's mission statement.

Who Snaps for Snapchat? A Look at Snapchat Users
As of the first quarter of 2014, Snapchat had 46 million active users, and as of the fourth quarter of 2018, they had 186 million active users. That's quite a bit of growth!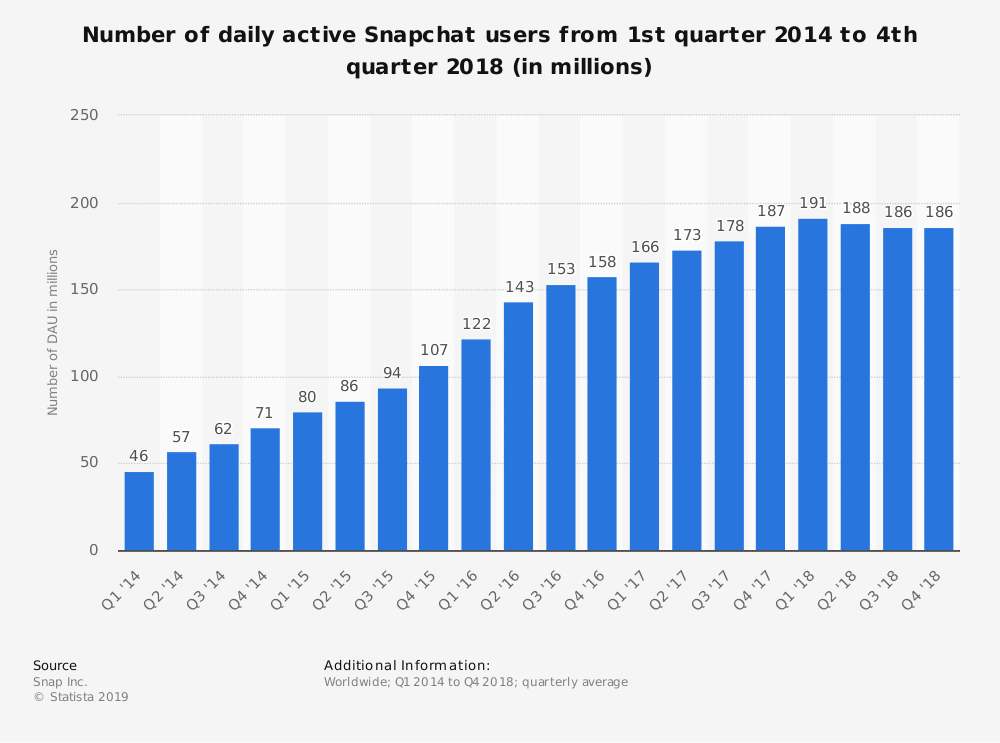 Though the bump in users might seem like a lot, in actuality, Snapchats' growth has slowed (as you can see above) since the launch of Instagram Stories—an almost exact copy of Snapchat's My Stories concept. Instagram's users now post twice as many stories as Snapchat users.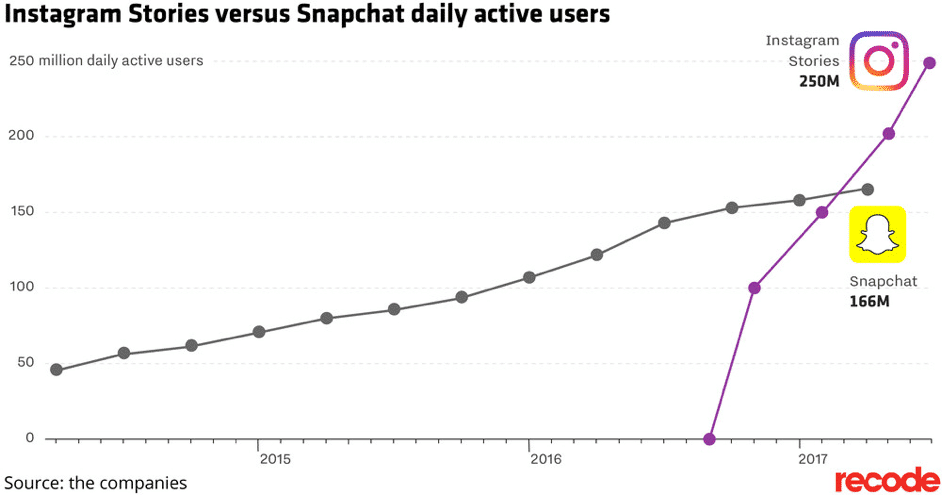 Though the exact Snapchat statistics for the platform's demographics differ from source to source, all of them agree that the Snapchat is dominated by users younger than 25 years old. According to Pew Research, 78% of all 18 to 24-year-old Americans use the platform.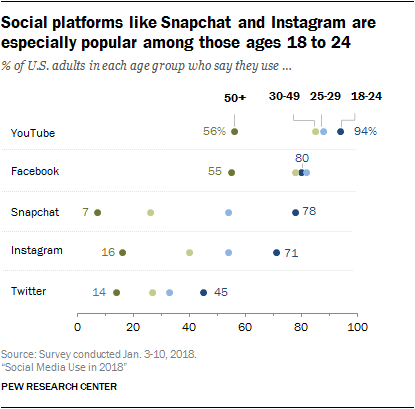 For this age bracket, this leaves Snapchat behind Facebook but ahead of Instagram.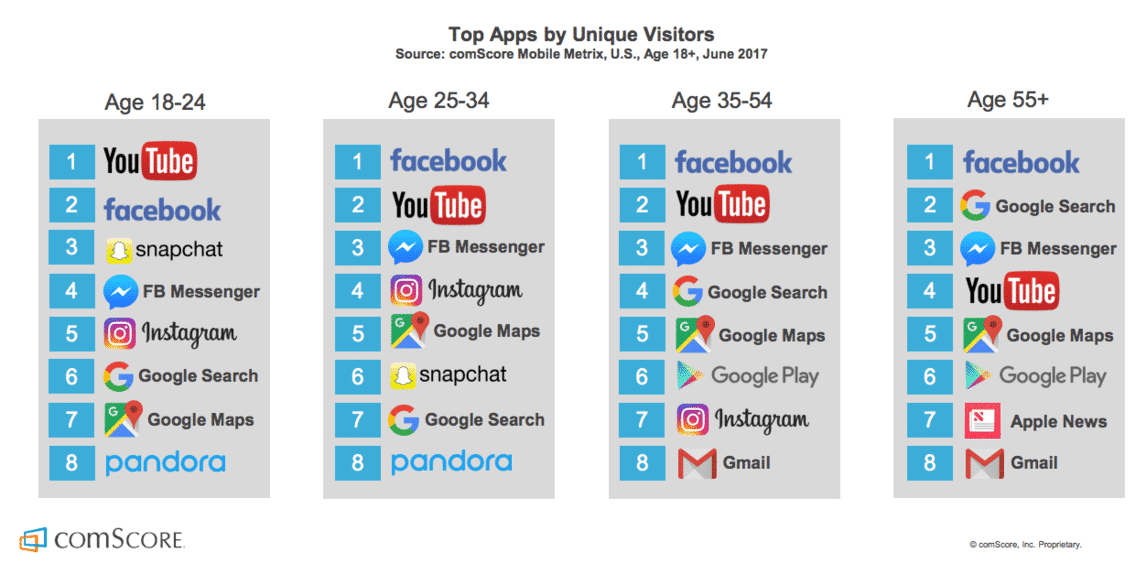 Unlike Facebook, which eMarketer predicts will decline in the 12- to 17-year-old age range by 3.4% (the first time the firm has foreseen a decline in Facebook users in any age group), Snapchat usage was expected to pick up the slack, along with Instagram.
Though Facebook remains the undisputed giant of the social networking world, some predict that without additional platform changes, it may lose out on capturing the next generation of internet users, as a majority of millennials and Gen Z primarily communicate visually.
Snapchat Stats on Snapchat Use
According to Pew Research, 63% of Snapchat users visit the site daily. This is basically the same as Instagram but well behind Facebook, which sees about 75% of its users visit the site daily.
Again, there is a strong showing from the 18- to 24-year-olds, with 82% of them checking Snapchat daily, and 71% of those users logging in multiple times a day. When you open that age bracket up a little to include all millennials, it turns out that such Snapchat users spend as much as 40 minutes a day on the platform.
To help push daily interactions on the platform, Snapchat introduced "streaks." When two Snapchat users exchange direct messages for at least three consecutive days, a fire sign and number will appear next to their username. In this way, Snapchat introduced a gamification element to encourage users to keep logging in and using the app.
However, when it comes to usage, Instagram Stories still trumps Snapchat, with more influencers preferring the former over the latter. Instagram continues to release new updates for Stories, such as allowing accounts with more than 10,000 followers to post links on Stories, making it a better platform for advertisers and influencers. Influencers post twice as many Instagram Stories than Snapchat Stories.
Since Instagram Stories launched, Snapchat user and engagement has gone down 15-40%.
Snapchat Revenue? More Like Snapchat Statistics About Financial Fall
Snapchat might have missed its opportunity to cash out in 2013 when Facebook reportedly offered to buy the company for $3 billion. In May 2018, the company's stock fell to $10.95/share from their original value of $27.09/share.
Here's how their stock has been performing since the IPO to the date of this article's publication: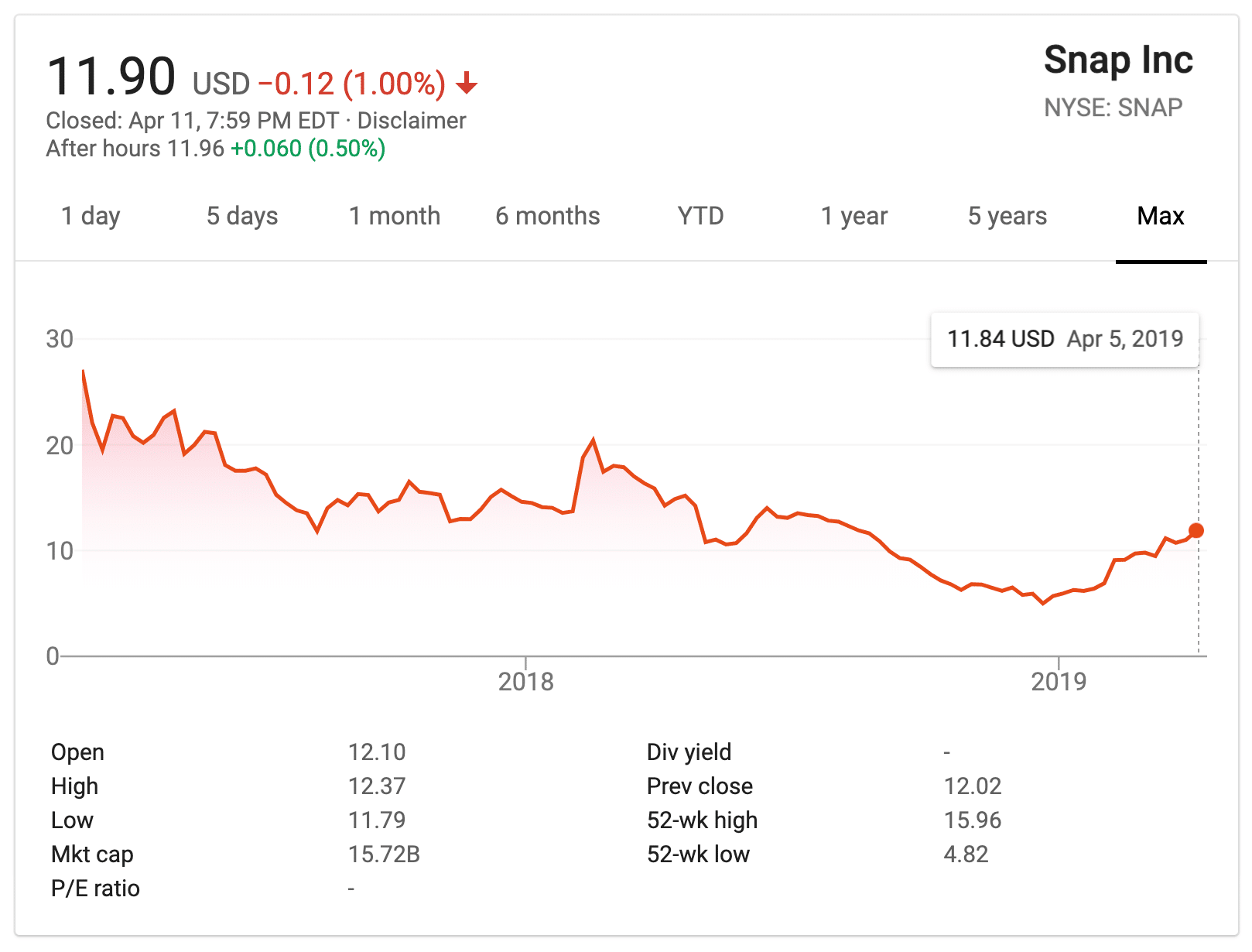 Of course, there was plenty of upswing before Snap's fall on the market, starting with Snapchat, Inc. going through a rebranding where they renamed the company Snap, Inc. in 2016 as part of an effort to reposition itself as a camera company.
Snap's revenue reached $825 million in 2017, more than double that of their revenue in 2016. In February of that year, Snap, Inc. filed for their IPO. However, it failed to hit the company's targets. In fact, despite $149.6 million in revenue, according to Forbes, Snap reported a net loss of $2.2 billion in Q1 of 2017. They lost nearly $40 million on unsold Spectacles they hastily manufactured without factoring in a matching demand.
In Q1 of 2018, Snap's revenue grew to $230.7 million, up 54% due to an increase in Snap Ads, but down 19% sequentially due to users' rejection of the redesign.
So, did Snap miss its chance to sell to Facebook or is it going to continue to cash in on a younger generation of internet users? It's hard to say.
What's Going on With Snapchat Content?
One bright spot in Snapchat's pitch portfolio is this Snapchat statistic: 92% of people that view a Snap from a brand story view the entire video.
Currently, 57% of brand content on Snapchat is video. And, at the height of its popularity, Snapchat hit 10 billion daily video views, with more than 3 billion Snaps sent every day.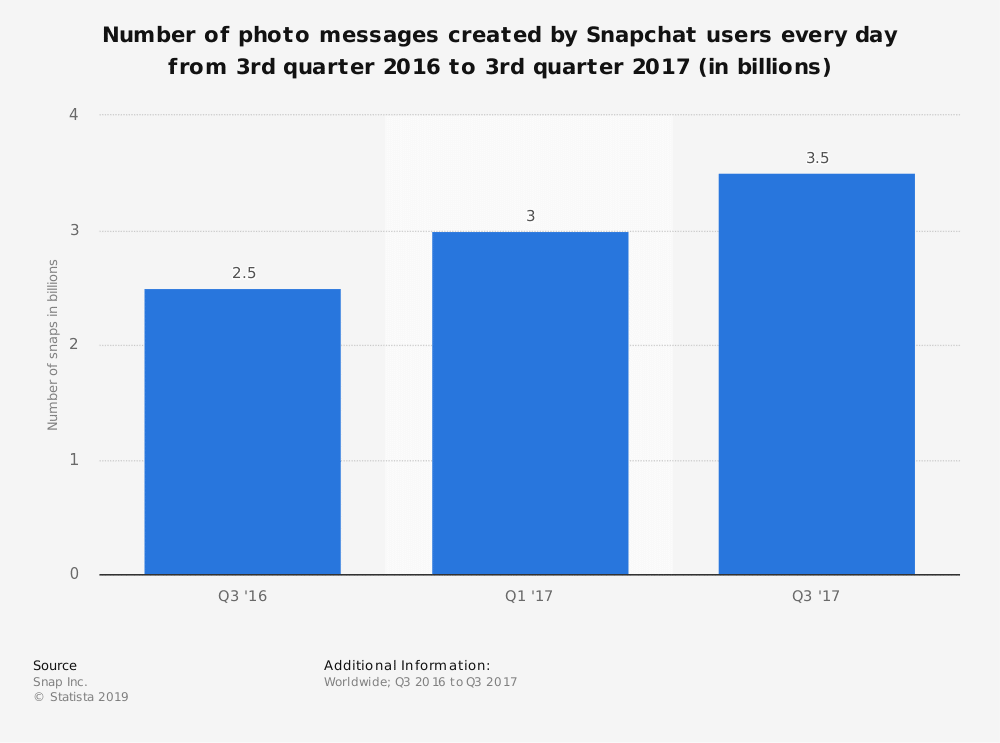 The company is also continuing to build on the gamification aspects of the app, as Snapchat users can unlock trophies when they use certain filters, complete certain tasks, send creative snaps or have their videos posted on the Live page. Trophies come in the form of emojis, such as the sun emoji if you've sent a Snap in 100-degree weather.
But that's not the complete extent of Snapchat's interest in gamifying the platform—they've also recently launched new AR selfie games known as "Snappables".
Snapchat Growth: Adversity Facing Snapchat Advertising
The premise of Snapchat's ephemeral content has created a hurdle for advertisers ever since the platform started serving ads to users in 2014.
Disappearing content means that influencers and marketers are constantly needing to create new content, unlike Facebook and Instagram, where content can easily be repurposed. And, if a marketer wants to make it onto Snapchat's Discover page, they have to prove that they can consistently create high-quality videos, meaning they have to submit a month's worth of content to be approved in advance!
Additionally, Snapchat has made it difficult for advertisers to determine the effectiveness of ads because the company doesn't offer detailed analytics. Instead, they use paid third-party analytics tools, which provide very basic information, such as the number of viewers and for how long they viewed the post.
Similar insights (or lack thereof) are available when advertisers use Geofilters—special filters available to all users based on location fencing.

Nonetheless, marketers are expected to spend $1.5 billion in 2019 on Snapchat advertising. Topping the chart as the most popular brands for Snapchat ads are BuzzFeed, Comedy Central, and iHeartRadio.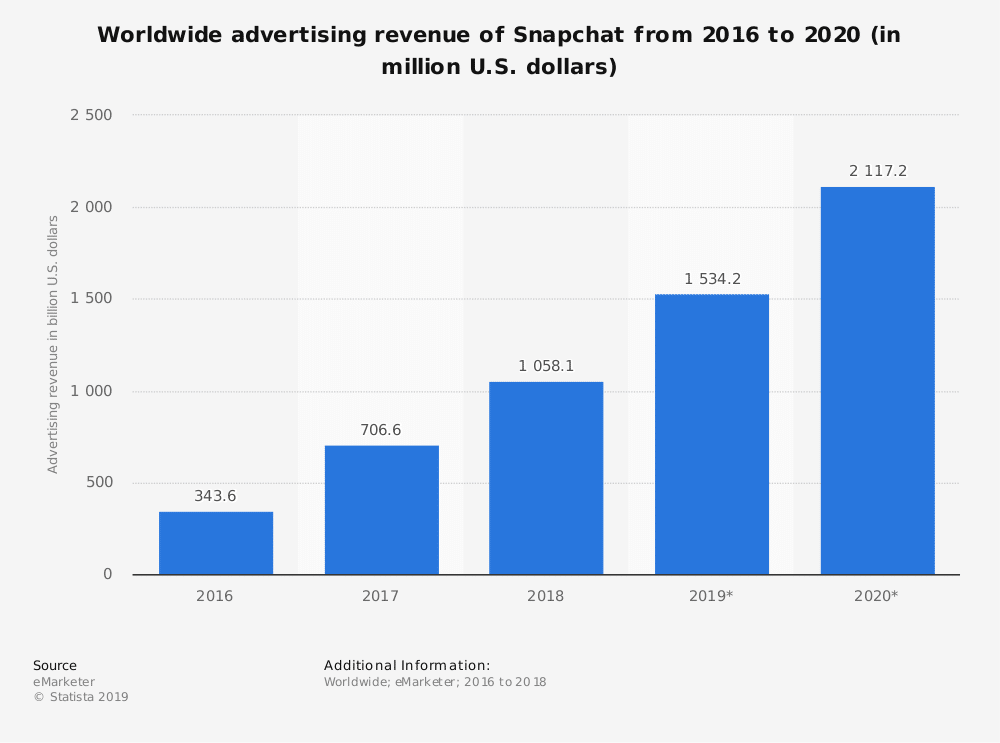 In May 2018, Snapchat introduced unskippable ads to woo more advertisers. However, these ads only appear within professionally produced shows in Snapchat's Discover section. This means that only major publishing partners, such as Disney and Viacom, will be able to make use of them.
What About Snapchat Influencers?
Though there are plenty of Snapchat influencers, it's probably only a favorite platform for a select few. The rift between influencers and Snapchat likely dates back to even before an incident where a Snapchat executive told an influencer who was complaining about Snapchat, "Snapchat is an app for friends, not creators."
However, Snapchat seems to have softened its hard stance now that it's witnessing declining usage. Recently, they introduced verified influencers. Verified influencers have access to Official Stories, which was previously only available to public figures, such as Rihanna and Kylie Jenner.

For the longest time, influencers were treated like any other Snapchat users, which meant they could only see how many people were viewing their stories when they were live.
But now, Snapchat is also giving these influencers access to analytics data, which includes:
Total views
Unique views
Completion rates
Time spent watching
Audience demographics, including gender, age, location
Topics their followers care about, be it travel, food, fashion, sports, etc.
A changing attitude toward influencers is a good sign that Snapchat is taking steps to adapt. After lower-than-expected user growth and a $2.2 billion loss in revenue, they really need to step up their game if they want to survive the ongoing social media platform war.
The bottom line is that they need influencers to create content to keep their audience engaged, which, in turn, could bring in more advertisers.
Know What's New with Snapchat
Snapchat is trying its best to keep innovating, with some ideas gaining more traction than others.
Nobody Snapping up Snapchat Spectacles
In keeping with rebranding as a camera company, Snap released Spectacles by Snap, which make it easy for users to record videos to post to Snapchat.
Basically, the glasses can be linked to a Snapchat account by looking at a user's Snapcode and pressing a button on the glasses' frame or by connecting through Bluetooth. Videos are stored in the camera's internal memory and can be viewed and uploaded in the "Memories" section of Snapchat.
The product was announced at the same time Snapchat rebranded as Snap. The spectacles were first available for sale November 10, 2016, through Snapbot, a proprietary vending machine located near Snapchat's HQ.
Product sales fell well short of company expectations, forcing Snap to write off more than $40 million in unused parts and products. By May 2018, only 220,000 pairs were sold.
Seemingly undeterred by the underwhelming response, Snap recently released Snapchat Spectacles 2.0, which includes new features, such as support for photo capabilities (the first version only supported video), lighter lenses, slimmer frames, prescription options, more and classier color options, and underwater capabilities (among others).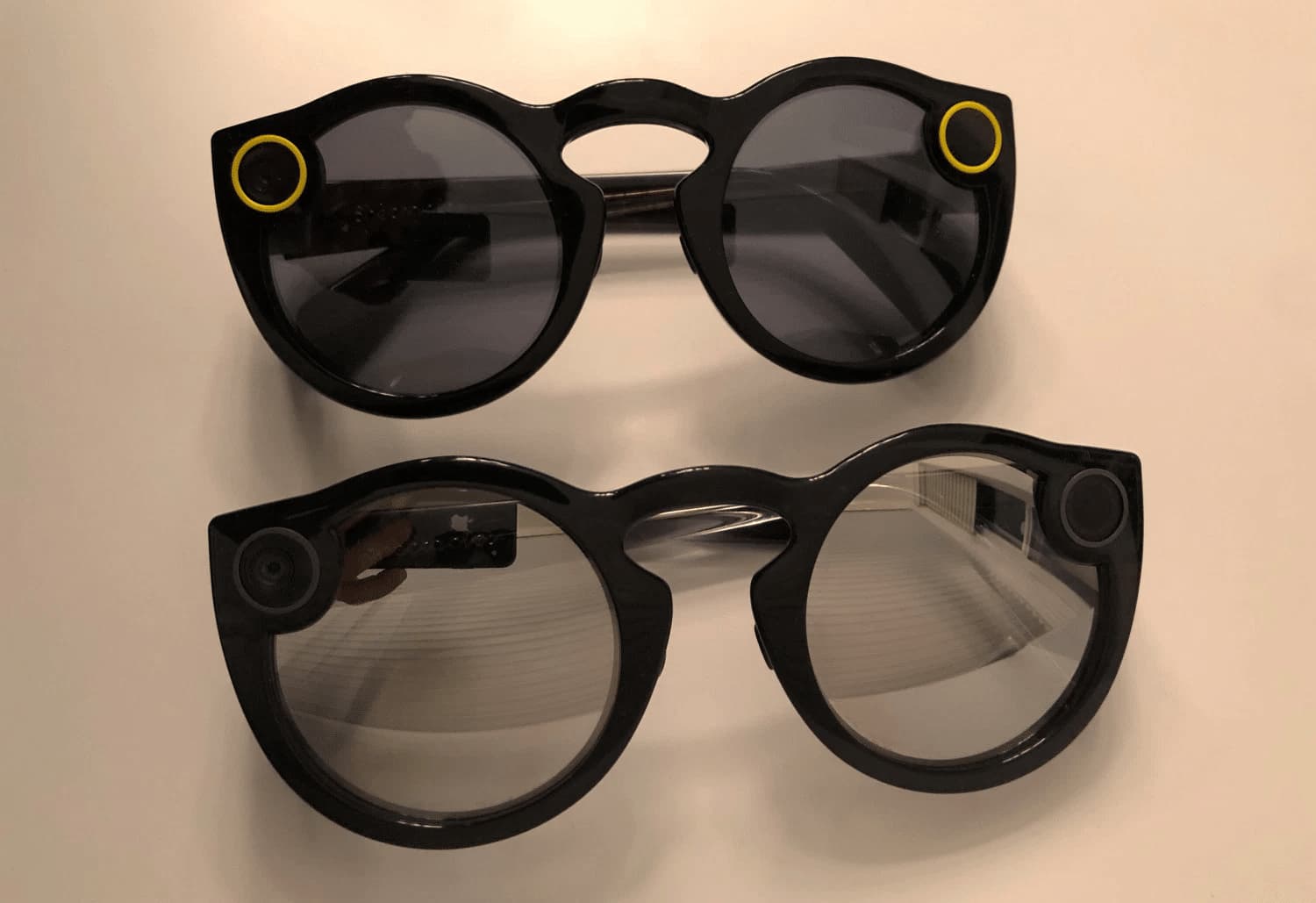 Snapchat Spectacles 2.0 are available for sale online in 17 countries.
Snapcash
In 2014, Snapchat partnered with Square payments to offer Snapcash, which allows users to send and receive money. All users need to do is link a credit or debit card. The only downside is that both Snapchat accounts need to have a debit card linked to it, unlike other apps, which allow you to keep the money in an in-app "wallet". Users also must be at least 18 years old to use the feature.
But it seems like Snapcash was yet another failure for Snap. According to Snapchat Support, Snapcash will no longer be available after August 30, 2018.
Snapchat Redesign
Last year, Snap released a new app update, which did absolutely nothing for its popularity. In fact, the changes were so bothersome to Snapchat users that more than a million of them made a petition against them on Change.org.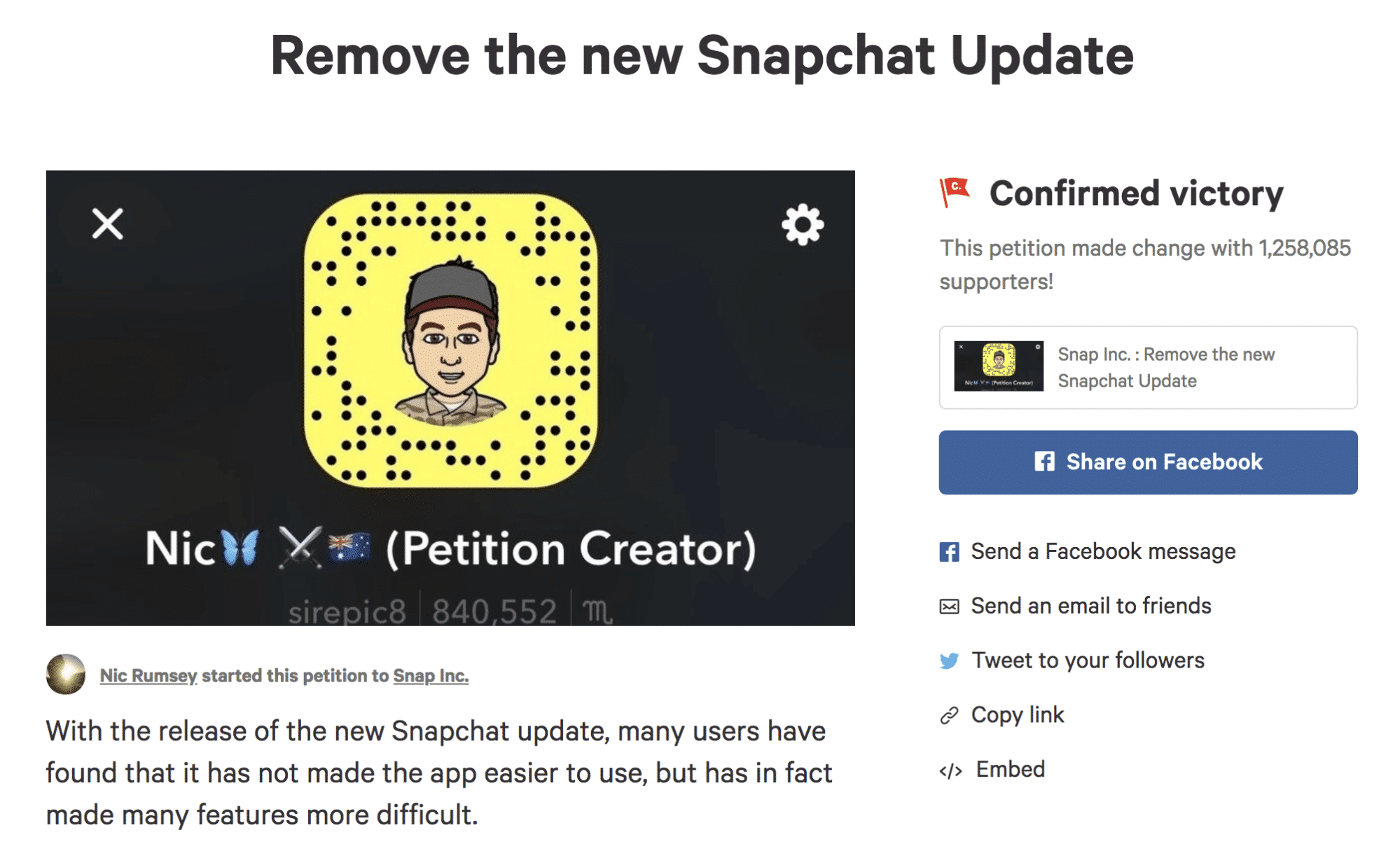 The focus of the redesign involved combining Stories and the Friend page, which ended up making it more difficult for users to rewatch stories or find friends. The company also separated the Discover page to better showcase professionally produced content.
The idea behind the redesign was to improve advertisers' Snapchat stats, which it did. In fact, Snapchat reported that publisher stories grew 40% since the redesign and users over 35 were engaging with the app more.
Final Thoughts: Wild and Interesting Snapchat Statistics and Facts
From Snapchat's rise out of the combined minds and skills of three Stanford graduate students, to billion-dollar offers, Snaptchat statistics and facts provide many insights into the company, its trajectory, and its users.
Of course, there are plenty of fun facts that just didn't make the rest of this list of Snapchat statistics, such as the fact that Snapchat's mascot "Ghostface Chillah" (named after Ghostface Killah of Wu-Tang Clan) was designed by Brown. Or the fact that the longest Snapchat streak (as of July 2018) is 1,286.
Didn't see your favorite Snapchat statistics? Share them in the comment section below!