Because Facebook is the largest social networking site in the world, with more than 2.2 billion monthly active users, it should come as no surprise that there are many wild and interesting Facebook statistics. Mind-blowing Facebook statistics and facts include those buried in the company's origins, to its newest projects, as it continues to ensure its dominance and power throughout much of the world, provide insights to investors, marketers, and even your average Facebook user.
Origins of Facebook's Social Media Revolution
Facebook was founded by Mark Zuckerberg, along with fellow Harvard University students—and roommates—Eduardo Saverin, Andrew McCollum, Dustin Moskovitz, and Chris Hughes on February 4, 2004.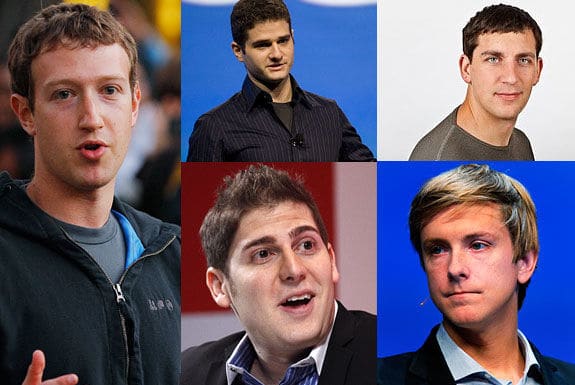 The origins of what today is a powerhouse company with unprecedented reach was a site Zuckerberg created called "Facemash." This site pulled photos from the online "face books" of the nine houses of Harvard and asked users to choose the "hotter" person.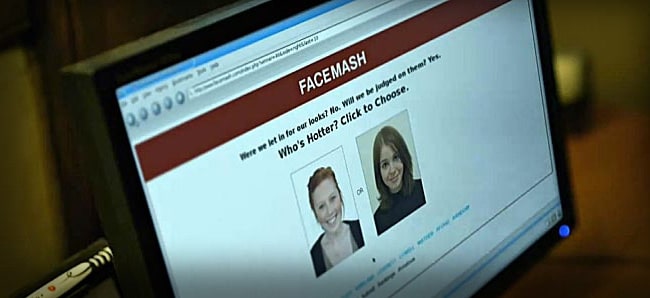 Needless to say, campus administrators were not impressed. They shut down the site and threatened Zuckerberg with expulsion from the elite school. Undeterred, Zuckerberg got another idea. This time, Zuckerberg decided to put the campus student directories with photos and basic information (known as "face books") online. The idea wasn't exactly Zuckerberg's, as Harvard already had plans to do the same thing. However, Zuckerberg thought it was ridiculous that it was taking the school so long to put them up, so he built his own site. The site was initially launched as "TheFacebook.com," which was only available to Harvard students, before being opened up to students in the Boston area and those attending Ivy League schools. By 2006, it was open to anyone with email who was at least 13 years old.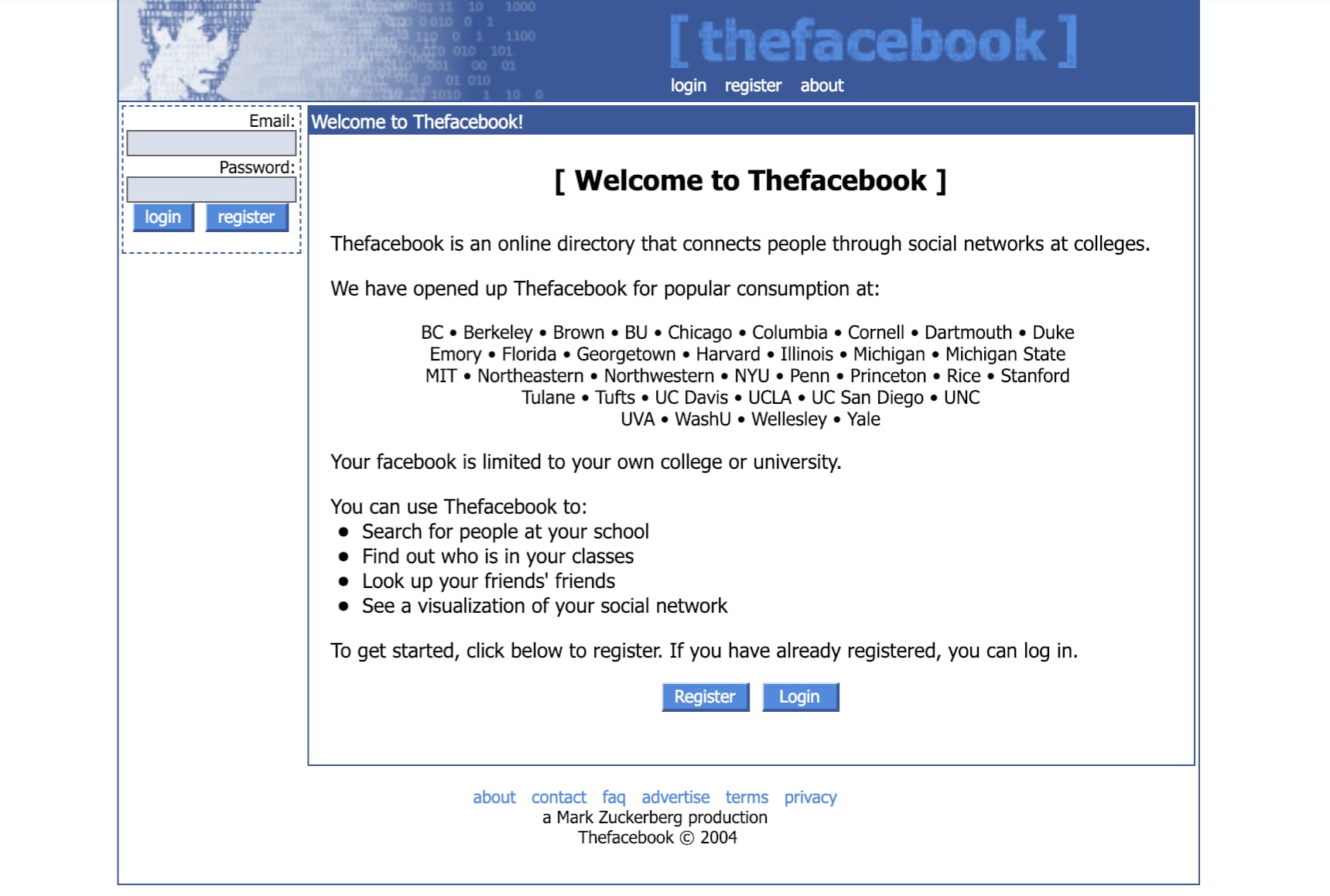 Of course, even before Facebook was opened up to everyone, Zuckerberg found himself swamped with legal trouble as fellow students Cameron Winklevoss, Tyler Winklevoss, and Divya Narendra sued him for allegedly stealing their idea. A settlement landed each of them 1.2 million shares in the company. When incorporated in 2004, Sean Parker stepped up as Facebook's first president, and the company moved to Palo Alto, California after receiving a $500,000 angel investment from PayPal co-founder Peter Thiel. The following year, the company dropped "the" from its name and moved to its current domain "facebook.com", after purchasing it for $200,000. In 2007, Facebook introduced Facebook Marketplace, which allowed users to post classified ads. Also that year, the Facebook Application Developer platform was introduced, allowing developers to create applications and games on Facebook. The following year was a big one for the social media giant. In 2008, it established its first international headquarters in Dublin, Ireland. Additionally, Facebook Chat was rolled out, along with features such as People You May Know, the Facebook Wall, and Facebook Connect.
Digging into Facebook Demographics
How many users does Facebook have? Check out these Facebook user statistics: As of the second quarter of 2018, Facebook boasted 2.23 billion monthly active users, with 68% of Americans using the social media platform. Though Americans heavily rely on the social media site, more than 85% of Facebook users come from outside the US and Canada.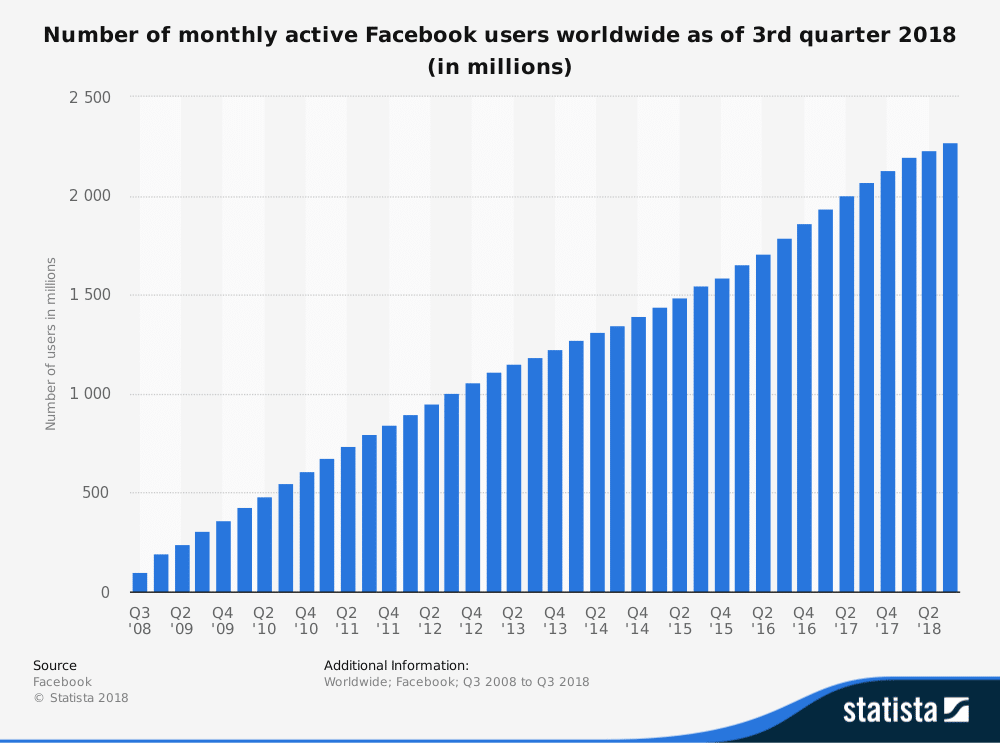 Facebook cracked the 100-million-user mark on August 26, 2008. By July 2010, it had half a billion users. The following year, Facebook crossed the line on 1 trillion page views. That same year, Nielsen found that Facebook was the second most visited site in the US and the most popular social networking site. Then, in September 2012, Facebook reached 1 billion users, hitting 2 billion users in 2017. Though Facebook is fairly popular with nearly all demographics, it's losing traction with teens. Only 51% of teens aged 13-17 use Facebook, while other social media platforms do much better with that demographic: 85% are on YouTube, 72% on Instagram, and 69% on Snapchat. The most recent numbers for these teens show a significant decrease from the 71% of teens who were using Facebook three years ago.
When teasing apart the data on teens, one interesting Facebook stat rises to the top, which is that teens in lower-income families gravitate toward Facebook. Though more women use Facebook than men—74% versus 62%—the largest group of Facebook users are males aged 25-34, who make up 18% of all users.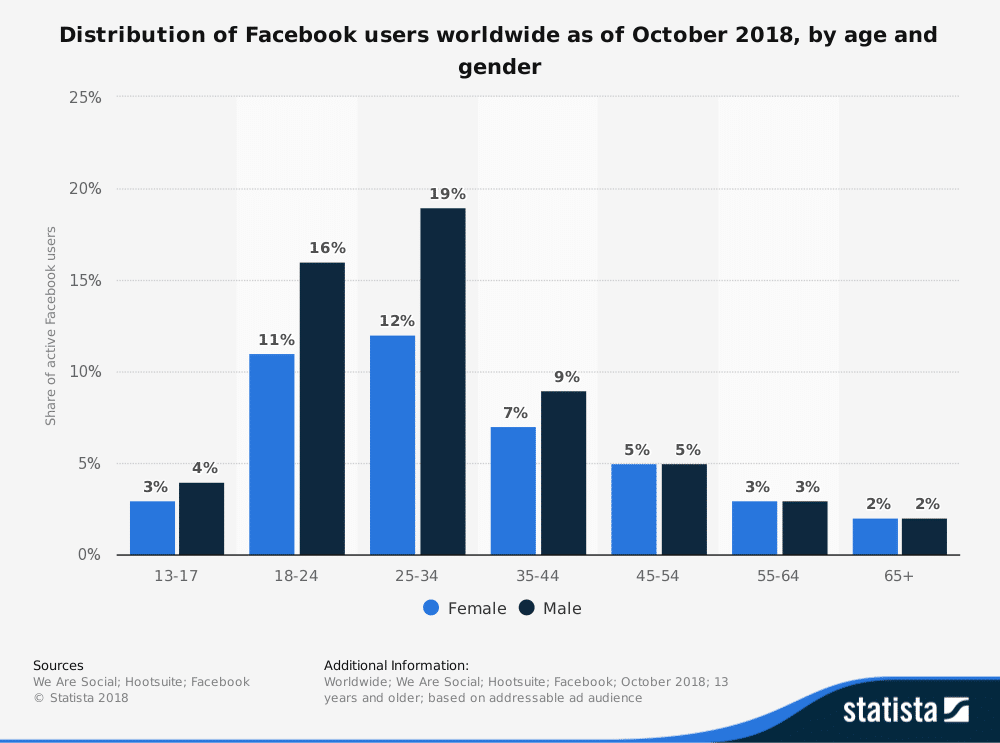 With so many people buzzing around on Facebook, it's mind-blowing to realize that any given user is only separated from another by just 3.57 degrees of separation. Though the average Facebook user has 338 friends, they only consider 28% of their friends to be genuine or close friends.
Another crazy Facebook statistic is that the average Facebook user is connected to fewer genuine friends than people they've never met in person, which comprises 39% of users' connections. And, by way of other interesting Facebook statistics, it turns out that 47% of parents are friends with their children on the social media platform.
Facebook Statistics on Data and Usage
Facebook generates 4 petabytes of data per day—that's a million gigabytes. All that data is stored in what is known as the Hive, which contains about 300 petabytes of data. This enormous amount of content generation is without a doubt connected to the fact that Facebook users spend more time on the site than users spend on any other social network, putting in about an hour a day. If you're not sure if you're an above-average Facebook user, you can now take advantage of the site's tool "Your Time on Facebook" to figure out, you guessed it, how much time you spend on the site.
One reason it's important for Facebook users to keep tabs on their usage is the addictive nature of the site. About three-quarters of Facebook users visit the site daily, with 51% visiting the site several times a day.
In fact, a recent survey by Harris Poll revealed that users found Facebook to be the hardest social media site to abstain from using. Although Zuckerberg is a programmer, he actually majored in psychology, which may account for his insights into developing a site that is so addictive. The number of people getting involved with the site is constantly increasing, with about 400 users signing up for Facebook each minute. Of course, in that one minute, a lot more happens on Facebook than just 400 people joining. Every 60 seconds, 510,000 comments are posted, 293,000 statuses are updated, 4 million posts are liked, and 136,000 photos are uploaded. But, that's not enough for Facebook. Looking for ways to increase interactions with posts and advertisements, Facebook released the "reactions" option in 2016. More than 300 billion reactions were used in the year following the release of the feature. Of course, not all interactions, reactions, or even accounts on Facebook are legit. In fact, Facebook deleted 583 million fake accounts in the first three months of 2018. Even with the removal of millions of accounts, the steady increase in the number of Facebook users meant that there were more and more posts contending for users' attention. Facebook admitted that at any given time, there are more than 1,500 stories competing for a space in a user's newsfeed. However, Facebook only chooses about 300 stories to appear in a user's feed. How these stories are selected changed in 2018 when Facebook announced adjustments to its algorithm, prioritizing post from users' friends and family members. Though many Facebook users' rejoiced about the change, it was bad news for companies banking on organic reach. Now, they need to rely more on paid advertisements to end up in a user's newsfeed. Zuckerberg admitted that after the new algorithm overhaul, people were spending less time on the site: down 50 million minutes per day, which is just about 1-2 minutes per user. Not only that, for the first time since its inception, Facebook experienced a decrease in its US and Canada user base in Q4 of 2017. It went from 185 million in Q3 to 184 million in Q4. Although a million users might seem like a drop in the bucket, it's important to note that each monthly active user from the US and Canada brings in an average of $27 in revenue.
Making it a Mobile Company
In 2014, Zuckerberg said, "We're a mobile company now." Check out these Facebook usage statistics: He wasn't joking; Facebook focused on making mobile devices a part of their key strategies. Now, 95.1% of people access Facebook with their smartphones, which allow them to consume content faster than when using their desktop.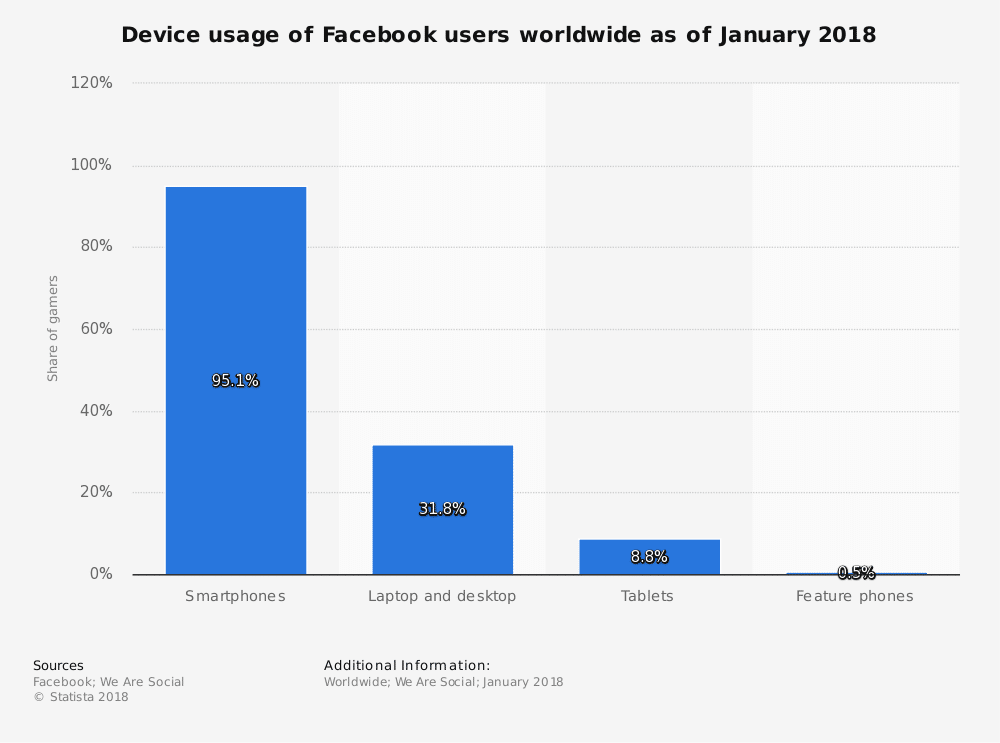 A total of 47% of all Facebook users access the site solely on their mobile device. In fact, the company reached 1 billion mobile-only monthly users in November 2016. A few months earlier, it crossed the line of 1 billion mobile active users daily.
In 2017, Facebook released Facebook Lite and Messenger Lite, apps which were designed for people living in developing countries with slow internet. As of June that year, there were about 200 million Facebook Lite users. Given all the things that mobile devices can do, it's mind-blowing to realize that 19% of all the time spent on such devices is spent on Facebook. Clearly, Facebook has done an extraordinary job coming through as a "mobile company".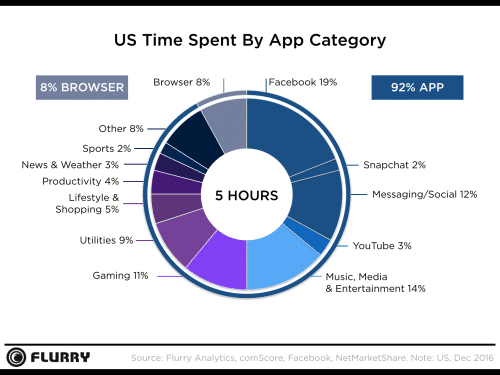 Video Tagged as Next Megatrend
Zuckerberg famously said that video is the next 'megatrend' after mobile. It's not just that video is following hot on mobile's heels, it's that mobile devices have paved the way for video content to grow in popularity: people are five times more likely to watch Facebook videos on their phone.
On average, Facebook generates more than 8 billion daily views of video content; more than 100 million video hours are watched per day. Though video content only makes up 3% of content on Facebook, it garners much more engagement than other types of posts.
Videos are shared an average of 89.5 times more than other content on Facebook, making them the most shared type of content on the site. Additionally, native Facebook videos have 10 times more reach than YouTube links, which is one of the reasons more and more companies are uploading video content through their Facebook page, rather than simply sharing links.
An odd Facebook stat about users consuming video content on the site is that 85% of users watch video with the sound off, and 80% of users find it annoying when a video auto-plays with sound. Because of this, captioned video ads can increase views by 12%. Another way users are adjusting their videos to get better results is by making square videos, which take up 78% more space in the mobile newsfeed than landscape videos. Yet another adjustment Facebook has made to promote video content was the introduction of Facebook Live, which was introduced in 2016. Since its inception, there have been about 3.5 billion broadcasts watched by nearly 2 billion people. The trend of using Facebook Live is rapidly growing; broadcasts from pages have increased 50% in the past year. And, it pays to go live often, as live videos are watched for three times longer during the actual stream than the replay.
Figuring Out Facebook Finance Figures
Facebook held its initial IPO in 2012, to a tune of $104 billion, making it the largest valuation to date for a newly listed public company. It raised $16 billion, making it the third largest in US history. In 2010, Facebook, valued at $41 billion, became the third largest web company in the US, just behind Google and Amazon. According to the company's posted 2018 second-quarter earnings, Facebook fell short of its projected earnings of $13.36 billion with actual earnings of $13.23 billion. Ad revenue also pulled up short of the anticipated $13.16 billion, garnering an actual $13.04 billion. Facebook did say that it expected its revenue growth rates to be lower this year due to the company focusing on Stories—which do not generate income—and beefing up privacy and security for General Data Protection Regulation (GDPR) compliance. The dip in earnings could also be attributed to a slew of negative public relations issues associated with privacy and the 2016 US presidential election. Though there are many financial accolades in Facebook's portfolio, they also have had some less savory situations, such as becoming the first company to lose over $100 billion in stock in a single day, which was on July 26, 2018.
Facebook Acquisitions
For many Facebook users, there is no difference between Facebook and Messenger. However, the company released Messenger as a standalone app in March 2011, after acquiring it from Beluga. About 1.2 billion people now use Messenger. However, Messenger wasn't enough for Facebook's portfolio of messaging apps. In February 2014, the company purchased WhatsApp for $19 billion—its largest acquisition to date. The goal of the acquisition was for the company to break into the international messaging scene. A major part of the reason for the hefty price tag for WhatsApp was its rapid user growth, adding up to 1 million users per day. Another major acquisition for the social media giant was its $1 billion takeover of Instagram in 2012, a month before its IPO. The purchase turned a social media rival into Facebook's standalone photo app. Looking toward the future of entertainment and social media, Facebook acquired Oculus VR for $2 billion, paid in cash and stock, in March 2014. Oculus VR is a company that makes virtual reality headsets for gaming. When asked what his vision for the company was, Zuckerberg said that he plans to use Oculus VR for more than just gaming. Specifically, he wants to make it a platform for more experiences. One example he gave was being able to sit at home and watch a courtside basketball game. Another example was a user having a one-on-one conversation with their doctor.
Facebook Statistics 'Bout Businesses
By 2007, Facebook had more than 100,000 company pages, which allowed businesses to display their information and attract potential customers. In the following decade, that number has grown astronomically; there are currently more 60 million Facebook business pages. These pages are an integral part of the Facebook ecosystem, not just because of advertising dollars, but because users interact with them. Nearly 40% of people like or follow a Facebook page in order to receive special offers. It also turns out that 32% of people regularly engage with Facebook pages, leaving more than 5 billion comments on Facebook pages each month.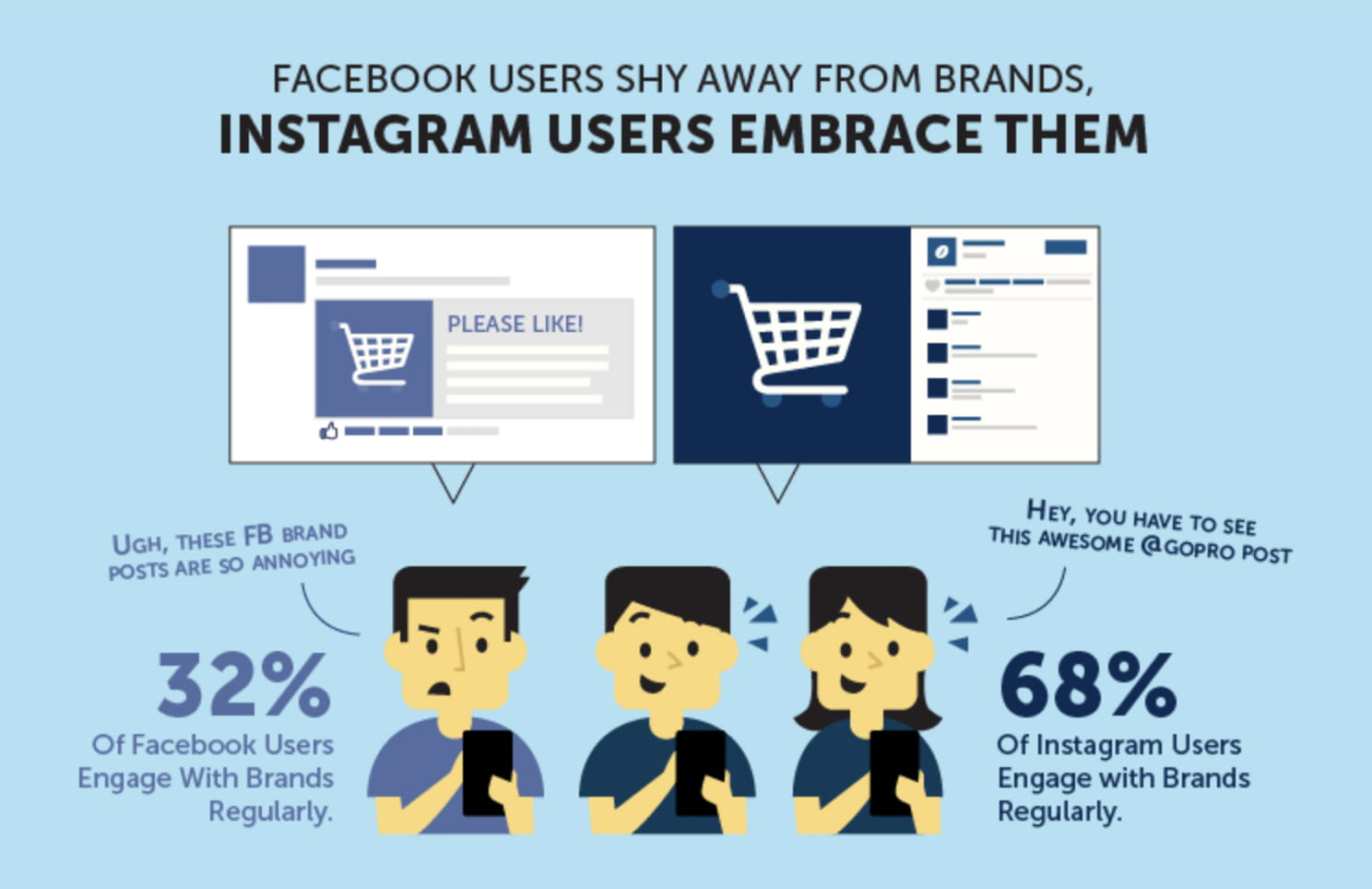 Even before Facebook's new algorithm was implemented, the average Facebook post had an organic reach of 2.6% of the total audience of a page. Now, that number is definitely lower, making it even more important for businesses to boost posts and set aside marketing dollars for Facebook promotion posts. Interestingly, pages with smaller followings tend to have higher reach and engagement rates. Viral publishers, such as 9gag and BoredPanda, have been deeply impacted by the change of Facebook's algorithm, seeing huge drops in engagement.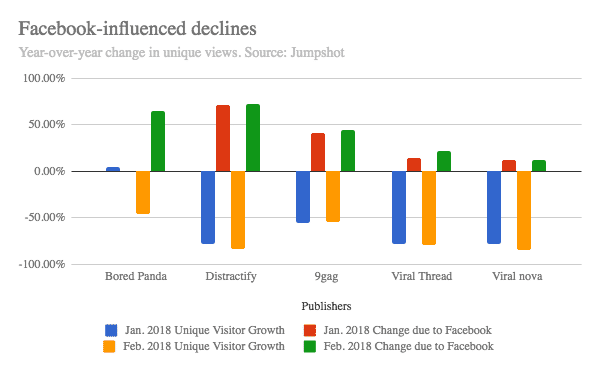 Any individual brand's engagement number, however, is dependant on how fluent they are with creating posts that resonate with their audience. Heavy use of promotional posts is likely to turn users off, with nearly 60% of users disliking too many promotional posts.
On average, brands post eight times a day, many of them taking advantage of studies detailing the best time to post, which in general agree that Thursdays and Fridays are the best days to put your most important content online. In order to find success for your brand, it's important to dig into your own Insights for high-engagement days of the week and times of the day. Of course, with 40% of Facebook users not liking any brand page—the best way for businesses to get their content noticed is by taking advantage of Facebook Ads.
Advantage of Facebook Ads
The majority of Facebook's income is derived from advertising revenue. Marketers spend billions of dollars each year to target customers based on users' profiles. With 93% of marketers regularly using Facebook advertising, the company earned $11.8 billion from advertising alone in Q1 2018.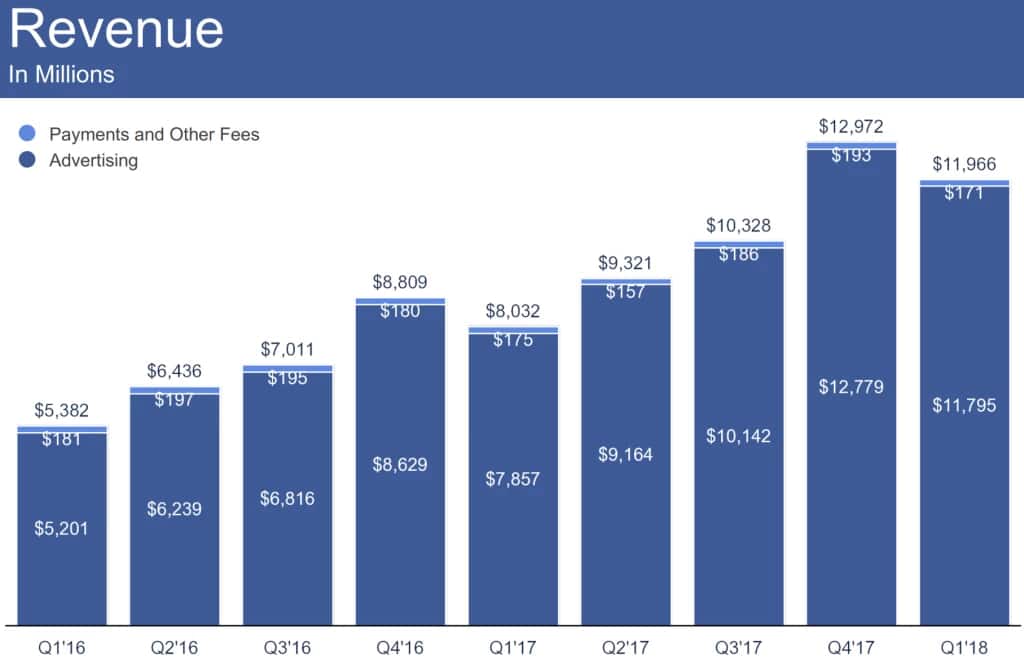 Facebook, which cashed out with nearly $40 billion in ad revenue in 2017, makes up 20% of the $203 billion in the global advertising market. Interestingly, about 70% of the 3 million businesses that use Facebook Ads as part of their marketing campaigns are based outside the US. Again, it's the social media giant's focus on mobile that is driving its advertising revenue success, with 91% of Facebook's advertising revenue coming from ads targeting mobile devices. One reason that Facebook Ads are so popular with so many marketers is that a larger budget does not necessarily equate to more exposure. This makes it particularly attractive to small- and medium-sized businesses. The average cost per click (CPC) for Facebook Ads is $1.72 across all industries, and the average clickthrough rate (CTR) is 0.9%. Though, at first glance, these numbers might not look amazing, it turns out that 26% of people that have clicked on Facebook ads have made a purchase.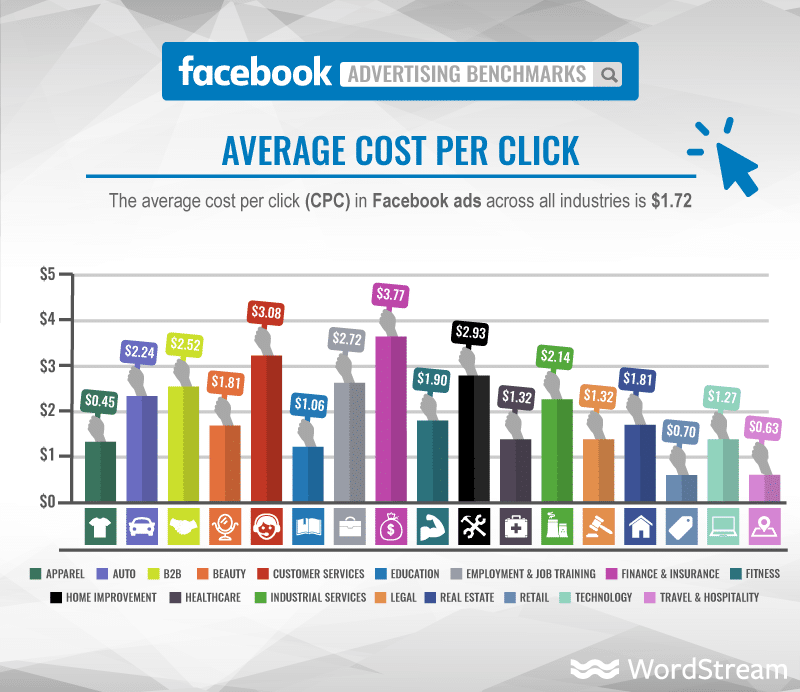 It should be no surprise that people are more likely to click on ads that are related to their interests, and that's where the Facebook relevance score comes in. The relevance score depends on engagement. A high relevance score means more engagement and that your ad costs less. For example, a relevance score of three costs 73% more than one with a score of eight. And, it has a 77% lower CTR score.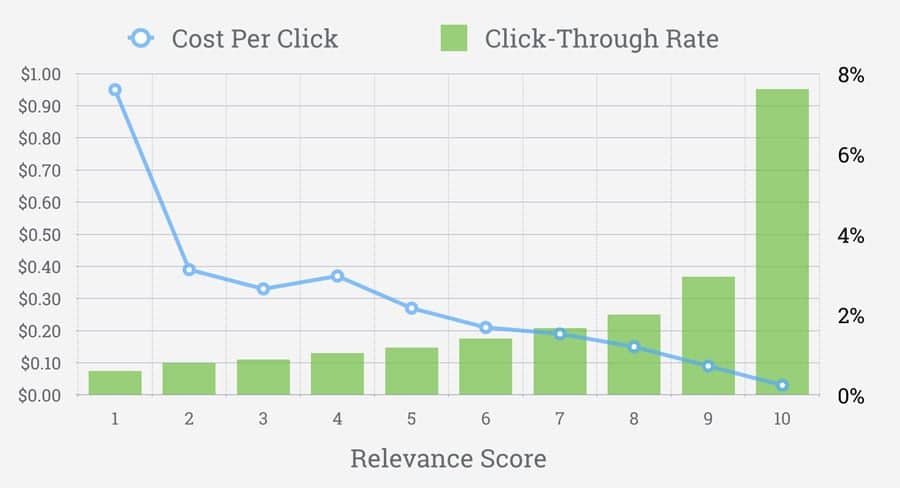 Catering to the needs of businesses, Facebook has developed several types of ads. One of the most effective forms is video. However, Facebook research has found that 47% of the value of Facebook video ads occurs in the first three seconds of the video. This means that marketers wanting to take advantage of Facebook video ads need to get straight to the point. In other forms of advertising, it comes down to using the right image, which accounts for 75-90% of advertising effectivity.
Facebook Faces Issues Bigger than Profitability
Facebook, one of the biggest companies in the world, did not reach its 14th birthday unscathed. The company has faced more than its fair share of major social issues, from the dissemination of personal information to fake news.
Fake News
About 45% of American adults get their news from Facebook, despite only 5% of Americans having "a lot" of trust in the news they get from the site. Americans trust the information they get from social media sites less than other sources. About 37% of Americans trust social media news, while 85% trust information from local news organizations and 72% trust national news organizations. News coming from friends and family ranks between national news and local news sources with 76% of people trusting them. In 2015, Facebook's algorithm was programmed to omit misleading content. Users could also flag "fake or deceitful news." Then, in 2016, they announced plans to tackle the spread of false information by developing new products, working with fact checkers, hitting back at websites with fake stories, and launching the Facebook Journalism Project. Nonetheless, the fallout from Russian trolls spreading fake news on Facebook to impact the 2016 US presidential election continues to undercut the trust Facebook users have in news discovered through the platform.
Facebook Privacy
Another major concern among many critics of Facebook and other tech giants focuses on users' data privacy. Facebook's most recent scandal revolves around Cambridge Analytica. The analytics firm was investigated for allegedly collecting data from more than 87 million people via Facebook. The data Cambridge Analytica took was supposedly used to influence the outcome of the 2016 election and even Brexit through "psychographic targeting".
Facebook Looks Ahead
Despite being called up to testify in front of Congress about Russian meddling in the presidential election, and Facebook needing to put out numerous other fires, the company continues to look ahead, funding its own research and development teams.
Facebook Watch
Facebook Watch is a video-on-demand service rolled out first to US users about a year ago. It is now available to all Facebook users. Much along the same line as Amazon Originals, Facebook Watch hosts unique content on its channel. Partners produce the content, keeping 55% of the revenue — Facebook drags in 45%. Currently, Facebook is exploring how to make their shows more interactive, which could take the form of virtual reality.
Virtual Reality
After the purchase of Oculus VR in 2014, Zuckerberg announced his goal of getting 1 billion people into VR. That goal may soon become a reality, as Facebook launched Oculus Go, the company's standalone headset, in May 2018.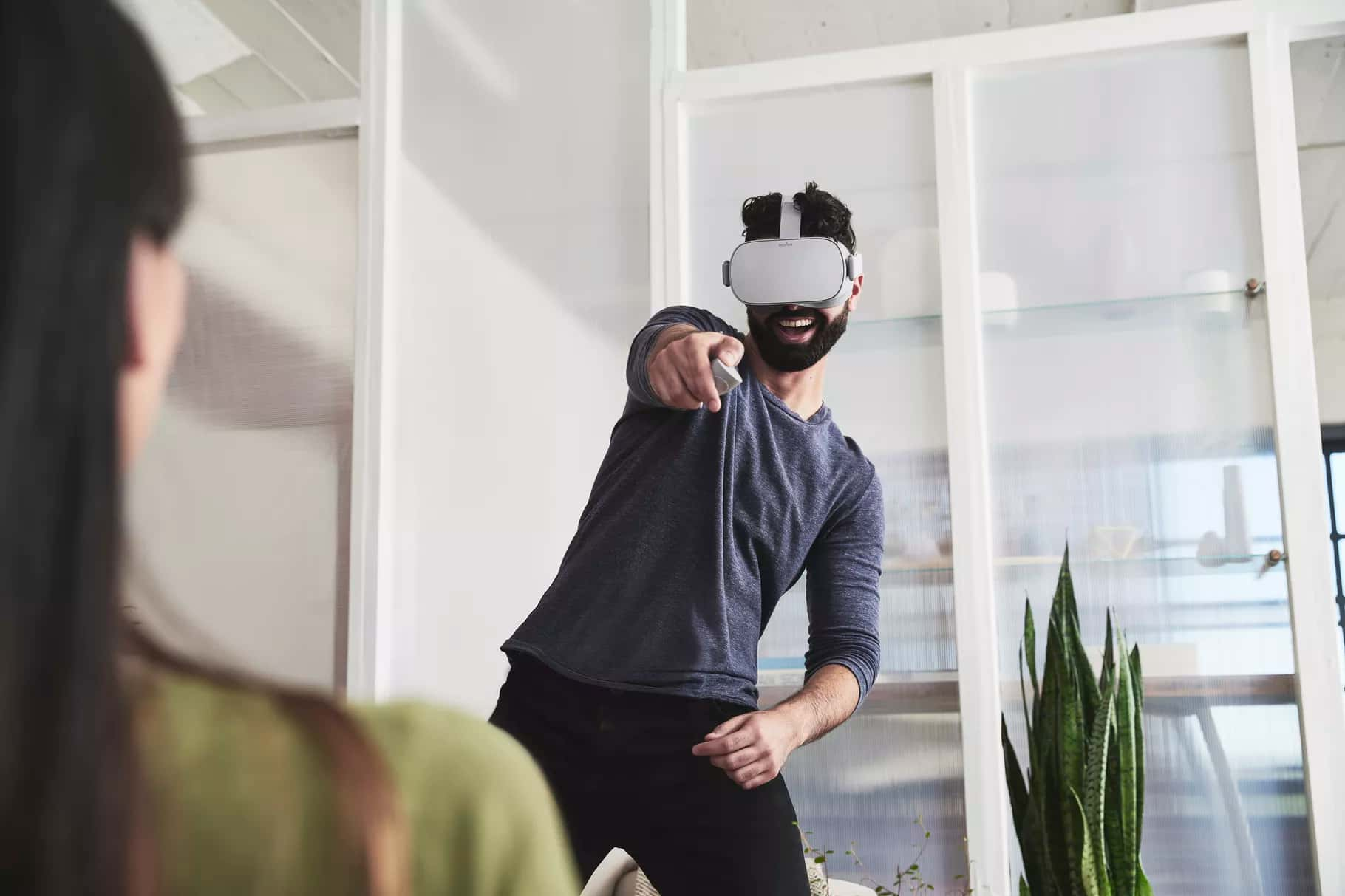 Priced at $199, Oculus Go does not require a high-end smartphone to operate it.
Swipe Right for Facebook Dating
In May 2018, Facebook announced that it would be developing its own dating service—directly competing with the popular Tinder app. As of August, it is still in a testing phase. Currently, it's not being designed to be a separate app, but a feature within Facebook itself.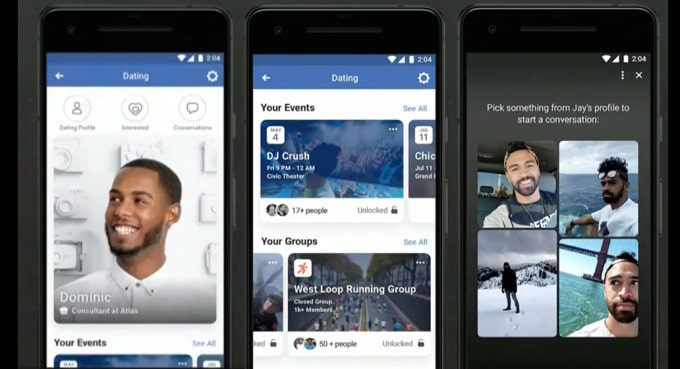 Workplace by Facebook
Workplace by Facebook is the company's foray into business collaboration tools. It is completely separate from a users' personal Facebook account and requires a work email account to set it up. Initially announced in 2016, Facebook attempted to capitalize on users' familiarity of the platform and how easily it integrates with other commonly-used business apps and tools. The standard tier for the tool is only available by invite. Companies interested in getting a premium account can start signing up without an invitation.
Other Random Facebook Statistics and Facts
If you were to venture a guess of what Zuckerberg makes a year, it would be in the millions—the high millions, and you probably wouldn't be wrong. However, if you guessed what his salary was, you wouldn't be close. Zuckerberg's salary is a comical $1 a year. Though Zuckerberg's Facebook URL is https://www.facebook.com/zuck, it was originally www.facebook.com/4, because he is the fourth person to join the site. Now, his old URL just redirects to his new one. Despite the massive amount of traction Facebook has in the world, it's missing from one of the largest online markets in the world — China. In fact, Facebook is straight up banned in China. This is a shame for any Chinese who are fans of Cristiano Ronaldo, who is the most followed celebrity on the social media site with 122 million followers. Shakira takes the silver in this regard with 102 million followers.
Summary
The social media giant's booming relevance in the world, from its humble beginnings as a rate-how-hot-this-person-is website, means its history is packed with interesting Facebook statistics that can help you understand the company's trajectory.
Though Facebook has lost traction with teenagers, which could pose problems down the road for the company, marketers are still pouring billions into advertising on the site because of its ability to target users based on demographics and interests.
No matter how you use Facebook, knowing the right Facebook statistics is going to help you get the most out of the social media platform. If Facebook is one of your key social channels, make sure to read our list of the best WordPress Facebook plugins. Didn't see your favorite Facebook statistics or facts? Share them in the comment section below!