Maintaining a successful website requires you to do everything you can to serve your visitors' and users' needs. The more tailored the experience your site delivers, the higher your chances of conversion.
But when operating in a worldwide context, things can get harder pretty quickly. That's where geolocation and IP Geolocation come in handy.
What Are Geolocation and IP Geolocation?
Geolocation is a compound process of determining the geographic location of an object using different location-specific datasets and translating them to latitude and longitude coordinates.
IP Geolocation is a specific type of geolocation that relies exclusively on the IP address of a given machine connected to a server. Specifically, by gathering this IP information automatically, a site manager is able to set up rules to redirect users to the most relevant content for them.
Examples of IP Geolocation-Based Rules
Thanks to IP Geolocation, you can:
Redirect visitors to localized versions of your site or online store based on their location
Serve different location-based cached versions of your site
Combine Geolocation functionality
These are just a few of the plethora of use cases where you could take advantage of IP Geolocation.
Introducing MyKinsta's Geolocation Tool
Some hosting providers may offer IP Geolocation filters by request through their support teams. However, it can be frustrating to have to create a support ticket every time you need to alter an IP rule.
That's why Kinsta's made it easy by building server-side IP Geolocation functionality right into your MyKinsta dashboard. With this new tool, we're turning the keys over to you to freely customize and set up location-based rules as you see fit.
How to Enable the Geolocation Tool in MyKinsta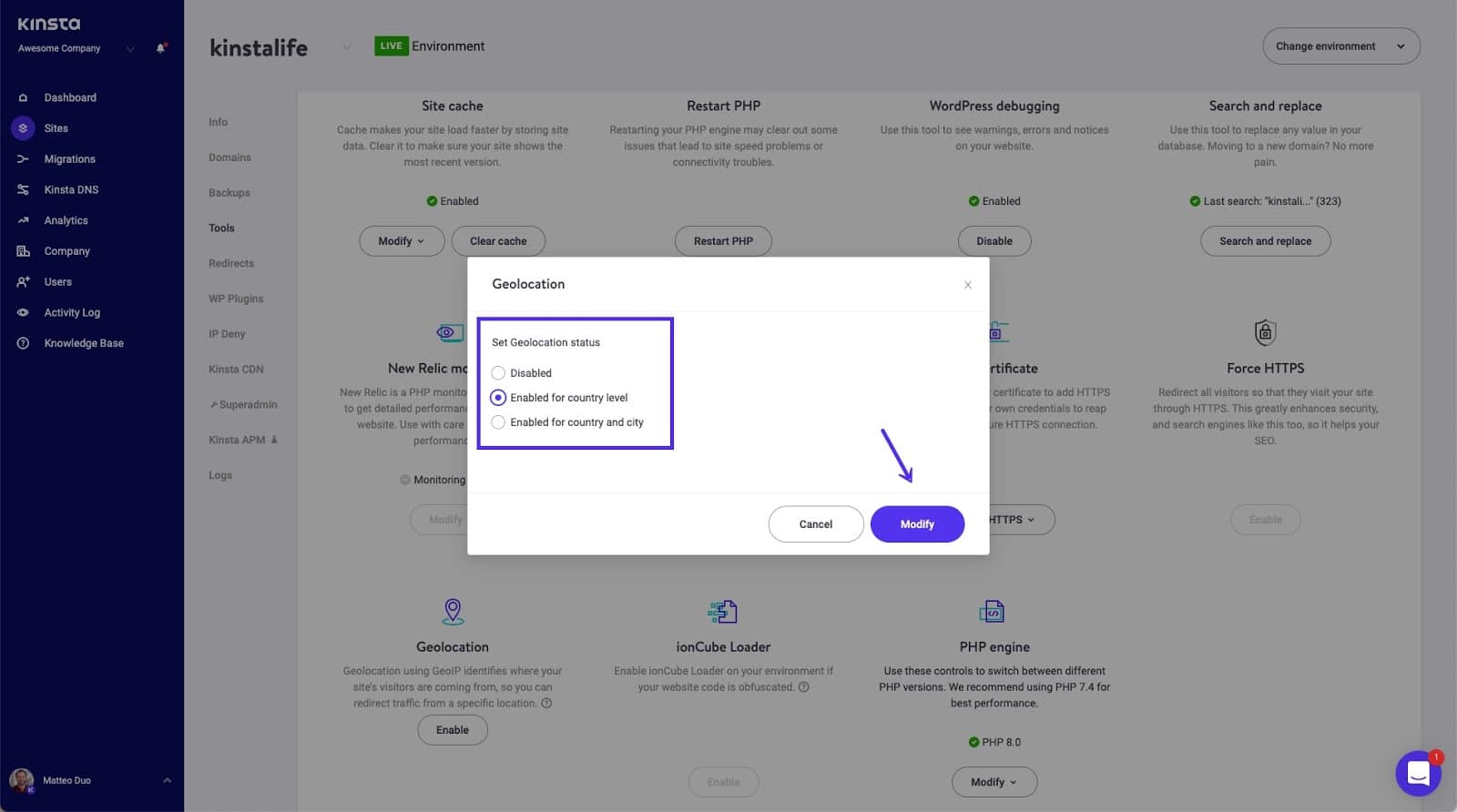 If you'd like to activate the new Geolocation tool, you'll need to:
Log in to your MyKinsta dashboard
Visit the Sites section
Click through to the site you need the IP Geolocation functionality enabled on
Navigate to the Tools tab and click Enable
For a detailed step-by-step guide on how to properly set up the new Geolocation tool and redirect traffic from specific locations, make sure to check out How to Use IP Geolocation With Your WordPress Site at Kinsta.
.
Summary
We're thrilled to release Kinsta's Geolocation tool and make it available for free with all plans to all customers. Thanks to this new feature, you'll have more granular control over your site's traffic than ever before.
To keep up with the latest news and updates from Kinsta, make sure to subscribe to our newsletter.