Tara Claeys began her career in advertising and marketing in the early 1990s. When her first child was born, she supplemented her full-time job as a mom with illustration and stationery design for clients around the world. After running that small cottage industry and creating her website, Tara transitioned her company in 2010 from TLC by TARA stationery to Design TLC website and graphic design.
Design TLC is now a team of three, where development projects and support and site maintenance for existing clients make the core business.
Check out our interview below with Tara Claeys, Founder at Design TLC.
WordPress, the (Obvious) Choice to Move From Paper to Digital Services
"If I have to be fully honest I was tired of working with paper and since I had created my own site as well as a couple of others for some local businesses, the move to fully digital services made sense. My marketing background and understanding of business helped me become an 'accidental entrepreneur.'
I heard about WordPress from a friend and decided to learn how to use it on my own. The other sites I had built were in Microsoft FrontPage, which was becoming obsolete. Once I started using WordPress and learned about WordCamps and the WordPress community, I never looked back. Through word of mouth, I have built close to 100 websites over the past 10 years."
"My agency, Design TLC, specializes in websites and digital marketing for small schools, enrichment programs, camps, and education-focused nonprofits. We love working with these organizations, whose mission is to help children learn and grow. As a mom, I have an understanding of what parents look for when looking at school, camp, and enrichment program websites and how to talk about services and programs.
Building WordPress websites for this type of organization makes sense because it is affordable and yet extendable to meet specific feature needs they may have, such as posting events and accepting donations."
Nonprofit Organizations Need High-Quality Hosts (And Serious Companies)
"Over the past 10 years, we have created and managed WordPress websites on a number of hosts, and over time some decline in performance. In 2019 especially, we had a bad experience with what was our favorite affordable and well-performing web host.
We had several nonprofit clients hosted at this company because it was a good value. The problem is, this company made some big changes in its platform and management that year, which resulted in significant errors on our client sites and some deceptive marketing tactics.
This was unfortunate, as even when given the opportunity to make it right, the company dug in and did not make improvements. As a result, we started moving our clients off this hosting company onto another host we use.
Unfortunately, we've seen many hosting companies experience growing pains over the years. How a company responds to mistakes is important to leaving a good impression with their customers and the WordPress community in general.
With many nonprofit organizations as clients, we always have our ear to the ground for information about quality web hosts."
Working with a Web Host That Makes Our Job Easier and We Trust
"As an agency that does not resell hosting, we still have a responsibility to our clients to recommend providers who we have vetted and can trust. Our clients trust us to have more knowledge and information about these technical things that they often do not understand. We are not motivated by affiliate income for referring clients to hosting companies – we only recommend services we know do a good job. In addition, we want to work with hosting companies that make our job easier: customer service, Managed WordPress Dashboard, ease of set up and migration – these are all very important. And Kinsta has it all.
Around the time we were migrating sites away from the old host, we started hearing about Kinsta and discovered your discount for nonprofits. That's why we decided to give you guys a try and have been very pleased with the service and performance provided.
There is a lot of competition in the Managed WordPress space, and there are several top-notch providers. Speed is a primary concern for websites that want to rank in Google, so that is important, as well as accessible customer service and an easy to use portal/dashboard.
To be competitive, Manage WordPress hosting companies need to offer these features, as well as free and easy to install SSL certificates, manual and automated backups and one-click restore. Kinsta offers all of this, so we consider you among the top-tier providers."
Shocking Performance Boosts, Simply by Moving to Kinsta
"The first website we moved to Kinsta was a small school. The website was at WP Engine (not the company mentioned above as being a problem). Although we were happy with WP Engine, they raised their prices and Kinsta's nonprofit rate seemed a better business choice for us.
After moving the site to Kinsta from WP Engine, we were shocked that the website loaded in under 1 second! We thought the site was pretty fast at WP Engine, but this was much, much faster. We have moved 5 more websites to Kinsta over the past 6 months."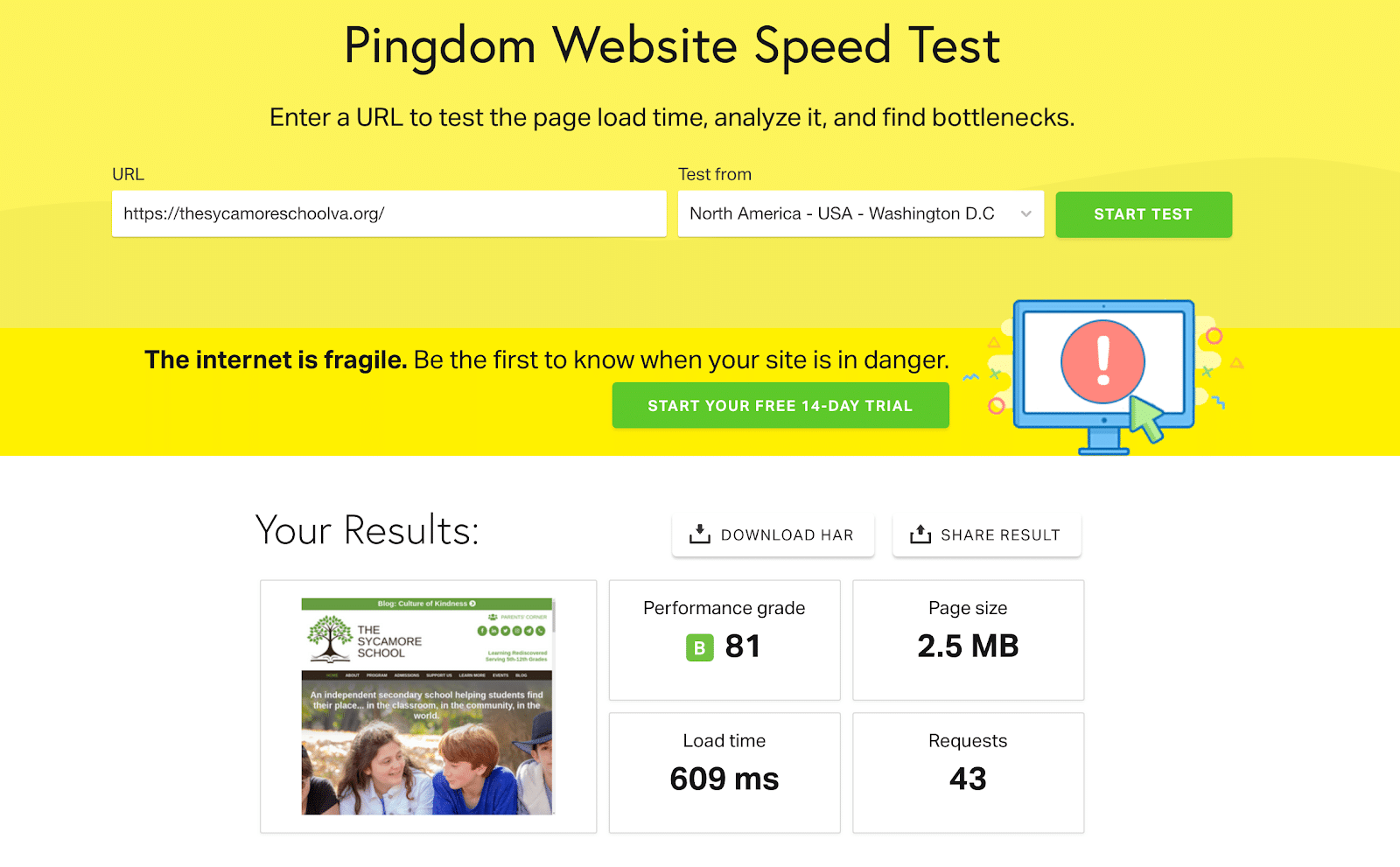 "On top of performance boosts, there are several great things we love about Kinsta, like how easy it is to create and manage staging environments and backups can be restored easily between production and staging sites.
How's this helping doing our job? Well, clients can easily add us as collaborators on their site hosted with Kinsta and we can manage all of our Kinsta client websites in one Kinsta dashboard.
Another selling point for Kinsta is that you do not force your customers to upgrade their plan if their website traffic spikes. Kinsta charges a nominal amount for overages. Some hosts make you upgrade to a plan that is 4x your current monthly fee because website traffic increased. In some cases, this is just a temporary or seasonal spike and not a cause for a major price increase."
Kinsta Is Our Go-To WordPress Web Hosting Provider for Nonprofits
"The team at Kinsta provides great service. They are friendly with my clients, with whom they have to interact to set up the special nonprofit plan. The live chat support is easy to use and helpful."
"Kinsta is our go-to WordPress web hosting provider for nonprofits. Speed, great customer support, easy-to-use staging and backup systems, and a powerful dashboard to manage our client sites. They simply make our job so easy!"