Deciding which Top-Level Domain (TLD) to use can be overwhelming. You have dozens of options for any domain that you want to register. What's more, these variations can differ significantly in price. However, in most cases, you can't go wrong with either .net or .com.
Choosing between .netvs .comwill come down to the type of project you're working on, your budget, and which TLD you prefer. Then, you'll just need to register your chosen domain name extension.
In this article, we'll cover how domain name extensions or TLDs work. We'll discuss the differences between .netand .comdomains and explain when you should use each extension. Let's get to it!
What Are Domain Name Extensions?
When you see a domain name, it's usually divided into two parts. There's the name itself, such as kinsta. There is also the second part of the URL, which, in our case, is .com. The last segment of the domain name is called an extension or a TLD.
Some well-known examples of TLDs include:
.com was one of the first TLDs ever created, dating back to 1985, and it stands for 'commercial'. Initially, .com was meant for commercial organizations, but it quickly became a general-use domain extension.
That first batch of TLDs also included other popular options, including .gov, .edu, .org, and .net. Among those variations, .com and .net are the most popular for regular websites. They contrast with .gov or .edu, which are designed for more specific types of sites.
During the past decades, the number of available TLDs has grown drastically. Now you have literally hundreds of options to choose from, including variations such as .ninja or .pizza, and even .george (yes, that one is real):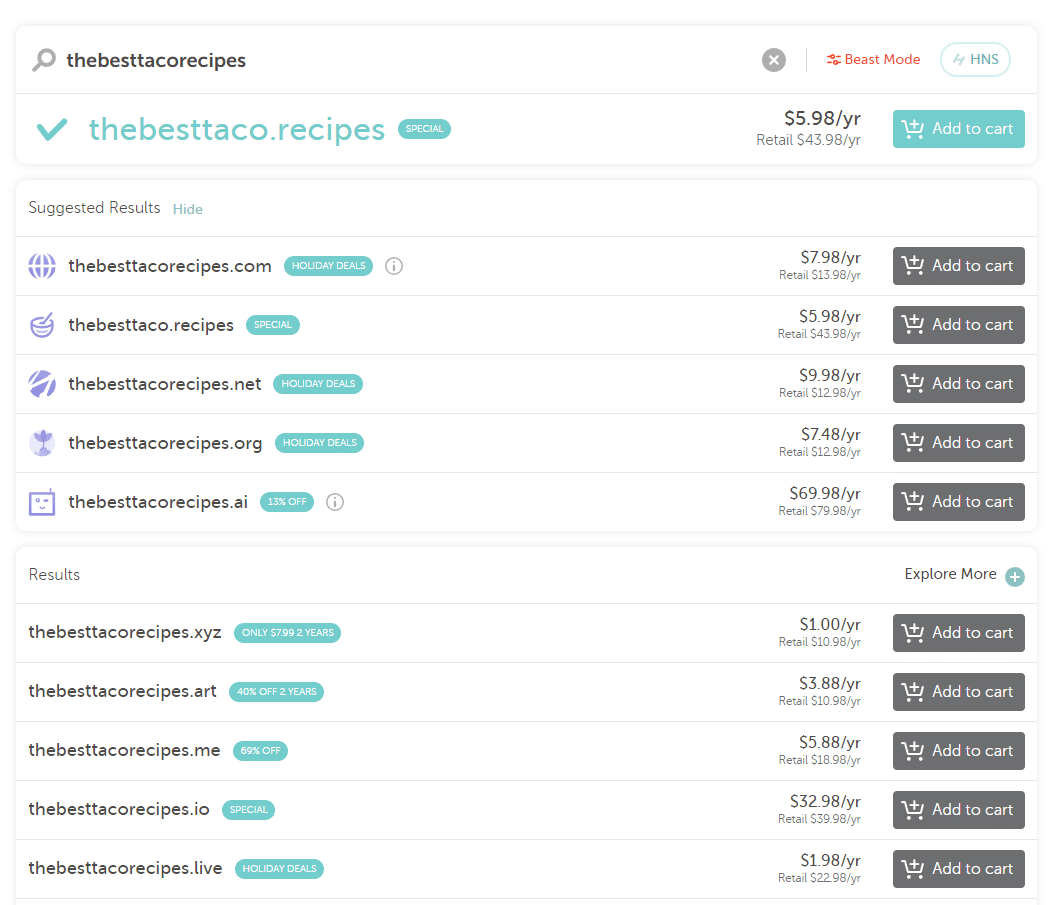 The goal of new TLDs is to increase domain availability. As such, there are more options for you to register even if popular ones, such as .com, are taken. However, even with all the competition, .com and .net remain among the first options for anyone creating a new website.
Deciding which Top-Level Domain to use can be overwhelming. 😰 This guide is here to help 💪Click to Tweet
The Difference Between .net vs .com Domain Names
It's important to understand there are little to no practical differences between .net and .com domain names. In fact, the same statement applies to every other TLD. If you register either a .com or a .net domain for the same website, the site itself will work just the same.
Some research suggests that users trust .com names more than other options (likely due to sheer exposure). However, .net also happens to be one of the most well-known TLDs.
Additionally, in terms of trust, .com and .net are neck to neck. That means choosing between either TLD comes down to the following three factors.
1. Availability
In many cases, finding available .com domains can be a challenge. If you plan on registering a domain soon and you have some name options in mind, we recommend checking out a registrar right now.
Registrars enable you to look up available domains on demand. Chances are, many of the .com domains that you're interested in will already be taken:

Most customers will have .com TLDs as their first choice. That preference makes it somewhat complicated to acquire one, particularly if you're trying to register a website with a common name.
When it comes to .net, it's somewhat easier to find available domains. If the .com URL you're looking for isn't up for grabs, but the .net is, we recommend registering it.
2. Price
On average, both .com and .net domain names cost around $10 or less to register. By registration, we mean that you can use the domain name for a year. That package includes Internet Corporation for Assigned Names and Numbers (ICANN) fees and, in a lot of cases, free domain privacy tools: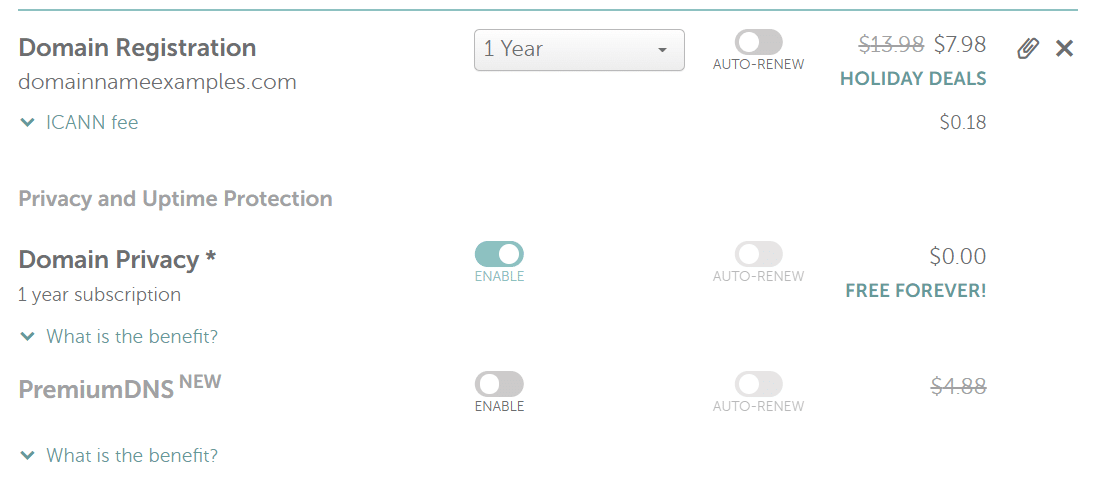 Keep in mind that these costs can vary depending on several factors, such as which domain registrar you're using and any available discounts. Many domain registrars offer fantastic deals throughout the year. Therefore, it can be worth your time to wait for a sale if you're planning on buying multiple URLs.
In our experience, .com and .net domain names tend to be very close in pricing. Usually, you'll only see a slight difference between these options, which means that price may not be a deciding factor: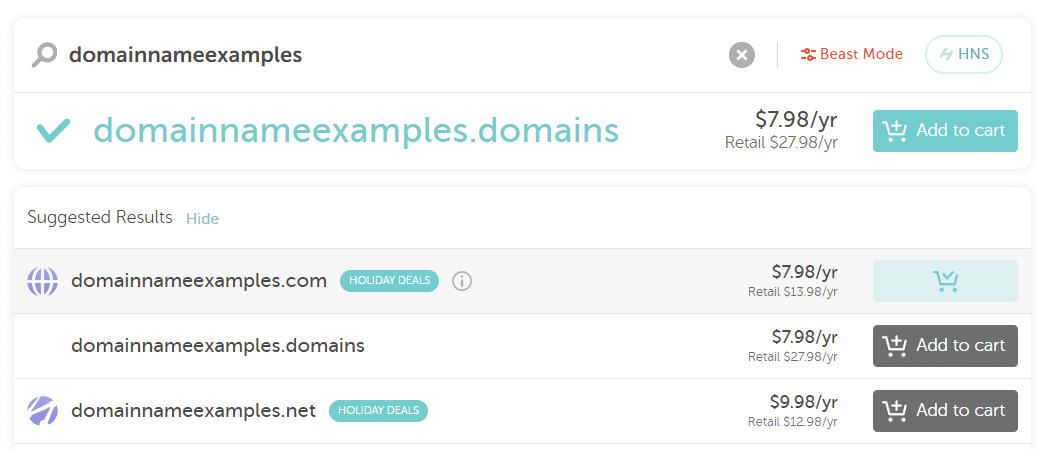 It's important to note that you'll usually have to pay full price for renewal if you take advantage of a discounted domain name registration. That means it can be a smart move to pay for multiple years of registration in advance to save money (if your budget allows for it).
Sometimes, you'll also run into what registrars call 'parked' domains. These are domain names that don't point to any websites.
There are several reasons why someone might leave a domain parked. Sometimes, you'll buy a domain well before you start working on a website, or you might purchase it to resell it.
When you run into a domain name that's for sale at a much higher price than normal, it usually means someone bought it to resell it:

There are some benefits to buying an existing domain name, depending on what type of project you're working on. Domain names with older registration dates can make your website look more reputable for Search Engine Optimization (SEO) purposes.
Furthermore, there may be no available .com or .net domains, and you're unwilling to look for alternative TLDs. In this scenario, buying an existing domain might be your only option.
For new websites, we usually recommend against spending too much money on a domain name. Unless the name is tied to an existing brand, you can generally find an alternative that won't cost you hundreds or thousands of dollars.
3. Search Engine Optimization (SEO)
Your choice of TLD doesn't have an impact on your SEO. Google has confirmed that it doesn't consider your TLD a ranking factor.
However, as we mentioned before, your chosen TLD can impact how much users trust you. As we discussed earlier, research shows a general perception that popular TLDs such as .com and .net are more trustworthy. Moreover, many users associate less popular domain name extensions with spam or malicious websites.
Take .xyz, for example. For a while, anyone could register a free .xyz domain. That resulted in users associating the TLD with less trustworthy or valuable projects.
It's safe to say that's not the case with either .com or .net. Visitors typically associate those TLDs with reputable businesses and projects. In a nutshell, choosing between .net and .com should not impact your site's SEO.
When To Use .net vs .com
As a rule of thumb, we recommend choosing the .com option if it's available. Users trust .com names slightly more than any other TLD, and it's the most well-known domain name extension on the market.
The only exception to that rule would be if the .com domain isn't available, but the .net option is. In that scenario, we'd recommend going with the latter extension.
In practice, the difference between a .com or a .net domain is minimal. They're both TLDs that consumers know and trust. The same cannot be said for gimmick TLDs, such as .george or .ninja. Those extensions might sound fun, but they're likely to have an impact on the way that users perceive your website.
Choosing a domain name can take a long time, so opting for .netinstead of going back to the drawing board can make sense. Sometimes, you also might be able to save a little money by registering a .net domain vs. its .com equivalent. However, those savings tend to be so minimal that it may not be a worthwhile tradeoff.
Remember that you can always change your domain name later if you're not happy with your first choice. However, transitioning to a new domain name brings several SEO challenges, so it's not something that you should do lightly.
How To Buy .net vs .com Domains
Registering either a .net or a .comdomain works much the same. You might be able to register a domain name through your web host. However, many hosting providers will charge you more than a registrar would.
A domain registrar is a service that acts as a middleman between you and the ICANN. You can use registrars to see if the TLDs you want to use are available.
Registrars will charge you a fee for registering a domain in your name for a specific period. After that time elapses, you can choose to renew a domain registration or let it return to the open market, where someone else might purchase it.
Going directly to a reputable domain registrar will likely get you the best prices. There are plenty of great options that make registering a domain name simple, such as Name.com, NameCheap, Google Domains, and eNom: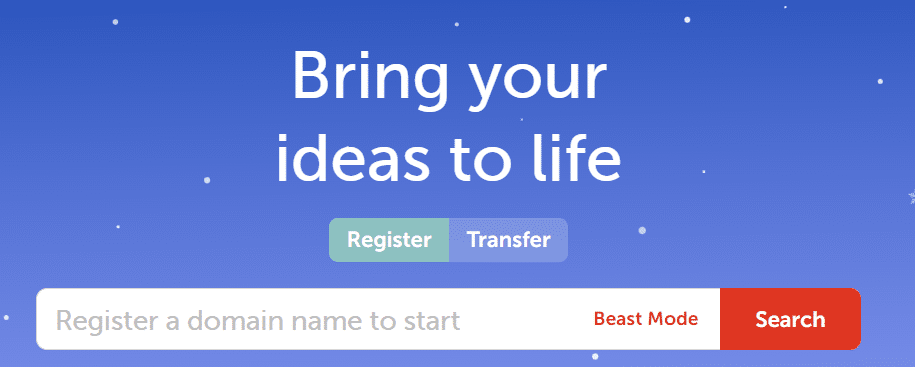 Domain registrars enable you to look up as many names as you want. The platform will show you which TLDs are available for each search. Considering how popular .com and .net domains are, they'll be among the first results for any search, making it easy for you to compare options.
Once you find an available domain name with the TLD that you want, you can register it. The process is simple, and it should only take you a few minutes. After registering a domain, you need to update its' name records'.
Name records are the datasets that tell a domain to which IP address it should point. That way, when users type in your domain name, their browsers will be able to look up which IP address or website to send them to.
Want to learn how domain name extensions and TLDs work? 👀 This guide has you covered ⬇️Click to Tweet
Summary
All domain name extensions are equal in the eyes of search engines. However, we can't say the same regarding user trust. Many lesser-known TLDs get a bad rap, but that isn't the case for .com and .net. They are two of the most well-known and used extensions, making them more familiar and trustworthy to users.
Ideally, we recommend choosing a .com domain if it's available. If not, a .net domain name is an ideal second option. Both extension types are usually equal in terms of pricing, so it all comes down to availability and your preferences.
After you register a .com or a .net domain, it's time to get to work on your website.
At Kinsta, we offer Application Hosting, Database Hosting, and Managed WordPress Hosting plans for every kind of site. Check out our plans and start building your website today!