If you're looking for a unique domain name for your business, a parked domain could ruin your day.
In 2020, there were over 260 million unique registered domain names across the internet, 70.06% of which are parked.
That's over 182 million parked domains for you to compete with.
And because they're simply parked, with no website, you may not even realize they're taken until you've already decided on one.
In this article, we'll cover what parked domains are, how they work, how to identify them, as well as how to buy, park, or even sell your own.
Ready? Let's get cracking!
What Is a Parked Domain?
A parked domain is any domain name that isn't directly connected to a website or email service. They also don't redirect traffic to another domain with a working website.
At most, it displays a page that explains that "this domain is parked" or maybe it's available for sale.
A parked domain is a domain name that someone has registered without actively using it. It's simply sitting there at the side of the digital highway. It's waiting to be used or sold, in limbo. This is exactly why we call it a "parked" domain.
A domain name is a tool to help people locate different websites on different servers around the globe. In simple terms, when you enter a URL in your browser, the browser "translates" the URL into the server's IP address.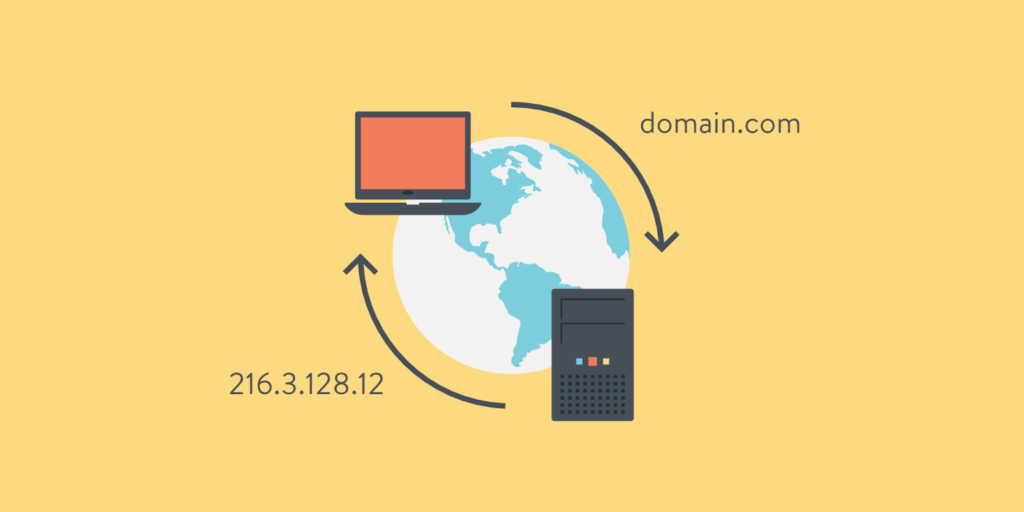 Instead of pointing to a specific server, a parked domain will either point nowhere (and you'll see an error when visiting it) or it'll serve a generic "parked page" from the DNS registrar's own server or a third-party service.
These domains are also known as aliases and can be used for a lot of different purposes. It's not uncommon to secure misspelled versions of your primary domain name or you might register your primary domain using other Top-Level Domains (TLDs), like a .co or .net address.
Parking a domain is also often used for saving domain names you'd later sell. Some companies also create additional email accounts using the alias, which forward messages to their primary domain.
We'll cover why companies do these things in more detail later.
You can use a domain registrar (a service for registering domains) to register any available domain names you choose to purchase. In the same service, you can also tie them to your hosting provider (like Kinsta).
If you do this and link your domain name to a server to display your website, it's no longer considered a parked domain, even if your site is very basic and just says "coming soon."
You can read more about the Domain Name System (DNS) if you want a better fundamental understanding of how domain names work.
What Does a Parked Domain Look Like?
A parked domain can take on many different shapes and forms, but usually, it boils down to three different versions when visited:
The domain returns a typical "can't be reached" error.
The domain shows a simple "this domain is parked" message.
The parked domain shows a simple sales page.
Let's see what these look like in real life.
Error Message
Many parked domains simply return an error message when you try to browse them. The error message looks different from browser to browser, but this is what it looks like in the latest version of Google Chrome: It just specifies that the "server IP address could not be found" which can be confusing, followed by the 'dns probe finished nxdomain' error. The DNS error message is exactly the same as the one for domains that don't exist at all.
So, just by browsing a specific domain, you can't know for sure if it's free or taken.

To confirm that a domain name is free, rather than parked, you can do a WHOIS Lookup. It'll help you confirm if it's free or not.
We'll cover exactly how you can do a search like this in detail below.
Notification
The second type of parked domain just shows some basic text spelling out that the domain is indeed parked. For example, it may just have a headline that says "This domain is parked," like in this example.

These domains are typically not for sale, but rather, registered for later use. In some cases, the message might be something like "under construction" or "coming soon".
So if you find one of these pages while exploring domain name options, you're probably better off exploring other ideas.
Dropbox started their business with the domain name getdropbox.com because dropbox.com was taken.
It turned out that the guy had plans for a business using the name and wasn't interested in selling it. Eventually, Dropbox went to court when the guy created a simple site just to post ads to Dropbox competitors and make money. Finally, he agreed to sell the domain name for $300,000.
So be warned. People who have parked domain names may not be interested in selling them to you, at least not cheaply.
Listed for Sale
There are a lot of different domain holding companies targeting different industries that all have their own domain parking page. There are also specific third-party services where you can create a for-sale page and connect it to your domain.
In this case, the domain name ACLcare.com is owned by a private seller and listed through the DAN.com domain marketplace. The seller is asking for $5,195 for this domain name.
In this example, a domain holding company called Om Sai Domains has listed the domain name hollywoodmonk.com for sale. Their price? A cold, hard $450,000.
This might seem like a ridiculous price, but companies have paid more for domain names in the past. A lot more.
Now that you're familiar with how each type of parked domain can look, let's examine how you can tell if an error page is a parked domain or if it's free for you to use.
How to Tell If a Domain Is Parked
Let's say you're checking a domain name that you want to use, and you see an error message. Before you think "jackpot," you need to check if it's open for use or not. It could still be a parked domain that just hasn't been connected to any page or server.
You need to confirm that it's actually an open domain name before moving on with your logos and branding.
The easiest way to check is to do a quick WHOIS lookup for the domain name in question.
WHOIS Lookup
A WHOIS lookup is a search of the official domain name registry, to check if the domain name in question is currently owned and registered by anyone.
So the first step is to visit an online service, like the DomainTools WHOIS lookup.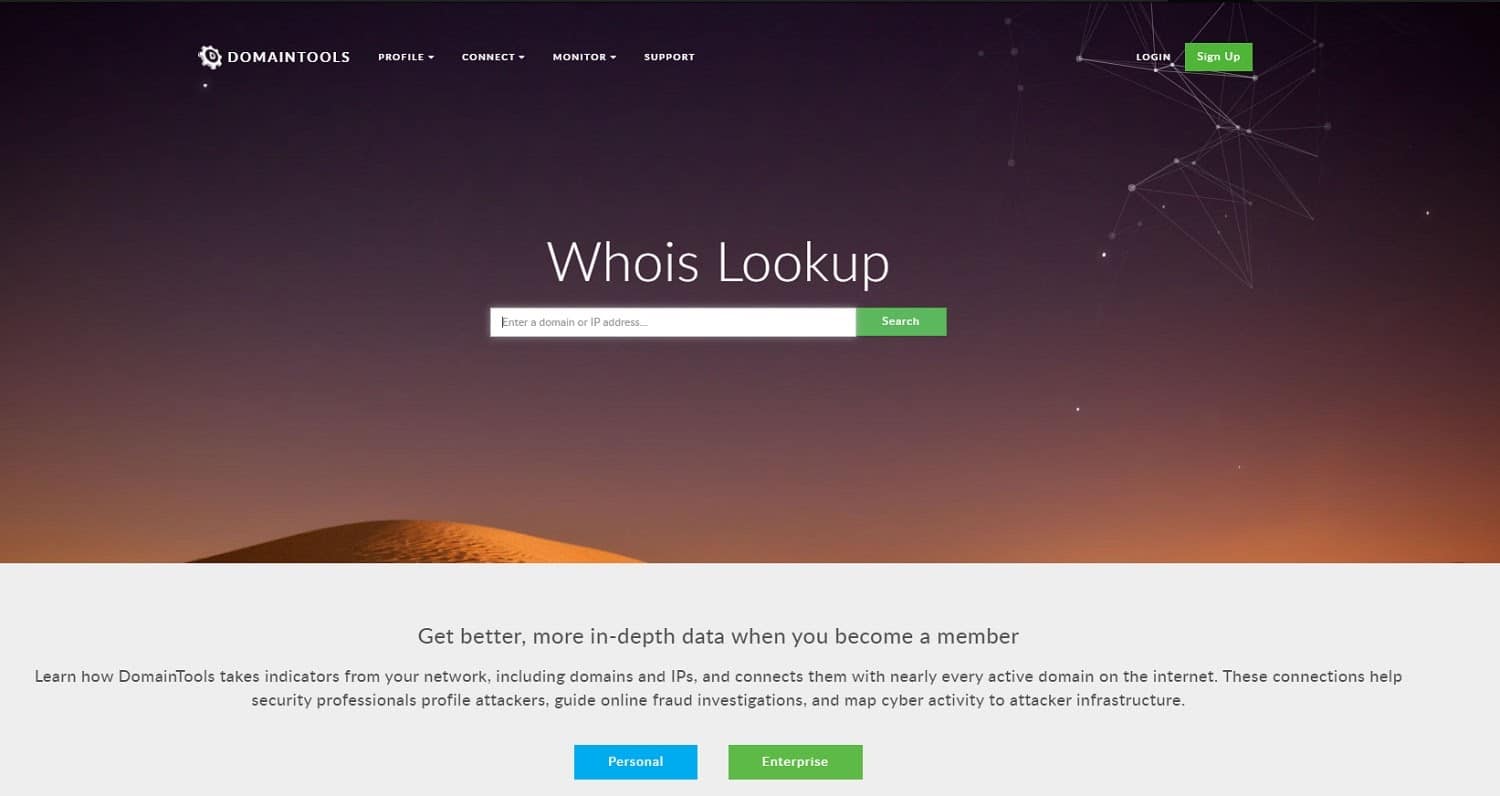 Type in the domain name in question and press enter. This will show you a results page where you can see if the domain name is truly free or not.
If the domain isn't registered, it'll say so in the domain status.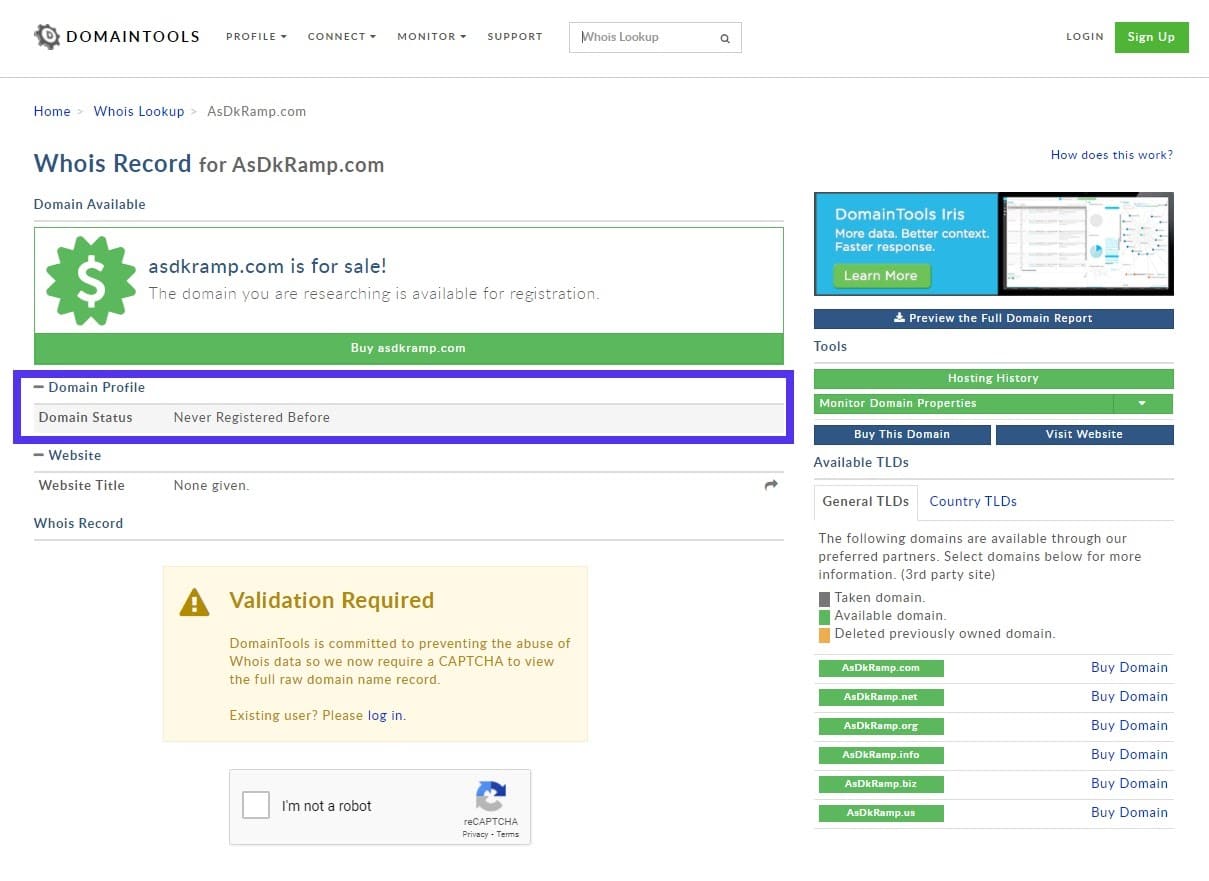 When searching for a random domain string, there will typically be no history at all. But many viable brand names are currently registered or have at some point in the past been registered.
If the domain is parked, the domain status will show that.
But because WHOIS protection is common these days, it probably won't show the identity of the owner unless they're listing it for sale: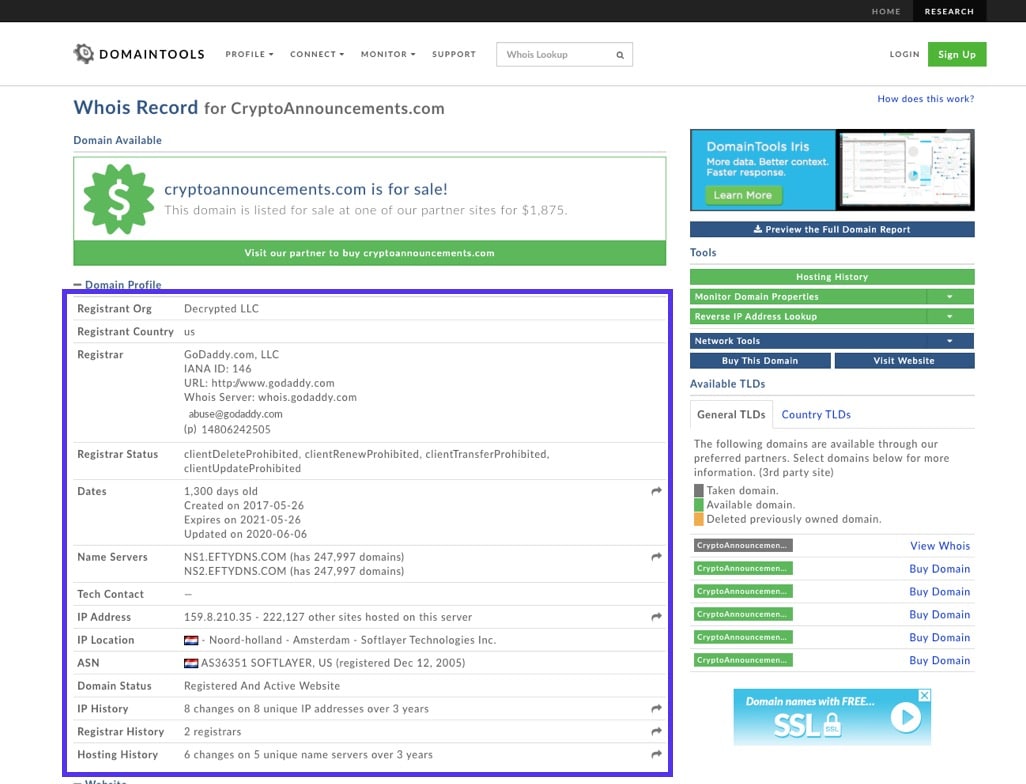 In this case, cryptoannouncements.com has been registered since 2017. The status is "registered and no website" which means it's a parked domain.
Surprisingly, the owner uses WHOIS protection to hide their identity and doesn't list their contact information, but uses a fake name server to highlight that the domain name is indeed for sale.
If you find out that your preferred domain name is indeed parked, you have two options: You can move on to your next, and hopefully available, idea, or you can bite the bullet and attempt to buy it.
If you settle on option two, we'll walk you through how to do it.
How to Buy a Parked Domain
If it's registered for sale as a premium domain, you may see that come up during the WHOIS lookup.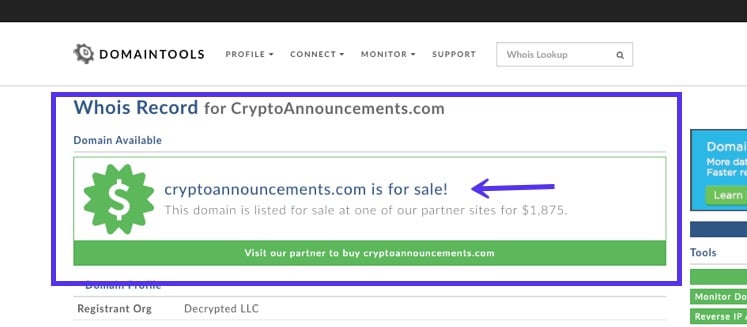 That makes things a lot easier. You can then click the link to purchase it directly from the partners. If you have a preferred domain registrar, this might make the process more complicated than it needs to be.

Before you make the purchase, you should also see if it's listed in the domain registrar of your choice, like Namecheap or GoDaddy.
Most Common Reasons Behind Domain Parking
But why do people park their domains? Domain parking isn't something people just do for fun. In this section, we do a deep dive into the most common reasons behind domain parking.
Investment Opportunity
Many domains are parked not because a business is waiting to use it, but because an investor thinks someone else might want it someday.
And owning the right domain name can pay off big time. Business.com was sold for $345 million back in 2007. The company who bought it ended up going bankrupt, which just goes to show that a good domain name might not be worth as much as some people think.
Some smaller investors also use marketplaces like Flippa to make a few hundred dollars per sale.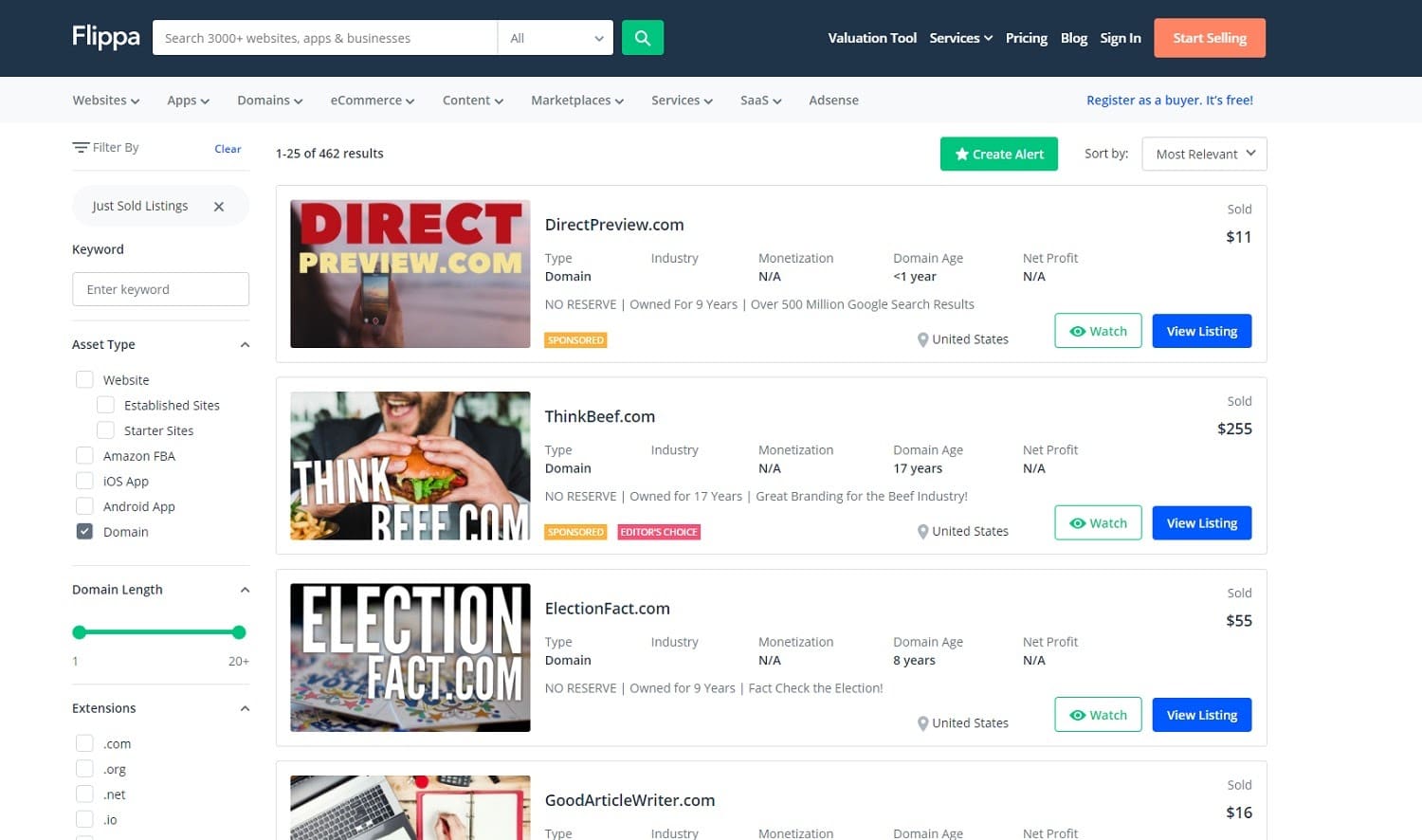 While there are thousands of domain names for sale at any given time, only a handful of domain names end up selling for more than a few bucks. Don't think of this as an easy way to get rich.
Reserving Potential Brand Names
One of the most common reasons for reserving a domain name is for a potential brand or company name.
If you're thinking about starting a business, and don't want to end up having to pay hundreds or thousands of dollars, registering your domain name early is the way to go.
Many business people understand this, which is why they take action and register domain names before even starting a business or creating a product.
Of course, it's a lot easier to register a domain name than create a business or product, so sometimes that's where the journey begins and ends.
Preventing Cybersquatting
Cybersquatting is when someone intentionally uses someone's trademark and brand reputation when registering a domain name.
For example, in the Dropbox case we mentioned above, the man who owned dropbox.com was only considered to be a cybersquatter once he started advertising for Dropbox competitors on the domain name.
If you just registered it before someone trademarked a company name, and used it for something else, you're not considered a cybersquatter. As a business owner, the last thing you want is for someone to type in yourcompany.com and end up on someone else's website.
To stop unscrupulous people from even having the opportunity in the first place, most startups and new companies register the most popular TLD variants for their company.
To protect your company, you should at least register these four domain name extensions:
Yourcompany.com
Yourcompany.co (because it's a common typo for .com, as well as a popular extension)
Yourcompany.net
Yourcompany.io
Yourcompany.org
For companies based outside the US, or are serving users in different languages and markets, you should also register your national domain name extensions. In the UK, this would be .co.uk, in Spain, it would be .es, in Italy .it, and so on.
Waiting on Development
Some people keep their domain parked while they're developing their website.
Instead of not working directly on your live website, you can instead develop locally or work on a staging environment while showing a WordPress maintenance mode or coming soon message on the live site. You can even get interested people to sign up to be notified once the site goes live.
No Longer Using (And Waiting on Domain Expiration)
The final reason why users park domains is that they simply aren't using the domain name anymore, and their hosting provider contract expired before the domain name.
If you are thinking about buying a parked domain, there's absolutely nothing on it, and it expires in a month or two, you could try waiting for it and see if the owner doesn't renew the registration.
More than 391 million domains have been deleted, so it's not too unlikely.
How to Park a Domain
The simplest way to park a domain is to just register it using a domain registrar like Google Domains.
When you're parking a domain, you don't need to worry about setting up nameservers to connect it to a web hosting provider.
All you need to do is find a free domain and register it. Domain parking is that simple.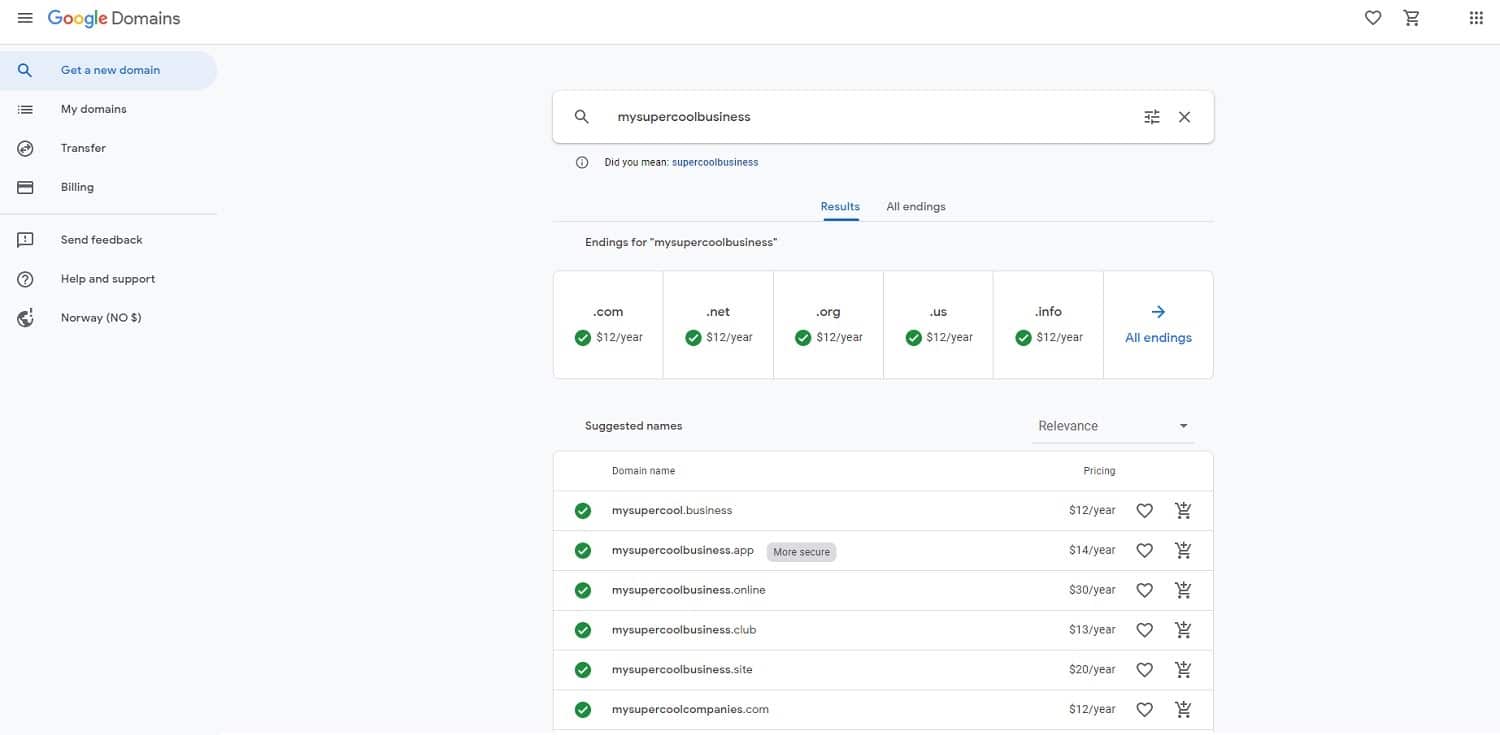 But it isn't free. You have to buy the domain. You can't just search for one and earmark it for later use.
To keep it parked, you need to keep paying for it every year. For most TLDs, this costs around $10 including WHOIS protection.
So make sure that you give it some thought before you do your first domain parking.
Are you sure this is the correct domain name that you're going to use?
You should be able to confidently answer yes to that question before you start registering domain names. If not, you can find yourself registering new domains every time you come up with a better option.
Read our tips on how to choose a domain name that stands out so that you don't waste your money.
How to List Your Parked Domain for Sale
Do you have a great idea for a domain name and you're blown away that it isn't taken yet? With changing trends and new products and product categories appearing every year, it's not impossible to stumble across a gem.
If you're willing to invest some of your budget in buying and parking one or more domains to sell them eventually, you want to list them for sale. But how do you do that?
List Your Parked Domain for Sale Through Your Domain Registrar
Some domain registrars let you do this. GoDaddy, for example, has a built-in marketplace called GoDaddy auctions.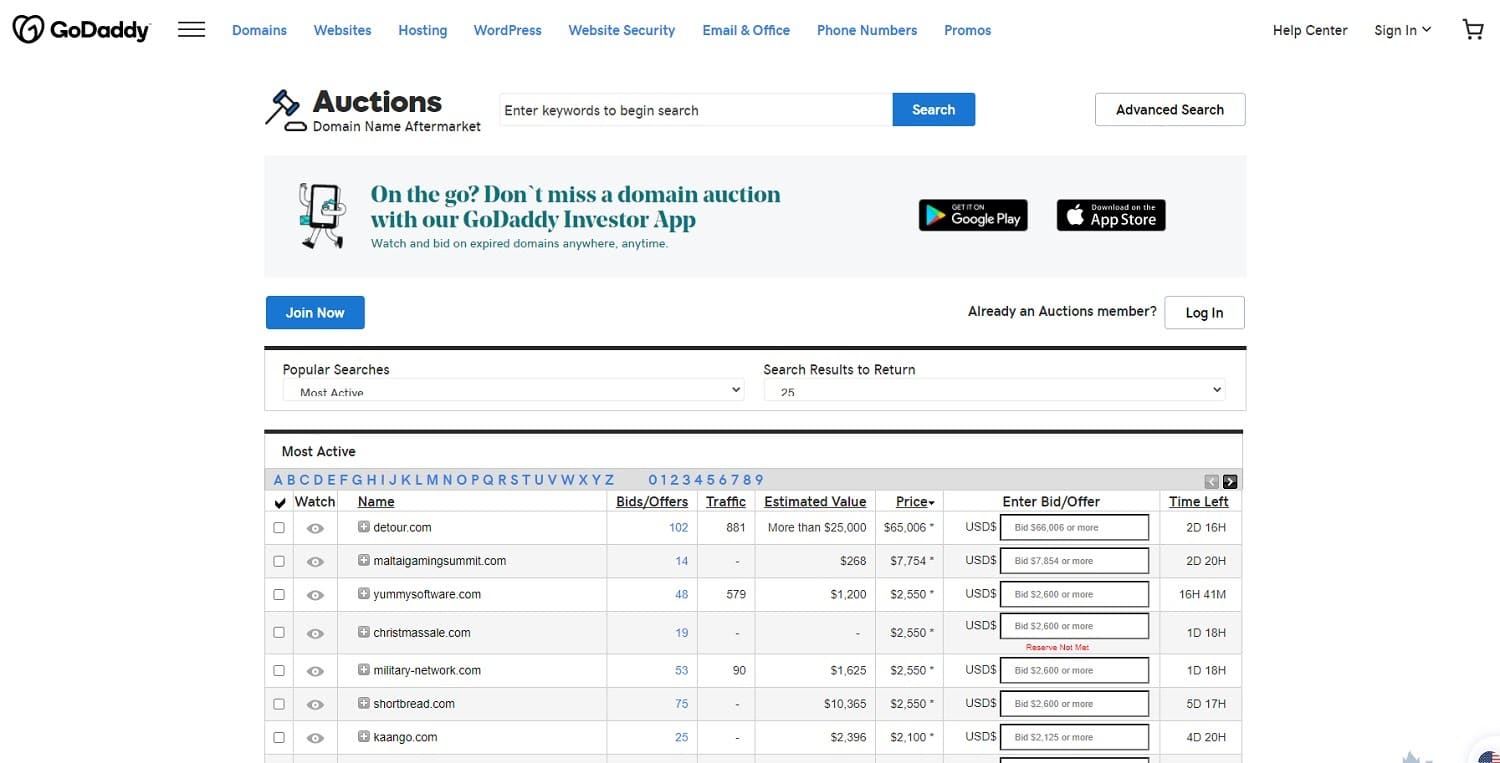 Namecheap also has a marketplace for buying and selling domains.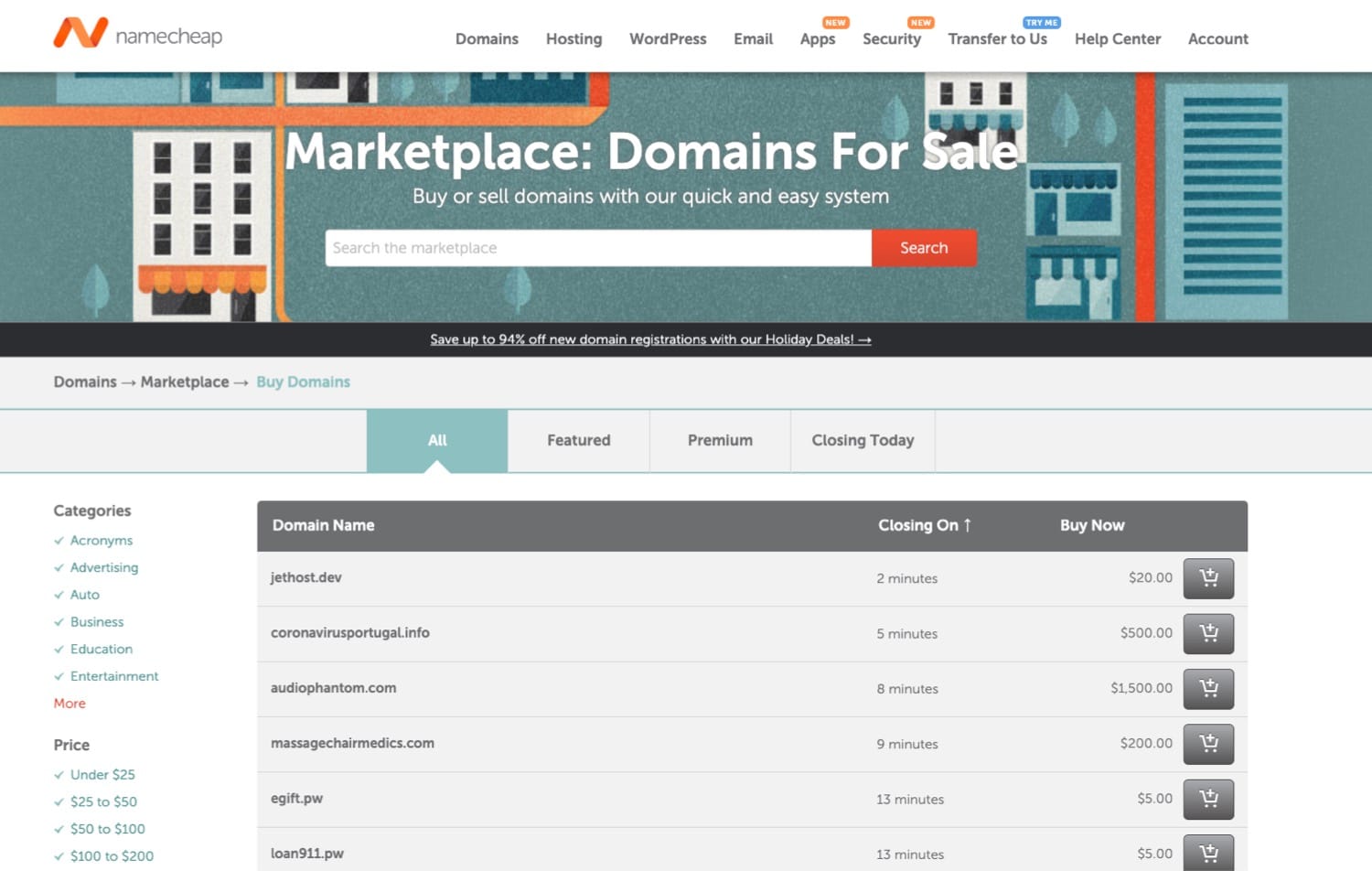 You can list your domain name for a limited time option with a minimum bid, and optionally, a maximum instant buyout.
An auction works best when there are multiple interested parties driving the price up over time. If you're just selling a standard domain name to a company that happens to have the name, you may be better off negotiating directly with them.
List Your Parked Domain for Sale Through Third-Party Services
You can also use your parked domain to sell itself with a third-party service like domainholder.io.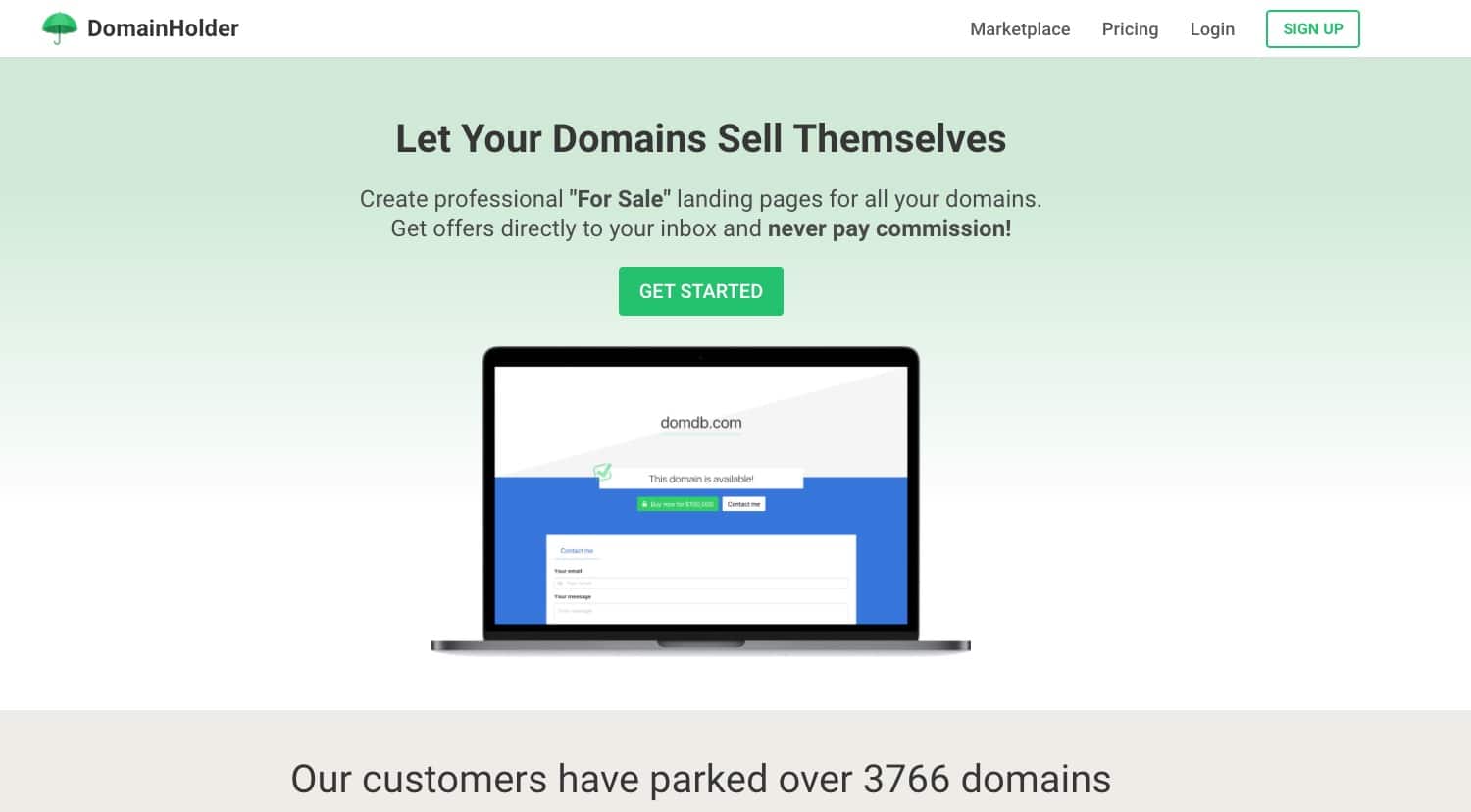 There are other third-party options for selling a domain name, some of which are:
Parked Domain FAQs
What Is the Difference Between a Parked Domain and a Redirect?
A parked domain either doesn't take you to any site at all or displays a single static page connected to the domain itself through the DNS. A redirected domain sends the visitor to another domain or URL when they visit the site.
Redirects are useful for SEO but also for brand protection purposes as it's typically a better strategy than just leaving branded domain names parked.
For example, imagine if someone had registered the domain name google.co. Just from typos, they'd probably get hundreds of thousands of visitors per month.
To prevent this, Google has registered and redirects traffic from google.co to google.com.
Try it yourself.

Type in google.co and press enter.

You'll end up on Google's homepage.
What Is the Difference Between an Addon, Subdomain, and Parked Domain?
A parked domain is any registered domain name that isn't actively connected to any service like a website or email address. Typically, it'll just show an error or a "this domain is for sale" page.
An addon domain is a domain that you add to your web hosting platform, like cPanel, by tying it to a specific directory on your server. For example, yournewdomain.com.
A subdomain is a separate subsection of your domain, singled out by adding a part like sub.youdomain.com.
As a common use case for subdomains, check out Wikipedia and its pages serving different versions of the same page in several languages:
English version: en.wikipedia.org/wiki/Domain_parking
German versions: de.wikipedia.org/wiki/Domainparking
French: fr.wikipedia.org/wiki/Nom_de_domaine#Parking_de_noms_de_domaine
Are Parked Domains a Security Threat?
Static pages showing messages for a parked domain may hide malicious code/malware behind some elements that seem ads but, as long as, you don't link on them, you should be fine.
Having said that, following the "better safe than sorry approach" in life, we suggest to always run a WHOIS lookup or use a domain registrar search to check more info on the domain you're interested in.
On the other hand, parking a domain isn't a security threat at all as it can help protect your business from cybersquatting and competing companies getting your domain names first.
Summary
A parked domain is an unused domain name waiting to be used. The owner might wait for a site in development, an upcoming product launch, or simply hold onto it to resell later.
You can easily confirm if a domain is open or parked with a WHOIS lookup, or by searching your favorite domain registrar.
Buying a parked domain could be very expensive, often setting you back hundreds or thousands of dollars. So unless you need it for your business, like if you've already established a brand, it's often best to stay clear of parked domains and come up with a new name idea.