What's one of the first (and sometimes more difficult) parts of building a website? Yes, the domain name. Sometimes it comes easy–if you already have a company name or if you're going with your first and last name. But sometimes it takes lots of thought, considering search engines, brand recognition, and how much you might end up spending. Although thinking of the best domain name can be tricky, we're here to help you out with selecting the best domain registrar.
You've seen these domain registrars all over the place–from popular GoDaddy commercials to NameCheap advertisements online. The registrars offer search tools to look for available domain names and extensions. Then, they sell the domains to you.
Some of the registrars even offer add-ons like hosting, website building, and email addresses. But are all domain registrars made the same? Let's find out.
What is a Domain Registrar?
A domain registrar is a company that manages and brokers the sale of unique domain names on the internet. To sell domains, the company must be accredited by the Internet Corporation for Assign Names and Numbers (ICANN) or a country code top-level domain. Some of the most common generic top-level domain (gTLD) extensions are .com, .net, .org, and .info. A few examples of country code top-level domains (ccTLD) include .de, .uk, .fr.
Offerings That Make a Great Domain Registrar
Not all domain registrars offer the same quality of service. In fact, you'll stumble upon some that are far from anything that you would want to pay for. For instance, some domain registrars are lacking in the number of top-level domains (TLD) they can sell. A TLD is the domain variation like .com, .net, or .ca. It's nice to have a registrar that continuously releases new top-level domains and strives to provide as many as possible.
That being said, it's also important to remember that some domain registrars focus on niche domains, such as country-specific options like .de or .in.
In short, it may seem like all domain registrars are alike. However, with a little research, you'll find that many of them have lower pricing, better security, and much more.
Here are a couple of things to look for.
Low Pricing
As with most things in life, consumers tend to start shopping by comparing pricing. While we don't always agree this is the best method, it's how things are done. Support can be important, even with a domain registrar, but it's a little different than say a hosting plan with Kinsta. For the most part, after you buy your domain, you'll probably only need to interact with the domain registrar once or twice throughout the year. Many won't need any support at all.
Therefore, pricing when it comes to domain registrars is important. After all, you're already paying for monthly hosting and potentially other items like themes and plugins. Why spend too much money on a domain?
Not only that, but domain names are notoriously inexpensive. Sometimes you can find some great deals for $1 or $2 per year,  the average is more like $10 to $12 per year. That's not too bad!

Therefore, you should avoid any domain registrars that try to sell you on anything much higher than that. In addition, we highly encourage you to not be tempted by domain name brokers or insanely high-priced sellers.
Essentially what this means is that there are some people holding more valuable domain names and trying to sell them for hundreds or thousands of dollars. The temptation for the "perfect" domain name may seem too strong, but I assure you that a domain name isn't going to make or break your business.
It's usually better to go with a cheaper alternative. Unless you're like Glen who uncovered an incredible business opportunity by spending $20,000 on a domain name.
Free WHOIS Protection
All domains can be searched for using something called a WHOIS Lookup tool. Essentially, ICANN requires all domain name contact information to be displayed for the public to see. This includes most of the details you used to sign up for your domain name:
Name
Address
Phone number
Email Address
None of your sensitive information is shown, but some organizations or individuals are not fond of this information being open for anyone to see. In fact, the only benefit it has is if someone is trying to get ahold of you (but that's what a contact form is for!).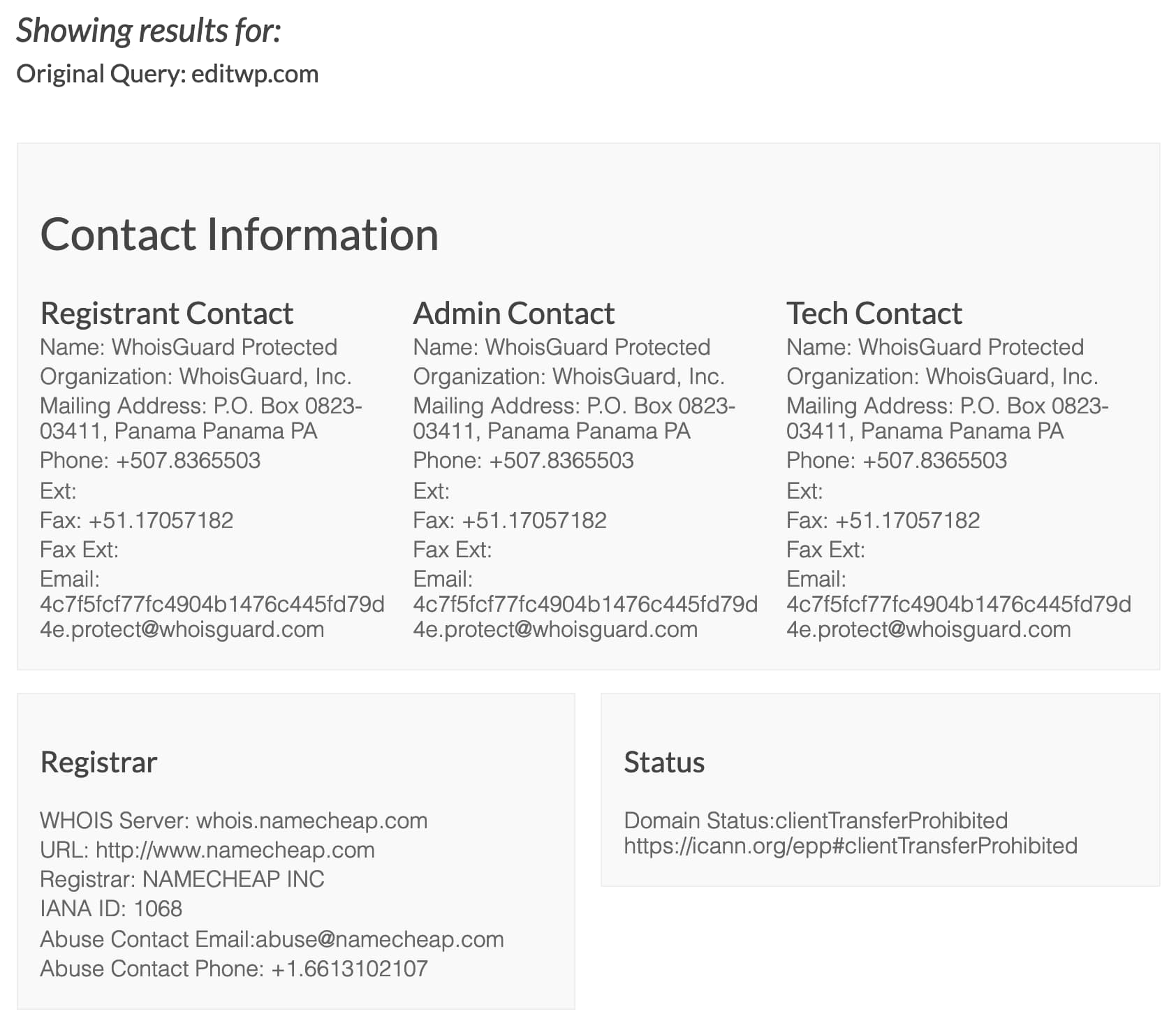 Because of ICANN, some sort of contact information must be connected to your domain name. Therefore, some of the best registrars swap out your personal information with its company's contact information. So it would show NameCheap as the registrar under your WHOIS Lookup. And the registrant contact will show something like WhoisGuard Protected instead of the actual name.
However, ever since GDPR went into effect, it's still up in the air a little bit how it might impact how much information is actually shown in WHOIS.
Our favorite domain registrars offer this WHOIS Privacy Protection for free. If not, you typically have to pay a yearly fee or leave your contact information out there.
Several Options for Registration Timeframes
You can't register a domain name for one or two months. The legal minimum is one year. Therefore, you should expect to pay for an entire year when looking for a domain registrar.
However, some registrars require you to sign up for more than one year. If you stumble upon a registrar like this, think about looking elsewhere.
The best situation is to have multiple options for registration timeframes.
We like seeing a registrar that offers commitments for one and two years–or even more. This way you can decide on how long you would like to have the domain, and potentially receive a discount for a registration of multiple years.
The maximum amount of time you can register a domain for is 10 years. After the ten years, you need to renew.
In general, we would recommend registering for one year unless there's a significant discount for anything more than that. Also, domain registration length being an SEO ranking factor is a myth!
AFAIK most registrars don't provide registration length anyway. That's not what you want to spend your "SEO time" on.

— John Mueller (official) · #StaplerLife (@JohnMu) November 3, 2016
Automated Renewals and Reminders
Seeing as how you register a domain for one or more years, it stands to reason that at some point you'll have to renew your registration.
Luckily, the best domain registrar options offer automated renewal services as long as you put a credit card on file. We also like registrars that give you some grace period after the domain expires.
Now, after a few years you may have new credit cards, so you also want to ensure that the registrar will send out reminders that a domain is about to expire.
Important: If you don't renew a domain name it eventually gets released to the public for purchase (some registrars have holding times in-between). Someone else can then buy the domain and either keep it or try to sell it back to you for a large sum of money. This is not uncommon, so make sure your credit card is up-to-date and you activate auto-renewals.
A Wide Variety of Top-level Domains (Or the Niche Domains You Require)
Without going into too much detail, the top-level domain is considered the highest level in the hierarchy of your overall domain name.
This would be anything like .com or .org or .net.
When I look for the best domain registrar, it usually offers hundreds of top-level domain options.
Take NameCheap, for example. A quick domain search reveals dozens of top-level domains for the same domain search, along with some alternatives if you can't find what you're looking for.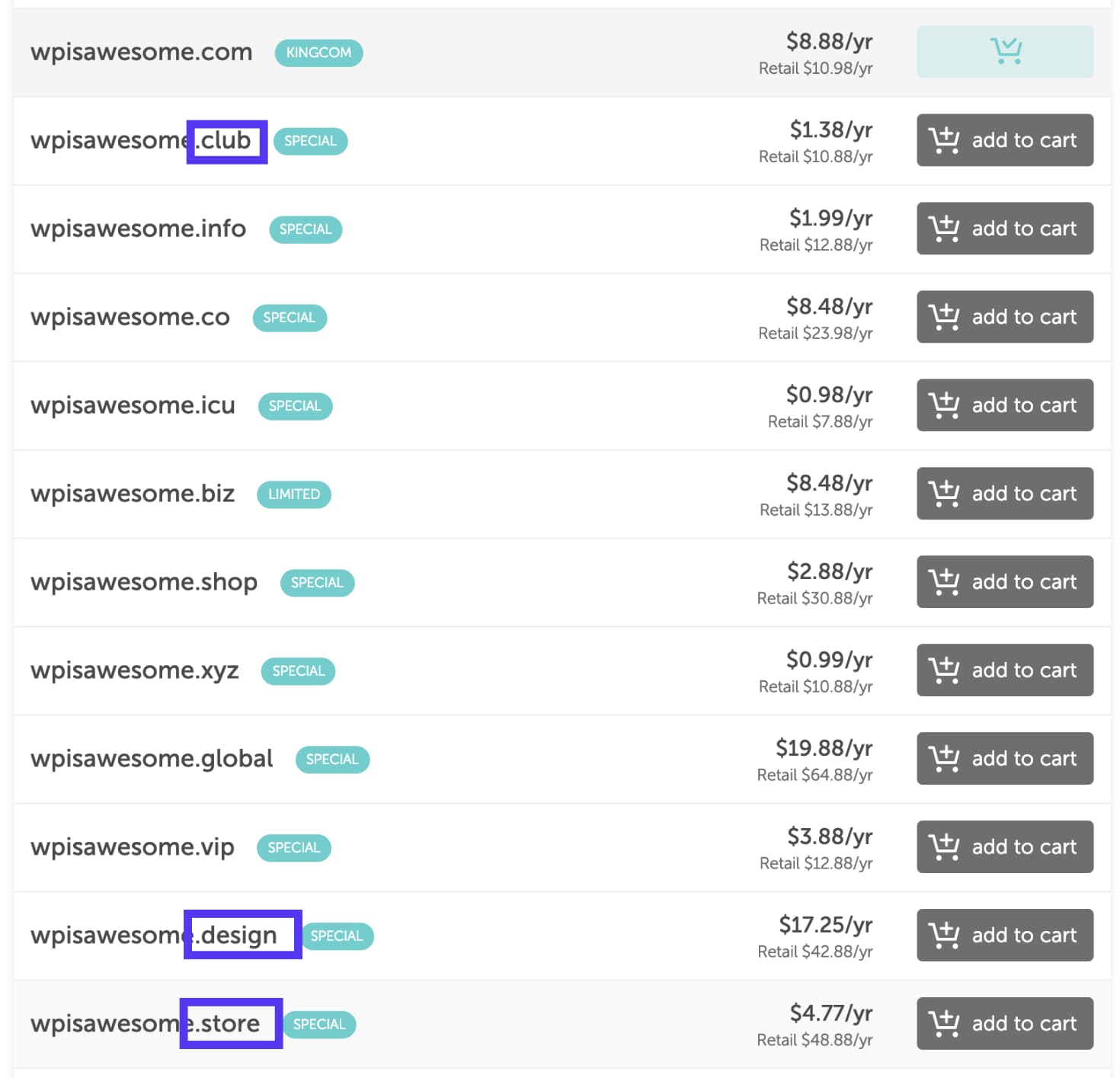 After one search I see .club, .design, .store, .info, and many more.
Most buyers will do fine with this selection. But, it's also important to look for niche registrars if you're interested in more unique domains like for countries or for certain organizations. For example, .io is a popular TLD among startups and tech companies, but not every registrar supports .io domains.
If you're interested in seeing every possible top-level domain, check out the updated list from IANA (Internet Assigned Numbers Authority).
What About Restricted Domains?
Some top-level domains are created and managed by certain organizations or countries. You must meet some criteria in order to gain access to these domains. Sometimes these are called Brand TLDs.
Most restricted domains are not found in regular domain registrars.
For example, .gov is only issued if you work for the US government. Some countries and companies also save their own unique domain extensions. The .apple domain extension is managed and distributed by Apple Inc.
Additional Products and Services (Potential for Free Domains)
Although you may currently only need a domain name, it's good to know that some of the best domain registrar companies provide other products and services as well.
Furthermore, they may sell packages for multiple services at once or even give you a domain name for free if you sign up for something like hosting.
It all depends on the registrar, but some of the add-ons might include:
However, it's always good to check with your hosting provider first before purchasing any add-ons. For example, at Kinsta, we offer free SSL certificates. And they are much easier to install if you do it from our MyKinsta dashboard than if you purchase one from a domain registrar.
Avoid a Domain Registrar That Has the Following
There are thousands of domain registrars you might find while completing your Google searches. The ICANN Accredited Registrars list details recognized domain sellers around the world.
However, just because a domain registrar is accredited doesn't mean it provides quality services, user-interfaces, or customer support.
So, it's essential to complete your own research and to understand the elements that should turn you away from some domain sellers.
Non-transparent Pricing
Similar to many low-cost hosting companies, you might find that some domain registrars try to lure customers in with extremely cheap promotional pricing. However, the yearly rates go up after the promotional period. Many people don't realize this, so it's best to locate a registrar with set pricing for every year. It's not a problem to sign up for a domain for several years to receive a discount. It's more the hidden fees that we're concerned about.
You also may stumble across some registrars that make you pay a fee for leaving for another registrar. The best domain registrar companies almost always avoid this. Complete a Google search before buying a domain name from a specific company to see which fees you might incur in the future.
Poor Customer Support
The majority of reputable domain registrars are large companies with lots of employees. This means they should offer everything from chat support to a direct phone line. It's also nice to see an extensive knowledgebase for you to complete your own research.
Seek out companies with 24/7 customer support and even give the technical support a try by asking some pre-sale questions about fees or transfer processes.
You can look up customer reviews online, but just keep in mind that most reviews for these big companies are only made by disgruntled customers. It's best to actually read the reviews for details as opposed to only looking at the average ratings.
Questionable User Interface
A quality user interface from a domain registrar involves a simple search tool for finding a domain name, along with a sleek dashboard with clear buttons for parking domains, transferring domains, and editing your domain settings.
It should all look understandable to a beginner.
I also believe that a great customer experience involves a fluid buying process. If it seems next to impossible to get through the shopping cart without dozens of upsells, think about going with an alternative registrar.
Preselected Add-ons
We talked a little about hidden fees before. Those are a pain to deal with, but it's also wise to look at what else is being included in your shopping cart. For example, some registrars do you the "service" of checking off add-on products for you.
You almost always get some upsells, but you just want to make sure that you don't skip past some previously checked add-ons and end up paying for something you don't need.
Most domain names cost around $10 (some more unique ones are $30 or $40,) so anything drastically higher than that should let you know an add-on was probably included.
Some of the add-ons you might see involve WHOIS Privacy, Business Protection, Website Builders, and more.
Best Domain Registrar Options (Most Reputable)
It's impossible to pick the absolute best domain registrar, but we have a solid list of top contenders. Some of them are new to the game, while others have been around for a while and offer incredible pricing.
We also asked our followers, and with over 100 votes, 39% of users chose Namecheap as their favorite.
Time to spill the beans! Who is your favorite domain registrar? 😄

Leave a comment if you prefer one not listed below. See a more exhaustive list here: https://t.co/GNCGDJZ5l7 #domains #domainnames

— Kinsta (@kinsta) April 16, 2019
Keep in mind that domain name pricing varies depending on availability, registrar, and the domain extension. We'll try to let you know if a registrar is known for lower pricing, but it all often depends on the domain name you choose. All of the domain registrars listed support two-factor authentication.
1. Google Domains
Google Domains is currently in the Beta stages, but it ties in nicely with its suite of email and storage products. They originally launched back in 2015 and have made many improvements since then.
Make sure to read our Google Domain Reviews (Pros vs Cons) blog post.
Hundreds of TLDs are supported through Google, from .com to .dating. Google is also rather transparent with pricing, considering it has an entire list of all top-level domains and the associated price. This may change from time to time, but right now it sells all .com domains for a flat rate of $12 per year. It's also worth mentioning that domain renewal is done on a yearly basis and you receive a reminder before it expires.
However, Google Domains can be expensive for certain domain extensions. For example, .io domains are $60 per year, which is around $25 more than that of some other registrars.

Google has made its user interface simple enough for anyone to use. You pick a name for your domain, purchase whatever is available, then link up to any site builder or host of your choice. You'll also have a chance to sign up for a custom email address using your domain name. This is an optional and paid service, but it's affordable and makes your business look more professional.
Google Domains – Best Domain Registrar Offerings:
Google Domains has a privacy service included without any additional cost. Although it doesn't apply for all domain extensions, the major ones will hide your personal information.
You can seamlessly sign up for the Google Workspace branded email.
Customer support is provided through phone, chat, and email from Monday through Friday, 6 AM to 9 PM PST.
You can make up to 100 email aliases using your purchased domain name.
The domain management tools are simple enough for the average user to complete tasks like domain locking and DNS configuration.
You're able to make up to 100 subdomains, such as blog.example.com.
Google integrates with a wide range of website builders and hosts. Many of them have one-click installations.
Support two-factor authentication.
One big caveat we would say with Google Domains is that by default domains are tied to a person's Google account. For security purposes, it can be good to use different providers for your hosting, email, and domains (and even DNS sometimes).
Why? Because if say one was hacked, they aren't all compromised. Even with two-factor authentication, what if your Gmail was hacked? They would instantly have access to your email and your domains names.
An easy way to get around this with Google Domains would be to simply open up a second Gmail account to use just for the domains.
2. Cloudflare
Cloudflare has always been known as a reliable WAF and or content delivery network (CDN). It's also rather accessible, seeing as how you can integrate the service with many hosts and plugins, especially through WordPress. Cloudflare is known as a socially responsible, transparent company with a background in providing faster websites for free (also as premium plans).
However, Cloudflare is now getting into the domain registrar business. It has an early access program for current users. The program is being rolled out in waves, mainly depending on how long you've been a Cloudflare customer. We were in one of the first waves and can vouch for it! It works great and transferring domains to Cloudflare is easy.

If you're not a customer of Cloudflare, you can sign up and reserve a place in line. We're assuming that after the trial period we'll start seeing a sales page and a domain name search module on Cloudflare's website. Based on the current landing page, Cloudflare plans on offering affordable domain names without any middleman upcharges. You'll also receive many security features, Cloudflare integrations, and bulk domain transfers.
Cloudflare – Best Domain Registrar Offerings:
The Cloudflare domain registrar focuses on cutting out retail prices and keeping domain costs at wholesale pricing levels. According to the website, a .com domain should go for around $8 per year.
Cloudflare boasts that it has no plans to raise prices after the first year–which is what many large domain registrars are known for.
Hundreds of TLDs are supported so that you get the exact domain that you want.
It has two-factor authentication and free private WHOIS management to keep your domain and personal information secure.
Automatic domain renewal is built into the system, along with reminders in case your credit card is not up-to-date.
No add-on services are required to get a secure, useful domain name.
The domain name you buy also integrates with many of Cloudflare's products and services. For example, it combines with the CDN, DNS, and SSL services. You also receive support for advanced security.
A few potential current downsides:
You can't register a brand new domain, only transfer domains in.
You can't use a third-party DNS provider, you have to use Cloudflare's DNS.
However, both of these might change after the program leaves early access. Time will tell.
Suggested reading: How to Set up Cloudflare APO for WordPress.
3. Namecheap
You might have guessed by now that Namecheap specializes in selling cheap domain names. For the most part, this is true, seeing as how the majority of the test searches I completed offer about $8 prices for .com domain names. Namecheap also has plenty of specials that will get you a dirt cheap domain for the first one or two years. It's worth noting that some of these promotions go away, but it does seem like Namecheap still keeps rates low after the price boost.
The main reason I enjoy Namecheap so much is because of the intuitive, quick website interface. It takes moments to secure a domain name and navigate to your account. The support team is also helpful whenever you contact them via chat or email.
Registering a domain is a breeze on Namecheap, and you may even get a free year of domain registration with your domain transfer. The company also has a special search tool for personalized domains–perfect for freelancers and independent workers. With a seemingly neverending list of top-level domains, the Namecheap domain registrar does a great job overall.
Namecheap – Best Domain Registrar Offerings:
Namecheap has been in the domain name game since 2001!
Namecheap offers one of the most affordable SSL certificate options on the market. Not only that, but you get one for virtually nothing when you pay for a domain.
The customer support team is available 24/7 through chat, email, and knowledgebase.
The free DNS (Domain Name System) makes for a speedy and secure service, with support for email forwarding and record modifications in real-time.
Private emails are given out for affordable rates.
Support two-factor authentication.
4. GoDaddy
Potentially the most recognizable brand on this list, GoDaddy is more than a company that specializes in Super Bowl commercials. Most of us know that GoDaddy became successful by strictly selling domain names, but it also has plenty of add-ons to offer as well. They are also one of the oldest domain registrars, dating all the way back to 1999.
That being said, the domain search makes for a pleasant experience, and there aren't nearly as many add-ons and popups as GoDaddy used to show. Many of the domain name offerings are cheaper than most competitors, but you must be aware of how long the promotions last.

Over the years, GoDaddy has brought about advanced security features, website building tools, and even some interesting tips and tricks to help you with your domain selection. For example, after you search for a domain, GoDaddy lets you know if it has high-value keywords in it.
Even though GoDaddy has extremely low domain prices, there's not much else included with your purchase. For example, the privacy protection is sold as two packages: personal and business.
GoDaddy – Best Domain Registrar Offerings:
The GoDaddy domains usually start at one or two dollars for the first year. It depends on the domain name, of course, but you should be able to keep domain costs low with GoDaddy.
You can create an email address that matches your domain.
You receive a free website builder and the option to instantly attach your domain to that website.
Privacy protection is an option.
You can also find SSL certificates and other website security options.
SEO and email marketing services are provided if you'd like to upgrade.
Supports two-factor authentication.
5. Hover
Hover tries to stay out of the website building and hosting business. The reason for that is because it feels like domain registrars should focus on helping people with their domains. So, if you enjoy working with companies that stick to one expertise (instead of diversifying in several directions,) Hover has what you need. After that, you get to decide what to do with your domain, instead of being pressured into going with a certain host or website builder.
Hundreds of domain extensions are provided through Hover, including those that are a little harder to find. You can also quickly make your own professional email addresses and link those addresses to a mailbox of your choice.

Hover doesn't seem to take sides when it comes to its partners. Instead, it provides a large list of services to use your domain with. This includes Shopify, Squarespace, Blogger, and more. In short, you shouldn't have any problems with the Hover interface, and I can't imagine you're going to see many upsells along the way. It's about as barebones as you can find.
Just keep in mind that since Hover only sells domain names, they are slightly marked up (like two dollars per year).
Hover – Best Domain Registrar Offerings:
Hover offers a monstrous collection of TLDs.
When you search for a domain it shows a list of filters for industries. For instance, you can filter to domains for the real estate or sports industries. This is a very unique feature.
Although the domain prices are marked up a bit, you don't have to worry about any upsells for services like hosting or web security.
Transfers are done by the Hover team.
You can set up an automatic renewal and receive updates on when your credit card is out-of-date.
Integrations are plentiful with site builders and hosts.
Email plans are sold at reasonable prices, allowing you to create email addresses with your professional domain name in them.
Supports two-factor authentication.
6. OVH
OVH sells a plethora of services and products, from domain names to dedicated servers. The domain registrar claims that it has access to over 800 domain extensions, and it seems like that is definitely the case. You can even find some regional or country-based domain extensions that you need verification for and can't locate anywhere else.
A few services are included when you purchase a domain name. You receive an email address with 5GB of storage. You can also choose to hide your WHOIS information without having to pay an extra fee. Finally, the DNS from OVH is free and is designed to secure all communications through your domain.

OVH does a wonderful job of offering different translations and currency conversions for countries all over the world. Simply choose your country and you get to see how much it is for you to purchase a domain, and in your own language. The pricing for all extensions appears to be reasonable. In addition, OVH displays a long list of suggestions if your domain isn't available. You also get to see some alternatives even if your first choice is available.
OVH – Best Domain Registrar Offerings:
OVH has a sleek website with a clear path to purchasing a domain name. It also has many translations and support for multiple currencies.
Some of the featured top-level domains cater to regions and countries. Not only that, but they seem reasonably priced.
You gain access to an email, Whois masking, and a DNS without having to pay any additional fees.
There's an option to speed up the speed of your DNS for a price.
Supports two-factor authentication.
7. Enom
The Enom registrar handles services for domains, web security, websites, hosting, and email. You might call it a one-stop shop for all of your website essentials. As usual, it all starts with selecting a domain name. This is done through the large search bar, which then reveals the regular extensions like .com and .org, along with some featured options like .life and .today.
Enom isn't particularly known for its low prices, but the standard domain extensions should still go for around $13 to $15. It's also nice since you can filter based on your location, profession, or educational background. We also like that the Enom customer support team is available 24/7–with a phone number as well! Enom has also been around since 1998.

Each domain name you buy comes with support for a domain transfer. You also get some options for WHOIS and trademark protection. The premium domain search is also a prevalent part of the Enom website (aka. expensive domains that sell for thousands of dollars). As we mentioned near the introduction, there's usually no reason to pay this much for a domain name.
One thing to keep in mind is that most of the add-ons and other services come with a price tag.
Enom – Best Domain Registrar Offerings:
Enom has an impressive library of domain extensions to choose from. Many of them are unique, with some exclusive options for locations and industries.
Although you may have to pay for it, Enom includes services to support your domain with security, emails, and more.
The domain transfer is completely free, and the customer support team is available at any time of the day.
A bulk domain searcher is there for if you would like to create a network of sites or for acquiring all of the domains similar to yours.
Supports two-factor authentication.
8. Name.com
One of the websites most synonymous with domain names is Name.com. The brand is known for cheaper unique domain names and options for making email addresses. A bulk domain search is available if you need the functionality to find multiple domain names at once. Name.com also features a unique branded link shortener, which gets rid of those generic shortened links and lets you create your own that relate to your business.
During my search, I found that many of the domain names were priced very low. It also recommends some more unique extensions or premium domains that you would have to pay quite a bit for.

As mentioned, Name.com sells several other services. However, you shouldn't expect to get much free with your domain name purchase. Instead, you'll see some upsells throughout the checkout process, most of which are reasonably priced and not too aggressive in trying to get you to buy. For instance, you can upgrade to the sleek website builder or place your website on the Name.com hosting. You can also get your own professional email for a few bucks per month.
Name.com – Best Domain Registrar Offerings:
Name.com sells domains for cheap. You choose the domain you like the best and receive some suggestions for something more interesting.
The checkout process is quick, and the upsells aren't too pushy.
If you go with Name.com for your domain, you don't have to stray far for everything else. The company sells SSLs, web hosting, email addresses, and more.
You can take advantage of the branded URL shortener to try to improve your clicks on links.
Google Workspace also integrates with Name.com, cutting the cost of the service and providing you with all Google Business tools.
The domain does include some small benefits like DNS management, forwarding to social media accounts, and two-step verification.
Summary
Knowing a little bit about the domain registrar market can truly assist in saving you and your business money. Take Namecheap, for example. It's far cheaper than most of the options on this list and has a great UI. Google Domains and Cloudflare both offer transparent, fixed pricing so that you don't get tricked into hidden fees or future price jumps.
It's tough to recommend just one best domain registrar, but we do suggest that you start with the interface that you feel most comfortable with. It can be a pain to manage domain settings if the website simply feels out-of-date or too complicated for you. Also, think about the price and how that price might change in the future. And don't forget to enable two-factor authentication!
If you have any questions about the best domain registrars, let us know in the comments below. Do you prefer one over the others?