WordPress Hosting in Japan
Kinsta's managed WordPress hosting in Japan is the perfect solution for agencies, enterprises, ecommerce stores, developers, membership/LMS sites, and more. Powered by Google Cloud Platform with data centers in both Tokyo and Osaka, you'll always get lightning-fast load times. Our expert support team is available 24/7 to help you, and all of our plans come with a 30-day money-back guarantee and one or more free website migrations.
Data Centers in Tokyo and Osaka
Host your site in Google Cloud Platform's Tokyo or Osaka data center for the fastest performance throughout Japan.
MyKinsta Dashboard
Our custom-built MyKinsta dashboard (available in Japanese) is packed with powerful site management tools. Manage all of your sites from one convenient dashboard.
Built for Speed
Our high-performance hosting stack is powered by Nginx, LXD containers, PHP 8.0, and MariaDB on Google Cloud Platform's fastest C2 compute-optimized VMs.
Secured by Cloudflare
All sites on Kinsta are equipped with a free Cloudflare integration, which includes an enterprise-level firewall with DDoS protection, free wildcard SSL certificates, and a global HTTP/-3 enabled CDN.
Extensive Backup Options
We offer a variety of backup options to reduce the chance of data loss. In addition to automatic daily backups, we also offer hourly, manual, system-generated, downloadable, and external backups.
Free Expert Migrations
Sit back and relax while our team of expert migration engineers moves your site to Kinsta. Preview and check it before it goes live.
Managed WordPress Hosting in Tokyo and Osaka
With a population of over 125 million, Japan has one of the highest Internet adoption rates in the world at  89.8%, according to Yahoo! Japan. On average, people in Japan spend more than four hours a day on the Internet, which represents a significant portion of each day.
Such a highly-connected culture requires top-notch network architecture and performance to keep up with users. In our benchmark tests, we measured a time-to-first-byte (TTFB) of just 43 ms for a WordPress site hosted in our Tokyo data center from a domestic testing location in Japan. Whether your visitors are located in northern Hokkaido or southern Kyushu, you can ensure fast loading times by hosting your site on Kinsta.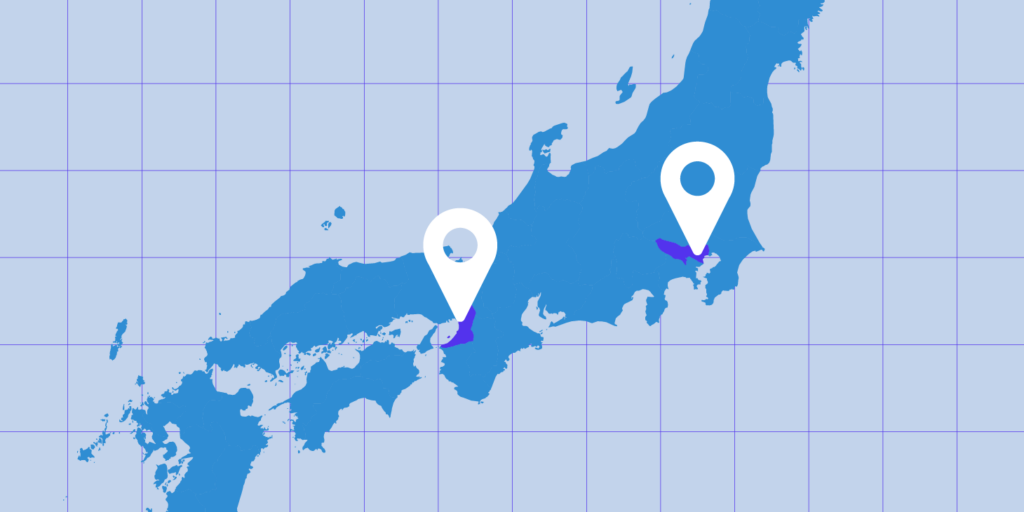 Speed is one of the most important factors for user experience and conversions. At Kinsta, we use Google Cloud Platform's C2 compute-optimized VMs in supported regions. C2 VMs are GCP's fastest machines when it comes to single-core performance, and they are available in both our Tokyo and Osaka locations. Building on top of our cutting-edge servers powered by GCP, we use custom configurations of LXD, Nginx, PHP 8.0, and MariaDB to serve both your Japan-based and international visitors with the speed they deserve.
All of our hosting plans were designed with speed and performance in mind. Unlike other hosting companies who make high-end C2 VMs available on higher-tier plans only, we make Google Cloud Platform's fastest servers available on all plans. If you ever have to switch between plans on Kinsta, you can do so with zero downtime and processing fees.
If the majority of your website's traffic is from Japan, choose between our high-performance data centers in Tokyo and Osaka!
Top-Notch Performance and Enterprise-Level Security With Cloudflare
Cloudflare is a leading provider of website security products, and currently protects over 7.5 million websites from personal blogs to some of the biggest brands in the world. In addition to security products, Cloudflare also operates one of the largest and fastest CDN networks with data centers in 260+ cities around the world. Similar to Google Cloud Platform, Cloudflare also has data centers in Tokyo and Osaka to ensure fast page load times throughout Japan.
All sites on Kinsta are equipped with a free Cloudflare integration, which includes a high-performance HTTP/3-enabled CDN and an enterprise-level firewall with built-in DDoS protection. Unlike other hosts who charge exorbitant fees for SSL certificates, Kinsta offers free enterprise-level SSL certificates with support for wildcard domains through Cloudflare.
Best of all, our Cloudflare integration doesn't require you to have your own Cloudflare account. This means you can take advantage of the added speed and security without having to sign up for and manage another monthly subscription service.
As part of our Cloudflare integration, Edge Caching saves your Kinsta site/page cache to any of Cloudflare's global network of 260+ data centers.
Edge Caching is included free with all Kinsta plans, doesn't require a separate plugin, and cuts the time needed to serve cached WordPress HTML by an average of more than 50%!
See What Our Japanese Clients and Partners Have to Say About Us!
With powerful features such as IP-based restrictions and HTTP basic authentication, Kinsta has made Money Forward migration process easy.
Reading time

3 min read

Publish date

October 14, 2021
MOOBON is a full-service development company based in Tokyo, Japan. Learn how MOOBON improved 100x their TTFB by migrating to Kinsta!
Reading time

6 min read

Publish date

June 1, 2021
Learn about how JEPISTA uses Kinsta hosting to boost the performance of their WordPress-powered blog and increase their affiliate marketing revenue!
Reading time

6 min read

Publish date

March 10, 2021
24/7 Expert WordPress Support
Kinsta offers 24/7/365 customer support* with an average response time of under 2 minutes! All support requests are handled via live chat in the MyKinsta dashboard. We rely on live chat for customer support because it is the most efficient way to fix problems. Compared to phone support (difficult to share screenshots) and email support (slower than live chat), live chat provides our customers with the best possible support experience.
The level of customer support that we offer is quite rare in the Japanese market. First, our support team is made up of WordPress experts – some of which have contributed to WordPress Core. This means our support engineers are able to diagnose complex issues, even if they are specific to WordPress. Second, we don't have tiered support, which means you'll never have to spend time waiting on hold for a higher-tier engineer or supervisor.
For customers who prefer a more DIY approach, our knowledgebase with in-depth articles on common support topics is available in Japanese.
Purpose-Built MyKinsta Dashboard
Kinsta customers are able to manage their sites with MyKinsta – a powerful and mobile-responsive dashboard that was custom-built with WordPress hosting in mind. The MyKinsta dashboard is available in Japanese, and comes jam-packed with a variety of site management tools like database search and replace, Kinsta APM for application performance monitoring, detailed web analytics, PHP version switcher, and much more!
For developers, the MyKinsta dashboard is fully compatible with the DevKinsta local development tool (includes support for Japanese). With DevKinsta, you can develop web projects from the comfort of your local environment. Once you're ready to deploy, you can push your project directly to Kinsta hosting with the click of a button.
We Support the Japanese WordPress Community
At Kinsta, we're committed to supporting the global WordPress community. In 2019, we sponsored and attended WordCamp Tokyo, where we had the pleasure of meeting many of our Japan-based customers. We also sponsored WordCamp Osaka 2019 and WordCamp Japan 2021.
Beyond attending and sponsoring WordPress events, we're also passionate about creating content to educate people about WordPress. The Kinsta blog is seen worldwide as a leading resource for those interested in learning about WordPress. We've also published a variety of free ebooks that cover popular topics such as how to maximize WordPress performance, securing client WordPress sites, the value of managed WordPress hosting, and more.
Both the Kinsta blog and our in-depth ebooks are available in Japanese. To show our continued support of the WordPress community in Japan, we will continue expanding our library of content in Japanese in the future.
Like What You See? Join Kinsta Today!
We offer a variety of standard plans, as well as custom and agency-oriented plans. Launch your site in Tokyo or Osaka today with our 30-day money back guarantee, or contact our sales support team (Japanese is available) to learn more.
*At this time, Kinsta maintains a Japanese knowledgebase, but we don't offer native Japanese support. Click here for more information on our multilingual support.