Azure Market Share: Revenue, Growth & Competition
Microsoft certainly isn't a new player in the field of software development and SaaS, but you might not know much about their cloud computing solutions that go under the name of Microsoft Azure.  Microsoft Azure is a growing provider of cloud infrastructure and hosting services, using Microsoft's existing connections with a variety of businesses to fuel rapid growth.
A Growing Leader in the Cloud Market
Through Azure, Microsoft is offering SaaS, PaaS, and IaaS services, and using existing B2B connections to fuel aggressive growth.
The growth of the platform means more competition between the three largest players — Google, Amazon, and Microsoft — to land key enterprise clients in the coming years.
The days when Microsoft was little more than an OS and business productivity software are long gone. With Azure's aggressive growth, Microsoft is starting to make a big splash in the IaaS market.
Let's dive in!
Microsoft Azure Currently Has a 1% Market Share Within Cloud Hosting
Since Azure is a horizontal platform (with a multitude of different solutions ranging from IaaS to full-on SaaS apps), accurately calculating its market share is a challenge. 
To start out, let's take a look at the latest W3 Tech numbers and see what market share it has in the web hosting services industry in 2020: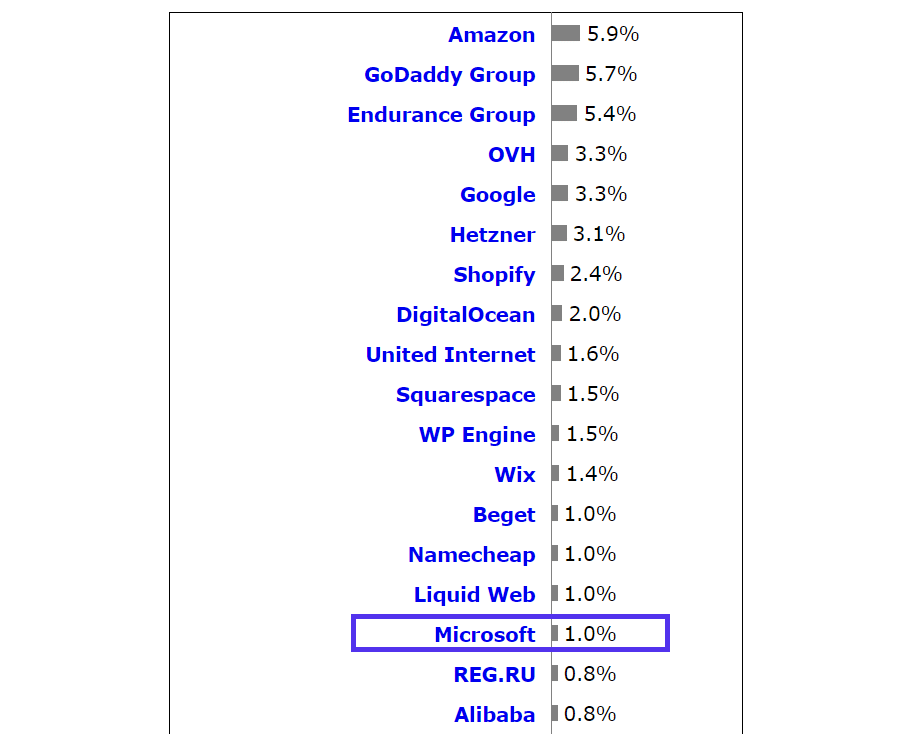 Microsoft currently holds a 1% market share within the web hosting industry.
For one of the largest tech companies in the world, this number might not sound very impressive. But you have to keep in mind that, at over $100b in 2019, web hosting is a massive pie. Even a single percentage point represents a billion-dollar business.
But of course, that's not all the services Azure offers. 303 companies currently use Azure Blockchain Workbench, which represents a 5.07% market share of the Blockchain as a service market.
Microsoft Azure Revenue (Past and Present)
Microsoft instead bundles Azure into its overall cloud services report and doesn't specify the exact percentage Azure makes up.
In 2020, Microsoft reported that its commercial cloud officially hit the $50 billion mark for its annual run rate.
That marks an impressive revenue milestone, as it's less than 4 years ago since their fiscal run rate for cloud services was under $10 billion.
Since these revenue numbers include Office 365 Commercial and Dynamics 365, as well as Microsoft's cloud properties, they don't accurately represent the IaaS-portion of earnings from Azure.
Intelligent cloud Microsoft's IaaS and PaaS products which includes Azure, grew its sales revenue 27% to $12.3 billion in Microsoft's Q3 2020.
Even through this opaque veil, it's clear to see that Azure is still lagging behind its main competitor AWS, which registered over $35 billion in revenue in 2019.
Is Microsoft Azure Secure?
To properly answer the question about whether or not Microsoft Azure is secure, we have to first examine the foundation. Are public cloud solutions in general considered to be secure?
Public opinion on public cloud hosting and computing services among IT professionals is not great.
About 49% of IT workers think a public cloud system involves a higher risk of security breaches.
The good news is that real cybersecurity professionals have a completely different outlook.
A report by Gartner experts estimates that by the end of 2020, there will be 60% fewer security incidents as a result of moving away from traditional data centers to IaaS solutions.
Microsoft is no slouch when it comes to the security of its cloud services. With a team of over 3,500 cybersecurity professionals and a yearly research budget of over $1 billion, it's hard to point fingers.
Over 6.5 trillion threat signals are analyzed every single day and Microsoft pays up to $300,000 in bug bounty payouts for potential exploits discovered in Microsoft Azure.
That's a real dedication to providing a reliable, secure service to their clients.
Microsoft Azure vs. Amazon Web Services (AWS)
Now, let's see how Microsoft Azure stacks up against the biggest player in IaaS: Amazon Web Services (AWS).
Amazon has a greater piece of the cloud market share, even if you factor in non-Azure Microsoft products.
If you take a combined look at both Infrastructure as a Service (IaaS) and Platform as a Service (PaaS) revenue of cloud vendors, Amazon had a 27.9% market share in 2019.
You see the same picture when you look at the web hosting side of things as well. In April 2020, AWS maintained a 5.8% market share, the second-largest hosting provider in the world, while Azure only has 1%.
When you look at the BuiltWith data, you clearly see the same trend in the usage distribution between AWS and Azure in the top 1 million sites in the world.
At 25%, Amazon is the second-largest cloud hosting provider among the world's top websites. So advantage AWS here.
AWS used its early lead to establish a leading market share in most IaaS categories, and Azure is slowly playing catch up.
That about sums it up for the market share comparison.
Were you reading about Azure's market share to prepare for a transition? Do you, like many of the top websites in the world, also want to move your website to the cloud?
Read on to find out how you can move your site, app or database, hassle-free, to the cloud with Kinsta.