Facebook is the largest social network in the world, with over 2.3 billion users. Should you create a Facebook page for your business, then?
It's safe to say that marketers have mixed feelings about Facebook (don't we all?).
On one hand, it has a massive user base and an unmatched advertising system, plus people are used to following business pages on Facebook.
On the other, it's not trendy among young people anymore, and it is constantly embroiled in privacy scandals that have eroded the public's trust in it.
Some people even think that it will go the way of Myspace. So, should you even bother creating a business page on Facebook?
It's true that Facebook is not the hip new thing that it once was. But at this point, we are so used to using it that it's hard to imagine a world without it. And it's not going anywhere anytime soon.
That's why a Facebook business page is an absolute must.

How Do I Create a Facebook Page? (4 Steps)
Facebook pages can be customized with stories, events, and more. If you'd like to create a Facebook page quickly, follow these 4 steps:
Go to facebook.com/pages/create.
Click to choose a Page type.
Fill out the required information.
Click Continue and follow the on-screen instructions.
The Story Behind the World's Largest Social Network
In 2003, Harvard student Mark Zuckerberg built a website called FaceMash which presented users with two Harvard student photos and asked them to decide which student was more attractive.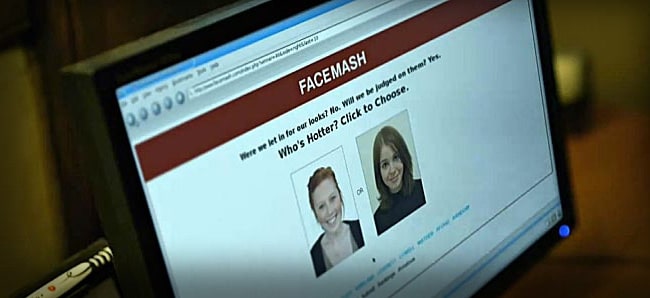 The website was a success, attracting 450 visitors and generating 22,000 photo views in its first four hours.
However, as you can imagine, the university administration was less than impressed and shut it down a few days later. Zuckerberg found himself facing expulsion.
What he didn't know at the time is that not only would FaceMash give him an idea for Facebook, but he would also meet his future wife because of it (they met at the going away party his friends threw him when they thought he'd get expelled).
In his Harvard commencement speech, Zuckerberg says that FaceMash wasn't as important to creating Facebook as people think:
"And, you know, that movie made it seem like Facemash was so important to creating Facebook. It wasn't. But without FaceMash I wouldn't have met Priscilla, and she's the most important person in my life, so you could say it was the most important thing I built in my time here."
Anyway, the idea for The Facebook, which would later become Facebook, was inspired by Harvard's newspaper editorial about FaceMash.
At the time, people were talking about digital Harvard face book, and Zuckerberg realized that he could create it himself.
"Everyone's been talking a lot about a universal face book within Harvard. … I think it's kind of silly that it would take the University a couple of years to get around to it. I can do it better than they can, and I can do it in a week."
Told Zuckerberg to the Harvard newspaper after the launch.
Zuckerberg discussed the idea with his friend Eduardo Saverin and they agreed to co-found The Facebook with each of them making a $1,000 investment in the project. In 2004, Zuckerberg and Saverin launched The Facebook which was initially restricted to Harvard students but soon started expanding to students in the Boston area and those attending Ivy League schools.
Six days after the launch, fellow Harvard students Cameron Winklevoss, Tyler Winklevoss, and Divya Narendra accused Zuckerberg of allegedly stealing their idea — originally called HarvardConnection — and building a competing product instead. They later sued Zuckerberg and settled for 1.2 million shares (worth $300 million at Facebook's IPO).
Facebook grew fast, and the co-founders were soon joined by Dustin Moskovitz, Andrew McCollum, and Chris Hughes.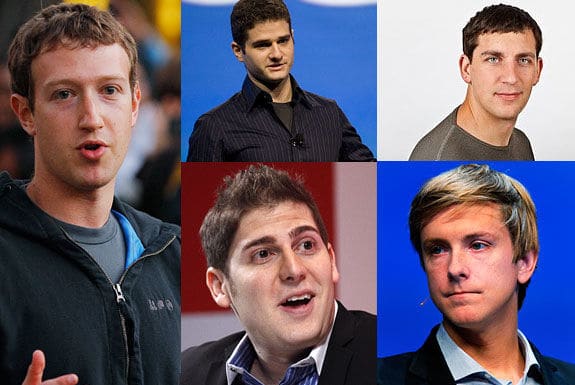 That same year Facebook received their first investment, $500,000 from the PayPal co-founder Peter Thiel, which put the company valuation at $4.9 million.
On September 26th, 2006, Facebook opened to the public by allowing anyone who was at least 13 years old to create an account on the platform. A year later, in October 2007, Microsoft announced that they had bought a 1.6% stake at Facebook for $240 million, which gave the company a $15 billion valuation.
In 2010 Facebook announced that they reached 500 million users. At the end of that year, the company's value was around $41 billion. In 2012 Facebook had an IPO at $38 per share which gave the company a valuation of $104 billion (largest valuation ever at the time). That same year Facebook announced that they reached 1 billion users.
In 2017 Facebook hit 2 billion users. Today, in 2019, it has over 2.3 billion users and continues to grow.
Why Does Your Company Need a Facebook Business Page?
Facebook has been open to the public for 13 years (yes, we are all getting older, aren't we?).
At this point, people are used to interacting with businesses on Facebook, and everyone is familiar with the concept of following a brand on this platform.
You should take advantage of this and make an effort to connect with your potential customers on Facebook.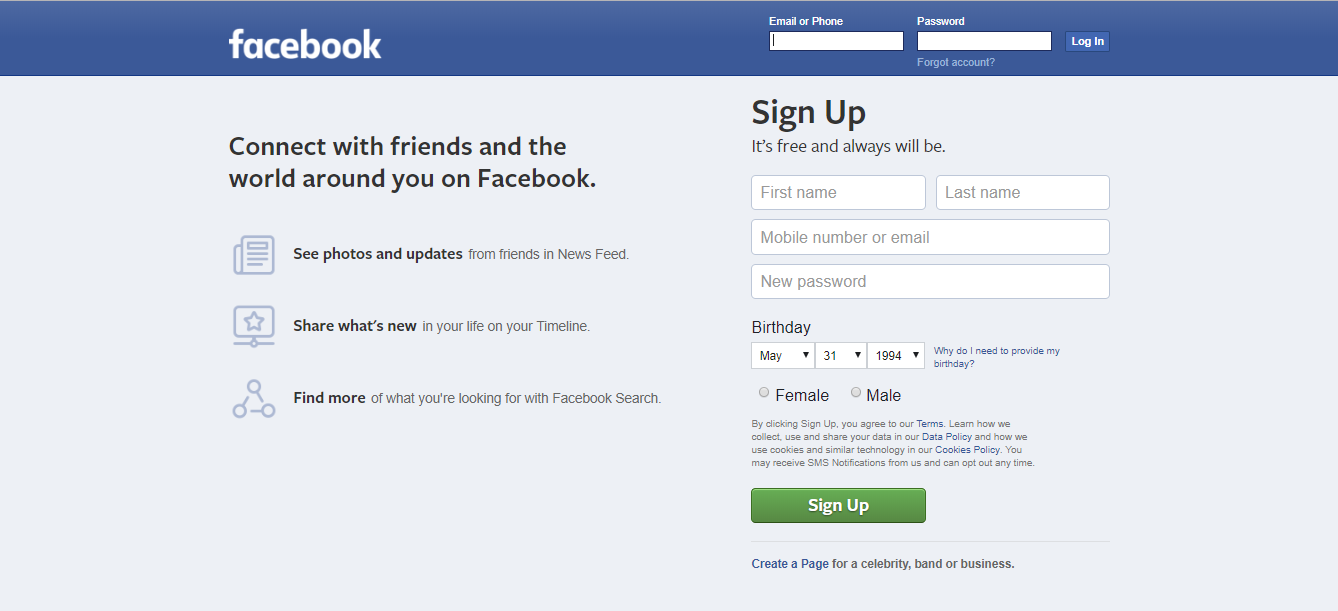 You can even route organic leads from Facebook right to your CRM or sales system. For example, at Kinsta, any messages that come to our Facebook business page are automatically routed to our sales team in Intercom. There are a lot of different ways to get creative with a Facebook page and make it for your team.
How to Create a Facebook Page for Your Company
First, go to this page.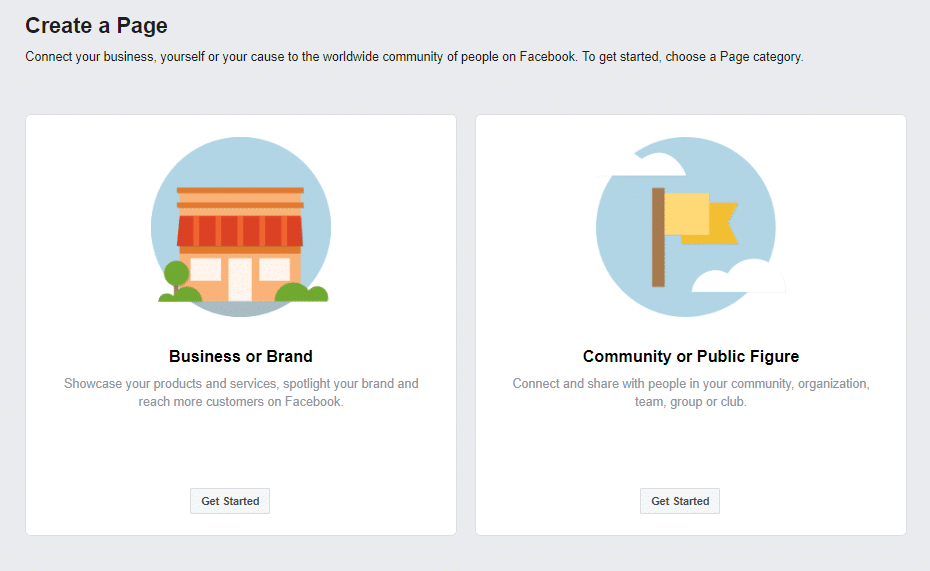 Alternatively, you can log into Facebook, click the "Create" button in the upper right and click "Page".

Then, choose "Business or Brand" and click the "Get Started" button:
1. Provide General Business Information
You will be asked to provide general information about your business:
Page name.
Category.
Address.
Phone number (optional).
You can tick a box to not show your address, just the city, state, and region.
2. Add a Profile Picture
A profile picture for a company page works the same way as a profile picture for a personal page.
It will appear next to the company name as an icon when you make comments or publish an update.
It's best if the profile picture is 170 x 170 pixels.
3. Add a Cover Photo
A cover photo is the featured image of your company page, like ours at Kinsta:

It's best if the cover photo is 820 x 462 pixels.
4. Add More Details to Your Company Page
Once the basics are taken care of, it's time to add more details to your company page.
First, go to the About page, and add information that you think will be valuable and interesting to potential customers.
Then, go to Photos and add some photos so that people could see what you are all about (remember, a picture is worth a thousand words!).
Then go to Community and create a group to build a community around your page.
5. Choose a Template for Your Company Page
Facebook offers ten templates for business pages.
Click "Settings", then "Templates and Tabs", then the "Edit" button.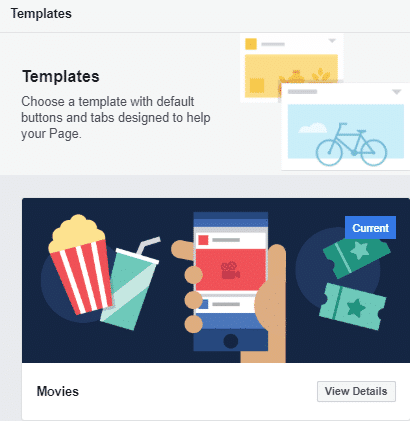 Choose the template that is most suitable for your business (you can view them by clicking "View Details").
Congratulations! Your company is on Facebook. Well done!
Build a Following on Facebook
It's not enough to create a Facebook page, now you need to get people to follow you.
The key to building a following on Facebook, just like with any social media platform, is providing value.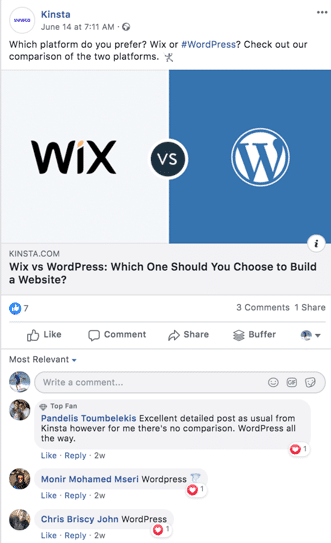 You can't expect people to follow you for no reason.
An easy way to incentivize people to follow you is to post special offers and discounts and make them available only for Facebook fans. But that's not a sustainable approach in the long run for most of the businesses out there.
If you want to build meaningful relationships with existing and potential customers you should give them something more.
Where to start? Two key aspects: content curation and proactiveness.
Figure out what your target audience is struggling with on a daily basis and then share content — both created in-house and curated from other websites — that helps them solve their problems.
That is in short what "providing value" means.
Also, make sure to interact with people on your company page. Your aim should be to build a community on Facebook. Encourage discussions, ask questions, listen to the answers, and try to be helpful.
A good example is this thread, where a group memmber asked a great questions and many added their answers:
This example shows a group, not a Facebook page, I know. Yet the dynamics and the approach to running and growing a group on Facebook are pretty close to growing a Facebook page. The key thing here is: provide useful information and be proactive with users who show interest in your product/service.
Create a Content Schedule and Stick to It
PThe number one mistake that people make when they decide to build an audience on social media is that they don't create a content schedule.
You see, when you have just launched your page, you are all excited and post ten times a day, but in a week or two the initial enthusiasm inevitably wears off.
When that happens, the posting frequency gradually goes down, and the next thing you know you haven't updated your company page in 3 months because you were "busy".
But let's be honest: you weren't busy, you just got distracted, and lost focus.
The problem, of course, is that if you do that, you will never build anything meaningful.
Just like anything worthwhile, building a following on Facebook takes time, so you need to approach it strategically:
Find a time slot in your weekly schedule that you can dedicate to growing your Facebook page. This includes working on your content strategy, writing posts, and promoting your page.
Find a time slot in your daily schedule that you can dedicate to maintaining/checking your Facebook page and reply to comments and questions.
Create a content calendar. It doesn't have to be anything fancy, a Google spreadsheet is more than enough. Put there 10/15 links (or even more, if you can) relevant to your audience and a short intro for each. Take advantage of tools like Buffer to schedule your links in advance.
All this might sound simple, but make no mistake, it will get hard the more you keep doing it because you might break your publishing schedule, you might fail to find and/or create useful content, etc. But if you persevere, you might be surprised what you can achieve!
Remember: you're trying to build a following on Facebook, so you'd need to understand that this is a never-ending project. You are building a valuable asset that should help you generate leads. So be patient. Play the long game.
How to Promote Your Company's Facebook Page Organically
Now that you have spent all this time and energy to create a great Facebook business page, it would be a shame not to promote it.
Here's how you can spread the word:
Invite your Facebook friends to follow your company page (there's a feature that helps you do that).
Put a link to your Facebook page on the company's website and encourage website visitors to follow you.

We linked our Facebook page in our footer

Send out an email blast to your email list and let them know that you now have a Facebook page and provide at least one reason for them to like it/follow it.
Share a link to your Facebook page on your other social media profiles.
"Build it and they will come" is a platitude that sounds great but is actually absolutely terrible advice.
Don't wait for people to come to you, go to them and invite them to check out your Facebook page. The best way to hook them? Provide them with solid reasons to make their choice easier.
A Word of Warning: Facebook Is Not as Reliable as It Might Seem
You may have heard about Facebook banning or removing pages and groups from time to time. If you think this is limited to politics, it isn't as the recent CrossFit and Facebook/Instagram story tells.
So what can you do to protect your business? Don't put all your eggs in one basket and leverage channels you own outside of social media!
Your Escape Route: Move from Facebook to an Email List
The problem with building a following on any social media platform is that you don't own the platform. You can get banned at any time without an explanation. It's unlikely, but still.
The only solution is to use social media to send people to your email list because that way you are building an asset that can't be taken away from you.
I know, you need to use the services of an email marketing software provider in order to do that, so you are still vulnerable.
However, while social media platforms have been banning people left and right recently, email marketing software providers managed to restrain themselves so far.
Presumably, that's because an email list is a much more valuable asset than a social media profile, which means that deleting someone's email list would set a dangerous precedent.
After all, if you have an asset that generates thousands, or tens of thousands, or even hundreds of thousands of dollars in monthly revenue, then you might not handle the news that it can be taken away from you at any time very well.
This means that it's in the best interest of the email marketing software providers to not shatter their customers' illusion of safety.
So start thinking about how you can convert your Facebook followers into email list subscribers.
Obviously, people aren't going subscribe to your email list just because you ask them to do so. Again, you need to give them a reason to do so.
Here are some ideas to start off:
Offer an Opt-In Bribe
An opt-in bribe is something that you offer in exchange for an email address. It can be a discount, it can be an ebook, it can be a video course, etc.
Make sure that your opt-in bribe is something that provides value to your customers.
Share Teasers of the Content That Is Exclusive to Your Email List Subscribers
Before a new email goes out, share a sneak peek on your Facebook page and tell people that if they want to read it, they need to subscribe now, it's going out soon!
Think about movies. You know how you see a trailer and go "Yup I'm gonna see this one!"? Well, that's what you want to achieve with your email teaser. You want people to say "I need to read this one, where do I subscribe??"
Share Positive Feedback from Your Email List Subscribers
If you are providing value to your email list subscribers, you will start receiving positive feedback.
When that happens, ask that person for permission to share that feedback on your Facebook page, and share a screenshot of their email (just make sure to protect the sender's privacy by blurring out their personal details!).
Regularly Promote Your Email List on Your Facebook Page
Don't be shy about promoting your email list on your Facebook page.
Make sure to include email list promotion in your content calendar. You can start by dedicating one/two posts per week to it. Then try to gradually increase the email list promotion frequency. See how people react. If you get complaints, then take it down a notch, if no one seems to mind then keep doing what you are doing.
Don't forget that you have more leeway when promoting your email list. After all, it's free, so your followers will be less averse to email list promotion than they would be to sales pitches posted at the same frequency.
Don't forget to exercise common sense, though: no one likes spam, not even on Facebook!
Moving your followers from Facebook towards an email list allows you to build much stronger relationships with your followers and have the full control of the medium.
Summary
Let me recap: (some of) your current and potential customers are on Facebook. If you're not there, you won't be able to intercept them and engage with them directly. Therefore, you should be on Facebook to being able to reach them and test it as an acquisition channel, at least for a while.
I know, Facebook it's not the hottest social media network anymore, but it's the most established one, and your customers expect you to have a business page on it. Give it a try as you now know how to build a Facebook page.