In 2023, video format hasn't lost any of its power and is still one of the best things to implement in your marketing strategy. As of now, YouTube is the second most-visited site in the world, only behind Google, which owns the platform. And due to the fact that YouTube is a search engine, videos require as much optimization as ordinary webpages do.
What's more, optimizing videos not only results in much higher YouTube rankings but also significantly raises chances of appearing in Google search results and increases traffic.
If you haven't yet set up YouTube, you can check out our post to learn how to create a YouTube channel.
So if you want to learn more about YouTube optimization to boost your brand's visibility, read on.
Step 1: Carry Out YouTube Keyword Research
Worker smarter, not harder is the approach you should take when it comes to marketing.
1. Find Related Keywords
Just like with many other things in SEO, video optimization starts with thorough keyword research. At this step, you need to find the most relevant keywords for your niche and keywords that users tend to use while searching for a product or service similar to yours.
One of the most reliable tools for this activity is Google Keyword Planner. The tool supplies you with tons of keyword variations along with their competitiveness rates based on the seed terms you type in.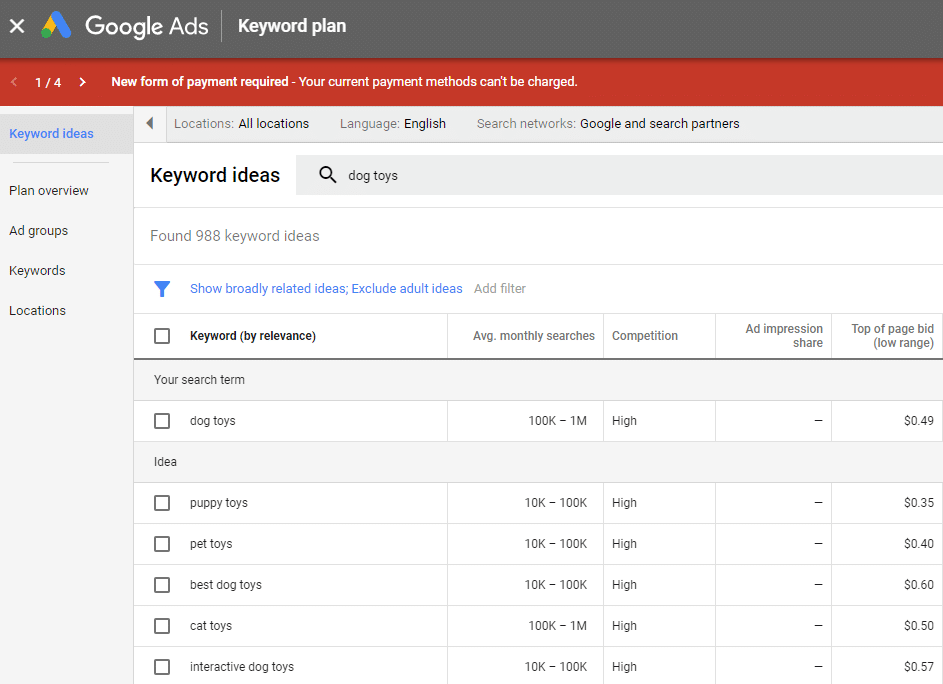 2. Analyze Search Trends
Another way to enrich your keyword list with powerful target phrases and get an idea of search trends in your industry is to utilize YouTube's autocomplete feature. This method is exceptionally useful as it lets you collect keywords that people actually type into YouTube.
You can also head over to the most popular videos that are similar to yours and copy the keywords they are optimized for. What's more, with the help of YouTube autocomplete feature, you can collect a wealth of ideas for future videos.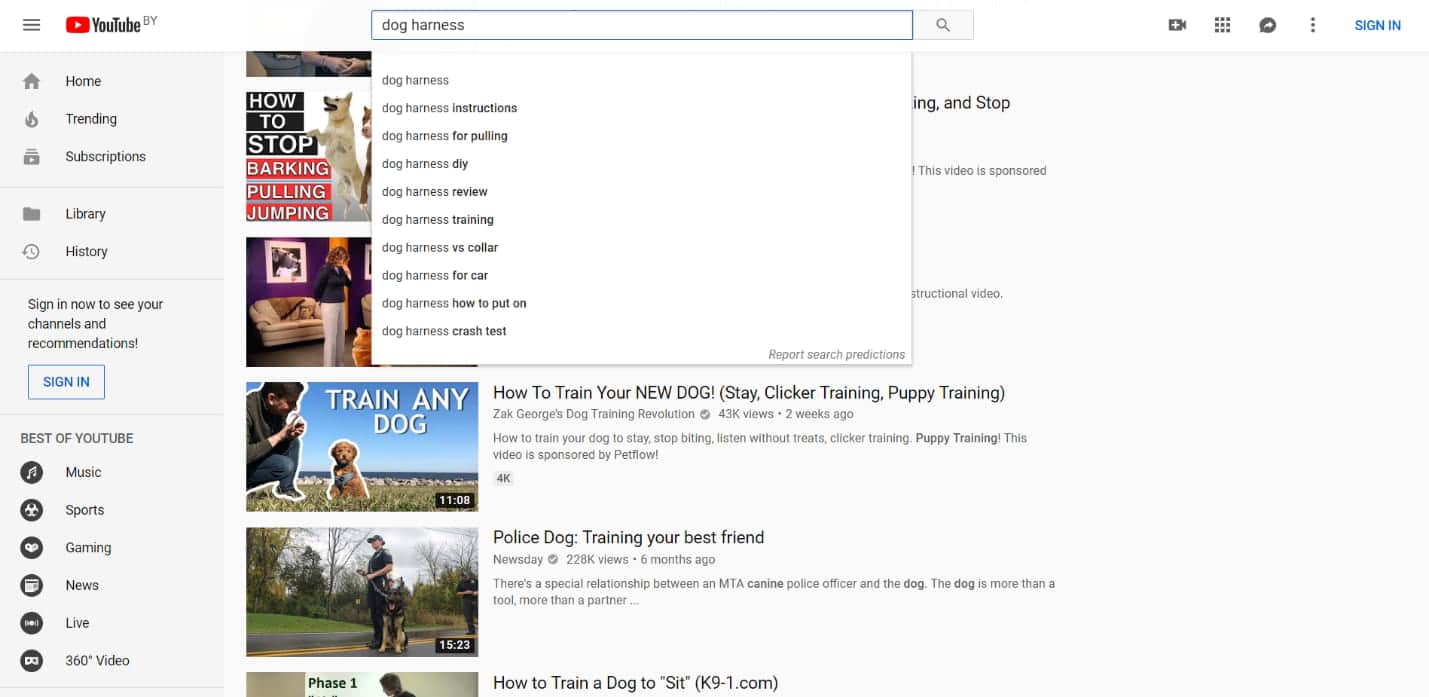 Google Trends is also a brilliant tool for analyzing search trends and comparing keywords according to their popularity. To make the tool provide you with YouTube-specific data, you just need to switch from the Web Search option to YouTube Search.
Besides giving you an understanding of what's trending in your niche at the moment, the tool shows you how the monthly number of searches changes over time and estimates keyword popularity in a certain geographical area. Google Trends also comes in very handy when you've come up with a list of keywords and want to compare them against each other popularity-wise.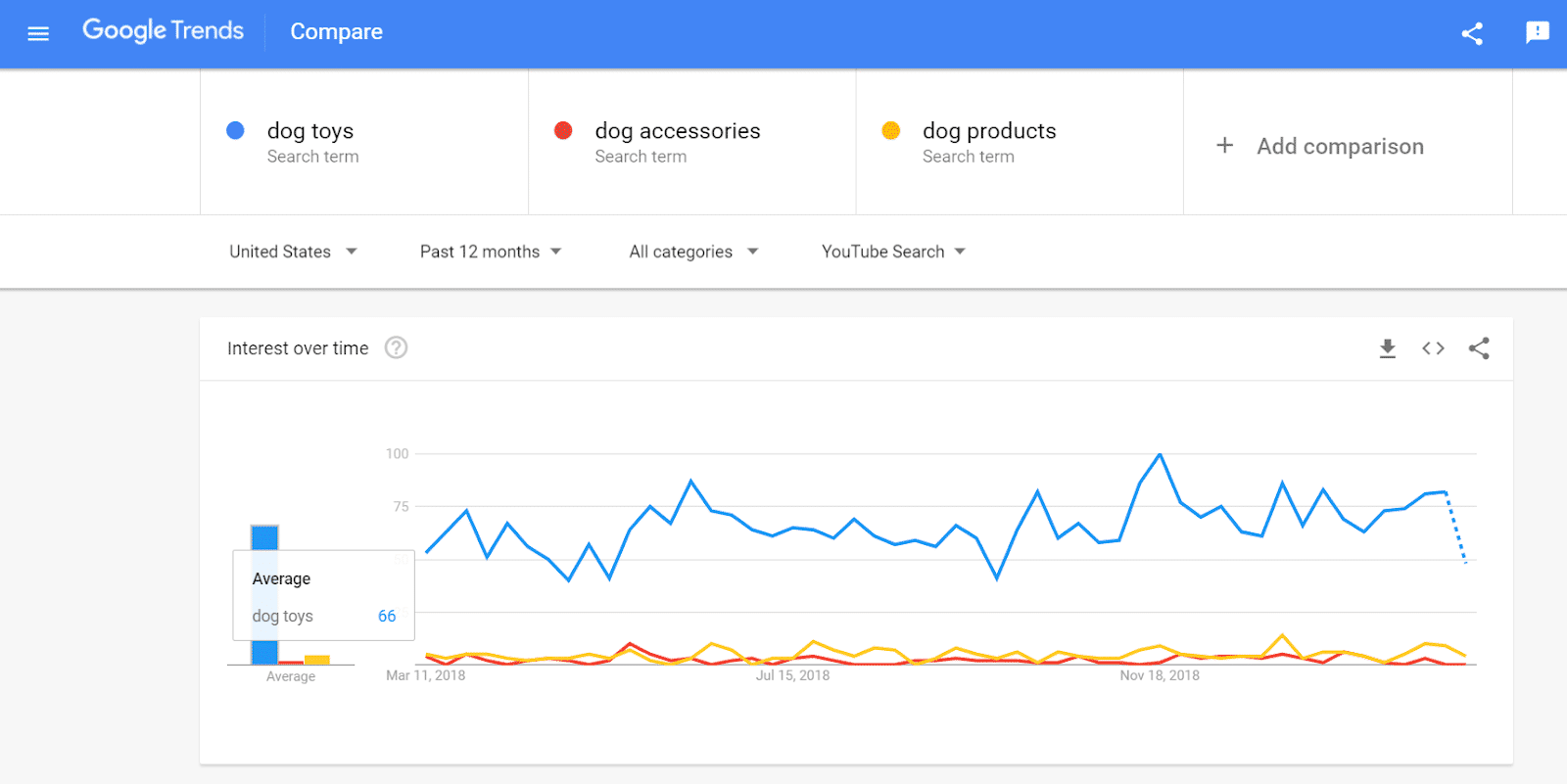 3. Collect Video Keywords
I'm sure you quite often notice YouTube videos appearing among Google's result pages for particular keywords. In fact, about 20-40% of YouTube traffic will be generated from organic search. That's why collecting and optimizing videos for such keywords can significantly raise their chances of fighting for a place in Google's organic search results.
The best way to collect such terms is by entering your target keywords into Rank Tracker and seeing if result pages include any videos – this is how you can spot keywords that are more likely to bring about a video in organic search results.
Step 2: Optimize Video Metadata
Like it or not, but since Google and YouTube implemented machine learning for object recognition, YouTube can now identify objects in your video while estimating its relevance to a particular search query. Basically, video metadata has lost its power a bit, which doesn't mean that it shouldn't be optimized.
In fact, it's of the greatest importance to us because it's exactly what users take into consideration when deciding whether to click or not to click on your video. What's more, it's advisory to upload a video with its metadata already optimized rather than 48 hours after it went live because otherwise, the algorithm will mark it as unworthy.
So here is how you can optimize your videos' metadata to satisfy both searchers and YouTube.
1. Create a Keyword-Rich Title
I guess it comes as no surprise that a video's title is the very first and sometimes the only thing searchers look at when estimating the video's relevance. To that tune, a perfect title should include keywords that you want to rank for as well as summarize the topic of your video. Try to make it attention-grabbing but don't make false promises or overhype it (don't intentionally clickbait). It's also a good idea to look at your competitors' video titles for inspiration.
As a rule, videos with exact-match keywords in title perform much better rankings-wise. The explanation is rather simple – users see exactly what they typed in the search bar, therefore such videos seem more relevant.
In addition to that, your titles shouldn't exceed the limit of 60 characters because otherwise, they'll be simply cut off.
2. Optimize description
Although video descriptions can be up to 1,000 characters long, the first 100 characters (2-3 lines of text) are the most important ones because this is the amount of text users see before they have to click on "Show more". That's why it's important to place your target keywords, CTAs, and links to your social accounts closer to the beginning.
Another option to go for is to include a transcript in your description. However, I wouldn't recommend relying fully on YouTube's automated transcriptions. Make sure to proofread them properly or consider using a transcription service like TranscribeMe to do all the work for you.
3. Create a Custom Thumbnail
Thumbnail is the very first thing that gets into searchers' brains as visual information is perceived a lot faster than textual. And it quite often happens that people do judge a book by its cover and decide whether to watch or neglect your video based on the quality, informational value, and aesthetical look of your thumbnail. That's why I wouldn't advise picking from a selection of thumbnails YouTube automatically generates – think of creating your own instead.
First and foremost, to make your thumbnail look equally good across all devices, make sure it satisfies the below-listed technical requirements:
1280×720 pixels
16:9 ratio
< 2 MB
.jpg, .gif, .bmp, or .png format.
Obviously enough, your thumbnail should be eye-catching to make the searcher want to click on your video. It's also a good idea to add some text to your thumbnail to make it more informative.
4. Add Video Tags
Optimizing your video tags helps searchers discover your videos – they even appear as "keywords" in your source code. The best way to get an idea of what tags to add to your videos is to see what your competitors are using – just install TubeBuddy, and the tool will show you the exact tags a video is optimized with.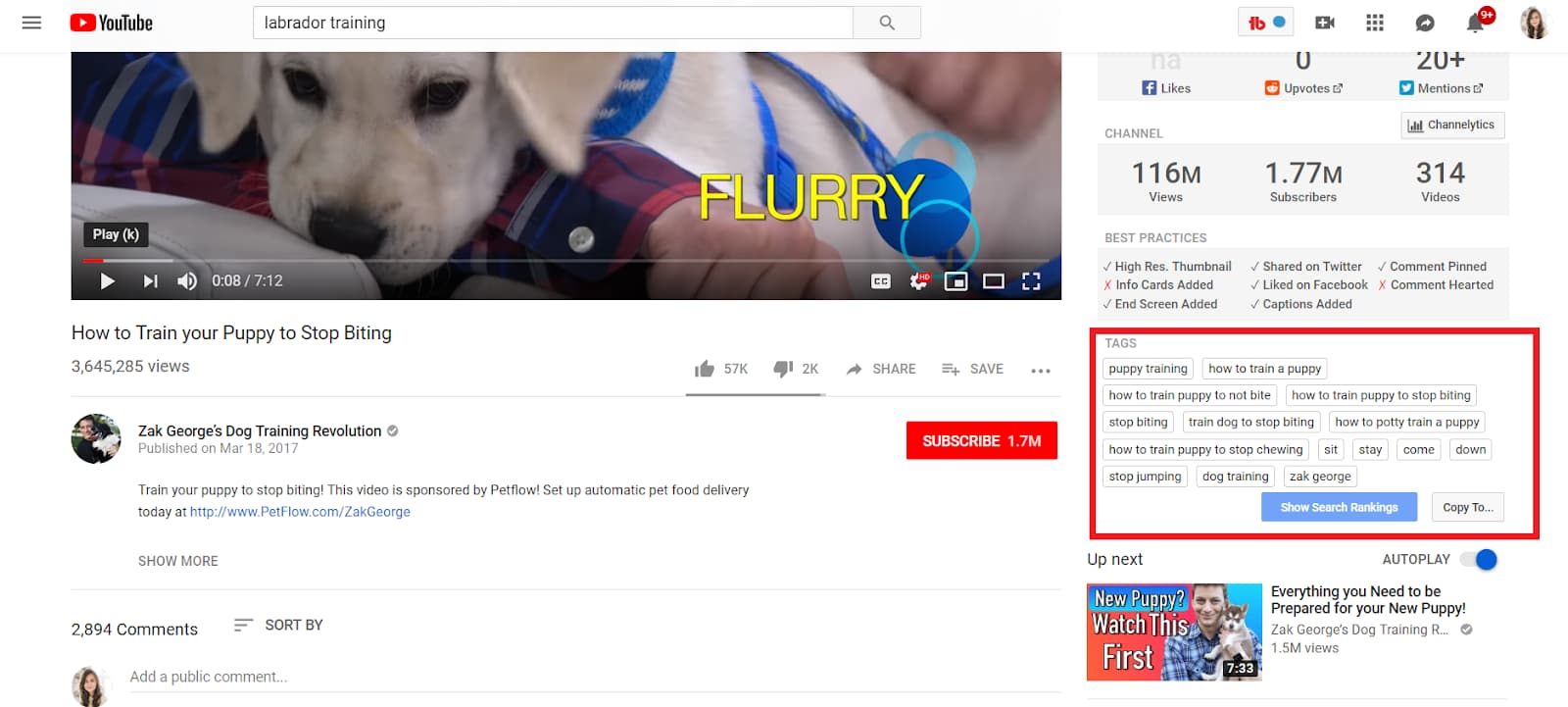 When you get to optimization itself, it's better to start with longer and more specific tags (such as "how to train a labrador puppy") and then narrow them down to broader phrases (such as "dog training"). And don't forget to include people featured in your video as well as your brand name in tags.
5. Add Hashtags
Using hashtags is yet another way to boost searchability of your videos. All you need to do is add them to your video descriptions, and they'll appear above the video's title. Due to the fact that hashtags have been recently added to the platform, some older videos of yours may not be optimized with them – so make sure to head over to them and fix it.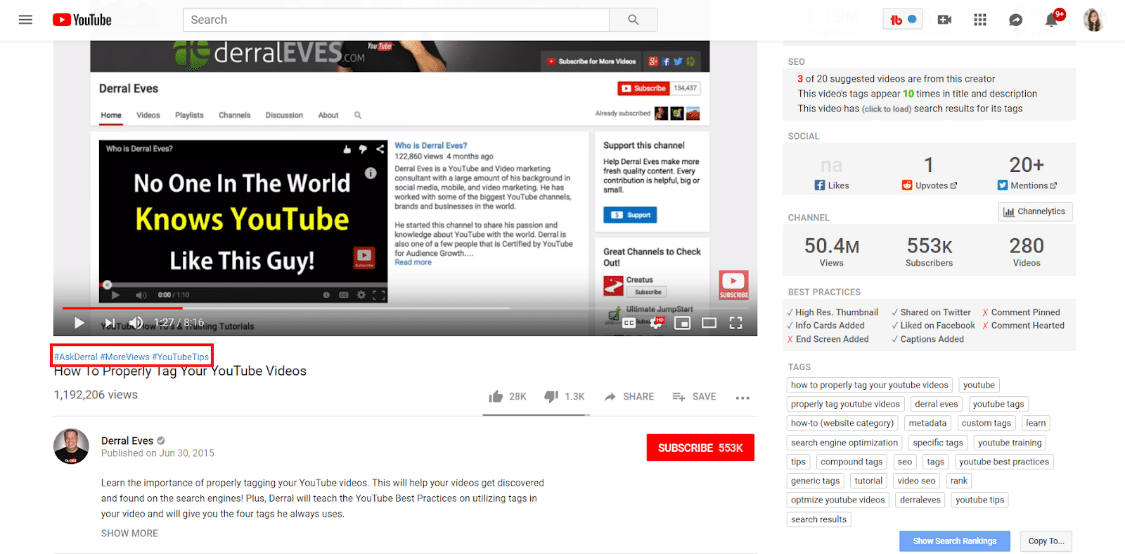 It's also important that the hashtags you add reflect the content that users would expect to see after typing in or clicking on a hashtag. It's also important to note that YouTube limits the number of hashtags to 15 for a single video, so don't overuse them.
Step 3: Improve User Retention and Engagement
Since watch time and audience retention have become key ranking signals, YouTube rewards videos that keep people for a longer period of time because they meet its criteria for quality content better. In addition to that, some engagement indicators like comments also have a strong correlation with YouTube rankings. So here's how you can boost watch time, user retention, and engagement of your videos.
1. Optimize for Watch Time
The best thing to start watch time optimization with is analyzing your Watch Time reports, which can give you priceless insights into average view duration, average percentage viewed, and audience retention. These metrics will help you understand how engaged your viewers are and identify the weak spots in your strategy.
If you see that viewers don't get past your intro, it may signify it's too long. If that's the case, try to cut off all unnecessary context and jump straight to the point.
To increase your overall channel sessions, consider promoting your other videos straight in a video or description. It's also a good idea to combine videos that cover similar topics in one playlist – they will be auto-played every time someone watched a video from the series.
2. Encourage Engagement
Just like watch time, likes, subscriptions, and comments have a very strong correlation with rankings. The first step towards encouraging viewers to interact with your videos is to identify the areas of improvement. And there's no better way to do it than with the help of YouTube Analytics – it allows you to see what exact videos drive subscribes and unsubscribes as well as places where particular video content is the most popular.
To encourage your viewers to comment, think of asking them a direct question at the end of your video. And of course, make sure to respond to them to provoke further discussion and make your audience feel heard.
Another strategy that is gaining popularity, particularly among bloggers, is running contests that require viewers to like, subscribe, and write a comment under a video. Of course, a lot of them will unsubscribe right after the giveaway is over but still, a big number of new subscribers can give your video a significant ranking boost.
3. Improve Your Channel
One of the best ways to improve your channel and add interactivity to your videos is by implementing Cards. They can be of 6 various kinds based on what you're willing to promote: channel, link, poll, video or playlist, and donation cards.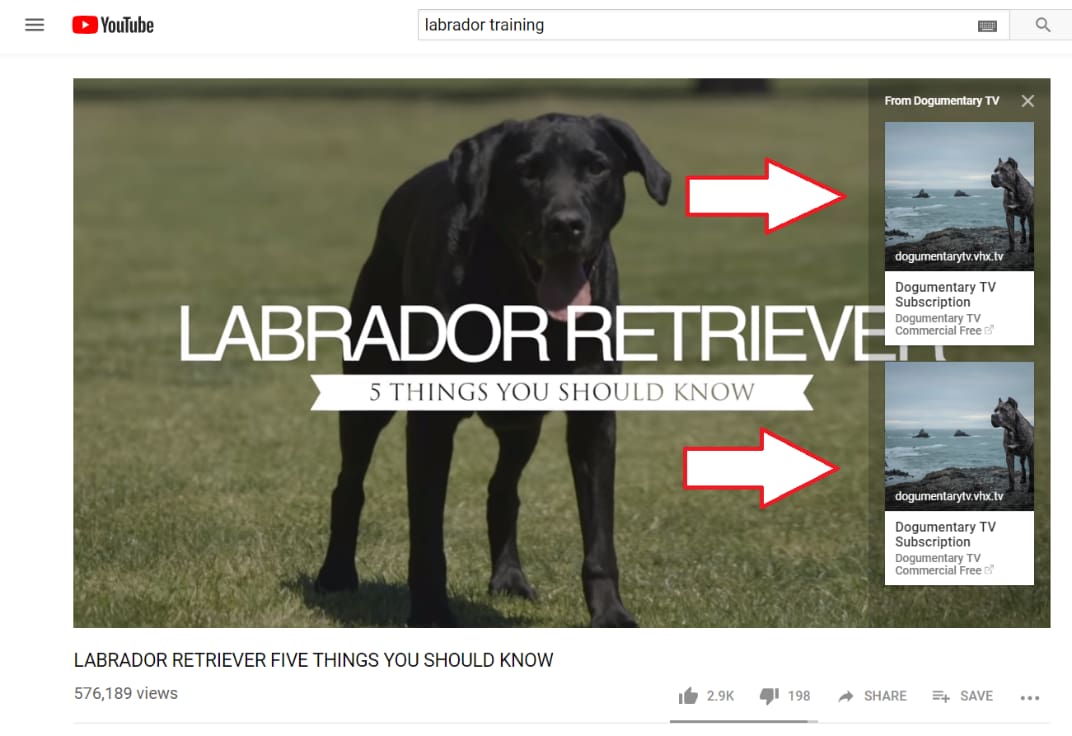 End screens can also help a lot if you want to direct viewers to some other videos of yours as well as win some extra watch time. Add end screens to the last 5-20 seconds and promote a video/playlist or another channel, encourage viewers to subscribe, and link to approved websites.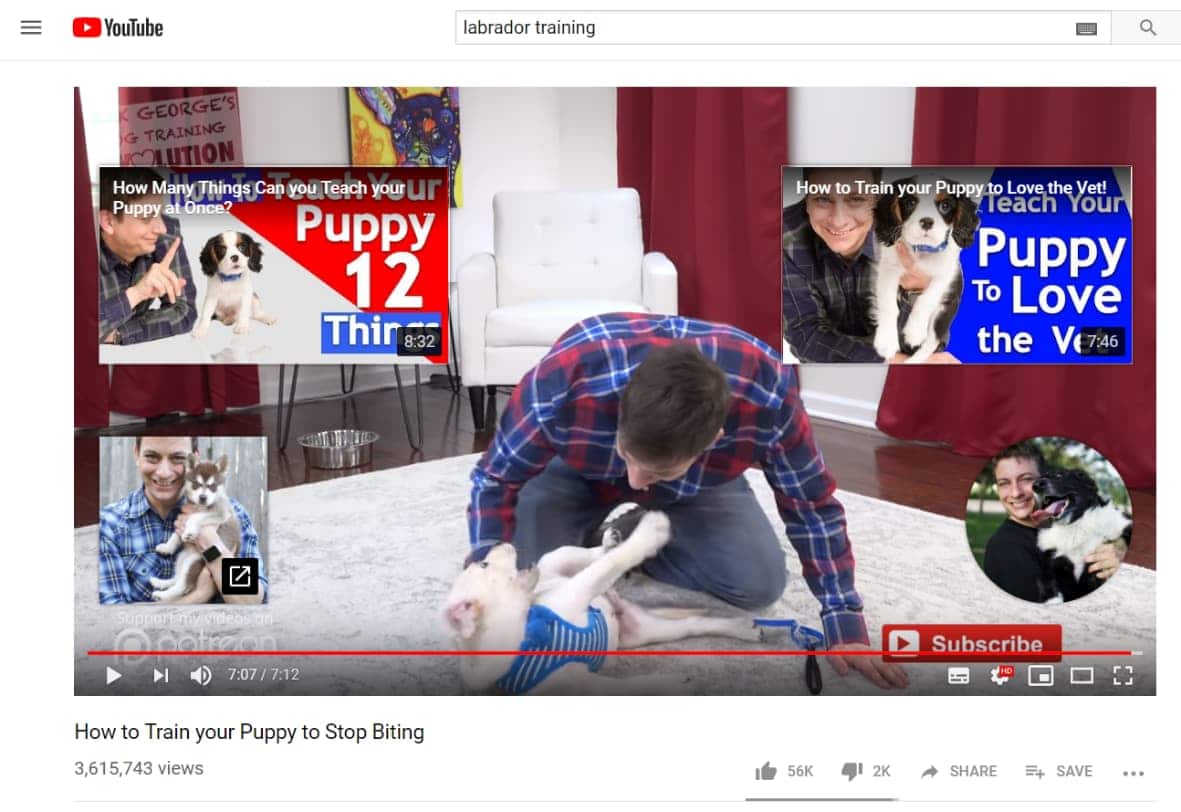 With 85% of Facebook videos being viewed with the volume off, adding subtitles and closed captions has become more a necessity rather than just a nice thing to have. What's more, it's a very good opportunity to make your videos comprehensible for viewers with hearing impairment or people who speak another language, consider implementing subtitles and closed captions.
And the last but not least important thing that I want to draw your attention to is the quality of your videos. Fact is, videos in HD format are a lot more appreciated by both viewers and YouTube – 68.2% of first-page videos on YouTube are in HD. So make sure to switch to HD video format if you haven't already.
Step 4: Promote Your Videos
Although keyword research, metadata optimization, and improving user retention are super important activities, they'll hardly bring you any profit if your video is nowhere to be seen. So here's how you can promote your videos and win extra views.
Of course, the first thing that comes to mind when we think about content promotion is social networks. And indeed, it's a very good place to start your video promotion routine with. In 2018, 500 million people were watching video on Facebook every day. As far as Twitter is concerned, video Tweets are retweeted 6x times more often than photo ones.
With that said, social networks are still a very powerful platform for video promotion. And if you want to track what sort of buzz your videos are surrounded with, consider using a social media monitoring tool like Awario, Mention, or Brandwatch. By setting up an alert in Awario, you can track and analyze your social media presence as well as get priceless insights into your competitors' video promotion strategies.
Another video promotion strategy that proved its effectiveness is embedding videos in blog posts. This is how you can earn some links as well as fight for appearing in organic search results. Videos + content is a win-win.
The best places to promote your videos at are those where people are actively searching for answers. So think of placing your videos on Q&A sites like Quora. Just find a question that you think your video can cover and place it at the end of your answer. However, I also need to warn you that Quora is brilliant at detecting spammers – so be careful and try to aim at being helpful to the Quora community in the first place.
On top of that, consider adding your videos on topically relevant forums or blogs as an answer to somebody's question in the comments.
Yet another way to get more eyes on your videos to those who will most probably watch and like them is by attaching them to your newsletter. The thing is, such people are already your paying customers and are more likely to at least click on a link to your video. If you want to inform them about an upcoming sale, you may add a video on how to use your product or why it's better than the one of your competitors', for instance.
Step 5: Arm Yourself with Powerful Tools for YouTube SEO
Of course, with powerful tools for YouTube SEO on your side, a lot of time-consuming tasks can be accomplished almost in no time at all. So here is a selection of best-breed YouTube SEO tools for you to check out.
1. YouTube Analytics
YouTube Analytics: Best for overall YouTube channel performance analysis.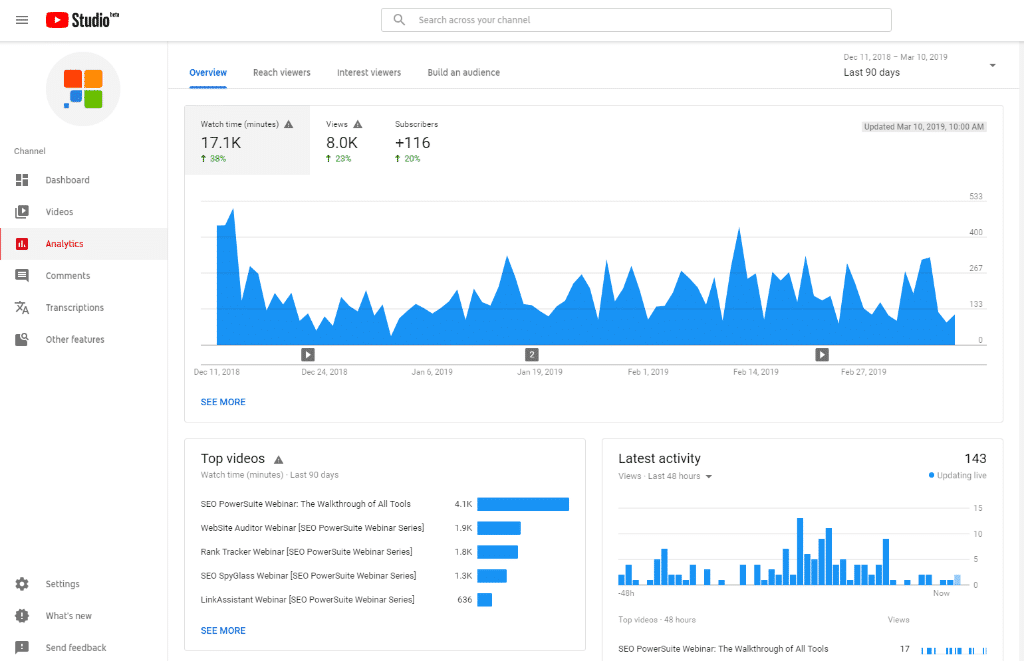 Of course, it's only right to start this chart with YouTube Analytics. The tool is irreplaceable when it comes to understanding your audience and how it engages with your videos. It should be also mentioned that YouTube has recently switched from "Creator Studio" to a simpler and more intuitive "YouTube Studio Beta".
Basically, the tool shows you the overall channel performance as well as data on specific videos. YouTube Analytics also allows you to uncover your viewers' watching habits, analyze their demographics, and see where the traffic comes from.
There are also some new metrics like impressions, impressions click-through rate, and unique viewers that are present in the tool's updated version. On top of that, new YouTube Analytics compares your latest video performance to the previous ones to track your progress.
2. Rank Tracker
Rank Tracker: Best for checking YouTube rankings, keyword research, keyword analysis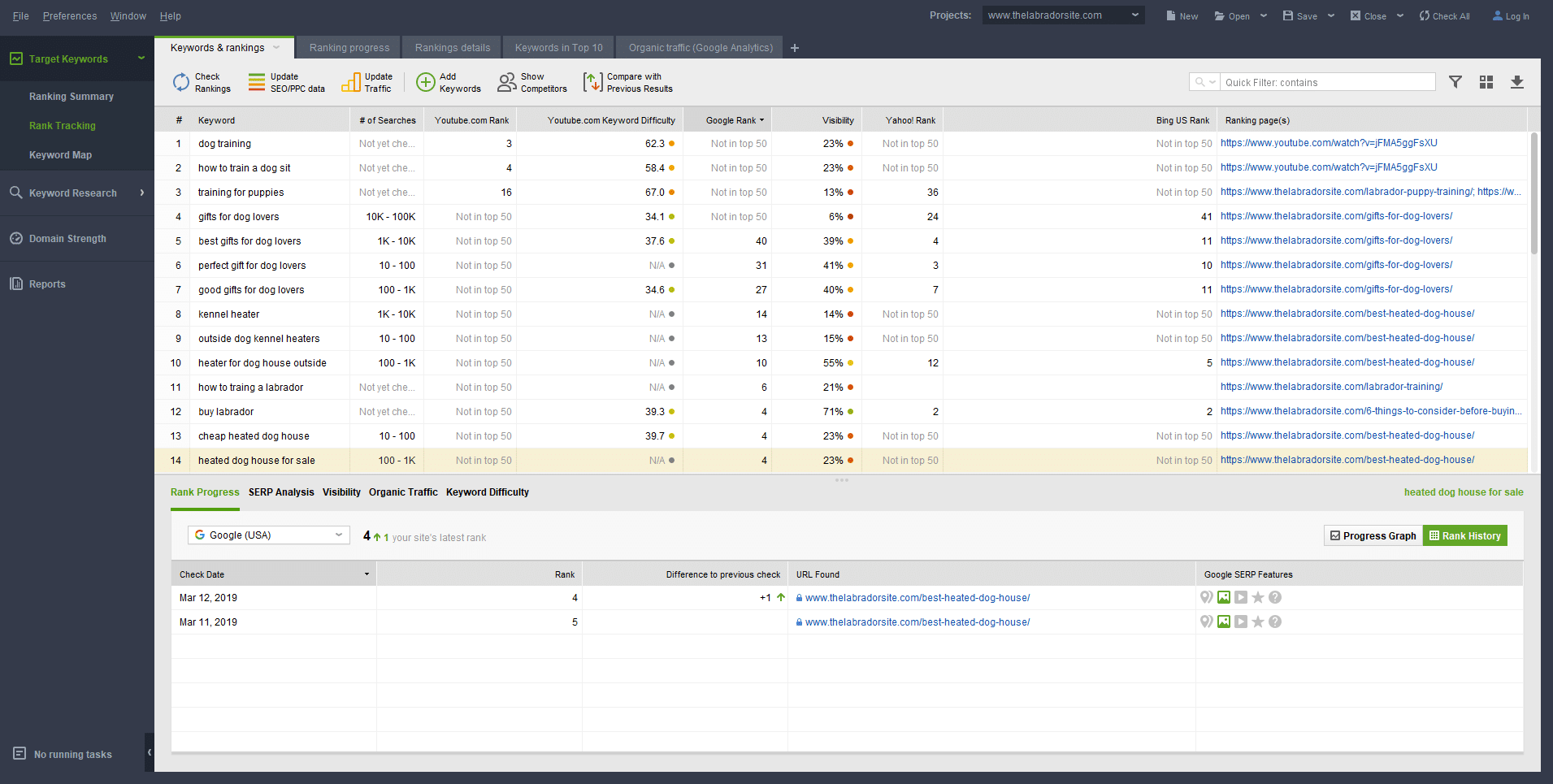 With Rank Tracker, you can set YouTube as a preferred search engine and track your rankings there as well as monitor your video results in SERP features. The tool also allows you to collect keywords with 23 keyword research methods, including YouTube autocomplete, and then compare them according to the most important SEO indicators.
As I already mentioned, the tool is awesome at uncovering video keywords and tracking  – you can see the exact keywords that make videos appear among organic search results. Make sure to check out Rank Tracker's proprietary YouTube Keyword Difficulty metric to immediately spot and collect easy-to-rank-for keywords.
3. Awario
Awario: Best for tracking social media mentions.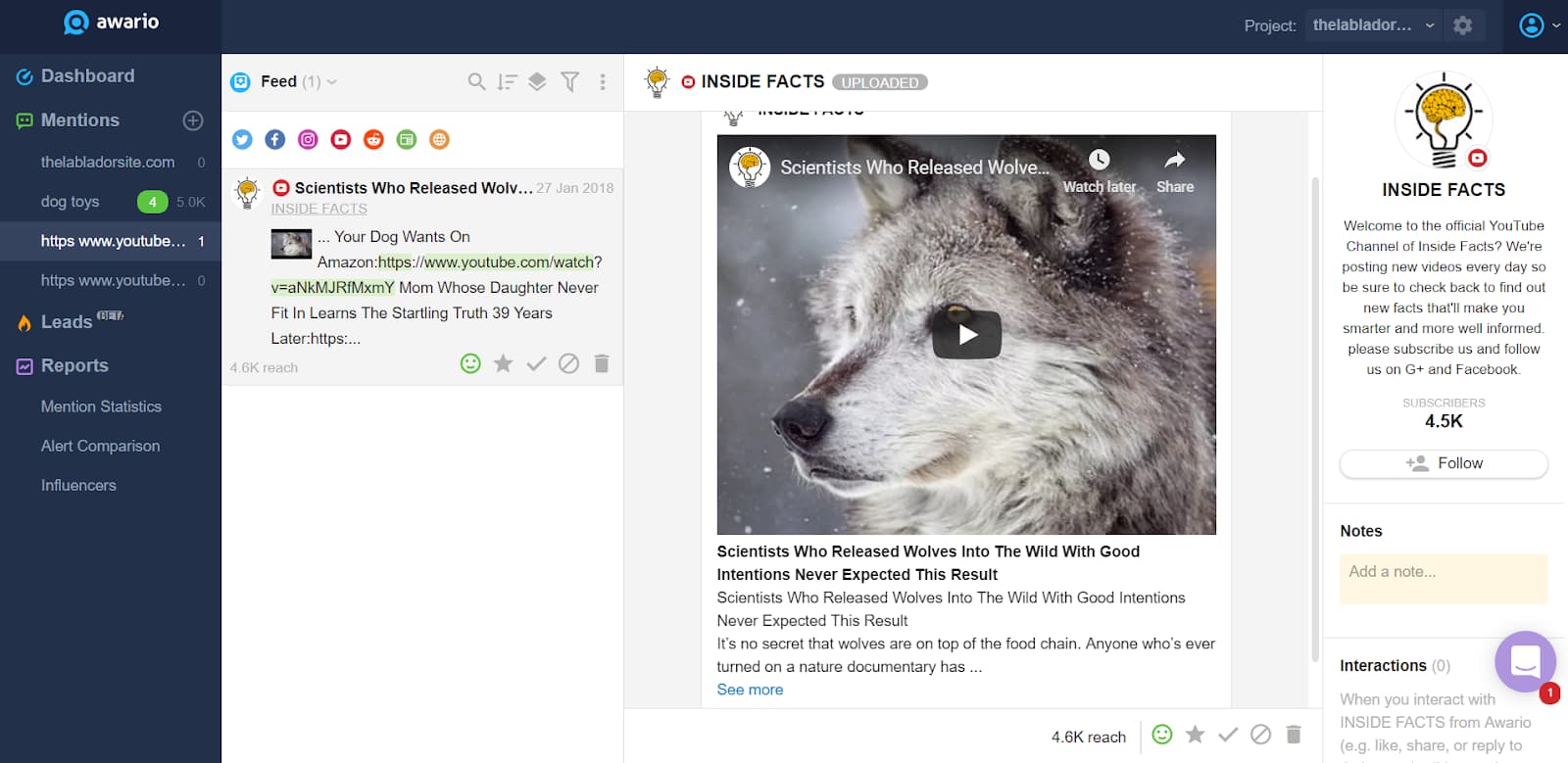 It is known for a fact that social signals do influence YouTube ranking algorithm a lot. In addition, linkless mentions will most probably gain more power in YouTube's ranking algorithm because they are already a ranking signal for Google. In this light, you need to track and analyze your videos' social media and Internet presence and search for more mention and link sources. Luckily, Awario can help you with both tasks.
To see what sort of buzz surrounds your video on social media, just enter the video's URL when setting up an alert. Or you can type in keywords you've researched and track them within one alert (with the help of Boolean search) and find numerous opportunities for promoting your videos. Set the tool to track YouTube results only and carry out deep competition research to boost your rankings.
On top of that, you can connect your YouTube account to Awario to be able to like and reply to comments right from the tool.
4. Canva
Canva: Best for designing YouTube channel arts and thumbnails.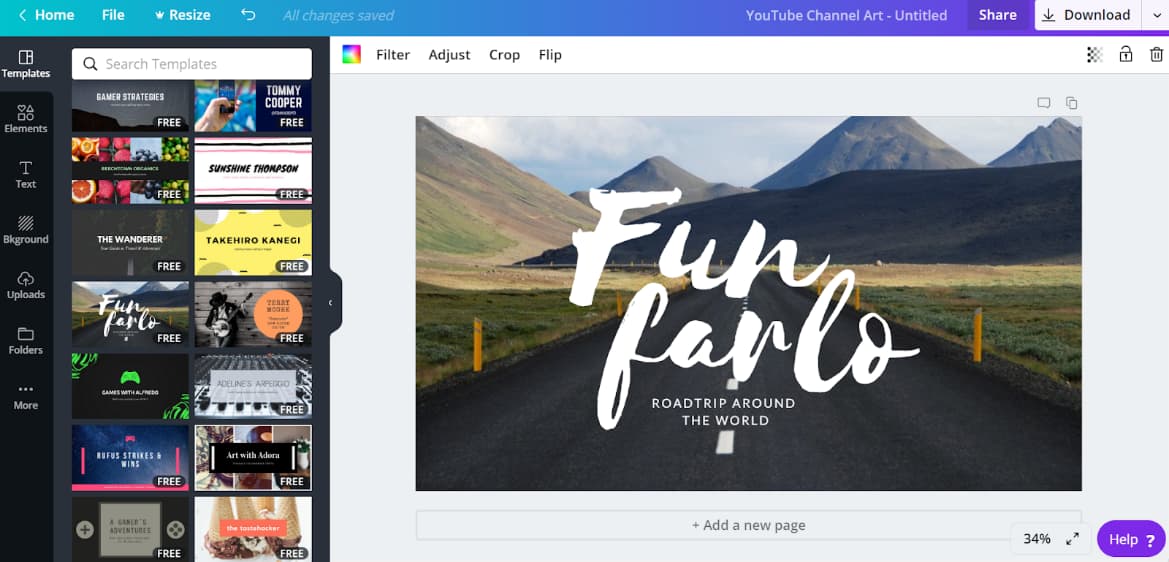 Canva is a freemium graphic app, which offers a huge selection of templates for all sorts of visuals, including custom video thumbnails. The app has a free version, which is slightly limited in terms of the number of templates and members.
However, if you decided to invest in a business-class account ($9.95 monthly for 1 user), you'll get access to a huge image database (300, 000 images) as well as the opportunity to upload your own fonts and color pallets.
5. TubeBuddy
TubeBuddy: Best for YouTube channel management and video optimization.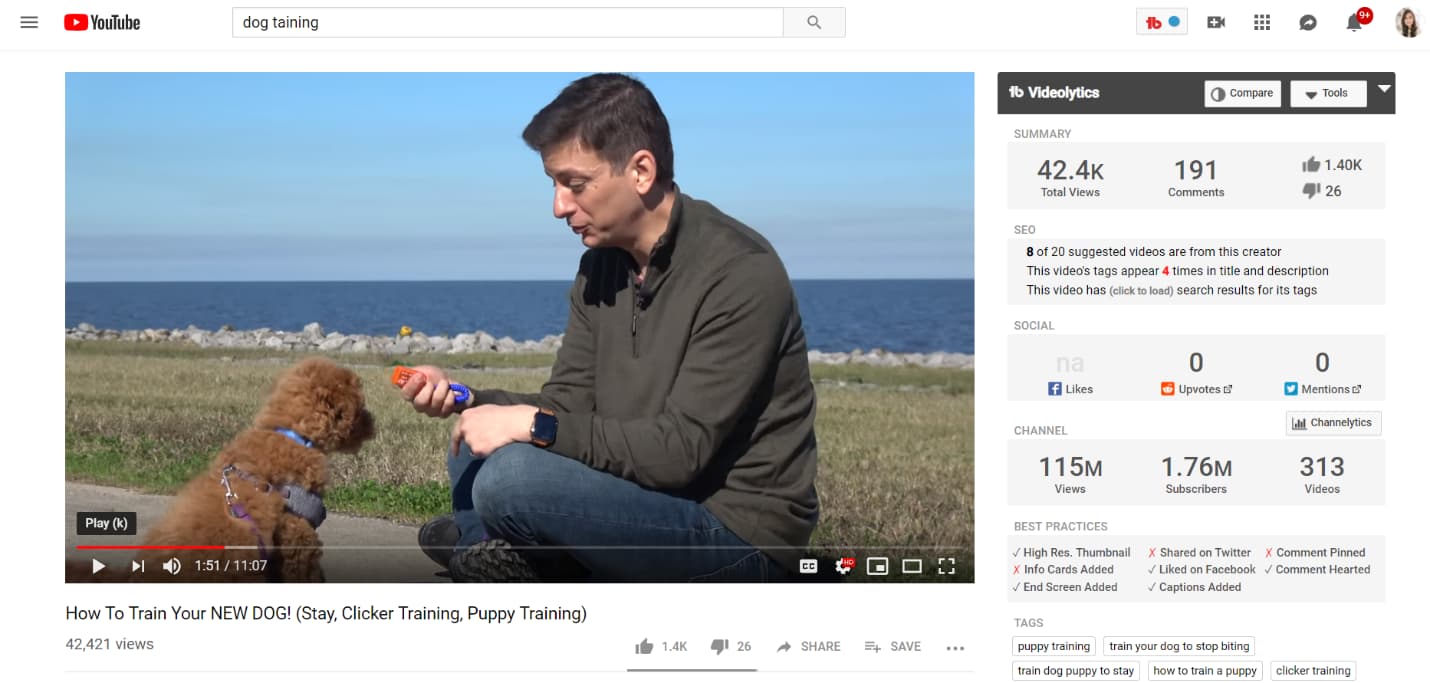 TubeBuddy is a free extension that eases the job ten times with everything that comes to YouTube channel management. Due to the fact that it's an extension, you can operate within YouTube without switching to an external app. With the help of TubeBuddy, you can monitor live video stats, track social shares, as well as get video optimization tips.
The best thing about the tool is that it shows the above-mentioned data for all videos on YouTube. So you can see how your competitors optimize their videos and analyze how your videos stack against your competition.
YouTube is the second most-visited site in the world. Use SEO to boost your video marketing! 🎥Click to Tweet
Summary
That's it for YouTube SEO for today. Let's briefly summarize everything we've talked about.
Start optimizing your videos with proper keyword research, paying your special attention to video keywords. After that, optimize your videos' metadata with the keywords you've collected. Don't forget to do it within the first 48 hours after uploading. Once your video is live, make sure to promote it and build links. And lastly, try to optimize your own YouTube SEO routine by arming yourself with a powerful YouTube toolkit.
Have any other YouTube SEO tips or tools you think we should add? Leave them below in the comments.