Creating videos is only half the battle. You also need a place to publish them to be easily accessible to your audience. As YouTube is the most popular video hosting site, knowing how to create a YouTube channel is essential to get started on your journey.
It isn't enough to upload and publish a video in two clicks. You also need to understand the inner workings of the YouTube platform to ensure that your channel presents your brand in the best light.
In this post, we'll cover everything you need to know about creating a YouTube channel. It doesn't matter if you're making a personal YouTube channel or a brand channel. The steps outlined in this tutorial are universal.
Let's start!
Check out our video guide to creating a YouTube channel:
How Much Does It Cost to Start a YouTube Channel?
YouTube channels are free to start and very easy to set up.
While there is no hosting fee on the site, additional costs might be associated with your video production efforts. Most creators and businesses set up YouTube channels and start producing videos with a budget below $2,500. These could include the price of your camera, lighting, microphone, talent, and editing fees.
Creating videos is only half the battle. 🎬 Learn how to set up your own YouTube channel with help from this guide 🎞Click to Tweet
Why Should You Create a YouTube Channel?
YouTube channels are nearly essential for any business that is looking to ramp up its video marketing efforts. By setting one up, you have the perfect place to host your videos and share them with eager, relevant audiences.
But why are so many B2B businesses turning to video marketing? Well, video marketing has shown impactful results for their business. In fact, this Hubspot report found that video has the highest ROI of any media format.
This high number of businesses seeing success with video has grown astronomically since 2015. It remains an effective form of marketing, and more companies are starting to notice video's impact on their bottom line.
How Do You Create a Successful YouTube Channel?
Many different factors contribute to the success of your YouTube channel. First, you need to ensure that your channel is set up correctly and optimized for viewership.
The adage "If you build it, they will come" does not necessarily apply to YouTube channels. You need to ensure that your channel has the necessary components to drive meaningful results.
The core components of a successful YouTube account include:
A clear focus for the channel (i.e., designated for a specific business or organization)
High-quality videos that engage audiences
Optimized titles, tags, and descriptions
Polished profile photos, headers, and playlists
Traffic to the channel from other owned channels
Last but not least, you'll need consistency. Just as with content marketing and SEO, you'll need to know upfront that you'll be required to publish several videos regularly to be able to collect valuable data and start seeing more views.
Check out how our YouTube channel's growth kicked in only several months after we launched in November 2020:
How to Create a YouTube Channel Step by Step?
Now that you know the basics, it's time to dive in and start creating your own YouTube channel.
These steps will guide you through the process of bringing your channel to life. By following this guide closely, you'll finish with a professional YouTube channel that showcases your business or organization in the best possible way.
1. Create Your Account
To get started, visit YouTube.com and log into your Google account. This first step is simple and gets you going on the right path.
To create an account, you need a functioning email address linked directly to your YouTube account. This first presents you with a decision: Is this a business YouTube account or a personal account? Your answer will dictate the type of email address you use.
Before creating your account, you should consider the purpose of your YouTube page. Reflect on the following questions:
What type of videos do you plan to post?
Who do you want your subscribers to be?
How do you want to be presented?
To create a personal YouTube account, you can use your personal email. To create a company YouTube account, use your work email or a generic company email like [email protected].
Once you log in with your email after visiting YouTube.com, you'll see that your channel is already live. Click the Customize Channel button to open up your channel dashboard and begin personalizing the channel for your business.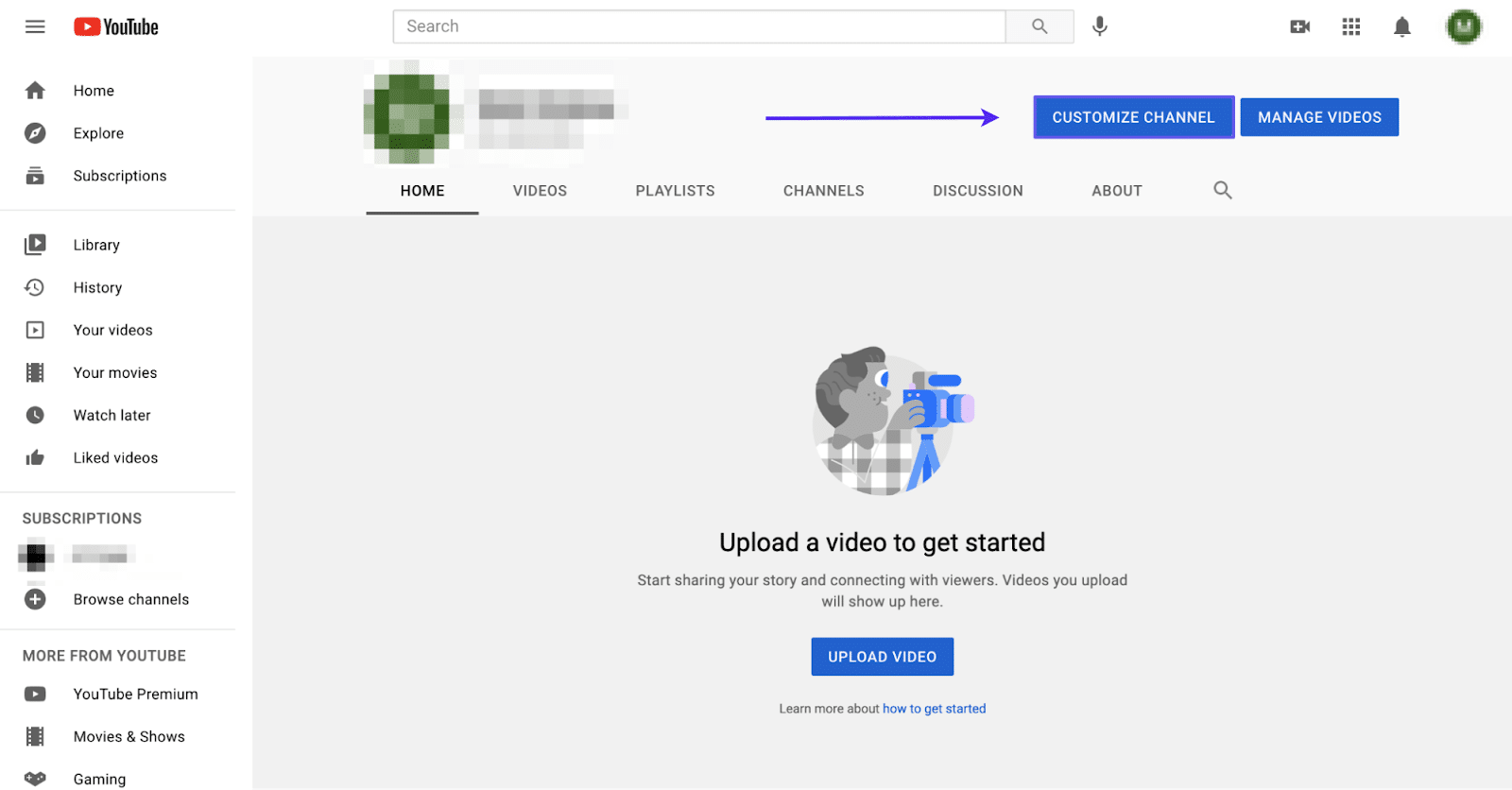 Completing this will prepare you for the next steps, which are focused on building out your channel and ensuring that it's designed and structured to meet the needs of your account.
The channel page is where you'd go to upload videos, adjust your channel banner, add YouTube tags, and review your YouTube analytics.
2. Update Channel Name and Description
With your account created, it's time to make your business or your personal account channel.
The first thing you need to do is update the channel name to something that reflects the subject matter of the type of content on the page.
By taking this step, you'll ensure that the public will be able to find your channel by searching the name of your business or organization.
To start, click Basic Info on the top menu. You can now update your channel name, description, and URL.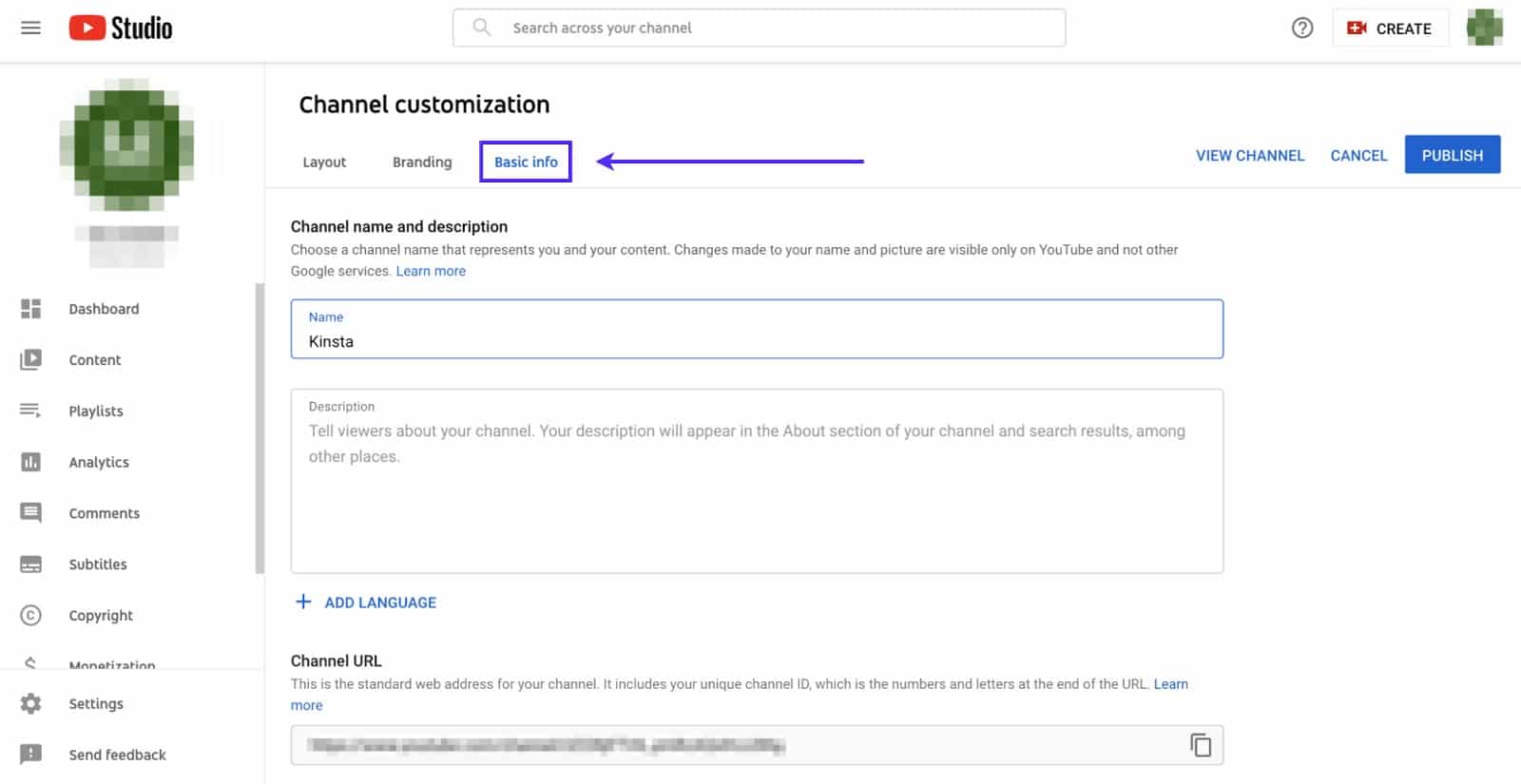 As an example, here's the basic info we used on Kinsta's YouTube channel:
Make sure you take advantage of these three options to make your channel truly your own. Adding a title, description, and custom URL is a great way to boost your YouTube SEO.
Use relevant keywords that your audience might be searching for. It'll help your page pop up earlier in YouTube's search engine.
With a relevant title and description, your audience will know more about your page.
3. Upload Your Profile Photo and Logo
Next, it's time to focus on branding your page to depict your company or personal account accurately.
You need to upload three important branding images: picture, banner image, and video watermark.
You'll want your YouTube page to be an extension of your brand. Thus, this step is critical to ensure that all your digital properties carry a unifying message.
Channels with high-quality images as their picture, banner, and watermark look more inviting and professional for passive viewers. They might be lured in by a memorable profile picture or banner and stay to check out some of your videos.
To upload these images, click the Branding tab located in the navigation bar at the top of the page.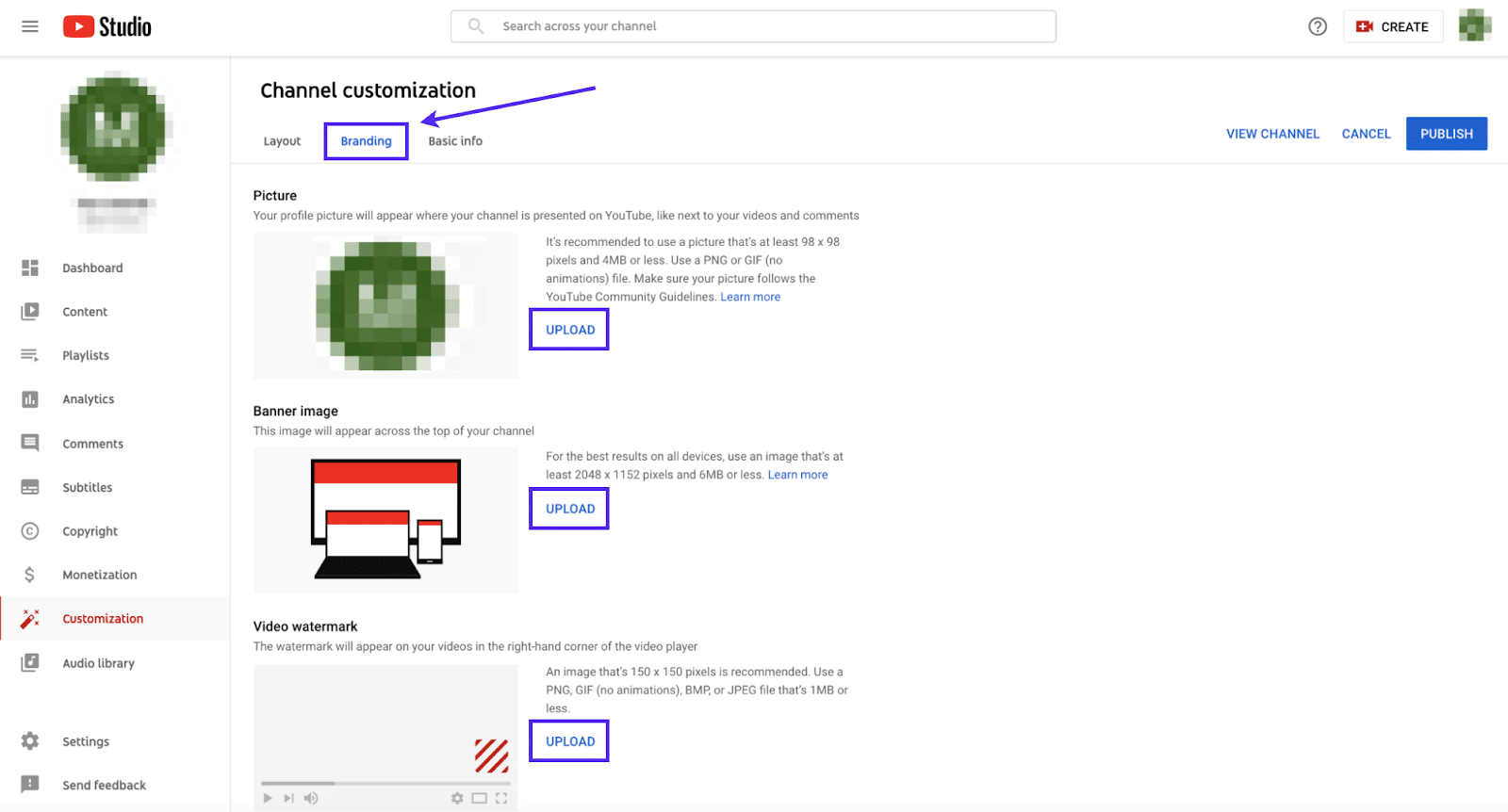 It'd look like something like below after you upload your branding assets:
You should upload a clear, high-quality logo of at least 98×98 pixels weighing less than 4 MB for your picture. We recommend uploading a PNG image.
How to Create a Logo for Your YouTube Channel
Consider what photo or logo will represent your channel. It'll appear in numerous places, including every page that hosts your video and the comments you add.
To begin designing, you can use software like Adobe Photoshop or Illustrator. If you aren't interested in designing independently, you can crowdsource the design using a service like 99designs.
How to Create YouTube Channel Art
Another important element on your YouTube channel is your banner image.
For your banner image, you should consider how you can expand your brand and build on the style of photo you used for your profile picture. You could use a photo or a custom graphic with illustrations that highlight your brand.
This graphic will appear at the top of your page, located behind your profile picture. The graphic should be at least 2048×1152 pixels and less than 6 MB.
How to Create a YouTube Channel Icon
Your icon is an element of your logo that symbolizes your brand.
You should consider what type of icon you want to use for your video watermark. A video watermark will appear in the corner of every one of your videos. Ideally, this would be different from your profile picture, but you could also use the same one.
With a watermark, your audience will be able to identify which videos are uniquely yours quickly. The watermark helps create consistency across multiple videos, tying them back to your account.
These images are critical in ensuring the success of your YouTube account. With branding across your channel, you'll create a streaming hub that extends your brand or business.
4. Upload Your Videos
Now it's finally time to upload your first video. It's the "main event" when it comes to your YouTube page.
After all, your audience will only visit your page if it hosts engaging video content. Thankfully, the steps to upload a video are simple and easy to follow.
First, save your video file to an easily accessible place on your computer. It can be your Documents folder, on your Desktop, or even in your Downloads. All that matters is that you can access it in a few clicks.
Next, go back to your channel and click the Create button in the corner of your screen.
After you've hit the Create button, a screen will pop up, inviting you to select the file that you want to upload:
Click Select Files to locate the video file you just saved to your computer. Then YouTube will automatically begin uploading it.
The upload part of the process is simple and only takes a few minutes. However, the steps after the upload (including the optimization) are critical.
5. Optimize Your Videos
What good is it to upload your video if no one can find it?
There are billions of minutes of videos uploaded to YouTube, and you need to ensure that your content stands out and that it's easily accessible.
Optimizing your videos is a critical step to ensure your videos are properly tagged, so they will surface when someone types a relevant keyword into YouTube's massive search engine.
Much like how SEO practitioners spend time ranking on Google, you should devote the proper time to ensure that you rank high on YouTube.
Why?
YouTube is the second biggest search engine globally, following Google (they also own YouTube). Hence, you want to make sure you're using the right keywords in your title, description, and tagging, or you won't appear early enough in the listings for your target audience to find you.
Without taking this critical step, all your challenging work shooting, producing and editing videos will be for nothing.
To begin the optimization process, move to the next phase of your upload screen.
As you continue the upload process, you're greeted with a Details screen, inviting you to fill in the title, description, and thumbnail: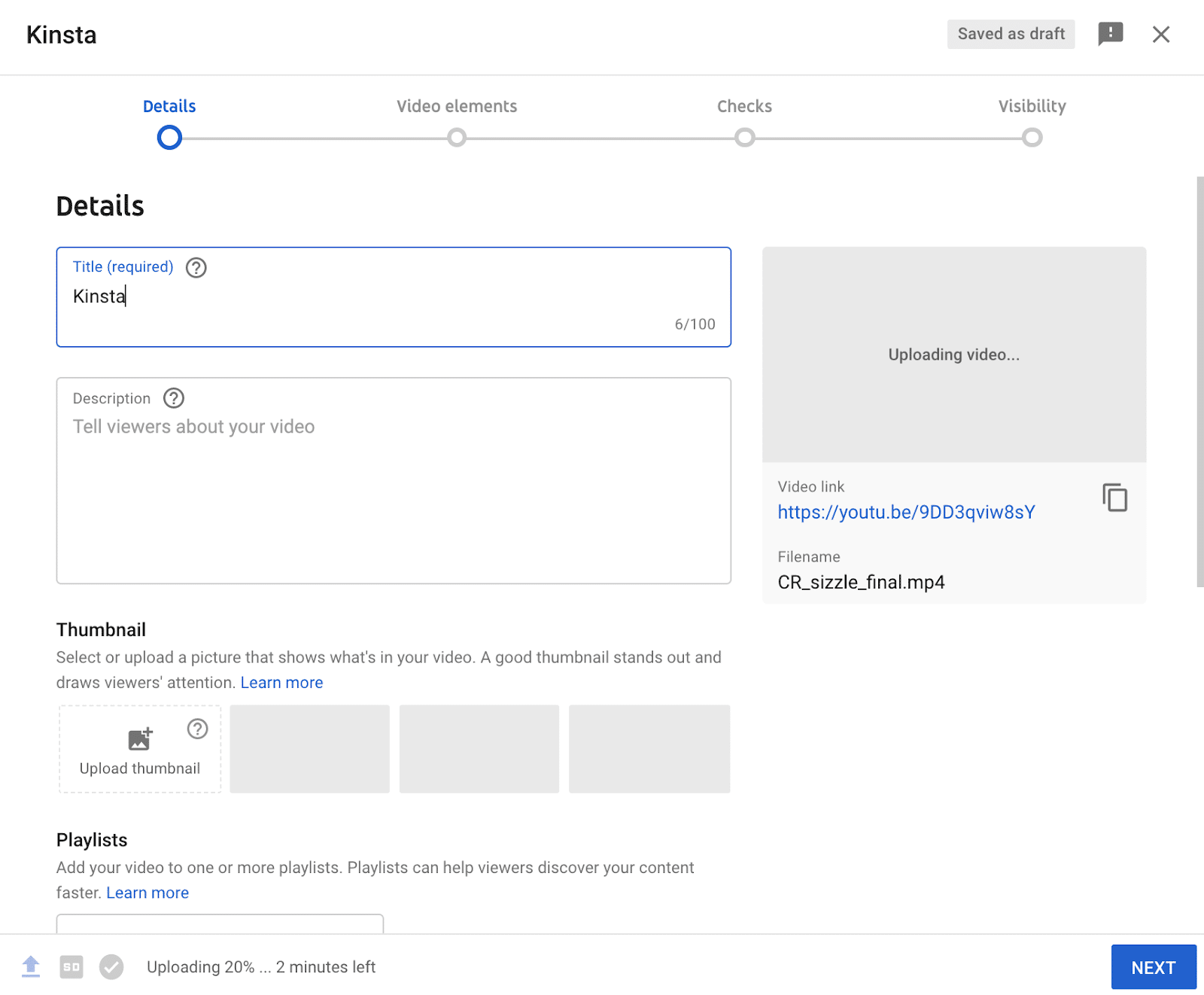 In addition, you can add various video elements, including subtitles, an end screen, and even cards with features like text: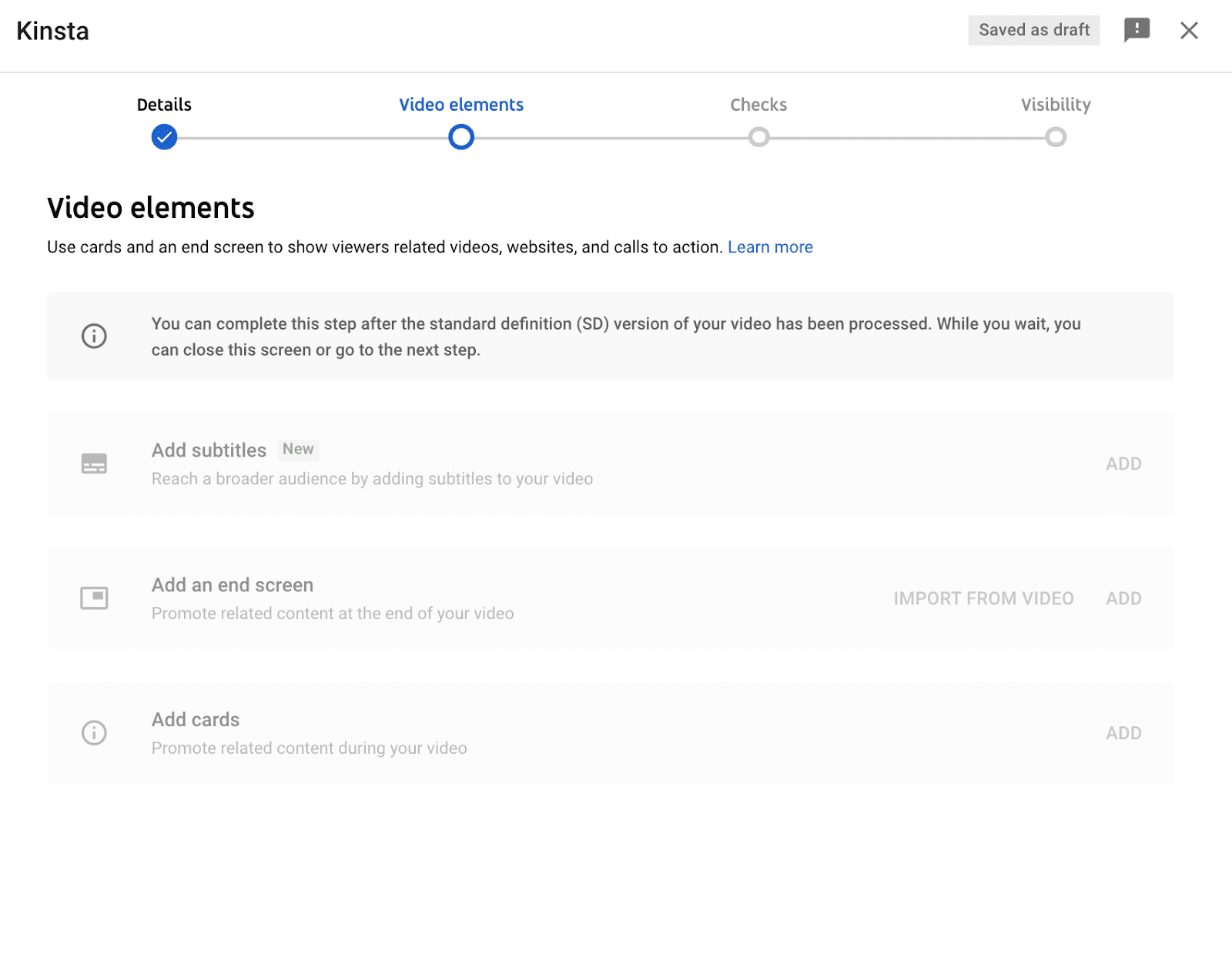 You must add the keywords that you're targeting to your title and the description. These are the two most valuable places of real estate that you need to focus on.
However, you might be wondering: What are the right keywords to use?
Various software programs specialize in YouTube SEO that you can use. For example, VidIQ and TubeBuddy are two YouTube-focused tools that can help you determine which keywords you should be targeting for your content type. You can also use typical Ahrefs
These tools can also inform your video content strategy. You might find some keywords and tags that are useful to target and use them to inspire your next video.
6. Set Your Channel Layout
Now that you have some videos on your channel, it's time to customize the look and feel.
You'll have control over how people move from one video to another. You should pay attention to this because it's essential to hook your viewers to get them to spend a bit longer on your channel.
Make your channel work for your company by personalizing your channel's page layout.
You have many options to customize this experience based on the type of visitor.
To get started, click the Layout tab in the menu at the top navigation bar on the Customize Channel page.
Clicking this tab will show two distinct options: video spotlight and featured sections.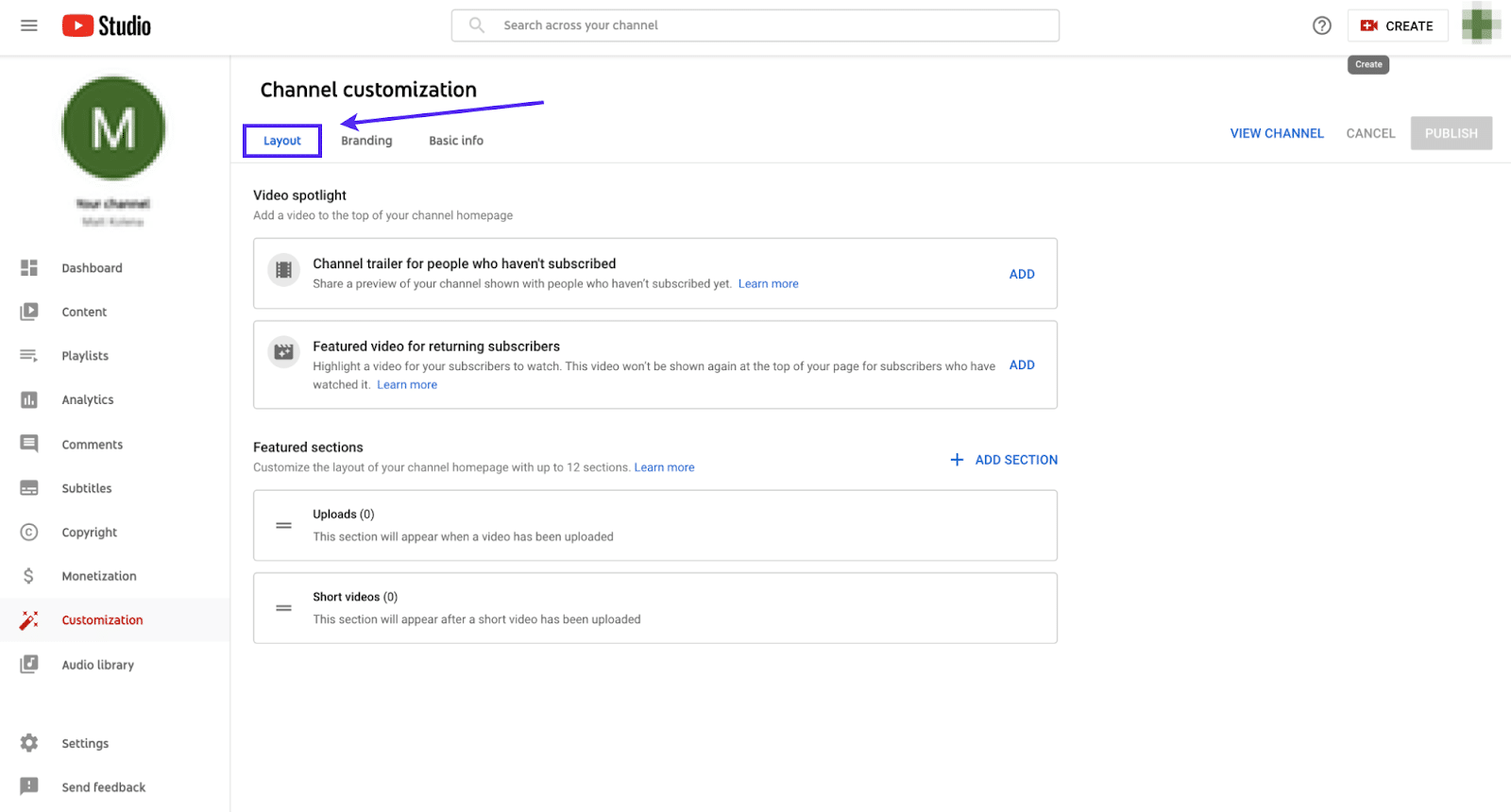 In this section, you're able to adjust the settings of your channel to show different content based on the viewer's status as a subscriber.
You have the option to:
Show a channel trailer to those who haven't subscribed
Show a featured video for returning subscribers
Below you can see what we set up for on our YouTube channel, where we have an introductory video about Kinsta vs a video on how to grow your website traffic, which is a "hot topic" among our viewership: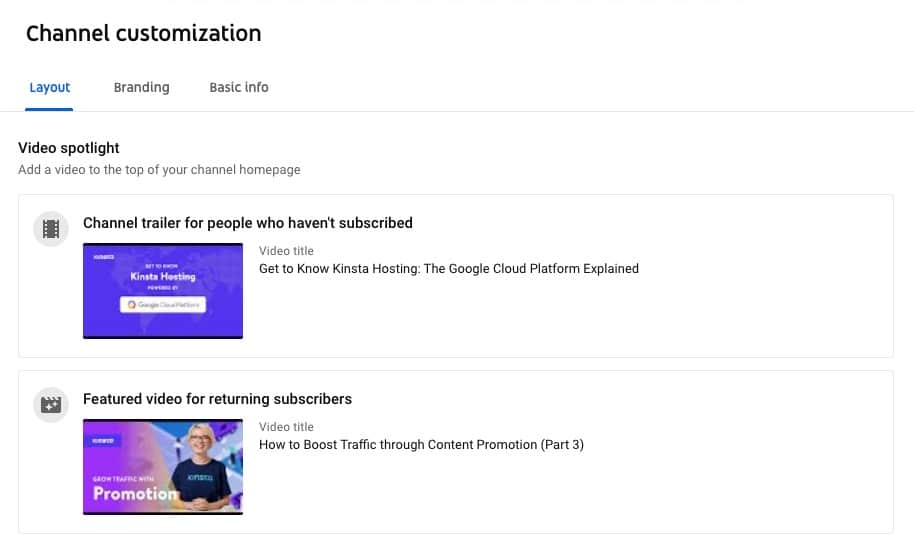 This option is helpful because it lets you present new visitors with a high-level overview video about your channel to try and convince them to subscribe.
A subscriber wouldn't need to see that since they know what your channel is already about, so you can show these visitors a featured video instead. Which video you pick to feature is up to you; it could be one of your most popular videos or simply your newest one.
Beyond this function, you can also set up featured sections on your channel homepage, as we did:
You can have up to twelve of these sections which group similar videos. These featured sections make it easier to increase your views and the watch time of your channel. By curating closely related videos, there's a high chance your viewers will keep browsing (and watching) around!
The sections can also make it easier for viewers to find videos once they land on your channel. However, this is just grouping them. To facilitate continuous playback, consider creating a playlist.
7. Create a Playlist
A playlist is a great way to compile similar videos and encourage continuous watching from your audience. You can group your playlists by a similar topic and feature them on your channel's homepage.
Playlists engage your fans and customers on a deeper level, increasing their time on your channel watching your content. If your viewers spend more time on your page, they will develop a deeper understanding of your brand.
To begin, click the Playlists button in the left-hand menu. In the top-right corner, you'll now see a New Playlist button.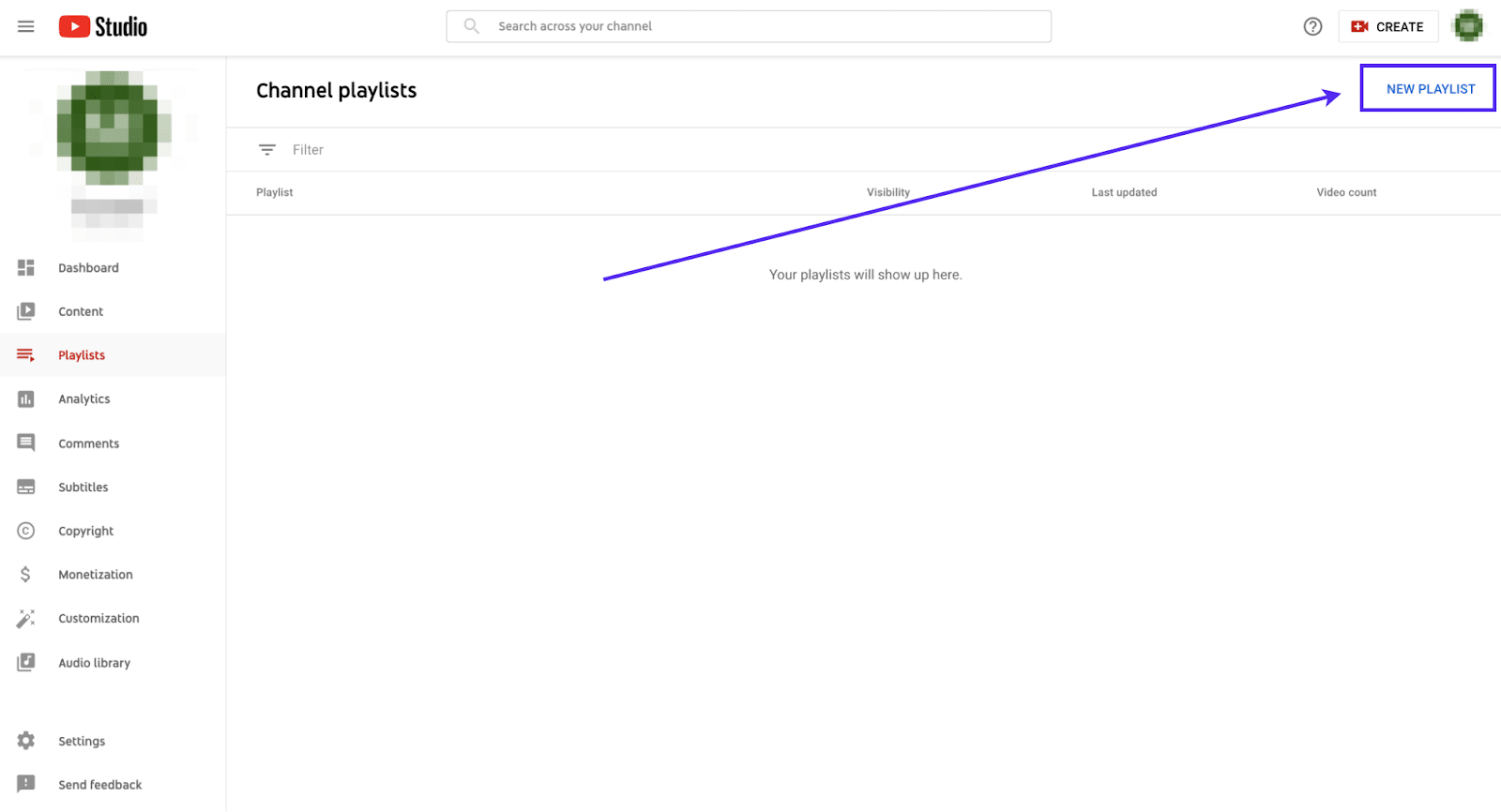 After clicking there, you can name your new playlist and set the visibility level of the playlist: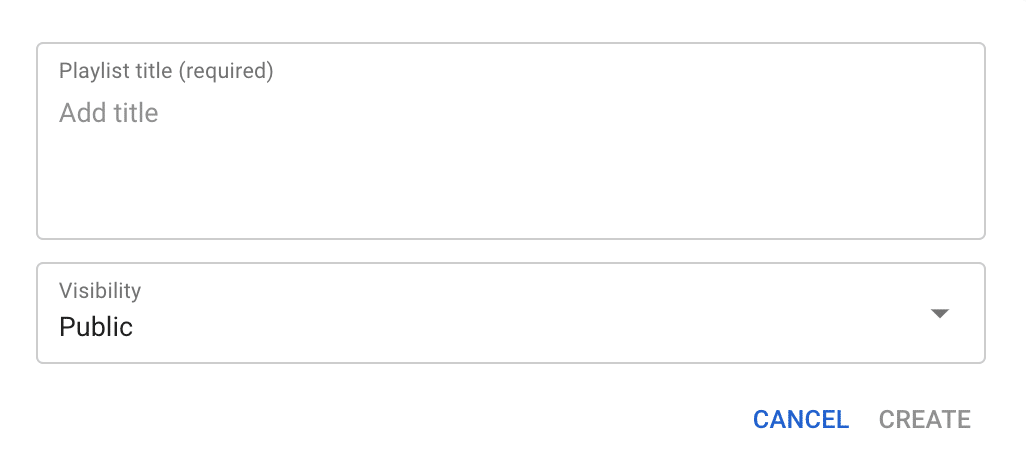 Now that the playlist is complete, you're ready to start adding videos to it.
By clicking the Content button on the left-hand side, you'll be able to select the playlist you just created and add videos directly to it. It's that simple!
So many people use playlists to find related content that interests them. By building engaging playlists, you'll make your channel more noteworthy and entice viewers with an array of exciting content.
You could create playlists for topics your viewers are interested in (as I mentioned early). Still, you could also think of creating playlists to group all episodes of your podcast, your latest releases and project updates, tutorials on how to use your product, and so on.
Playlists might seem tedious, but they allow you complete freedom in creating them. Plus, they offer an additional way to showcase your videos.
Common YouTube FAQs
Now that you've created your channel, here are a few of some of the most frequently asked YouTube questions.
You might be thinking of some yourself, so this will be an excellent resource for you.
How Do I Create a Second YouTube Channel?
You might need to have more than one YouTube channel if you have multiple different businesses or organizations. Thankfully, there's an easy way to make a secondary account.
It's common for YouTube creators or businesses to have multiple YouTube channels. Each YouTube channel should have a singular focus and dedicate to one content with a specific audience.
You can add a new channel to your existing Google account in just a few clicks.
To make a second YouTube channel, click your avatar in the top right corner and select Switch Account. If you don't have a second account already created, you can click Add Account instead and follow the steps listed in the previous section for making your first channel.
How Do I Create a Private YouTube Channel?
Want to create a channel for yourself and a select amount of people? A private channel might be the best option.
Private channels limit the number of people that can access your content. These channels are helpful if you want to restrict your content or use the channel as a place to store your videos.
All you need to do is select Privacy from the menu. From that screen, you can select the option for the channel to be private.
How Do I Create a YouTube Channel on My Phone?
Creating a YouTube channel on your phone couldn't be easier! All you need to do is download the YouTube app and sign in.
Then, you can create the channel using your Google account. It's that simple, and you can do it in mere minutes.
Setting up the entire channel might be easier to do on a desktop or laptop due to the complexities. However, merely setting up a channel is a breeze on your phone.
Whether you're making a personal YouTube channel or a brand channel, this guide has everything you need to get started 🎥🍿Click to Tweet
Summary
YouTube offers a huge potential for any business to attract or intercept audiences who might have never heard of you. With videos, you can connect and build relationships with users in a different, maybe "closer" way.
Nevertheless, to get the most significant ROI for your business, consistency and proactiveness towards your viewers' feedback are critical. Without these, creating a channel would be a waste of resources. Or simply a hobby!
Now, it's your turn: Have you ever considered launching a YouTube channel for your business? If you have one already: what's one thing you wish you had known before launching it? Let us know in the comments section!