Cloudflare Market Share
Cloudflare is a major player in the web security and performance space. In addition to advanced firewalls, Cloudflare also offers a variety of performance-enhancing services for websites like CDN caching, image optimization, intelligent traffic routing, and more. Learn more about Cloudflare's growing market share!
One of the most effective ways to improve any website's performance is to use a Content Delivery Network (CDN) such as Cloudflare. CDNs are becoming increasingly popular with websites of all sizes, and Cloudflare is one of the most popular names on the market.
Of course, there are plenty of CDN options to choose from aside from Cloudflare. However, its attractive pricing makes this particular CDN a top contender. Let's check out how popular it is by the numbers.
Cloudflare in a Nutshell
Cloudflare is one of the few CDNs that offers a free plan, which makes it a popular choice for new and growing websites.
Cloudflare pairs its CDN services with features such as Denial of Service (DDoS) protection, Web Application Firewalls (WAFs), image optimization, IP range prioritization, and more.
The popularity of CDN platforms like Cloudflare should continue to grow, as more hosting providers offer simple integration options. At Kinsta, for example, we enable you to deploy a CDN with a few clicks. That means you don't need sysadmin experience to enable a CDN for your site.
Cloudflare is used by 20% of the web and 30% of the Fortune 1,000
Putting aside Cloudflare itself, website optimization is more important than ever, both to ensure an engaging user experience and to guarantee that you won't lose out on traffic.
To show you where these conclusions are coming from, we've put together some statistics about Cloudflare's market share and how it compares to similar services.
Cloudflare Is Used by 79.9% of All Websites That Rely on Content Delivery Networks
According to data from W3Techs, 79.9% of all websites that use a CDN or reverse proxy rely on Cloudflare:
By the numbers, Cloudflare is easily the most popular CDN on the market. It beats out competitors such as Sucuri, Amazon CloudFront, Akamai, and Fastly. There's hardly a lack of CDNs available, and some of Cloudflare's rivals are powered by household names such as Amazon. This makes the former's dominance all the more impressive.
Some of the Most Popular Websites in the World Use Cloudflare
When you look at the top CDN providers in the world according to their customer count, you can start to understand how the market works at a deeper level. When it comes to customer count, Cloudflare still leads the pack, followed by Amazon CloudFront and Akamai:
Those three CDNs combined account for 89% of customers in the CDN market. Some of Cloudflare's biggest users include websites such as:
Medium
Discord
Fiverr
Udemy
Canva
Although Cloudflare dominates in both market share and customer count, most of its client base consists of small to medium-sized websites and businesses. When it comes to enterprise customers, Akamai has an edge, since it's been on the market far longer than its competitors.
That difference in consumer base is part of the reason why, despite its massive dominance in terms of market share.
Cloudflare Revenue
In 2021, Cloudflare's annual revenue totaled $656.4 million, marking a 52% YoY increase when compare to 2020, with a Gross Profit of $509.3 million.
Cloudflare's revenue has also continued on a similar trend in 2022, with the company announcing revenue of $212.2 million in the first quarter, followed by $234.5 million in the second quarter, representing a 54% YoY increase.
Cloudflare Market Cap
Cloudflare's market cap has fluctuated a lot over the last 2 years, with massive growth throughout 2020 and 2021, reaching its peak in November 2021. However, despite the company's impressive growth, Cloudflare's market cap dropped back to levels seen in 2020. Many speculated that this was due to Cloudflare being overvalued.
Cloudflare Usage Stats
Data from BuiltWith reveals that in 2022, Cloudflare is used by about 28.6% of the top 100K websites in the world:
It's important to understand that Cloudflare's performance among the enterprise customer base isn't directly related to the quality of its services. Other companies, such as Amazon CloudFront and Akamai, offer CDNs as part of a broader portfolio of services. This often makes them more attractive to enterprise-level customers that need to simplify their portfolio of tools.
Is Cloudflare's Market Share Likely to Continue Growing?
Predicting a company's growth is always a tricky business. Before we share our thoughts with you, let's take a look at Cloudflare's usage throughout the past year.
During 2020, Cloudflare experienced massive growth. It went from being used by about 10% of all websites to over 15%, according to W3Techs, which resulted in a 50% growth in revenue.
It's important to consider that despite the many challenges 2020 brought to businesses across the world, companies such as Cloudflare were in a perfect position to take advantage of businesses migrating to the remote work model en masse. Likewise, 2020 saw a massive increase in online traffic and security attacks. DDoS attacks alone increased by 300% from Q1 to Q3 in 2020.
Cloudflare's market share dominance allowed growth to continue into 2021 at an even higher rate, with a 52% YoY growth.
This upward trend also continued into 2022, with strong revenue numbers reported during the first 2 quarters.
According to W3Techs, Cloudflare is now used on 19.1% of all websites:
In recent years we've seen more and more businesses come to understand how important website performance is. CDNs provide one of the most efficient solutions to increase website and application performance.
Cloudflare's existing popularity, ease of integration, solutions like Automatic Platform Optimization (APO) and pricing make it an attractive option for 'small' websites that don't have the budget for other solutions.
Cloudflare is at the forefront of many exciting developments, including Crawler Hints, which allows websites to make use of a new protocol (IndexNow), which can be used to notify search engines when new content is created or existing content is updated/deleted. This helps to reduce the amount of crawling on websites, saving resources for websites and crawlers.
It's clear that Cloudflare is continuing to grow at an impressive rate, so expect to see more positive growth in the coming months and years.
How Does Cloudflare's Growth Hold up When Compared to Other CDNs?
Cloudflare's growth rate far outreaches that of its top competitors. Amazon CloudFront is currently being used on around 1.4% of all websites:
In Akamai's case, its market share fell slightly to 0.4% of all websites: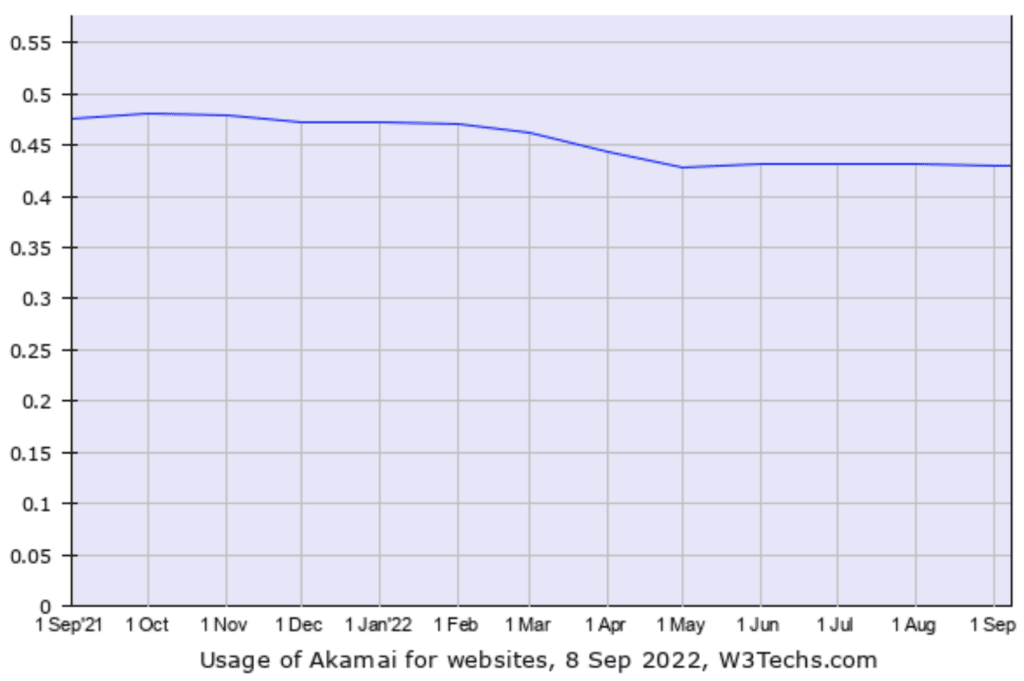 Cloudflare's drastic expansion during the last 2 years could be attributed to its popularity among small businesses. In any case, it's important to understand that although Akamai and Amazon CloudFront's CDN market share numbers might not look all that impressive, they're still massive in terms of revenue.
Number of Cloudflare Employees
As you might expect from a company with this kind of growth, Cloudflare's employee numbers also grew significantly over the last 2 years. Since the end of 2020, Cloudflare's number of employees increased by 62%, to 2,899 (each of which is listed on their Cloudflare employees page).
Is It Time to Try out Cloudflare and Use a CDN for Your Website?
Given how beneficial CDNs are, there's no reason not to integrate one with your website. You have plenty of options to choose from, so it's not hard to find one that's a perfect fit for your needs. Plus, here at Kinsta we make the process easier for you by offering built-in integration with CDN services.
If you're looking for a "budget" CDN option that can scale alongside your business, Cloudflare could be the right solution for you!