If your domain is registered at Bluehost, there are two ways to point your domain to Kinsta. The first opinion is to manage DNS at Bluehost and add an A record pointing to your Kinsta site.
The second option, which requires you to change your nameservers, is to utilize Kinsta DNS, a premium DNS service.
In this article, we'll show you how to change Bluehost nameservers to point your domain to Kinsta.
Why You Should Change Bluehost Nameservers
The DNS service you choose for your domain can have a big impact on the TTFB performance of your website. Using a highly scalable and available DNS service like Route 53 ensures fast propagation and reliable DNS performance all around the world.
All Kinsta plans are equipped with Kinsta DNS, our premium DNS service powered by Amazon Route 53.
Typically, domain registrars do not provide customers with a premium DNS service like Kinsta DNS. For this reason, we recommend switching nameservers to Kinsta DNS if your domain is registered with Bluehost.
How to Change Bluehost Nameservers
Let's walk you through how to change your Bluehost nameservers.
Step 1: Open the DNS Management Interface in Bluehost

Next, click on the DNS tab, and press the Edit button in the "Name Servers" section of the page.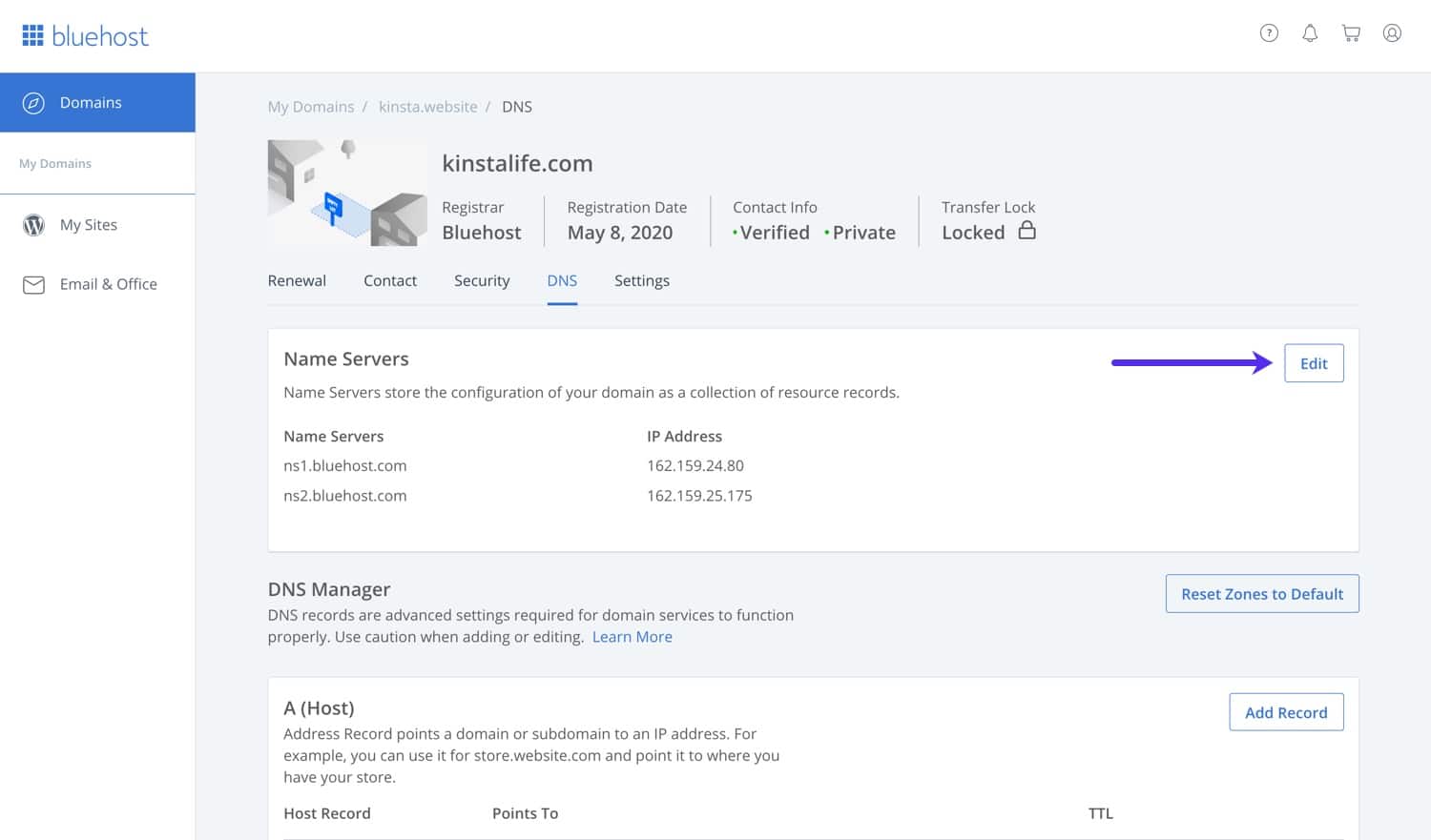 Step 2: Add Custom Nameservers
Under "Setup Type", choose the Custom option, which will allow you to specify custom nameservers from Kinsta DNS.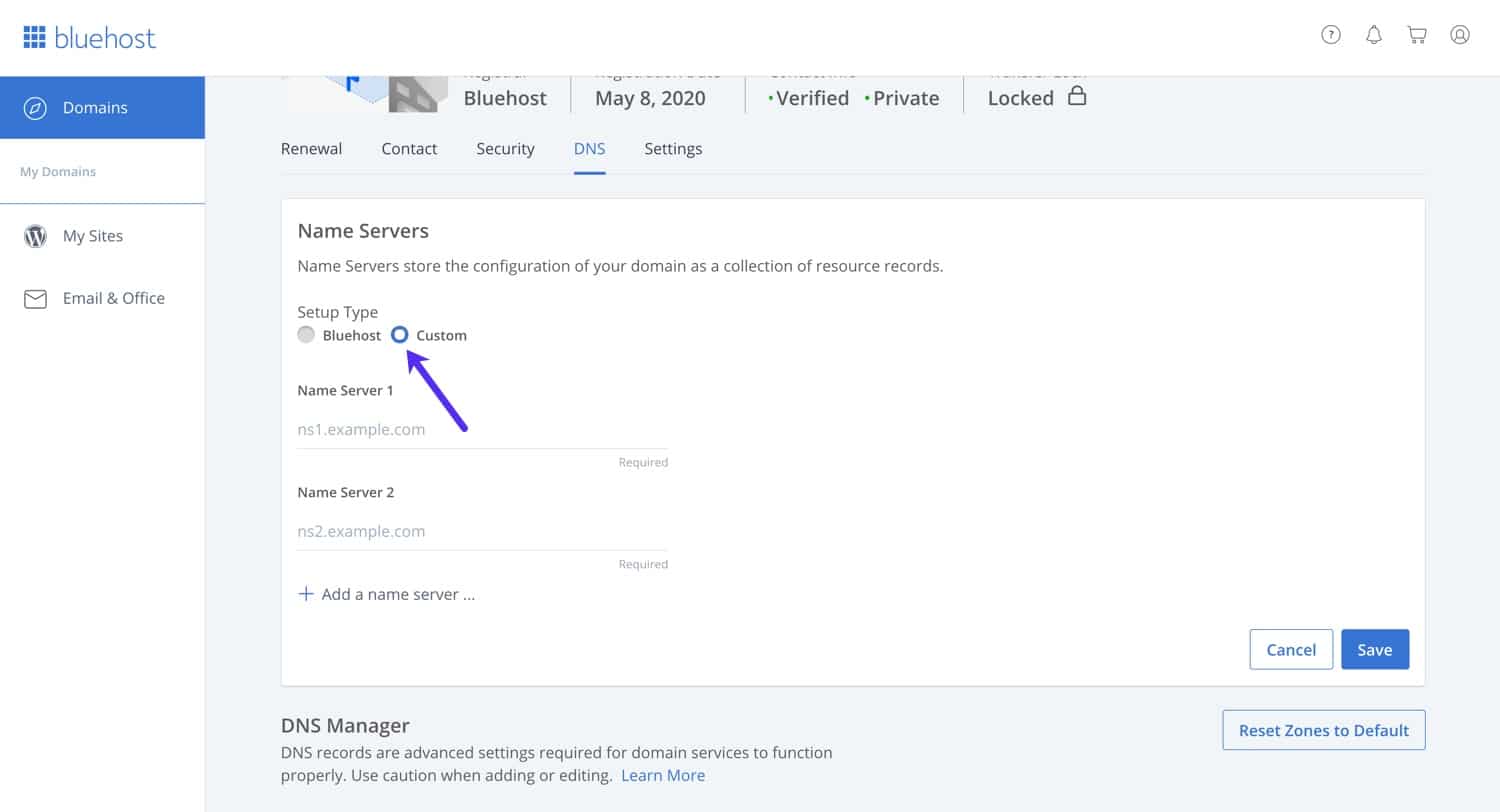 Finally, paste your Kinsta DNS nameserver domains from the MyKinsta dashboard. Since Kinsta DNS requires four domains, use the "Add a name server" button to add two additional nameserver slots.
After you have added all four nameservers, click the "Save" button to finish the configuration process.
Once you save your changes, you're finished. It may take up to 24 hours for your nameservers to update, but you don't need to complete any further steps
Where to Find Kinsta Nameservers
You can find your Kinsta nameservers by going to the Kinsta DNS tab inside the  MyKinsta dashboard.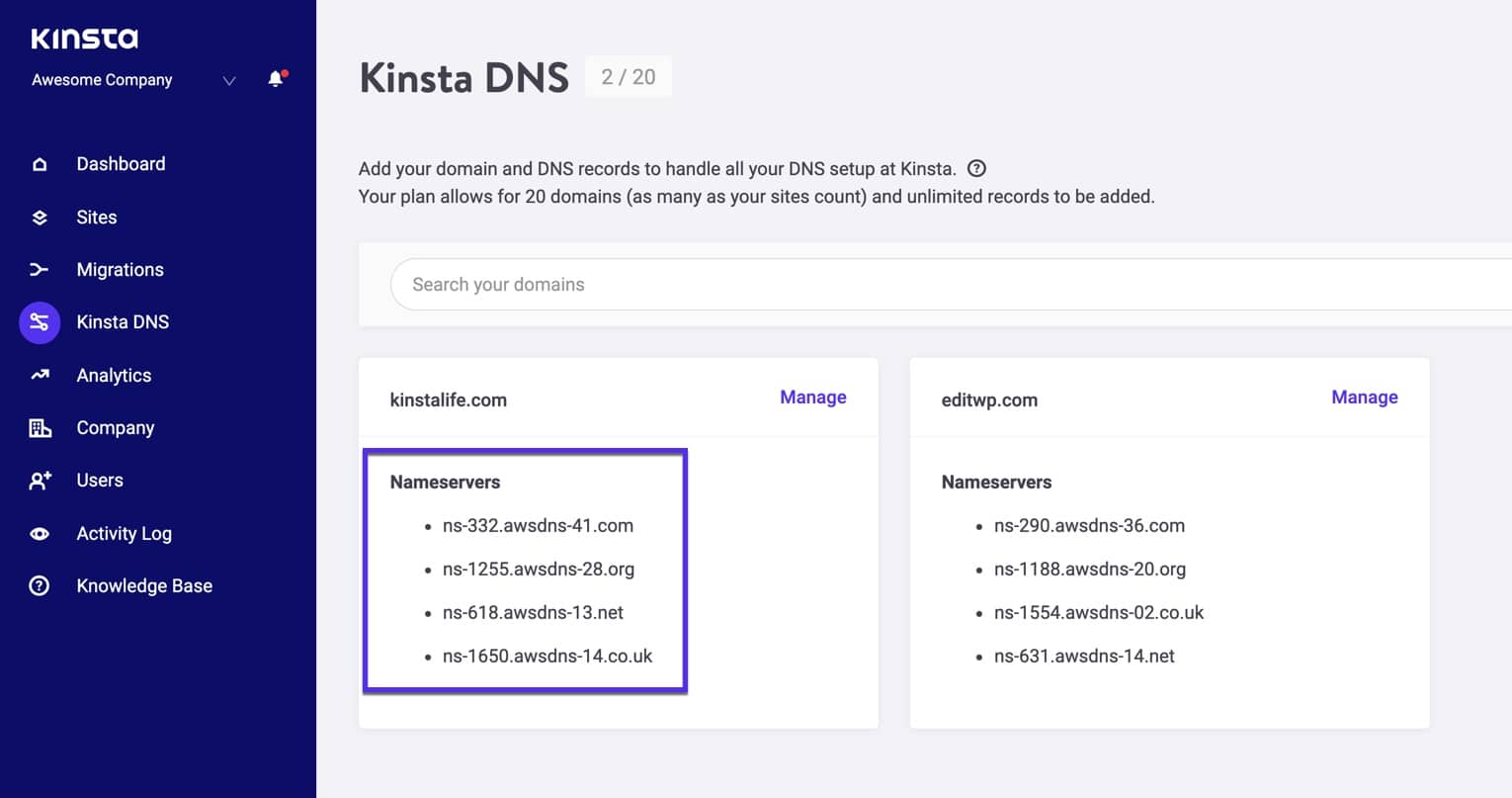 Summary
Switching from the default Bluehost nameservers to a premium service like Kinsta DNS improves both DNS propagation times and website performance.