If you're reading this then you're probably trying to find a Kinsta coupon to save money on your hosting plan. If you got here from Google, this is exactly why we don't currently support coupons or discount codes. We also prohibit using these terms (coupon, coupon code, discount, etc.) in our Affiliate Program. Check out all the reasons why we have decided not to offer Kinsta coupon codes and how it actually benefits you.
Important: We do offer a way to get 2 free months of hosting.
Why There Is No Kinsta Coupon
There are a couple of reasons why we don't offer Kinsta coupon codes.
1. We Price Our Plans Based on Quality of Service
The first reason we don't offer coupons is that we price our hosting plans accordingly based on the average usage we see from own clients (both small and large). This data has been compiled over many years from thousands of clients. We are not in the business of marking up our plans by crazy percentages just to then be able to offer a coupon code. Yes, we also take competitor pricing into account, but it's not the number one factor driving the pricing of our hosting plans.
Our prices reflect that of the high-quality service and support that we offer. 
With that being said, if you compare us with other similar providers, such as WP Engine, our prices are, in fact, lower. Check out the differences between Kinsta and WP Engine.
2. Everybody Doing It Isn't a Reason to Do It
If you search for a coupon code of one of our competitors, you'll probably see hundreds of results that go on for many pages. The problem with handing out coupon codes for 60% (as seen below) means these companies are not pricing their plans based on the quality of service, it's simply a marketing ploy. At Kinsta, we prefer to simply be upfront, transparent, and give you the best pricing.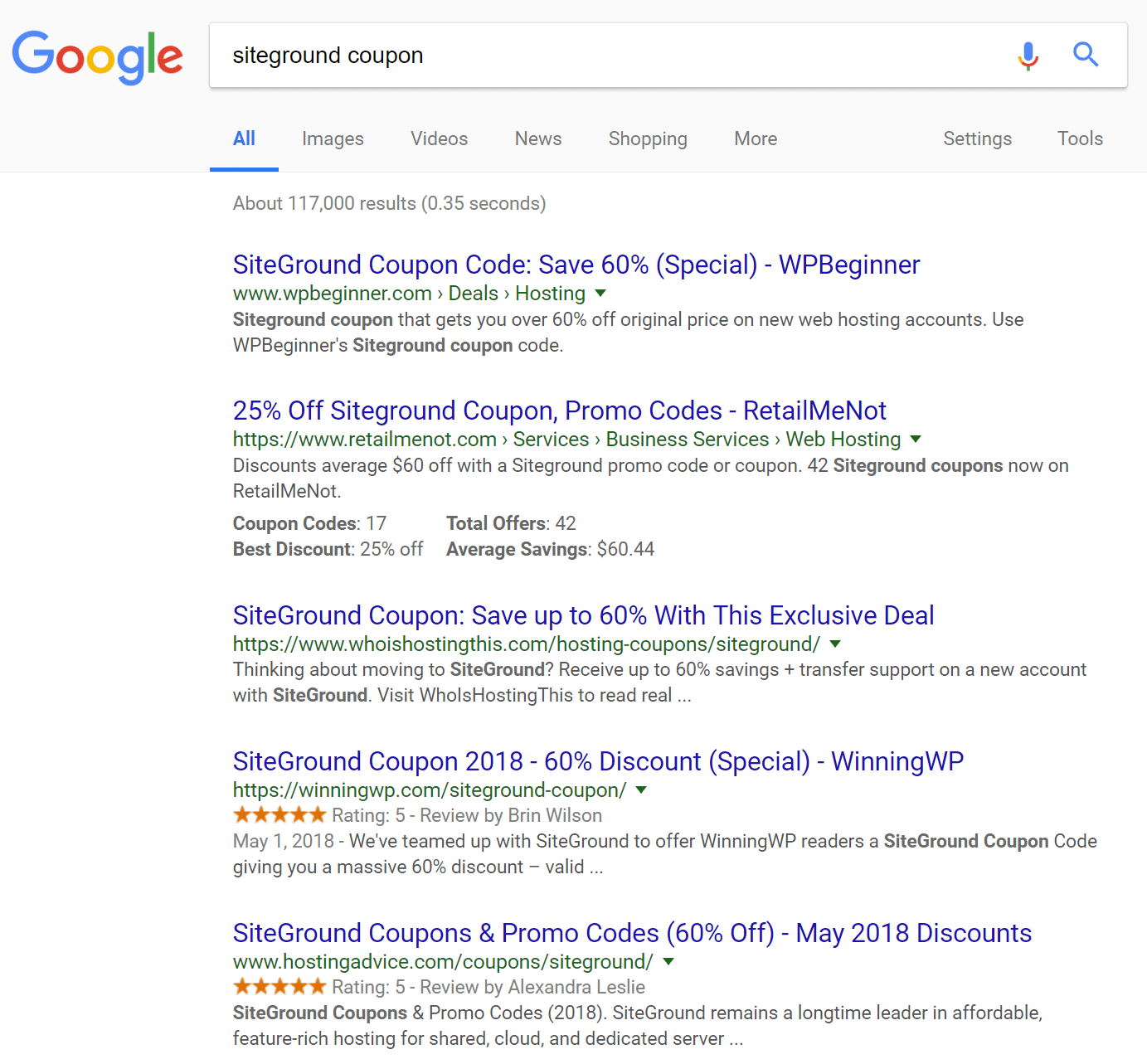 Handing out coupons like this also generates a lot of spam in SERPs, and it's impossible to control the quality once you go down that route. You will have hundreds of "biased" sites saying anything they can to try and get you to use their coupon code. We take our brand and reputation very seriously and don't want to dilute it with thousands of coupon codes and discounts that may or may not be accurate or up to date. This simply causes frustration for customers.
Will we offer coupons down the road? Perhaps, but currently, this is where we stand on the issue.
We Prohibit Coupon Codes in Our Affiliate Program
If you are a member of the Kinsta Affiliate Program, we prohibit the use of coupon codes. Below are conditions taken from our affiliate terms:
Misrepresentation of services: You may not misrepresent the spirit of Kinsta. This includes (but is not limited to) misleading customers, providing non-existent discounts, and falsely stating plans or other information.
Usage of coupon sites: You may not add your affiliate links to coupon sites under any circumstances.
These conditions are not meant to discourage you as an affiliate but rather re-focus your attention. We have many affiliates earning large amounts of passive income each month thanks to our recurring commission model. How do they do it? They focus on showing their readers or clients the quality of service, support, and features that Kinsta offers. Check out how Kinsta is different.
When no one gets a coupon, it does away with the whole issue of "who has a bigger coupon?" and puts every affiliate marketer on a more equal and fair playing field.
Get 2 Free Months of Hosting
Just because we don't have coupons doesn't mean you can't save some money on our hosting plans. You can pay yearly on any plan and get 2 months free! Check out the savings below:
Savings if Paid Yearly
Starter plan ($70 savings)
Pro plan ($140 savings)
Business 1 plan ($230 savings)
Business 2 plan ($450 savings)
Business 3 plan ($680 savings)
Business 4 plan ($900 savings)
Enterprise 1 plan ($1,350 savings)
Enterprise 2 plan ($2,000 savings)
Enterprise 3 plan ($2,700 savings)
Enterprise 4 plan ($3,300 savings)
Everything on our system is automatically prorated. You can upgrade and downgrade with a single click from the MyKinsta dashboard. We also have a 30-day money-back guarantee with no long-term contracts. We stand behind our service and are confident once you try Kinsta out, you'll see why we are different.
FAQ
Is There a Kinsta Coupon Code?
In short, no. While some coupon sites claim to provide Kinsta coupon codes, they do not. We price our hosting plans accordingly based on the average usage we see from own clients. We are not in the business of marking up our plans by crazy percentages just to then be able to offer a coupon code.
Does Kinsta Offer Discounts?
Yes. You can enjoy 2 months free by choosing Kinsta's annual plans.
Does Kinsta Offer Promo Codes?
No. While we don't run promo codes or other promotions, we do offer the same great services at the same prices all year round.
Does Kinsta Offer a Referral Code?
Kinsta offers two programs that offer rewards for those who recommend our services:
The Referral Program is available to all customers, automatically assigning each company account a unique link that can be shared online. Those who make referrals can earn credits that are applied to their Kinsta invoices when future customers use those links to launch new accounts. Read the Referral Program FAQ to learn more.
Kinsta also runs an advanced Affiliate Program through which members can earn recurring cash commissions every month for the lifetime of the customer accounts they refer. One-time payments of up to $500 (USD) are also available on successful referrals for certain services.
Is There a Kinsta Black Friday Discount?
No. Kinsta doesn't run any Black Friday Discounts or any other seasonal promotions. But you can get 2 months free hosting any time when signing up to any of our annual plans.
Does Kinsta Have a Free Trial?
No. But you can schedule a demo to find out more about the premium features that we offer with every plan.